Pallet Wood Wall Decor
What do you do when you have a blank wall and a lot of pallet wood? You make pallet wood wall decor of course!
I love the natural aged look that you get when using palettes. They are not uniform in color, the ends are not finished, it just gives such a warm look to your home.
Our home is very open concept, which is great – but that also means that there isn't much wall space. And the wall space we have looks very, very plain if left alone.
I don't want a lot of pictures and heavy picture frames, but I also want our home to feel warm and inviting.
The empty wall is right off of our kitchen leading towards the living room. It's truly just a blank wall. (I forgot to take a true before picture, so you see the cleat on the wall.)
The Empty Wall
Here it is, just some drywall, texture spray and paint… brown paint at that – but that's a project for another day 🙂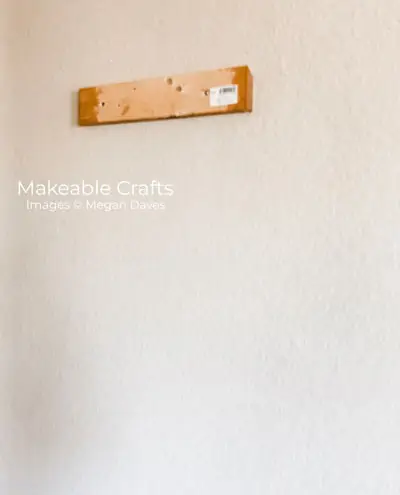 The Supplies
It's almost silly to even list out supplies, as there just aren't a lot.
To create this project, you will need a pallet, a 1×2, a 1×4, nails, screws and then your sign.
For our sign, I found this at Hobby Lobby (on clearance even!). This one is an off white color and at some point I might paint it, but not until we finalize the wall color behind it.
The Making of Your Pallet Wood Wall Decor
We brought a handful of pallet slats inside to figure out how many boards we wanted to figure out the width, keep in mind that not all pallet wood is the same width, so to me it's just easier to have the hubby bring them in and see.
The thing about pallet wood is that it's going to be aged on the outside of the wood, but if you cut it, you won't see the distressing nature has provided. (That can be a very cool look, just not for this project.)
Once we knew how many boards we wanted to use to fill the space, it was time to cut down part of our 1×4. We cut two pieces just a bit more narrow than our board widths would be. Your wall size will determine your measurements.
Then for our top 1×4, we made a french cleat since this piece would be awkward to hang any other way. Once our angle for our top cleat was done, it was time to secure our pallet pieces to that board. As with any wood project, screws are the way to go.
This pallet wood was significantly weathered, so we used a lot of screws. I LOVE my hardwood floors and don't want anything falling and scratching the up.
Then we repeated the attaching the pallet wood to our other 1×4. Since this pallet project is really light weight, we didn't feel the need to make a second cleat for the bottom piece.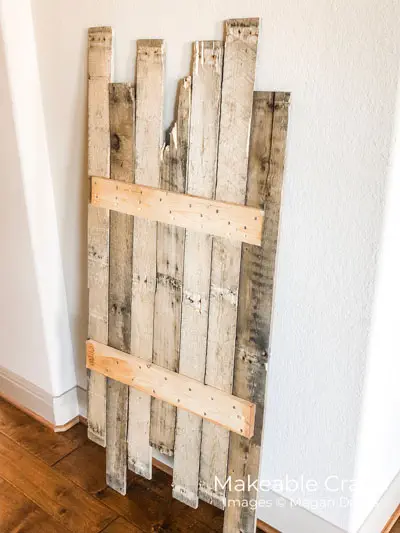 If you are wondering if you really even need the bottom support bar on the back, you probably don't. We did it more so that the pallet wood wall decor would hang straight.
Finishing It Up
It's now time to secure the second part of the cleat to the wall into the studs. Next, then hang our pallet wood wall decor on the cleat.
Pick where you want your sign to be on your pallet wood wall decor. Our sign is really light weight, therefore we used nails to hold our lettering in place. We could have secured it from the back, but we thought we would like to be able to change out our words for different holidays.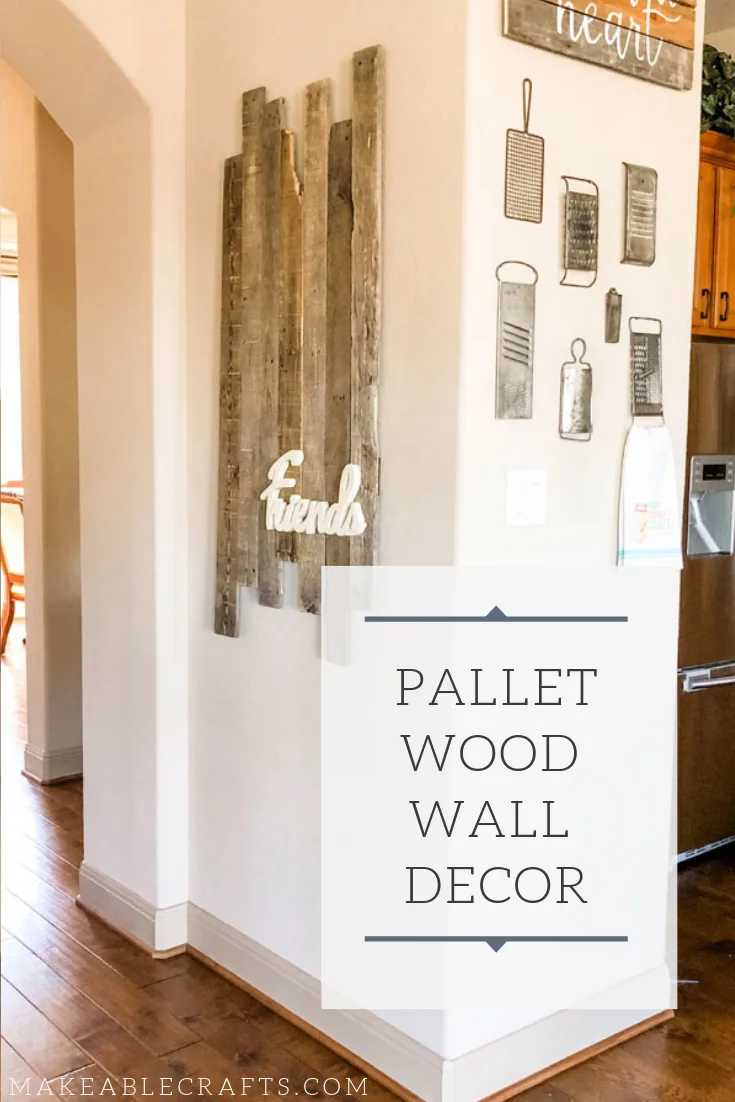 Your Turn
Look around your home and see where you can add some pallet wood wall decor. It goes together so fast, the only bad part is breaking apart the pallets. Think about what words you want to hang on it, or you can also go with a wreath. Like this one and want to see another pallet wood project? Click here. It's just a fun and budget friendly project for you home!