Using Empowering Words in Your Crafts
Words matter! And using empowering words in your crafts is fun and important! How we talk to ourselves and how we see ourselves is so important. And I think that's hardest for teens.
Teens struggle with their self image, body image, everything, right?
Emily is 13 and we look for ways to not just bolster her confidence, but also for ways to help her see herself in the positive ways that we see her and for the positive things others see in her. That doesn't mean we don't own our flaws and imperfections, we work to improve those while focusing on the good.
Emily loves to craft, but she loves to make things that don't appeal to me and vice versa – so we have a blast crafting together, each working on our own thing yet spending time together.
Today she is making an Empower Poster from a kit from Beyond The Blackboard. It has everything you need other than scissors, so you can choose the scissors that are age appropriate for your child. Whether you are going through a quarantine period, as we are now, or it's just a Tuesday, I encourage you to get this kit.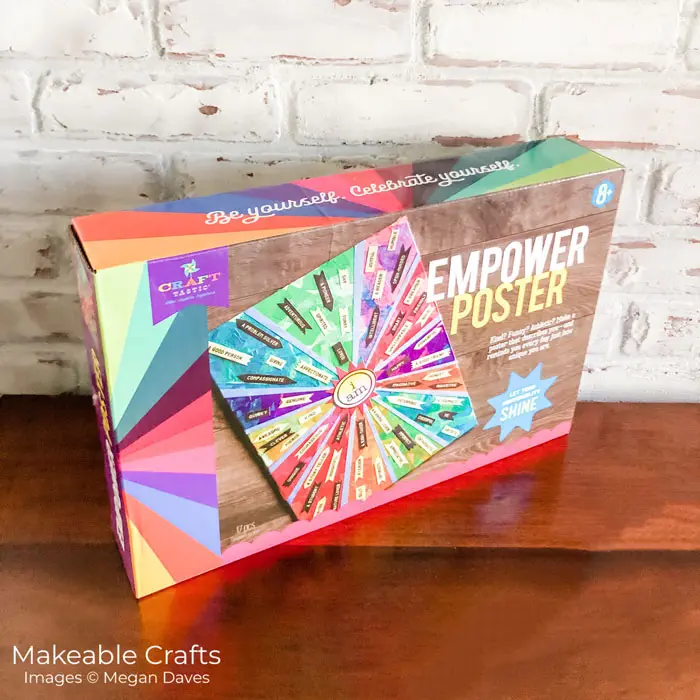 Choose Your Empowering Words
As I said before everything is in it. There are tons of words to choose from, you won't use them all, as many won't apply. This is how we spent quality time together while putting this together.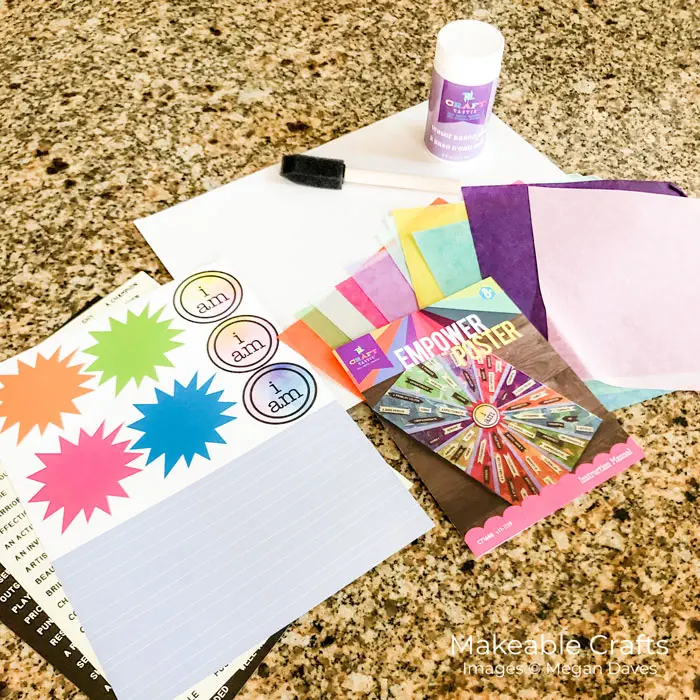 She tore and decoupaged the tissue paper to the poster as I cut the words into strips.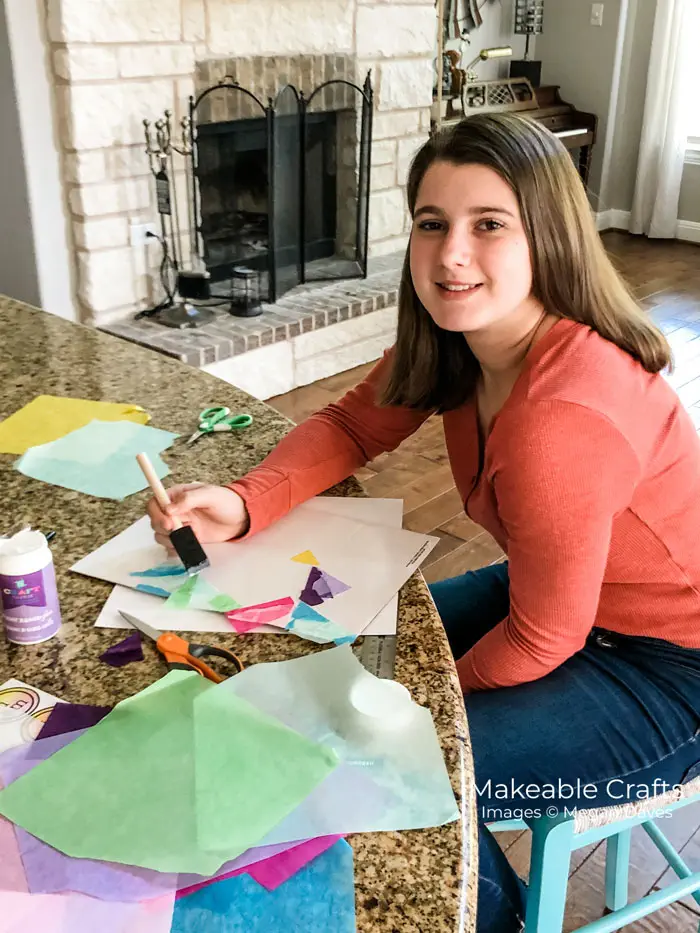 Then I would read off the character traits one by one and we would talk about each one. There were some that were instantly irrelevant, like "big brother" that we set aside, but then the magic happened.
When we got to the word "full of life", we talked about she sees herself as being that. She shared that she feels full of life because she is happy, because she loves to experience things, travel, reading, being around others, looking for fun in situations. I got to see a glimpse into her life through her eyes in a way I hadn't before. This was not only a great craft, it was so insightful as to how she views herself.
It took her about two hours to do all the decoupaging and we talked the entire time. It was such an amazing bonding experience! We also discussed which empowering words meant the most to her, that was also insightful. As an adult, I see empowering words as being much different than the words she chose as being most empowering.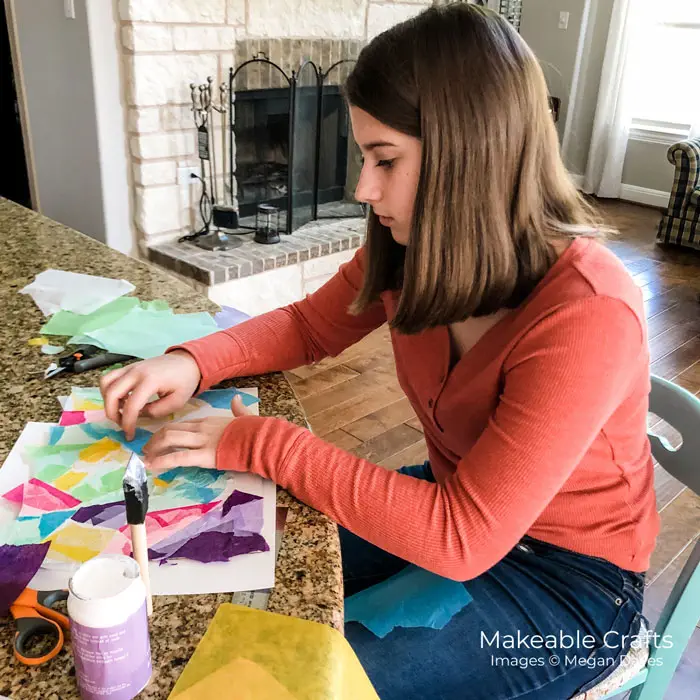 The Empowering Words Project
Here is her final poster, she put her own creativity and flair into it. She only used colors she loves (orange was an option but she doesn't like orange so she didn't use it) as she wanted it to truly reflect her. I think she learned a lot about herself as she made her poster and I learned a lot about her at the same time. There were no phones or tablets in site, just crafting and spending mother-daughter time together. I love this amazing kid so much, I love spending time with her, and this is a morning that I won't forget anytime soon – and I feel confident she won't either.
While we were focused on her, because she was crafting while we were talking, she didn't feel like she was put on the spot or forced to sit down with mom and talk, it was natural, it was easy. It was great that she was able to express herself through the craft while also learning some things about herself. Crafting with your kids allows for that. It's great for their brains, but also so important for their souls. March is National Craft Month – it's a perfect excuse to bust out crafting supplies and spend time crafting with your kiddos or grandkids.
I love this Empower Poster kit from Beyond The Blackboard. They are out of Colorado and they ship! While you are on their website, read their About Us section. It's one of the best I have ever seen – you feel like you get to know the owners right there.
And right now, Ann Williams Group that created this amazing kit, is doing a drawing for this kit and several others, so don't miss out on your chance to get in on this! The contest ends April 5th, 2020.
Pin It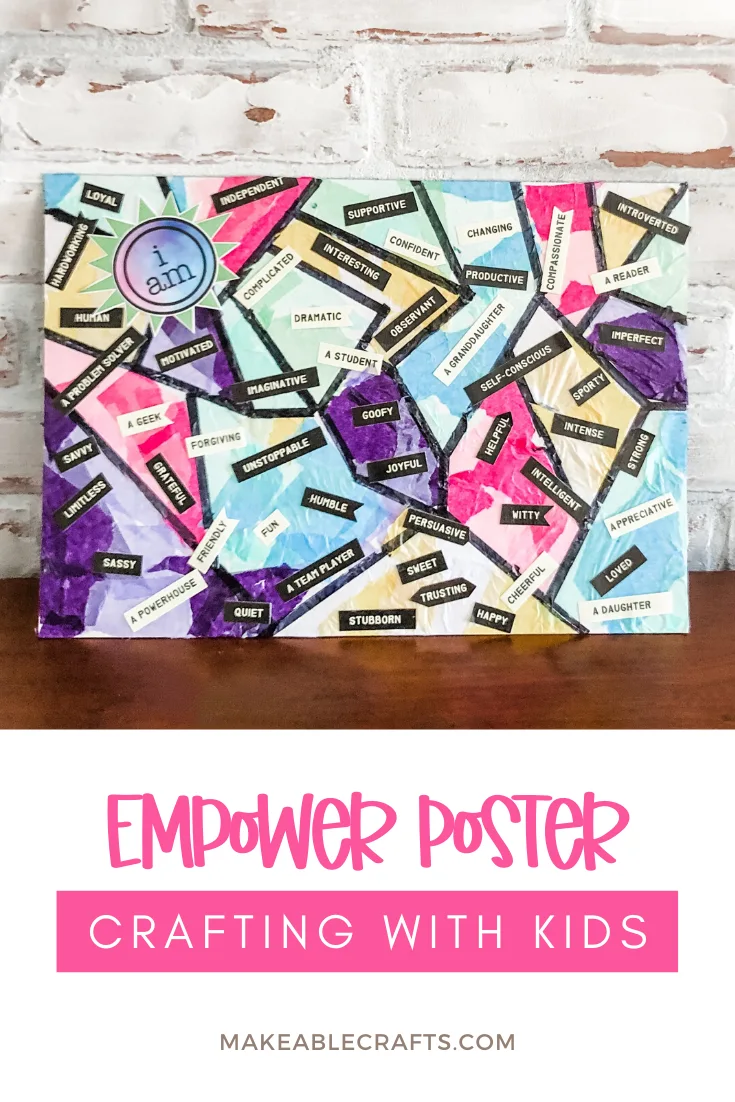 Thank You
Thank you so much for stopping by today. I would love to hear who you would make this kit with by leaving just their first name in the comments below. You can share more, but I will tell you now, as you make these, you will rapidly see how this kit goes from being about empowering words and quickly transforms into empowering conversations! XOXO, Meg