Adorable Easter Rabbit Decorations
These make such adorable Easter rabbit decorations thatyou can make!  They're so simple and look wonderful at the same time. Making decor items really makes your home more personal, more homey, right?  We spend so much time in our home, why have it feel any other way?
The Supplies
You don't need a lot of supplies to make these adorable Easter rabbit decorations.  Here is a list of what you will need:
Wood Bunny Cutout (I found this at Dollar General, but you can find them in most craft stores)
Scraps of Ribbon/Raffia/Twine
Scrapbook Paper – big enough to cover your bunny
Two Cotton Balls

Hot Glue Gun

(this is my referral link for my favorite CORDLESS hot glue gun)

Liquid Glue

(this is my referral link to my favorite liquid craft glue)
White Acrylic Paint and Brush
Step 1:
Paint the edges of your bunny if you want to.  I wanted my edges to be white, but you can also leave the natural finish to it.
Step 2:
Trace out your bunny on the backside of your patterned paper.  Cut out and attach to your bunny using your Liquid Glue.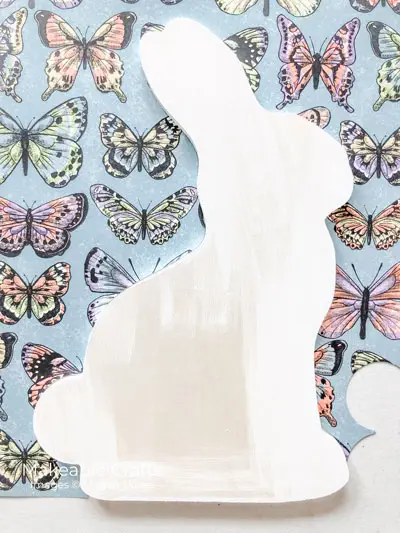 Step 3:
Create your scrap bow.  This is one of my favorite ways to make a bow.  You start by taking scraps of ribbon, raffia, burlap, anything you want (you can also use newspaper strips – super cute!) and lay them out in a "X" pattern.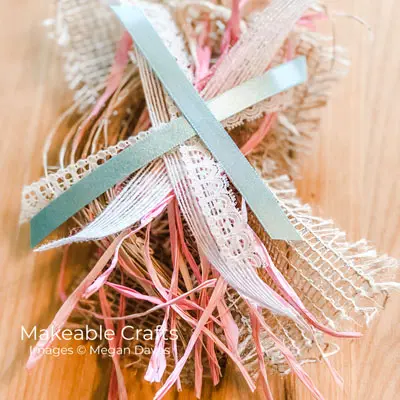 Take a piece of twine and wrap it around your scraps.  Decide if you want your tie in the front or the back of your scrap bow.  For mine, I tied it in a double knot in the front, as I wanted to see the knot.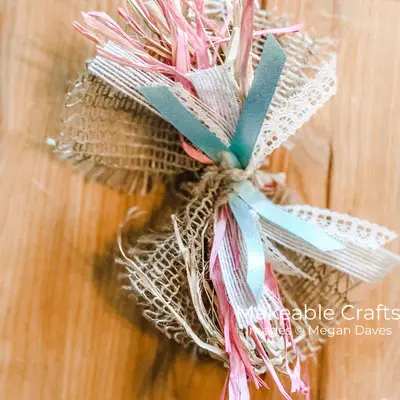 Hot glue your scrap bow into place.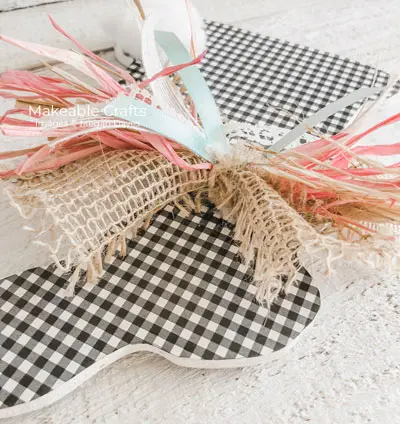 Step 4:
Hot glue a couple of cotton balls for the tail.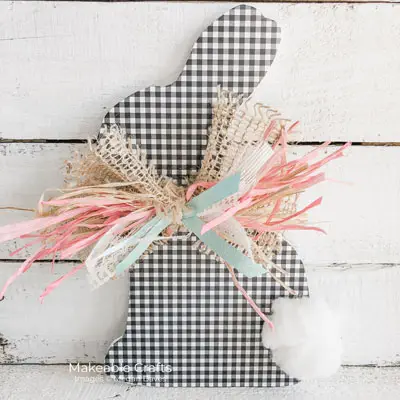 Ready for Display!
See what I mean?  These make adorable Easter rabbit decorations, right?  Make it your own by changing the patterned paper, the scraps of ribbon in your scrap bow.  Just those simple changes will totally change up the end result of your Easter decor.
Pin It
Want to save this project and easily find it again?  Simply pin it to your Makeable Crafts Pinterest Board 🙂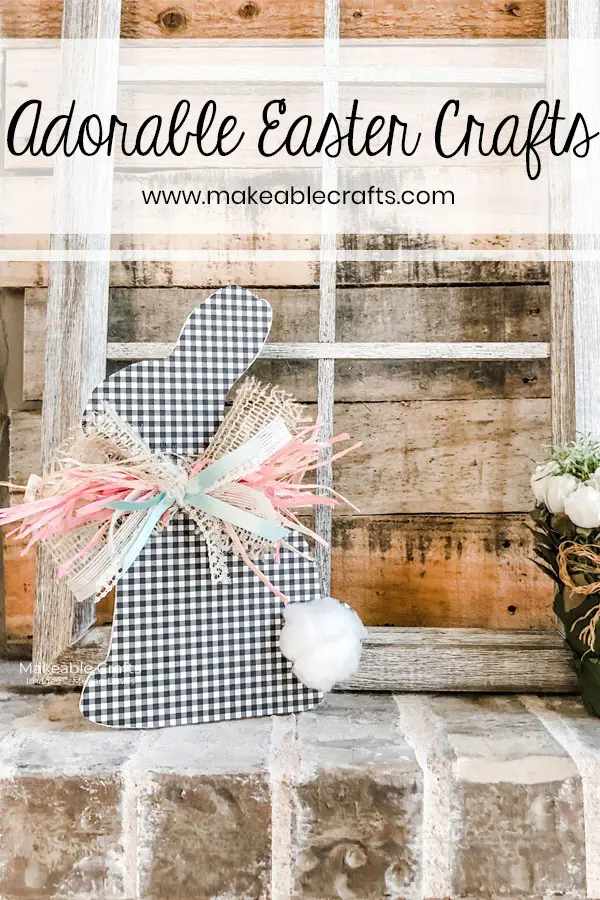 Your Turn
Now it's your turn to give these adorable Easter rabbit decorations a try.  Grab the supplies, put on your favorite Netflix show, pour a glass of wine and get crafty!