Super Easy and Adorable Flag Crafts
Time for flag crafts! This is a great project for any patriotic decorating – and it's easy!
We are starting with a staple item of mine, a 2″x4″ board that I cut down into 4″ sections. I usually cut down an entire board at one time and keep them in a bucket. (personal share – my hubby has thrown out the bucket of wood several times thinking it was scrap wood – ack!!)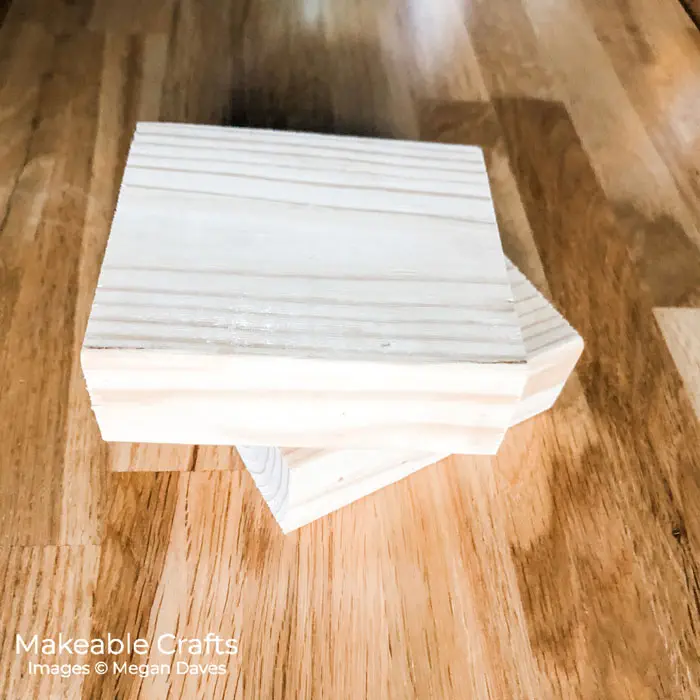 Prepping Work
Grab some paint and brushes, a ruler and pencil, and go to town. Start by drawing your square that will hold your star. Trace a star (I drew one and cut it out as a template.) Make your lines for your stripes.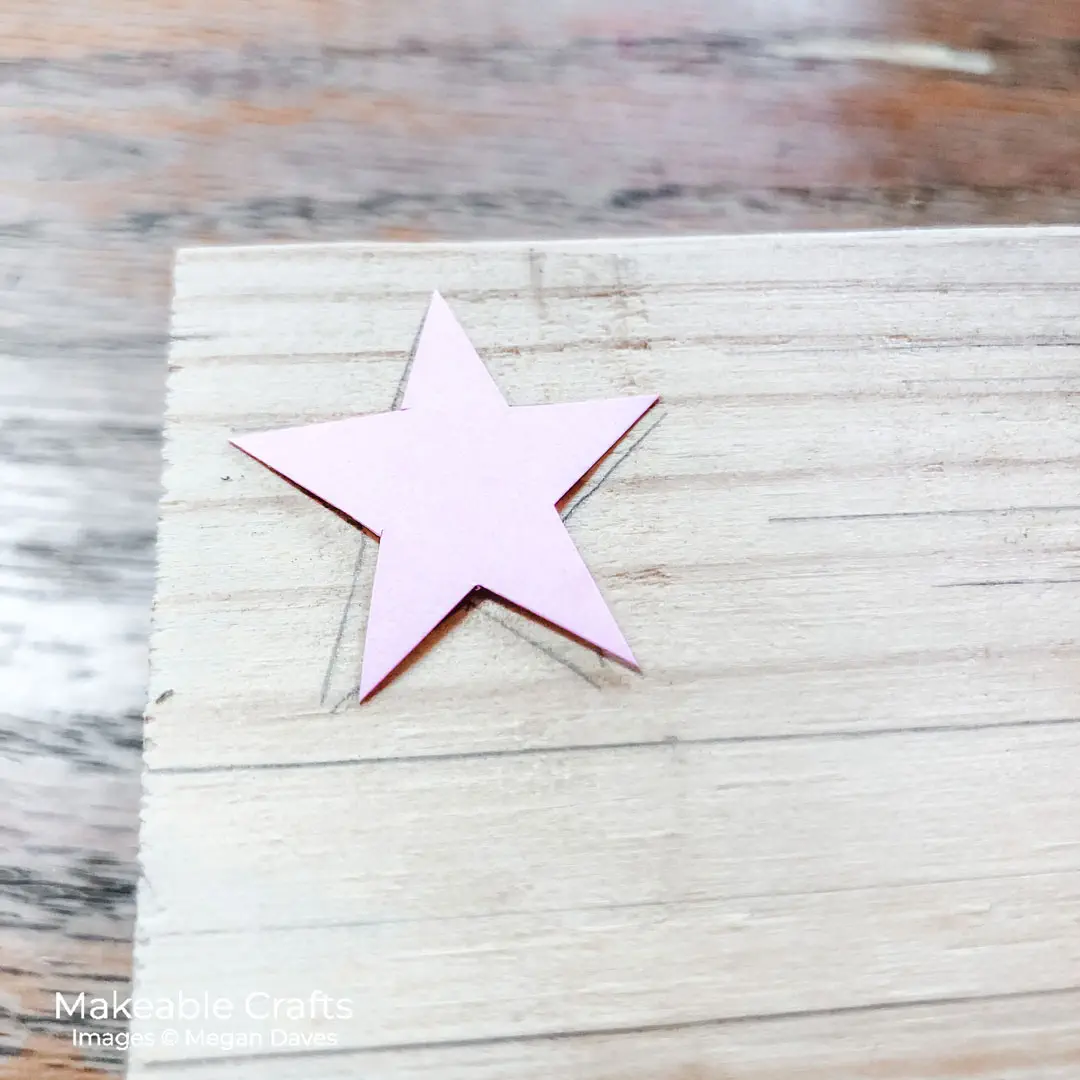 Start Painting Your Flag Crafts
I started with the star first, using DecoArt Satin Cotton Ball paint. Next I painted every other stripe in the same white color.
Once that was completely dry, I used Deco Art Satin Paint in True Blue. And lastly, I used their Lipstick color paint for the remaining stripes.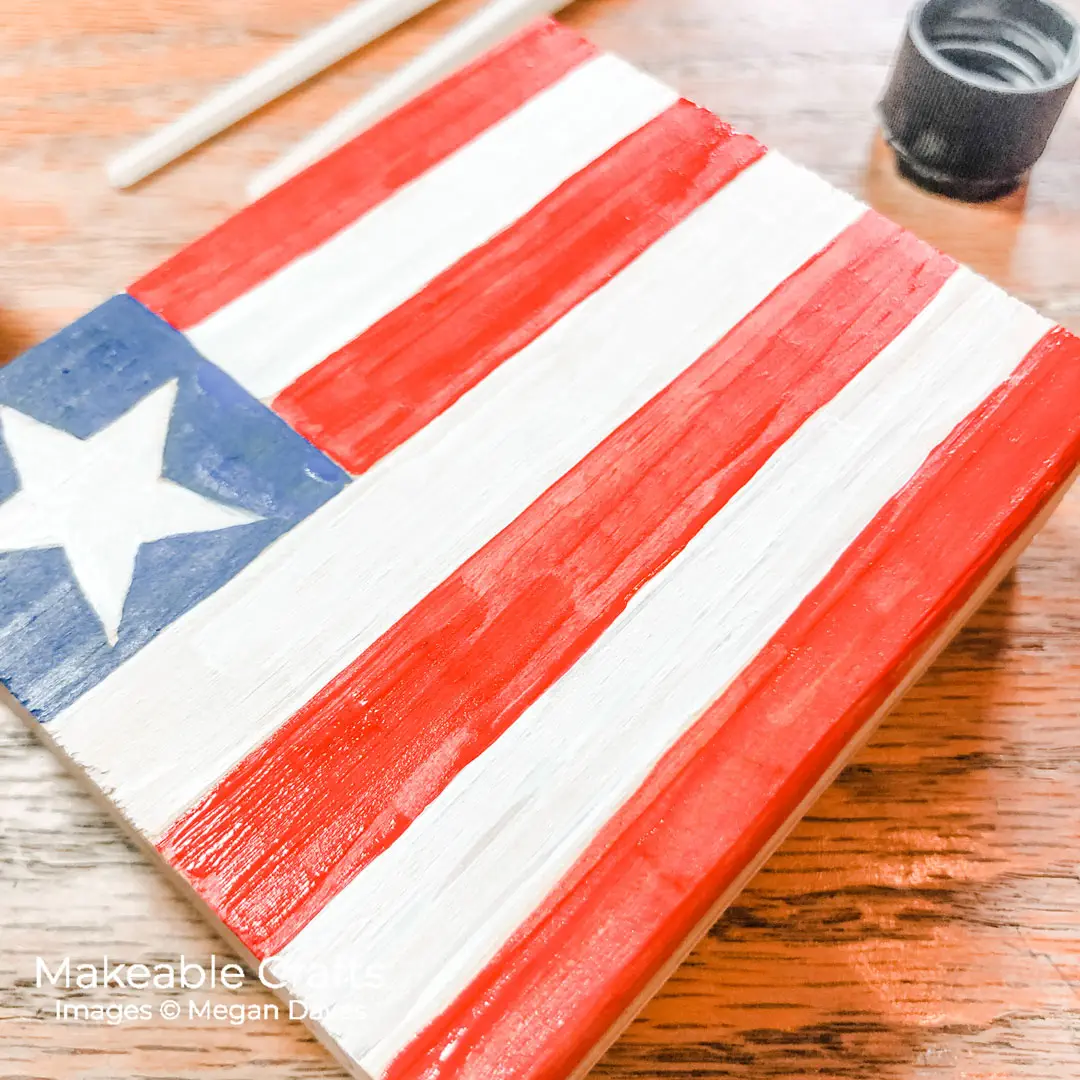 When you are painting your block, know what you need the sides, the top, the back to look like – where will you place this? For mine, it's going on a shelf against a wall, so I wasn't as concerned about the back, but I was thinking about the top and the sides.
I planned to use a wide burlap ribbon to wrap around my block. The ribbon isn't see-through, and it really covered the sides well. But when I go to tie a double knot in the top, it's going to gather and pull, so part of the top of the block would be exposed, so I followed the same paint lines around the top.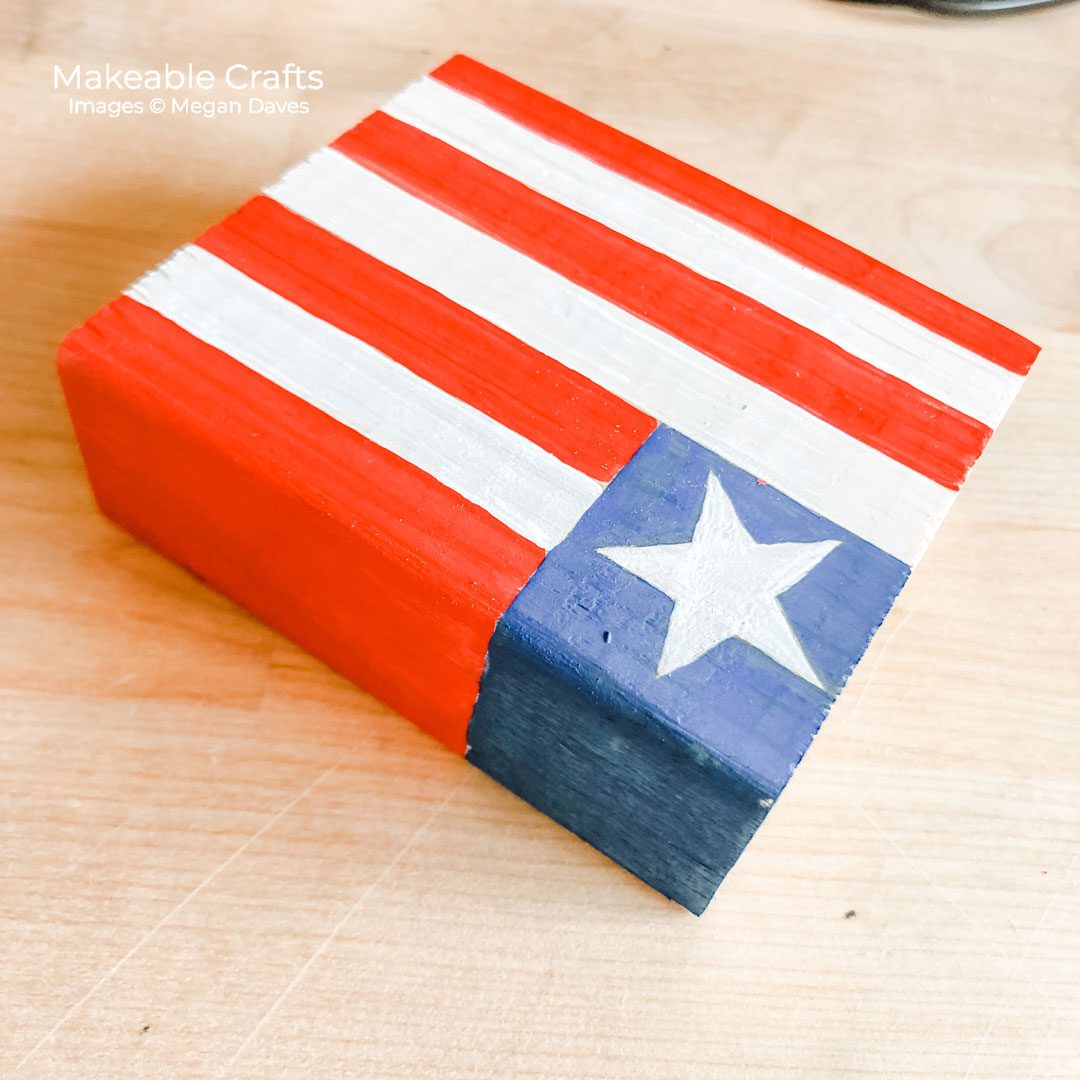 Finishing
Once all the paint is dry, grab your ribbon and wrap around your block. I used Beacon's Fabri-Tac on the bottom of the block and the sides to secure the ribbon into place. Tie a double knot on the top, trim your ribbon and you are done!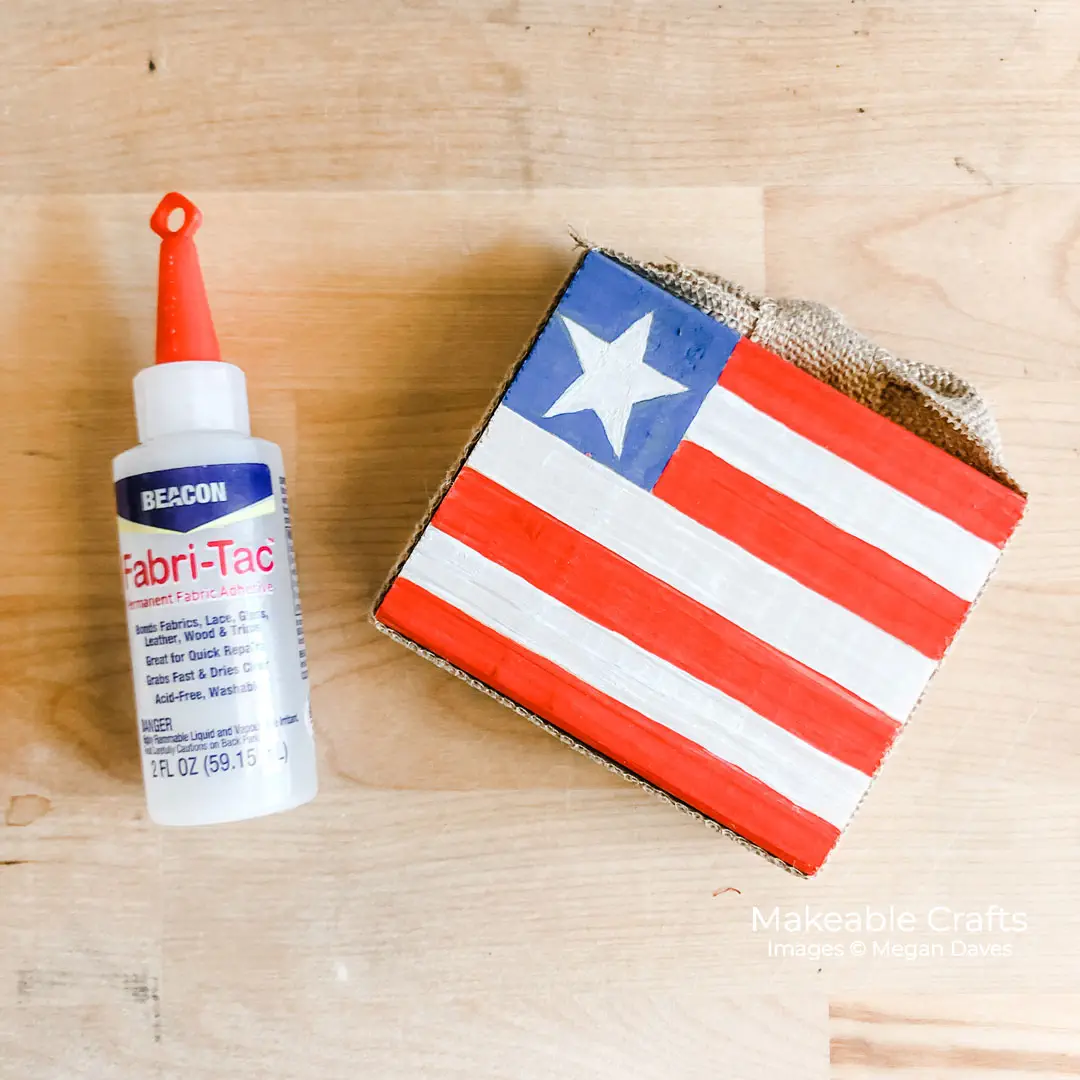 Involve the Kids
This is a great project for kids too! It's never too early to teach them about patriotism and the symbols of our country. You can pick which parts they do. A fun way to do this with multiple kids is to give them each their own block and when they are done, write the kiddo's name and the date.
Please don't ever forget that handpainted crafts make awesome gifts! These are great gifts for many occasions, but perfect for Memorial Day, 4th of July, Veteran's Day, Grandparents Day, and Flag Day.
My grandmother loved displaying my handmade crafts, I was often embarrassed by them when I went to visit as I got older and I asked her to take them down, wasn't she tired of them? She said, "Never!" She truly treasured all of them. I treasure her too, I have every letter she wrote me – we were pen pals 🙂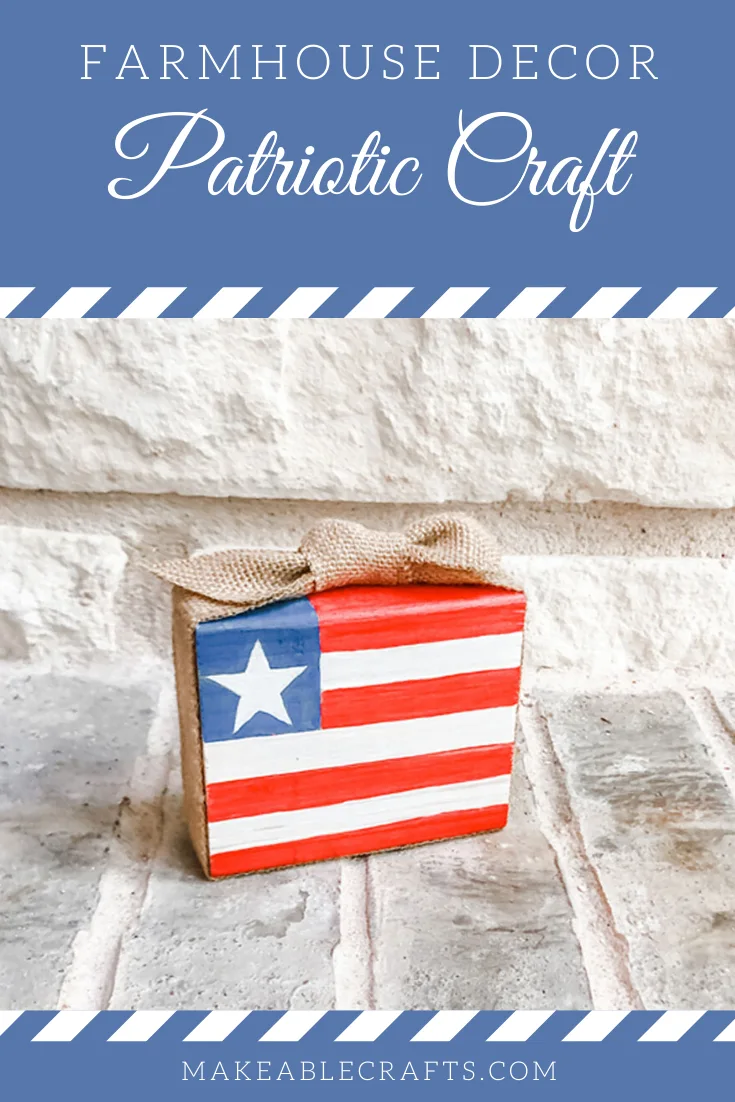 Thank You
Thank you so much for stopping by to check out this flag craft. If you like this one, be sure to also check out this trio of blocks – they are super cute! See you in the next project! XOXO, Meg