Brush Marker Art – A Quick Crafty Fix!
If you are like me, you are intrigued by the world of brush marker art, brush marker lettering, hand lettering, new calligraphy – all those terms people use to describe the GORGEOUS projects that they claim are made so easy. However you describe it, when it comes down to it, it's the new style of handwriting that is part cursive, part decorative, narrow lines with broad lines – all designed where the handwriting is the art and the art is made easy using brush markers.
After dallying with it off and on for several years, I was virtually introduced to a lady who writes books and creates worksheets just for this craft, Amy Latta. She has written several books and by all reports, they are the best ones available for learning brush marker art. Amy has the perfect style that is the look I really like most – simple but pretty, with just enough detail to make your project look like you have all the answers.
I like this book of hers the most because it teaches not only the basics of hand lettering but also it includes doodling, enhancing, and different effects – check out the Galaxy Effect! It covers a ton in this book and I thought it was time for me to give it a try already.
If you have followed me for any amount of time, you probably know that have a growing love for Ooly products. They have an incredibly full line of products that give you tons of color options – they have amazing pens, fun chunky paints, and of course awesome markers perfect for brush marker art projects like the one I made today.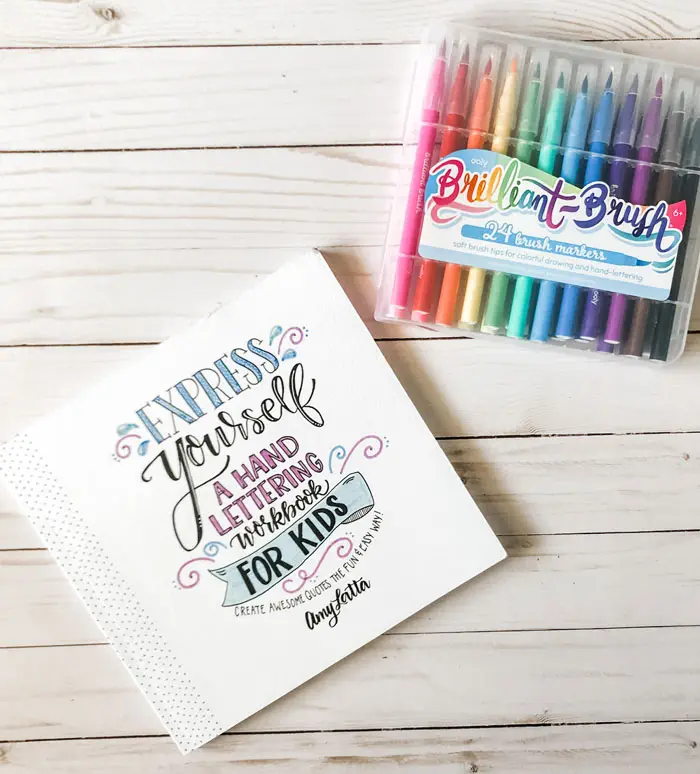 I was excited to use their brush markers because always I love me some new goodies! I hadn't used them before,and this may sound nutty, but I love the case for them! They don't come in a flimsy box that you instantly want to throw away – they come in a case where each marker has a spot and locks into its spot. Can you say no more accidentally dragging markers off the table or not closing the box all the way and having them spill into the drawer? Small problems, I know, but when you are on a crafty roll those kinds of things are SO! ANNOYING!
There are available in sets of 12 and 24 markers and they work like a dream. How can a marker be a dream? The first thing I noticed is that there isn't any drag. The marker just glides across the paper meaning you don't have any funky dark spots over overlappies where you had a stutter in the application of the color. It has a firm enough tip that you can draw narrow lines but then when you apply pressure to get your thicker lines. And the marker easily adapts to the amount of pressure you apply without ruining the tip or causing any permanent squashing.
So I got out an old frame that was waiting for something, a sheet of card stock and these fabulous markers and took a stab at a quick little piece. I was so thrilled with how EASY it was to make something so colorful and sweet in such a quick crafty fix I just had to share it.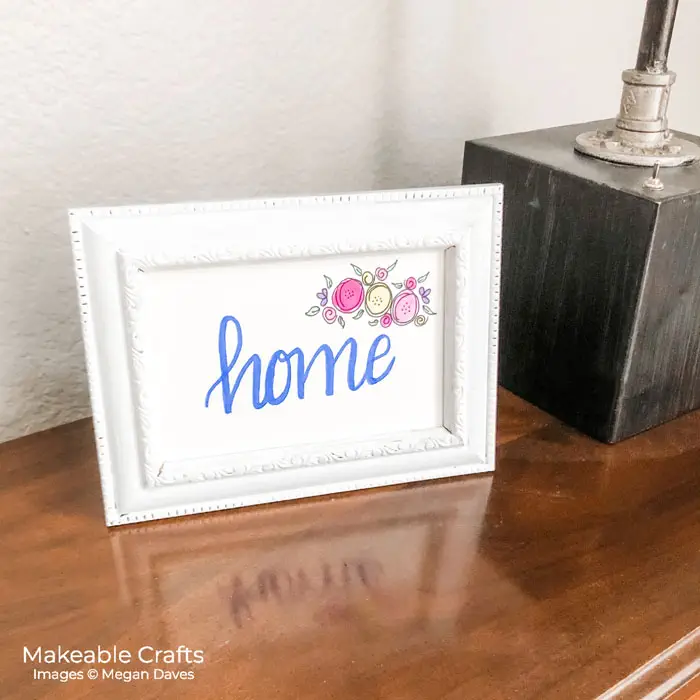 Where to Buy
Both of these products can be purchased from Beyond the Blackboard.
They are a small business/toy store in Colorado and you all know how much I love supporting small businesses. And right now it's clear from your emails and comments that you are all A) looking for some quick crafty fixes and B) feel the same way about supporting small businesses so if you are intrigued, throw them some love! While the book is called "For Kids", I guess I am a big kid at heart because I found the book to be perfect for me and also perfect for my daughter who is 13. We have both been practicing our lettering over the past year, but this book reinvigorated us both to try some new things and to think of lettering as art! Such fun things to try!
The great thing about experimenting with brush marker art is that you really can't go wrong with writing and doodling. The markers make everything super colorful and smooth and it's your expression of what you want to create that makes it art!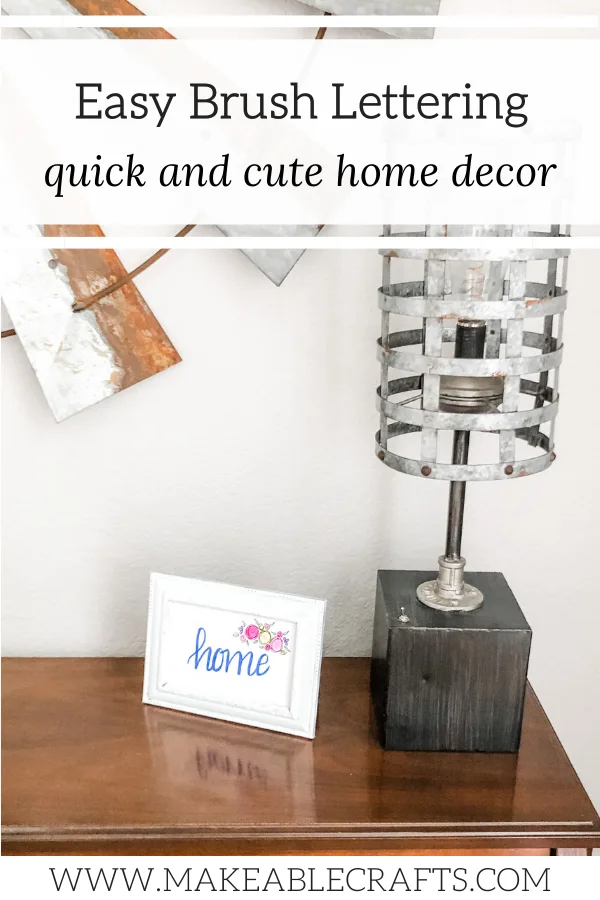 Thank You
Thank you so much for stopping by and checking out this craft! You will certainly see more creations from inspirations in Amy's book coming soon to the blog – she just makes it easy! See you in the next project! XOXO, Meg