Handmade Small Stuffed Owls
Ever wonder how easy it is to make handmade small stuffed owls? Today, I am going to show you just how easy it is to make these cuties! You will see exactly how to draw out your pattern, even if you are like me and can't draw, and then how to make these.
Your Supplies:
Fabric & Felt
Googly Eyes
Crochet Thread
Sewing Machine/Needle/Thread
Paper/Pencil
Fabri-Tac Glue
This post is sponsored by Fairfield World but the thoughts and ideas are my own.
When choosing your fabric, know when you are going to keep your owl out for decoration. For me, mine is for Valentine's Day but he can also stay out during the spring. With those in mind, I went with gray and pink for my colors, as I can use them for both.
Now it's time to draw and make your template. Don't worry, this is easier than it sounds. Start with an 8-1/2″ x 11″ piece of printer paper. Fold it in half down the middle. Draw a big half a U, then come in a bit near the top, like a fancy U would be. Turn your paper and come down about an inch and draw on a curve up to the top of the corner of your U, then round out that corner. Cut this out, open your paper and you have your pattern for your owl. The biggest thing I encourage is just to go for it. The shape is very basic and you will be stuffing it, so don't worry if your curves aren't perfect, that's one of the things I love most about this project is that it doesn't have to be perfect!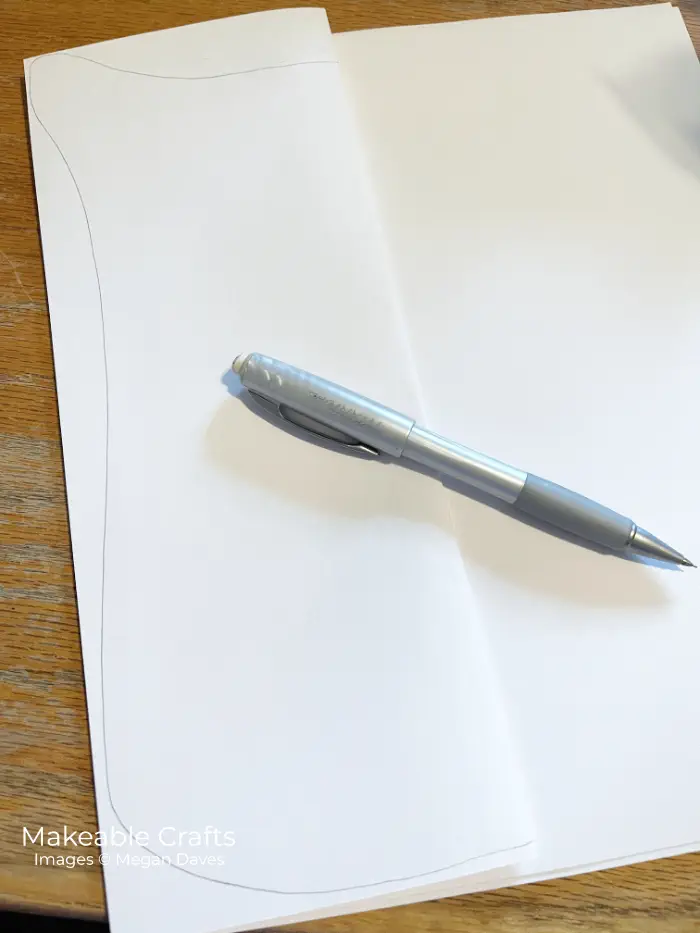 Fold your fabric in half so that you are using your pattern on top and cutting through two pieces of fabric, with the wrong sides of the fabric facing each other.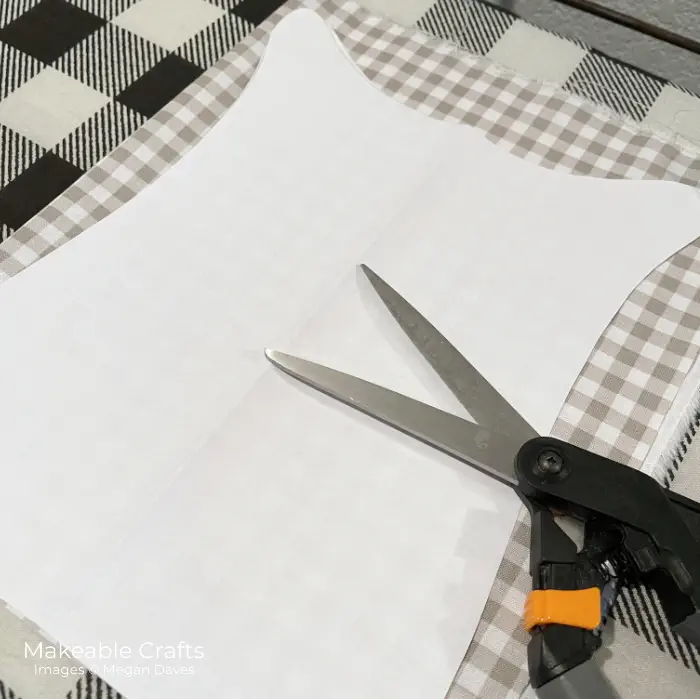 Look around your house for circles. I used the lid to a jar, a lid to a container – anything that is round. Start with your bigger circle and trace it. Then overlap the same circle on top of the other one, making a "figure 8″ for your eyes. Cut out the pattern and then cut out your pink felt.
Trace a smaller circles and cut out your white felt, you will want two of these.
Cut a quick triangle of orange felt and that will be your beak.
All that's left are your wings. What I did was trace around my owl pattern onto another piece of paper, then draw a curve about 4″ up leaving about 1-1/2" of space at the bottom between the two wings. Cut out two of these from your felt. The best part of using felt is that you can make one pattern, fold over your felt, cut two pieces, and not have to worry about which side is the right side of the fabric.
The Stitching
One cute way to dress up your owl is to add a running stitch of crochet thread around your pink eye outline piece and your two wings. I recommend doing this before you put your owl together so that you can sew your wings into your seam.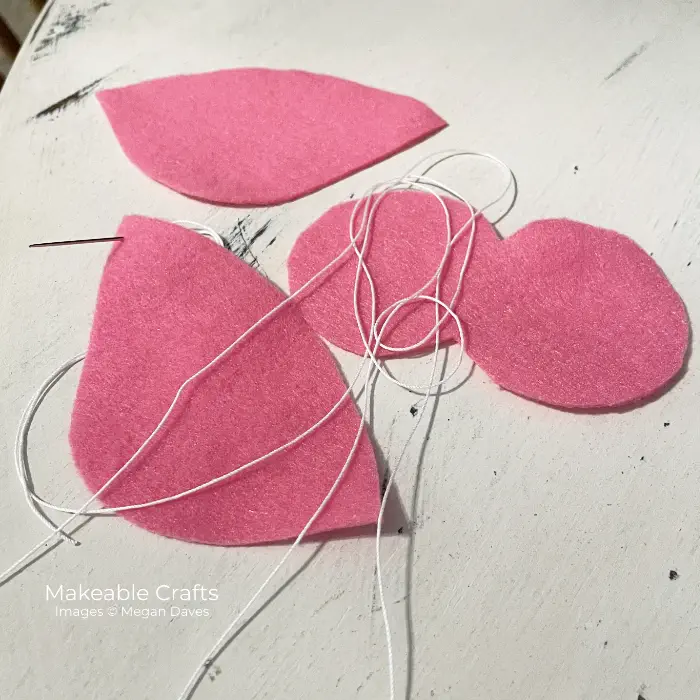 Pin your wings as shown, and the rest of your owl – leaving a section for stuffing – and then go to town sewing your owl.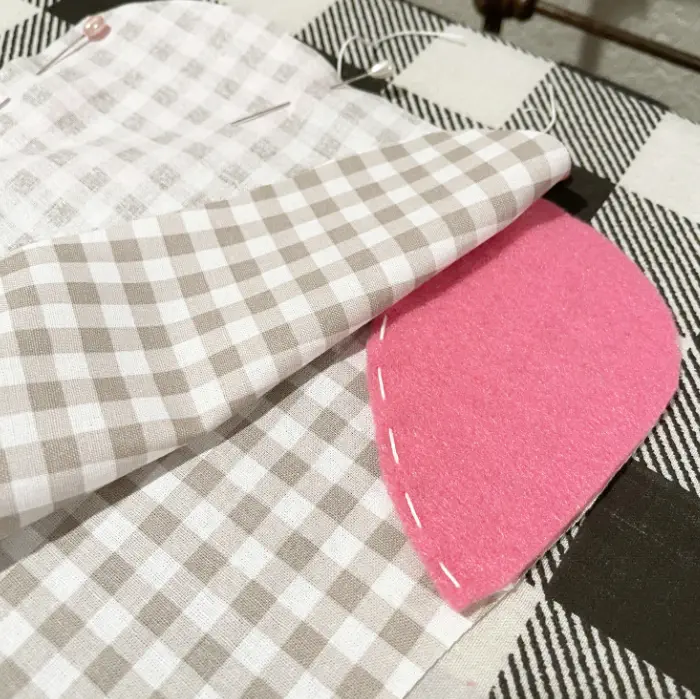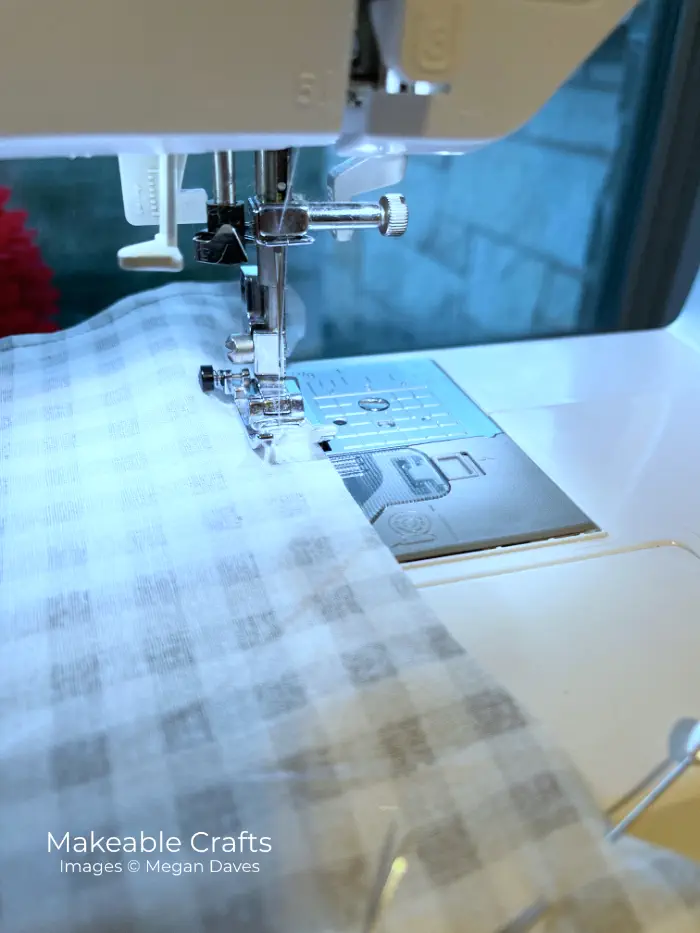 The Stuffing
This is the fun part for me. This is the part of the project when things are really coming together. When I grab my Poly-fil™, I know that I am almost done. When working with Poly-fil™, start by filling your corners and sections furthest away from your opening. Work with small amounts of filler rather than big handfuls, it just works so much better. When you think you have enough in your ears of your owl, add a bit more. It's really easy for those corners to go flat, so make sure they are nice and plump.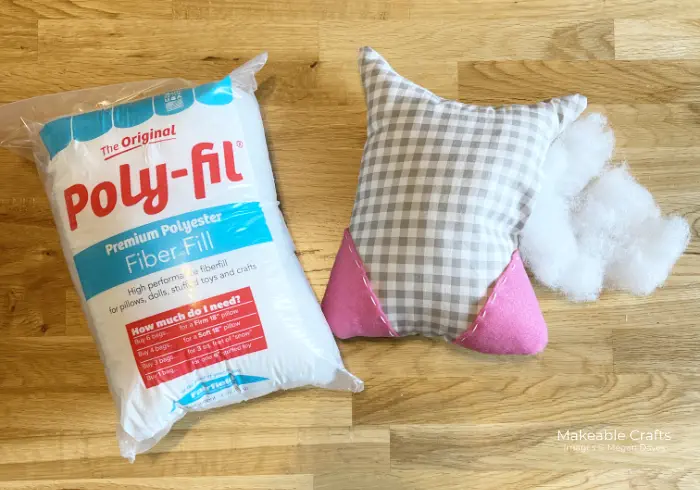 Once you are done stuffing, it's time to close up your owl.
Finishing Your Handmade Small Stuffed Owls
You have a decision to make right now – your wings are only stitched in at the seams. This was done intentionally, as it leaves you with two "pockets" in case you want to have your owl hold something seasonal, like hearts for Valentine's day or flowers for spring. You can leave the pockets as is or you can glue them down. But I recommend gluing down your wings after your owl is completely stuffed.
Grab your Fabri-Tac and get to gluing on your eyes, nose, googly eyes and your wings if you desire.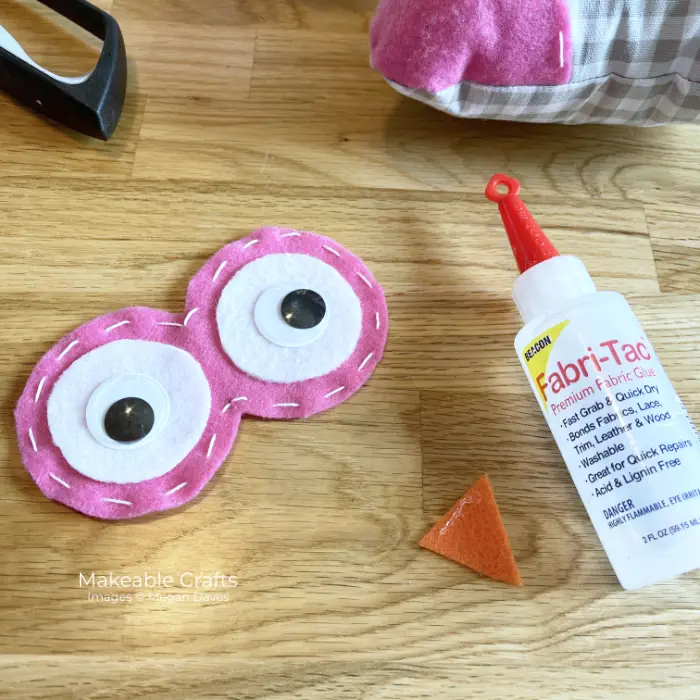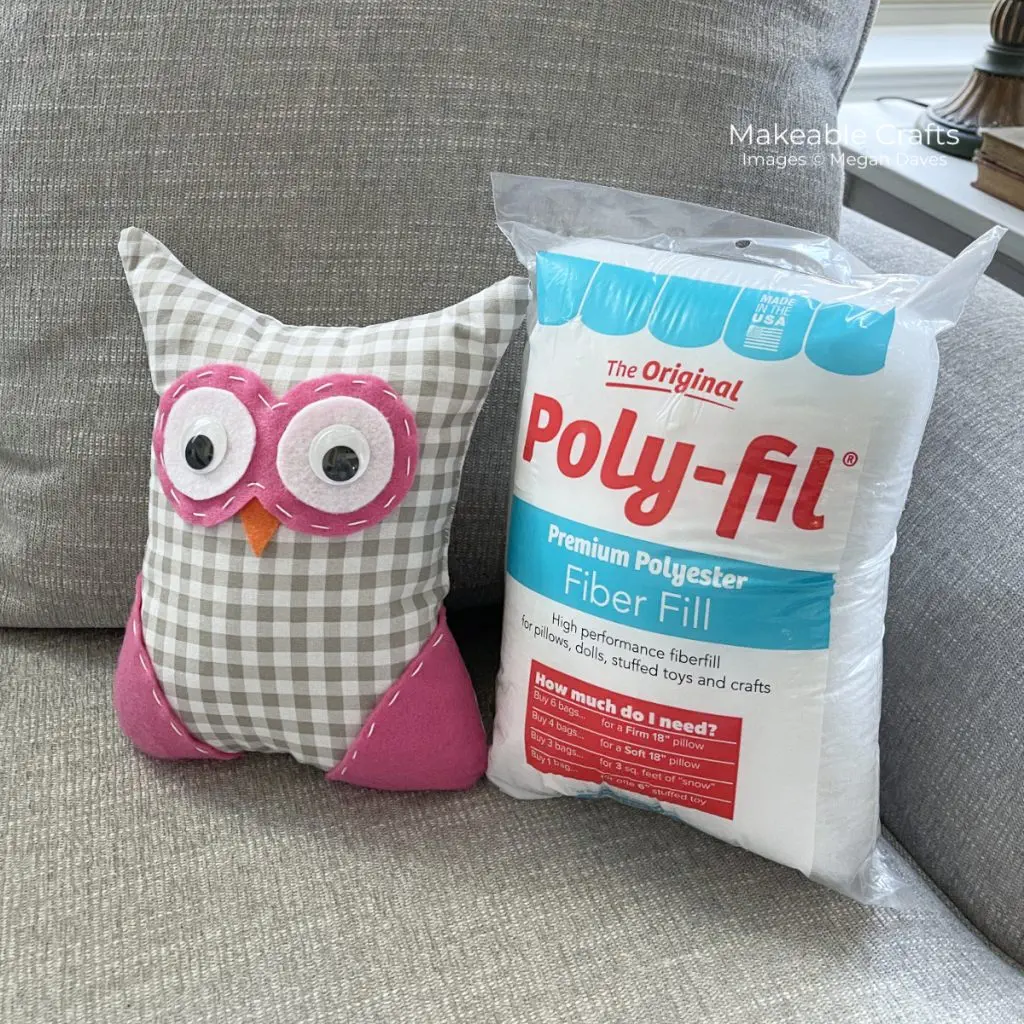 Your Turn
Now you know exactly how to make these handmade small stuffed owls and it's your turn to try them. You can whip up a parliament (that's what the Google machine told me a group of owls is called) or just a one-and-done owl, your choice. Whichever you choose, just give these a try! See you in the next project! XOXO, Meg