Mardi Gras Bead Crafts to Make an Awesome Stand
Mardi Gras bead crafts? Is that really a thing? Indeed it is! Whether you "earn" your beads on Bourbon street or get them from the Dollar Tree, we all have these floating around our homes at one time or another.
I have a stash of different colors that used to sit in my Pat O'Brian's hurricane glass that I keep thinking I would do something with, and today is the day 🙂
Supplies
Snow (Titanium) White paint by DecoArt
Everlasting Chalky Finish paint by DecoArt
Mardi Gras beads
Candle stick holder
Wood plaque
Plastic bowl and spoon
The Making
The beads started hot pink, that is not on the color palette for my home decor pieces. So how best paint them?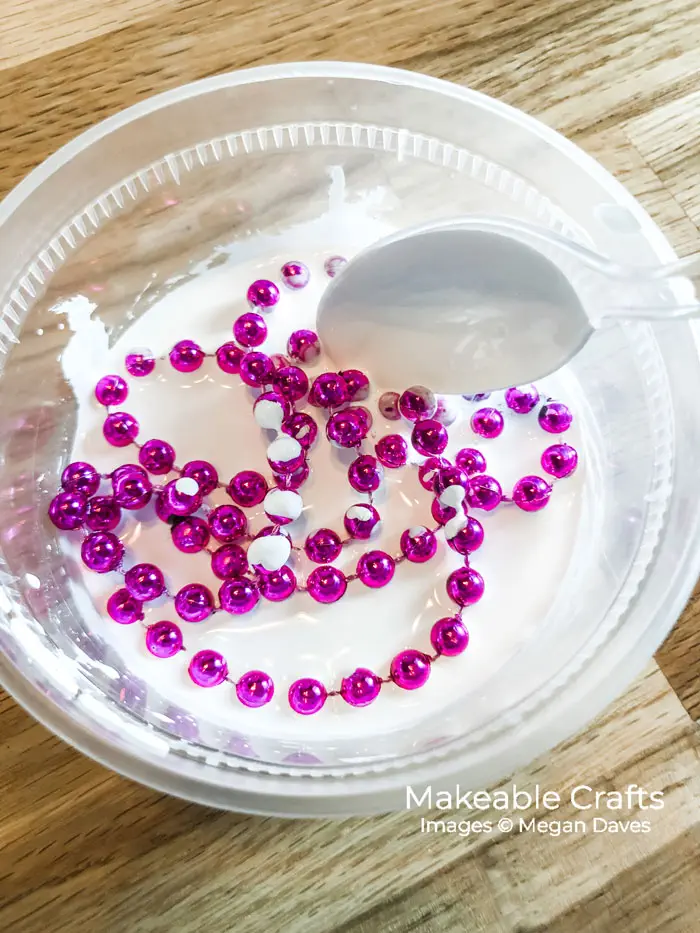 I started with a plastic bowl, added Snow (Titanium) White paint by DecoArt and a small splash of water, then just stir it up with a spoon. I added the water because I thought it would be easier to coat the beads. Then I added the beads and would spoon the paint over the top, let it sit for a few minutes, then repeat. After about 20 minutes of occasionally doing this, then lay them out to dry on wax paper. After they are dry, put them back in your bowl, spoon the paint over the top and then pull them back out onto the wax paper to dry.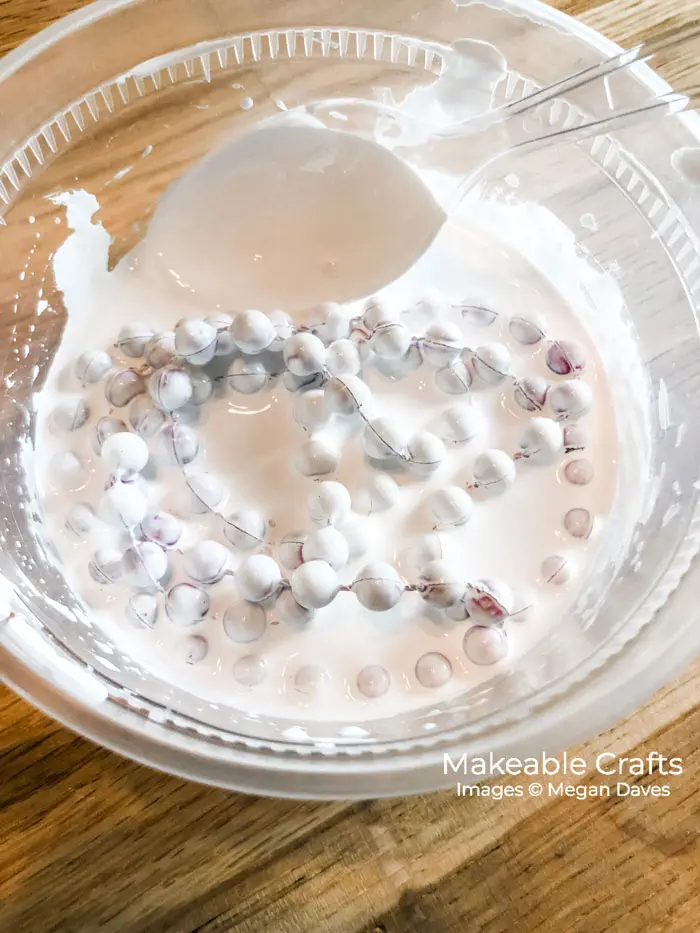 While your beads are air drying, paint your glass candle holder and your wooden plaque. These are craft items I always have in my stash. I get the candle holders from Dollar Tree and the plaques from a variety of craft stores. I applied a couple of coats of DecoArt Chalky Paint in the Everlasting color. I used chalk paint as I don't have paint specifically made for glass and I thought I would get better coverage with this paint rather than the acrylic paint.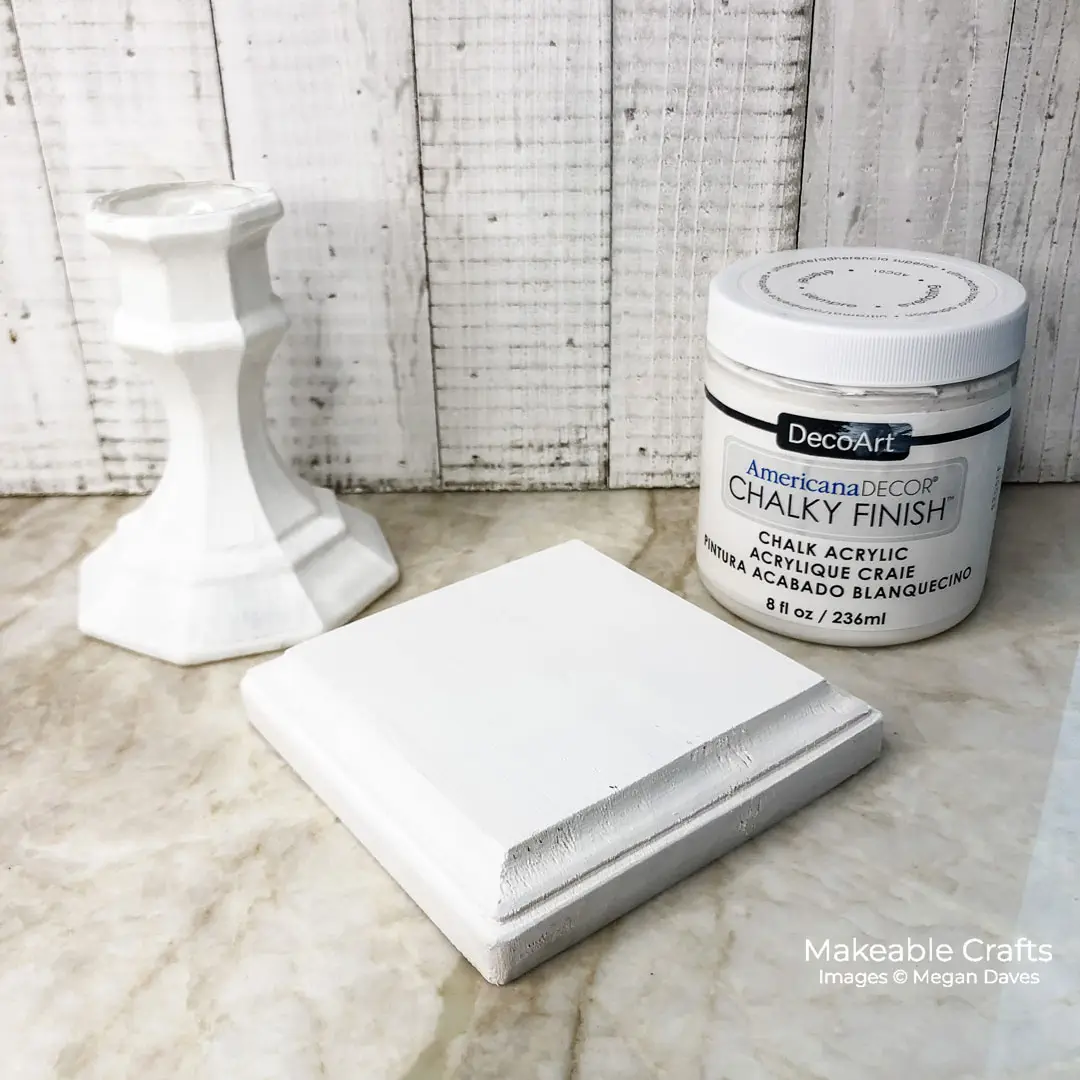 Your beads should be pretty well dried by the time you paint your candle holder and wood piece. When you pick up your dried beads from your wax paper, you will notice excess paint that is stuck to your beads from where the paint ran down the bead. You will have paint to pull off the beads, this takes just a minute to remove extra dried paint.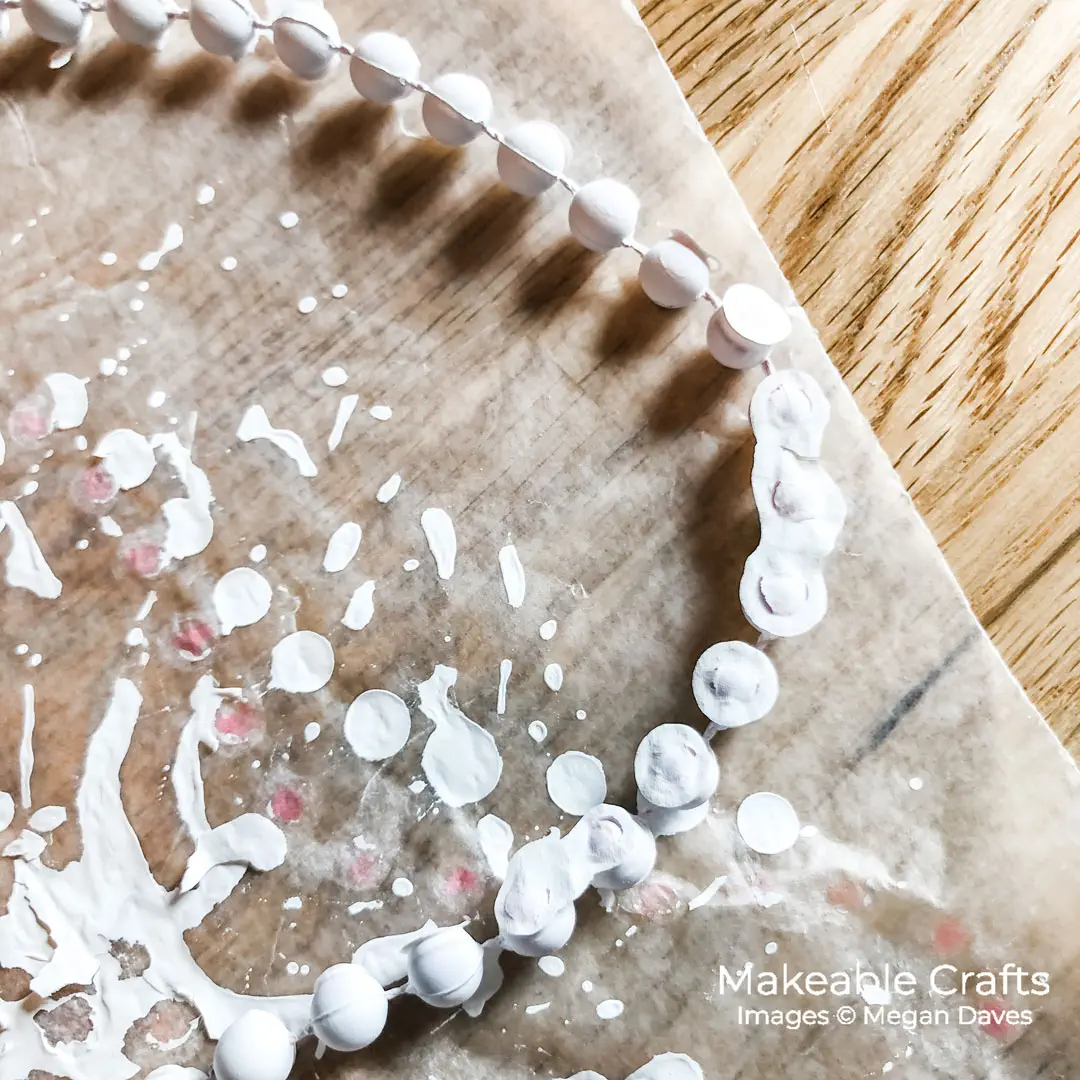 Then it's time to glue! I used 3-in-1 Craft Glue from Beacon. It works great on wood, plastic, and glass – so perfect for this project.
Cut your beads somewhere on your strand. There is usually a place where two beads are connected to each other, I started on one side of that and cut. Then add glue to each bead and hold it in place on the edges of your wood piece. Hold for a few seconds to let the glue set – this one dries pretty quick. It's not instant, but it's quick. Work your way around your wood plaque with your glue and cut to remove any remaining beads from the string.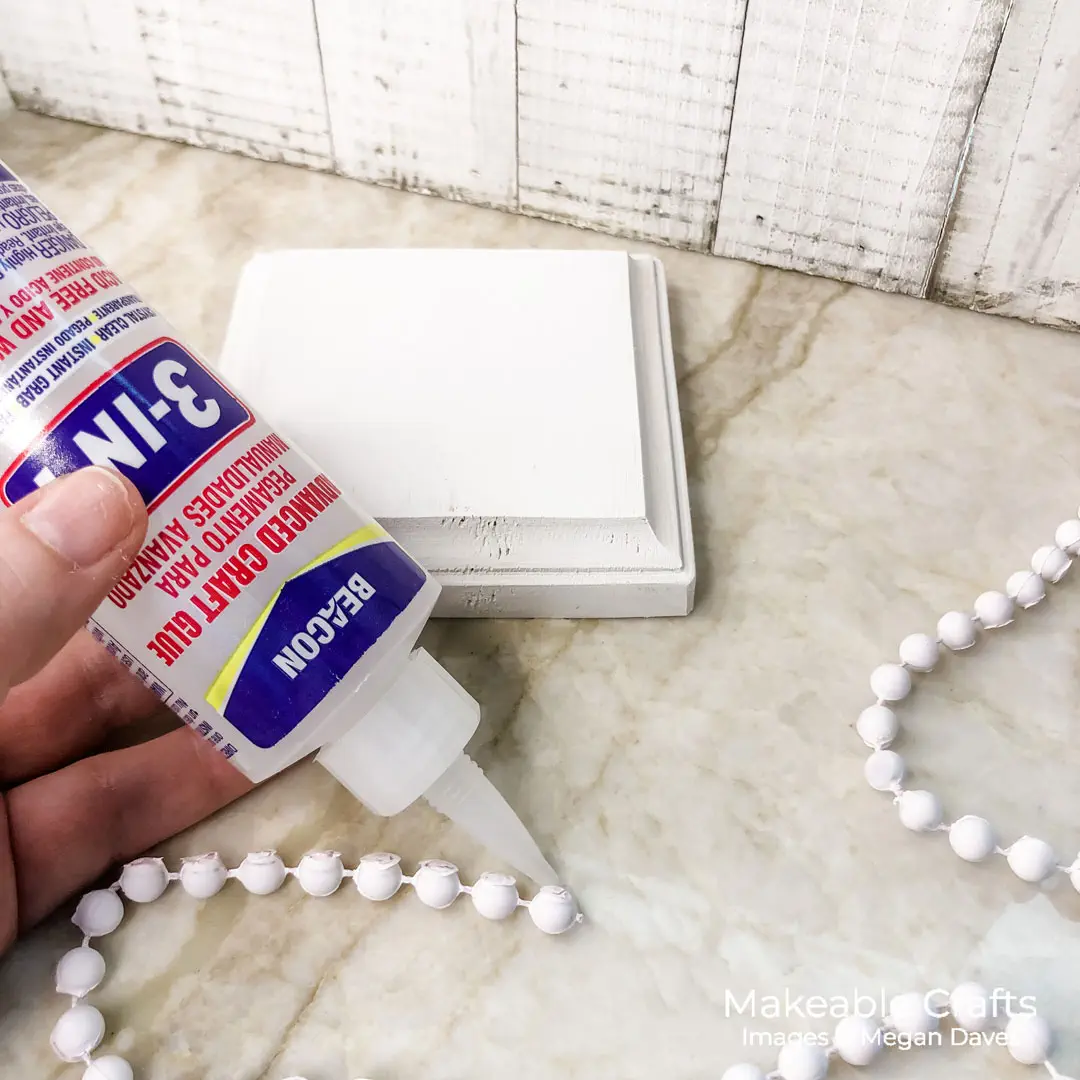 Then add glue to the rim of your candle holder and add to your wood piece.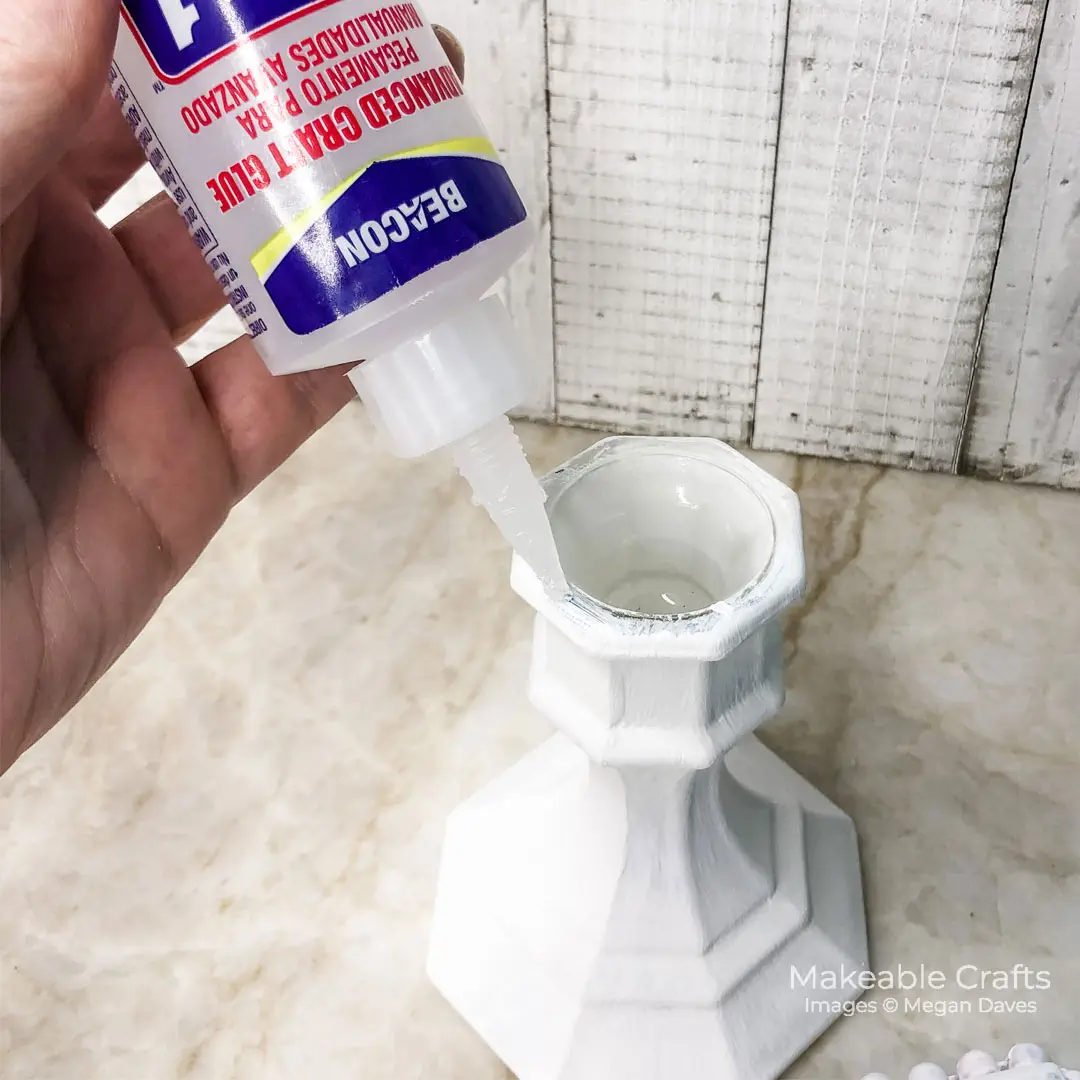 I keep my wood piece upside down on the table and then add the candle holder, it works easier for me to get the placement in the middle of my wood piece.
Allow the glue to fully dry and then your project is complete!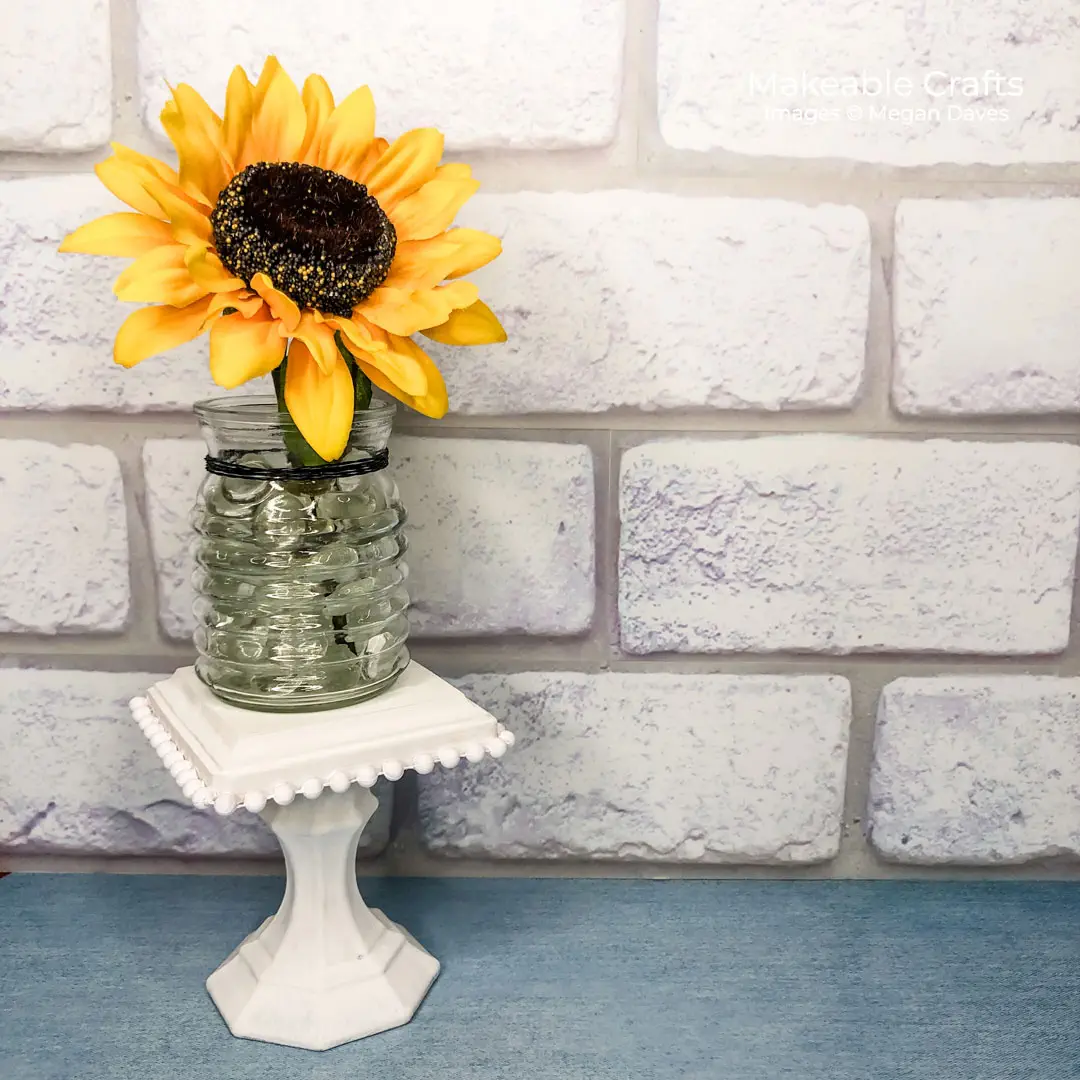 Use it as a stand anywhere in your house. The wow of this craft really is the Mardi Gras beads!
Your Turn
You can make a matching set of these, or make them all different heights and sizes of plaques, all using fun beads as a way to make these stand out. Give it a try 🙂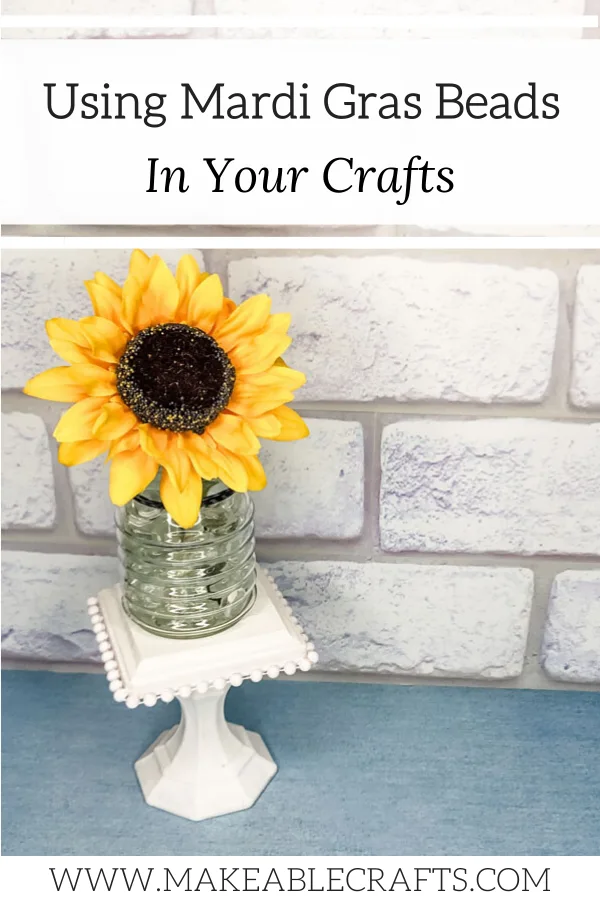 Thank You
Thank you so much for stopping by and checking out this Mardi Gras bead crafts idea. I hope you enjoyed it! Keep coming by for more craft ideas that are totally makeable. XOXO, Meg