Chalk Paint Coffee Table Makeover
Recently I got this awesome piece from a buy/sell group online and knew right away when I saw it that I wanted to use it for a chalk paint coffee table makeover idea I have had for a while. This was such a great find, but the color was all wrong and there were a lot of blemishes to it but it had a little somethin' somethin' that made me think it just needed some love. AND it was screaming to be painted. It's not a vintage piece or antique, so there was no guilt what-so-ever in painting it because if I didn't like how it came out I could do something else to it – one of the fabulous things about trying out painted coffee table ideas. Check it out…here she is before.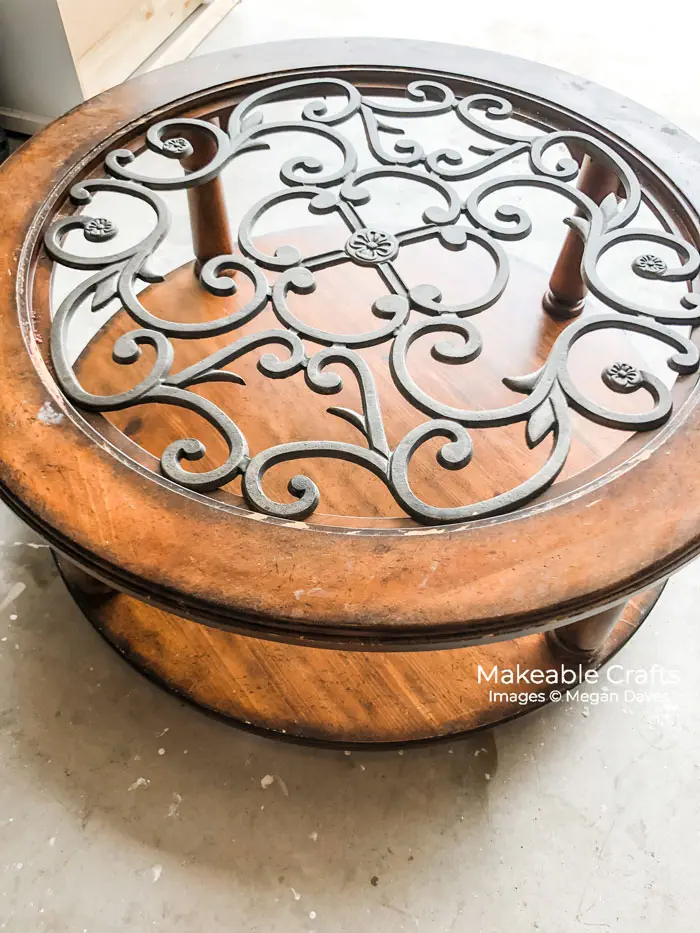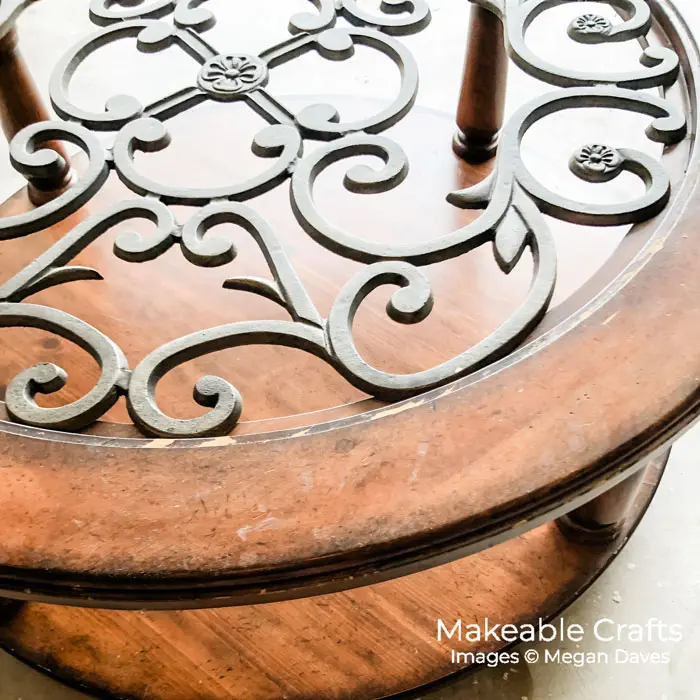 It has a large piece of glass that sits on top, but I left it in my car while I was painting because cats and kids – you know how THAT story could go!
Since it was a larger piece, it was time to use a paint sprayer. We have been long time lovers of Wagner products, but I didn't know until recently that they have a line for Home Decor. The Home Decor Paint Sprayer says right on the box that it works great with chalk style paints so I heeded the message from the universe was time to put it to the test! The instructions even tell you how much water to add to your paint and the canister even has markings on it. This solved huge problems I have had in the past – and Wagner solved this problem for me instantly. LOVE that it is Meg proof!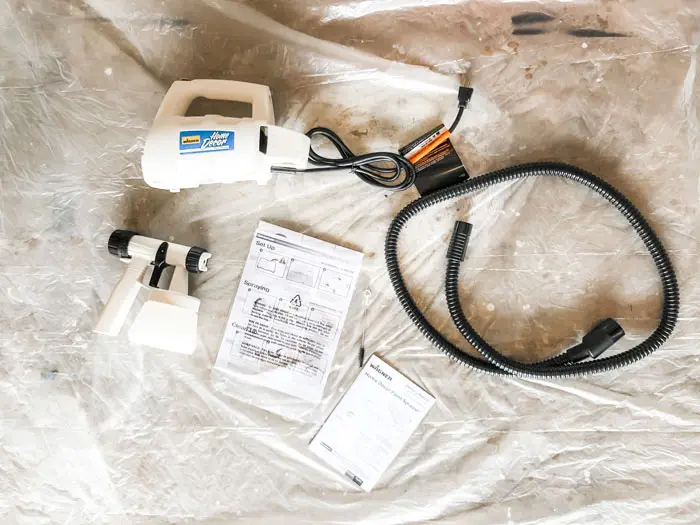 It includes everything you need – you don't need an additional air compressor with it, it comes with it's own which is a HUGE lifesaver – #askmehowiknow. You simply add paint, attach your hoses and start spraying. You can adjust the amount of spray and even the direction of spray, which is different than any paint sprayer we have ever had.
It took me about 10 minutes to really get a feel for it, to make my adjustments, to test my paint thickness and then to start. Which is crazy fast – it used to take me about 25 minutes to get everything ready to go! Wagner hit it out of the park with this baby!
The first thing I did was clean the table with water and just a tad bit of soap. This was a used table that had been, well… used. So there was some grime to get off and soap and water thankfully did the trick. After it air dried, I started spraying.
I used Rustoleum's Chalked Paint in Linen White.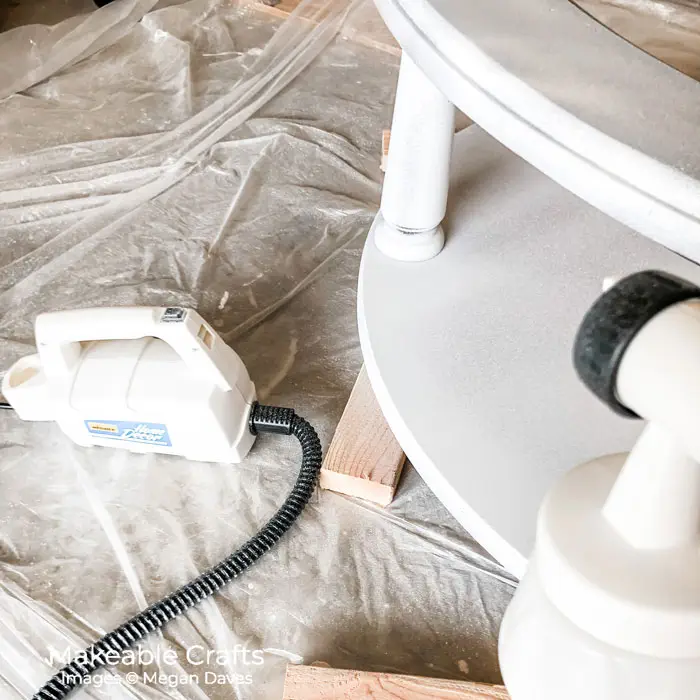 I started spraying the inside parts of the table first and then finished by doing a coat across the top. You have a choice when working with chalk style paints, and it all depends on how much distressing you want to do, if any at all. You can either apply one heavy coat, or two lighter coats. I didn't want a lot of distressing for this table – some on edges, but overall, I didn't feel the look of heavy distressing would add anything to this piece. So I went with the two lighter coats option. With this paint sprayer, it took me about 20 minutes to get a good first coat on this table – and the table is 5 feet in diameter, it's a big chunky piece! Chalked paint dries quickly, but I waited about another 20 minutes to do the second coat. The second coat went on just as good as the first which is also a nod to Wagner's great engineering.
When you are spraying chalk style paint, you won't have a ultra smooth finish on top and that's not what you should expect with chalk paint. It's up to you if you want to leave it a bit rough, keeping the texture that the chalk in the paint provides, or you can lightly sand it down to give it a smoother finish.
I usually opt to lightly sand down my pieces, and I did the same with this one. I wanted to see if my sanding would be any different with this sprayer, and it wasn't at all. Everything with this paint sprayer worked just as I anticipated if not better. The only thing I didn't consider, and it was a duh kinda thing – the compressor that comes with it and the tubing that forces the air from the compressor to the sprayer get pretty warm. It makes total sense that it would, but I didn't think about that in the beginning. It didn't slow me down one bit, but I wanted to share that with you in case you are considering a paint sprayer purchase.
And then, of course because this was going so well, it started raining, so I moved it inside to finish.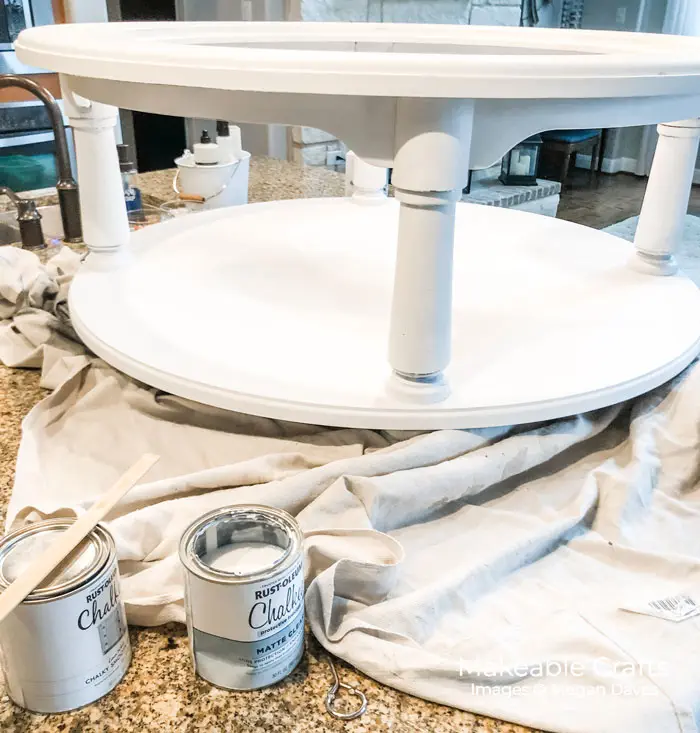 I did do a clear coat matte on top, since this is a piece we will be using and setting things on just to give it an added level of protection.
Total time from un-assembling to cleaning, painting/sanding/sealing, to re-assembling (we assembled the pieces inside – this is a heavy freakin' table!) was about 5 hours. Perfect weekend project! It looks fabulous, doesn't it?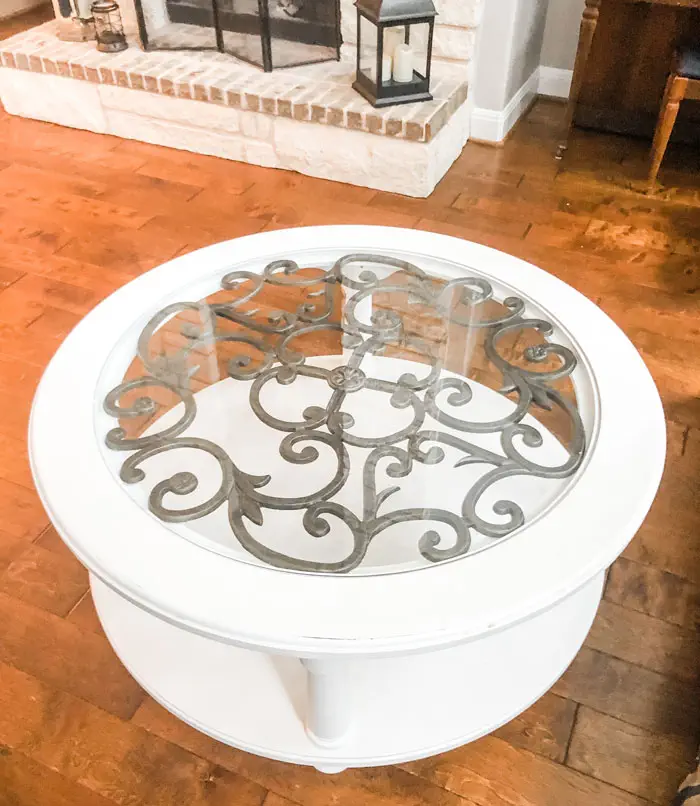 When you are working with larger pieces, I definitely recommend using a paint sprayer. I was delighted to learn that I really like this one, it's just easy – everything you need is in the box, and there are only four parts to it. OH – and cleanup was the easiest! The paint cleaned out of the container easier than my metal canister and my glass canister I have. Yes, my tubing and part of the compressor are painted now, but that's to be expected, because I was spraying in all directions – I didn't even bother to clean those pieces.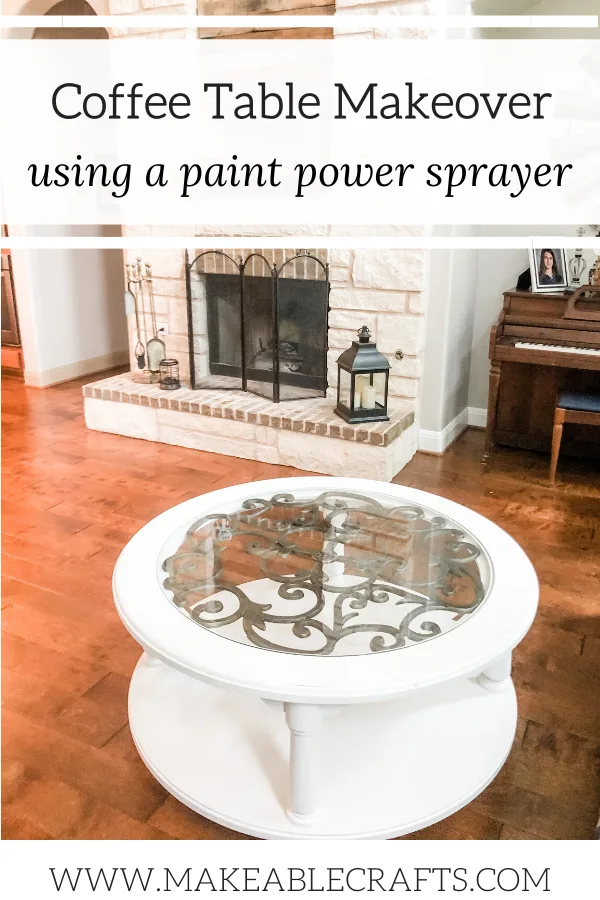 Whether you find a piece from a buy/sell site, or you look around your home to see what you could freshen up, grab one of these Wagner Paint Sprayers. Here is a link where you can order it on Amazon – yes if you use my link, I make a very small commission but it doesn't cost you any extra – so it's a win-win 🙂
Like this project? Then be sure to check out this one too!
If you've been pondering whether or not YOU could get a good outcome with your own chalk paint coffee table project, I hope this inspired you to go for it!