Red, White, and Blue Crafts
I love making patriotic things – all those red, white, and blue crafts ready to be made excites me so much! Today we are making some great shelf sitters with just a handful of supplies and time. These are fun because they are a quick crafting fix for those of you who need to DO something and are super cute for those of you who like to tuck a little holiday in every corner.
We are starting with a 2×4 that I cut into 4″ sections. Usually when I buy a 2×4, I will cut the entire board down to that size and have a bucket of blocks ready to craft. The best thing about 2x4s is that they are so affordable, especially if you are okay with imperfections.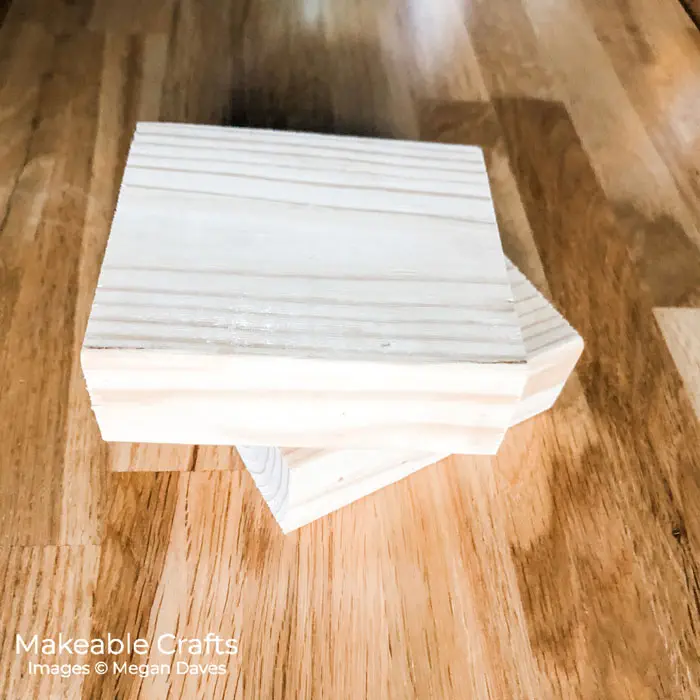 Grab your paints and start painting. I went with Cotton Ball, Lipstick, and True Blue colors from DecoArt. (You can find these colors in various sizes here on Amazon.) Now is the time to think about whether you will want to distress your blocks after the paint has dried, like if you are going for a more rustic look.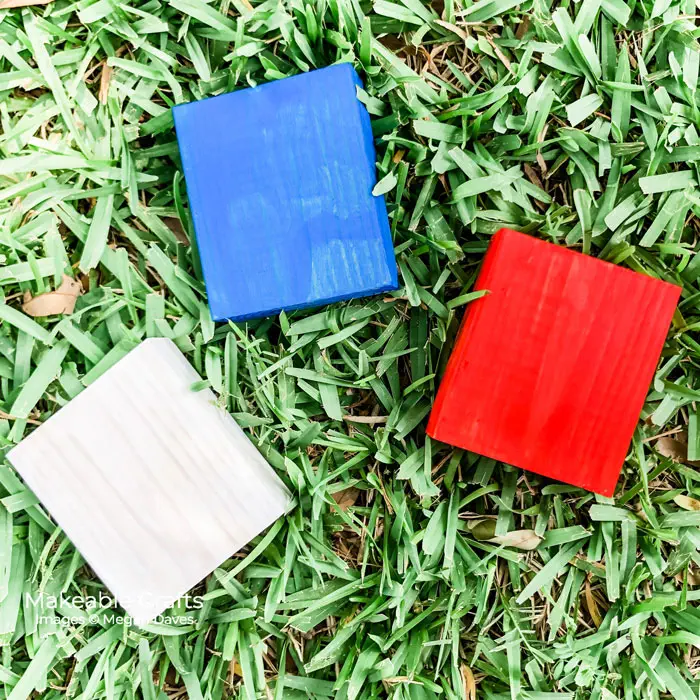 If you aren't going to distress, I highly recommend two coats. If you are going to distress, like me, one great coat is perfect. Since these are sitting out from my wall, I did want to paint the backside also, as it might show.
Allow your paint to fully dry, then I recommend heading outside to do your sanding. I went with a 100 grit sandpaper with a sanding block to distress mine. Start with a light sanding on all three blocks and then decide if you want more sanded. Remember that with this, the three blocks will stay together, so you want to make sure you like the look of them sitting side by side. Sometimes when you get them over-distressed and you put them all together, you realize you need more color.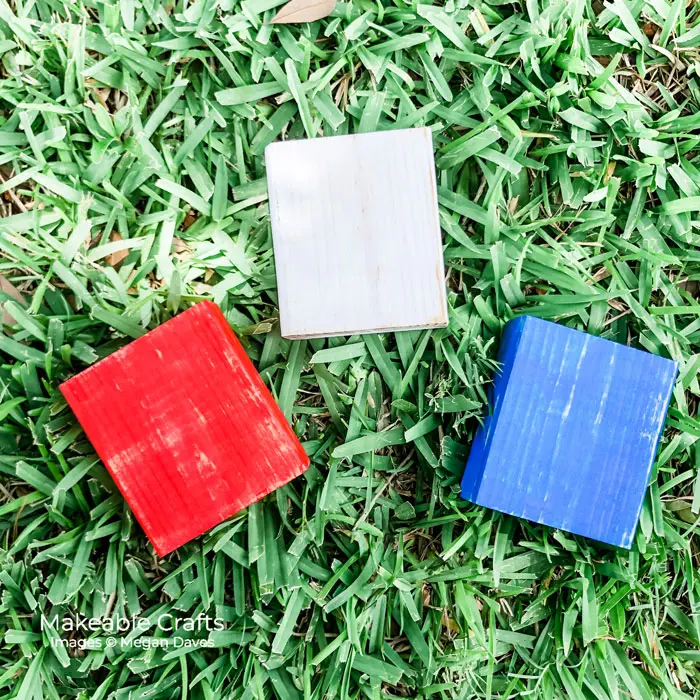 Now it's time to add our stars and our letters. Draw a star on scratch paper and use that as a template on red, white, and blue crafts material. I used oly-fun from Fairfield World. I was able to cut all three at once, making that a winner material in my books! For the white, I did double stack. My white star is going on a bright red, and by having two layers, the color of the star was able to pop more giving me the brightness I wanted.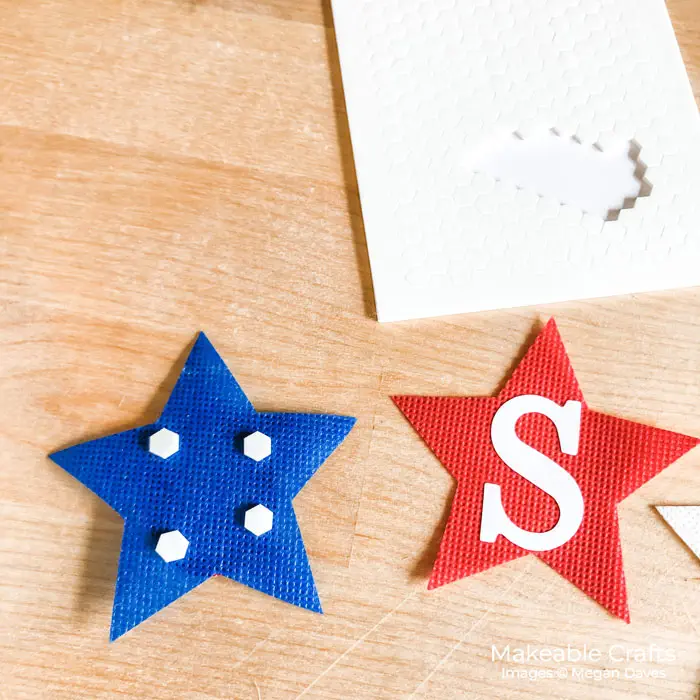 I couldn't find the perfect font on my computer for my letters, but I have letter dies from over 10 years ago that were perfect, so I gave it a try. It was easy! Cut out your letters, apply transfer tape to the top, peel off the backing, and apply to your star. You can also hand cut your letters from vinyl, or go with something different, even card stock for your letters.
To help give my stars and letters a bit of a "lift" off my block and make it a bit more 3D, I used foam adhesive behind stars to them mount onto my blocks.
Double wrap some twine – mine is from Hampton Art – around the bottom of your block, tying it in a double knot on the backside. Remember I said that these would be sitting out, not against a wall? Because of that, I did the double not rather than just gluing the tails of the twine to the back of the block. Tie a bow from the same twine and use liquid adhesive – I went with Beacon's Fabri-Tac – to attach my bow to my blocks.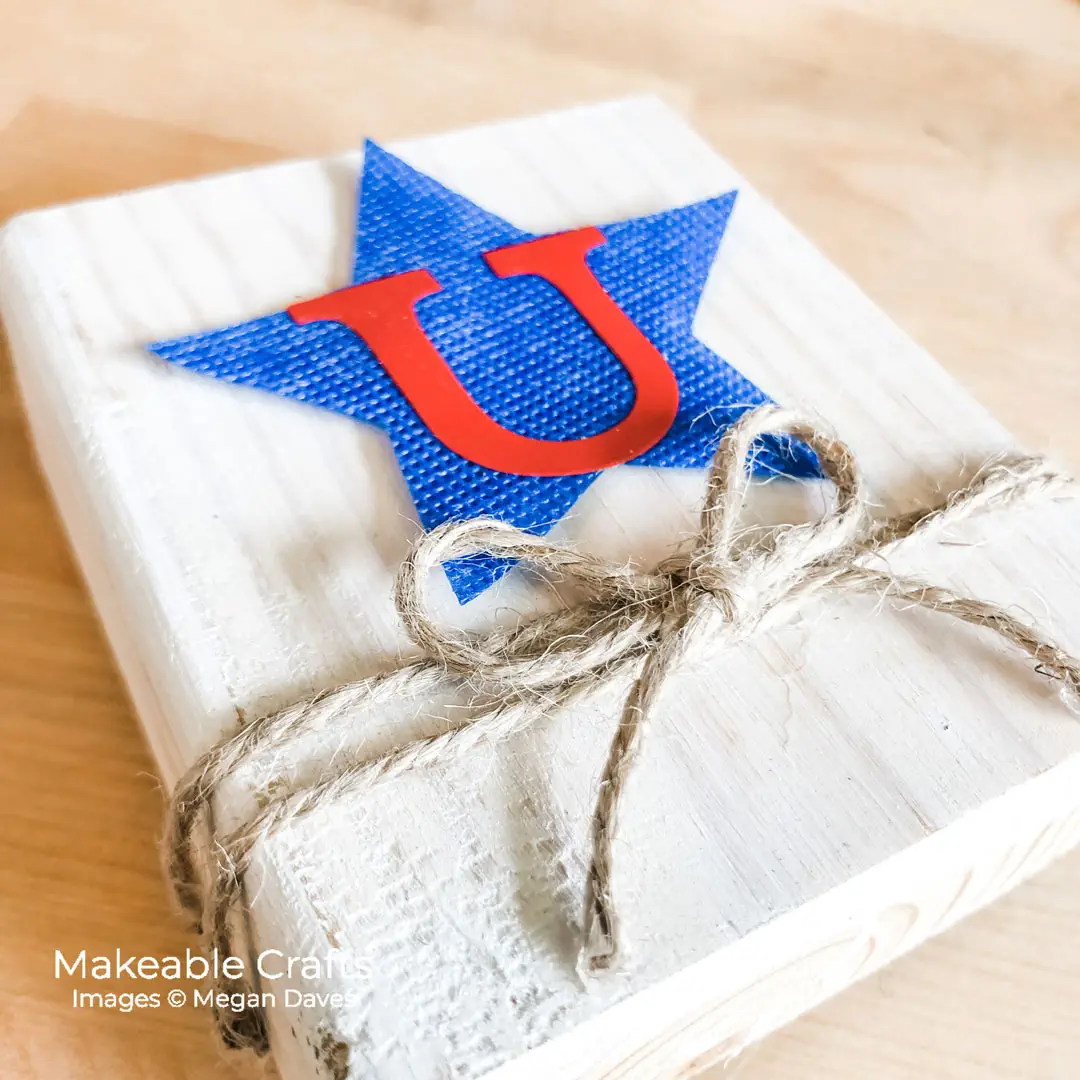 With just an hour and a half of craftiness, I was able to satisfy my itch for some red, white and blue crafts!
Your Turn
Try this project out! Get some wood blocks, grab your paints, some sand paper, red, white, and blue craft materials, and some twine and create!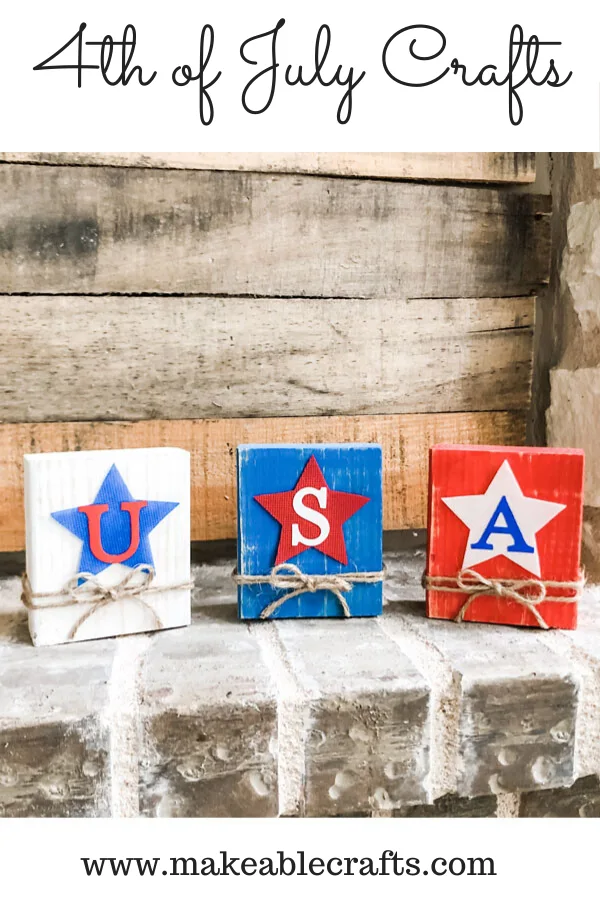 In Memory Of
This project is made in memory of US Army 2nd Lt. Darryn D. Andrews, as is any patriotic craft shared on Makeable Crafts. Darryn grew up with my husband and I have the privilege of knowing and loving him too. Killed in action in 2009, saving 6 other soldiers with his actions that day – gone yet never forgotten.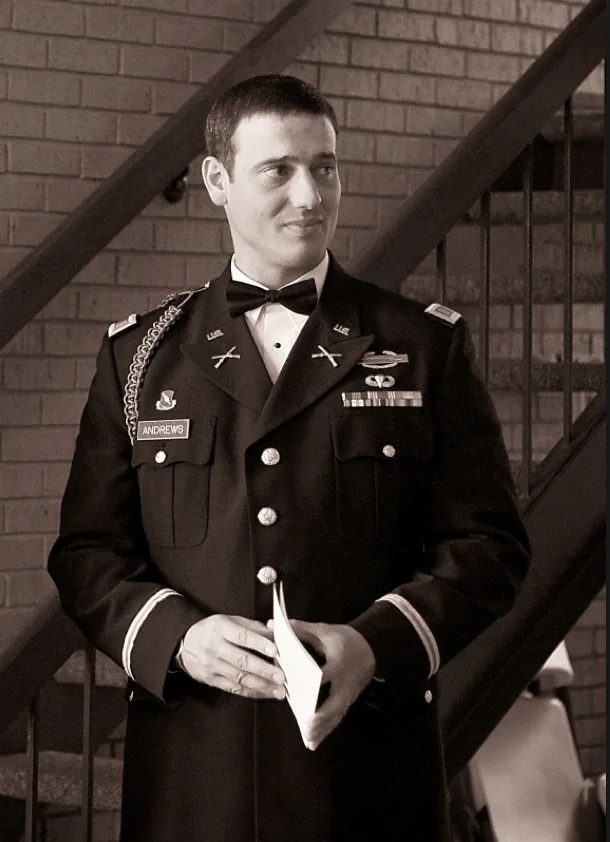 Thank You
Thank you so much for stopping by today! If you like red, white, and blue crafts like I do, be sure to keep checking back to the blog as I will add more as we get closer to 4th of July. XOXO, Meg