Let's make an adorable Dollar Tree bunny craft! There is something about making your own Easter decorations that never gets old. It's an easy way to add your personal style into your home during Easter season.
Springtime is my favorite time of year, and Easter is my favorite holiday. Everything is fresh, beautiful, and it just feels like a new start every year.
To make this, you will need some Dollar Tree supplies and some other supplies you probably already have.
Supplies Needed:
*may contain affiliate links
Assorted Paints/Brushes
Glue Brush
Greenery
Ribbons
Scissors
Optional: Stamps/card stock/ink to make tags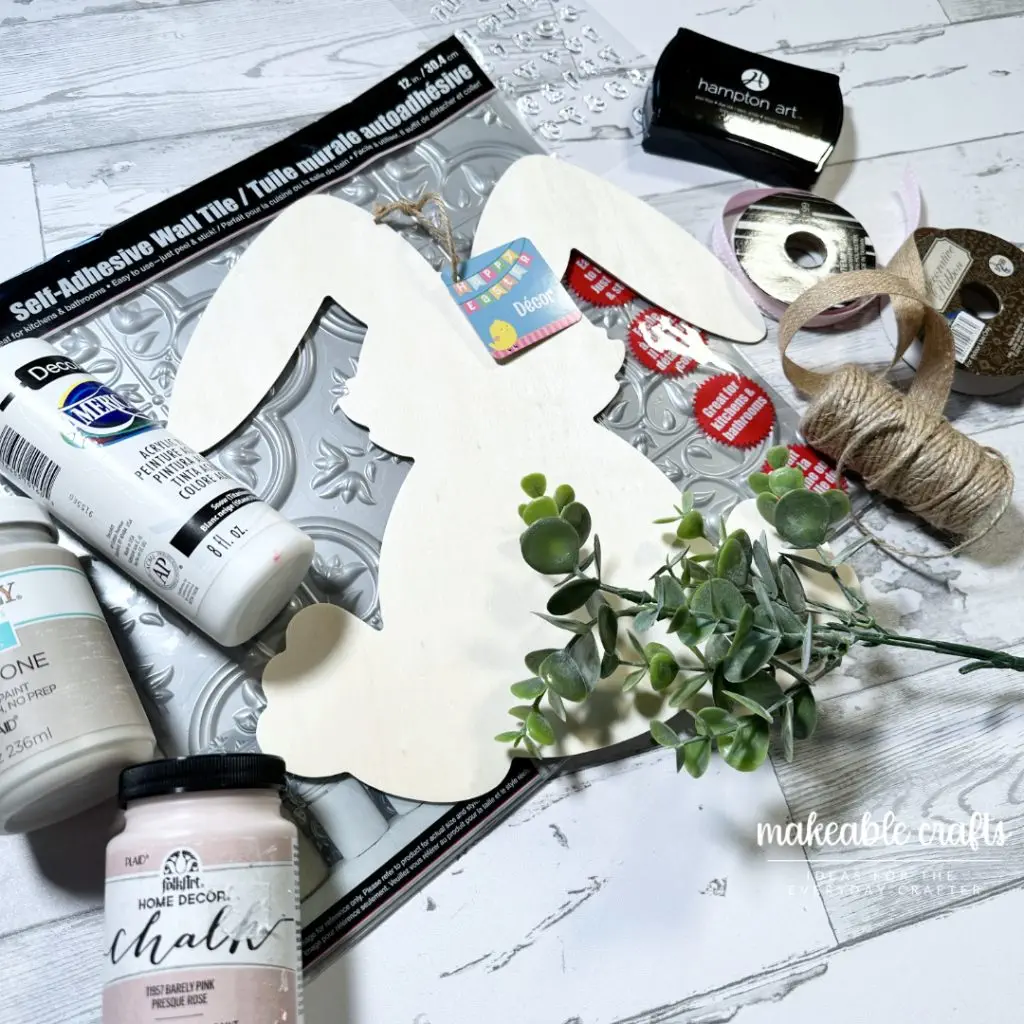 The Making
To begin making this affordable Easter craft, we have to first work with the faux tin tile. I LOVE these things for all kinds of Dollar Tree DIYs. They are in two pieces, with the sides sealed shut. One piece is the textured panel and the other is an adhesive sheet. But they are not sealed in the middle – which is sometimes good, sometimes bad.
I like to start with peeling off the adhesive sheet and adding it centered over our cute bunny. This isn't a permanent adhesive if you are working with it quickly like we are. Once it's adhered, take a ballpoint pen and trace around the bunny.
Then remove it and cut with scissors. Some of you may prefer to use an hobby knife to cut around your bunny instead, which is easy around the bunny's ears, but around the face and feet, it would completely go sideways for me.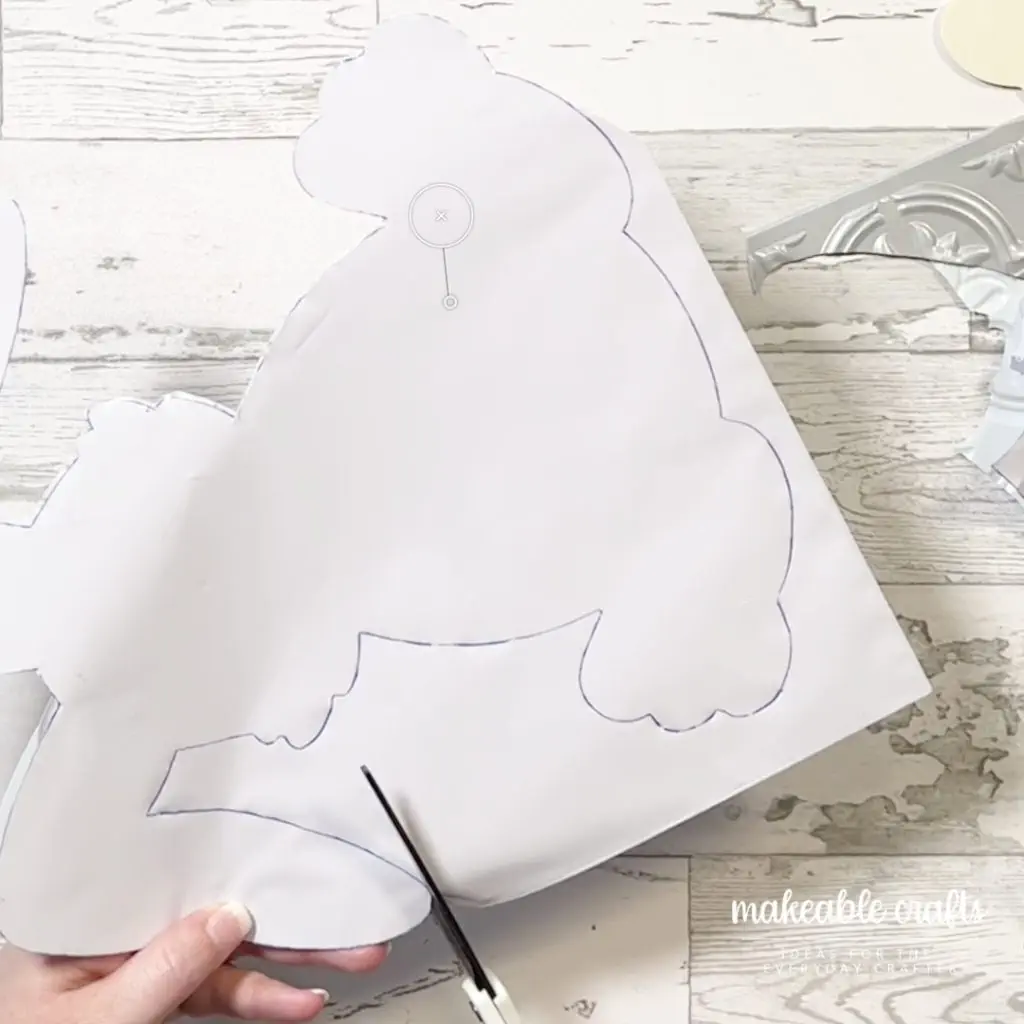 Throw away the sticky part, it tears easily and it's no longer needed.
Use regular liquid craft glue to add your tile back onto your Easter bunny.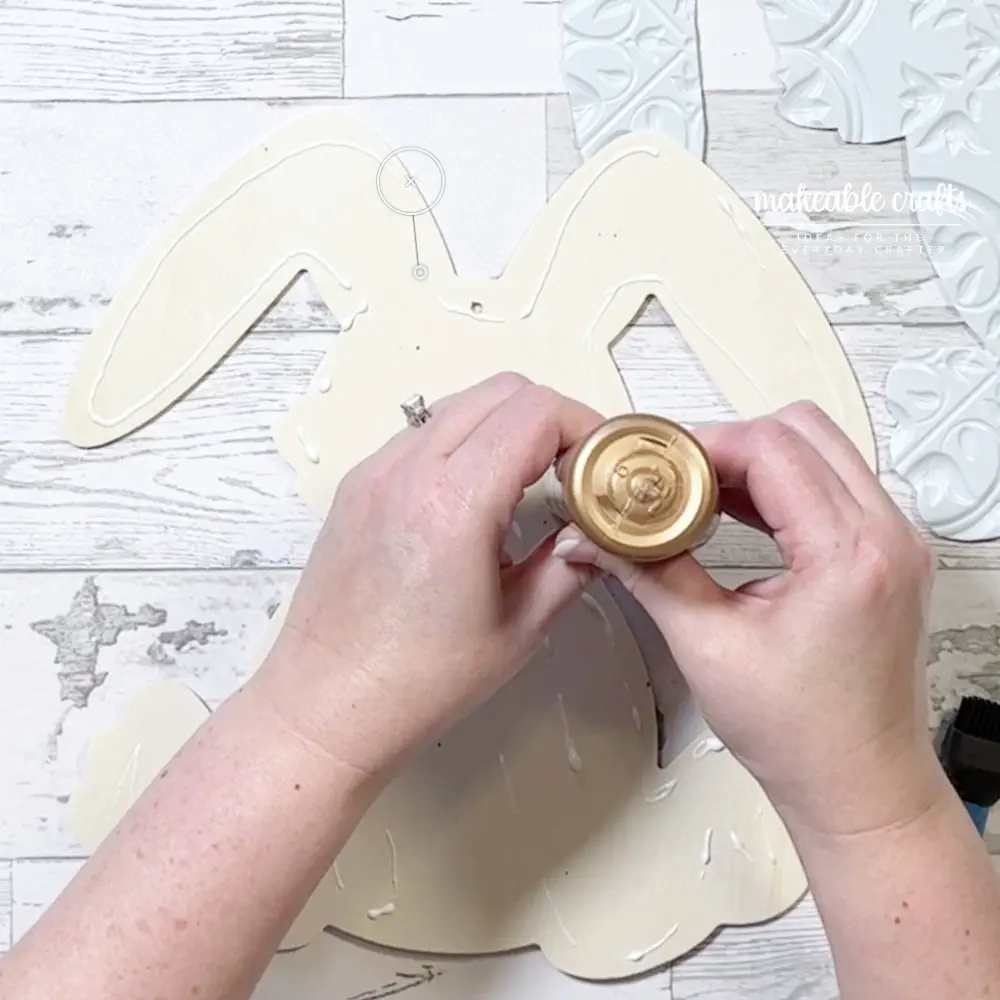 The Painting
Next we will start painting. I used an acrylic paint for mine because I have a ton of white acrylic paint. Every time I buy more craft supplies, I seem to buy more white paint. Use two coats of paint on your faux tile.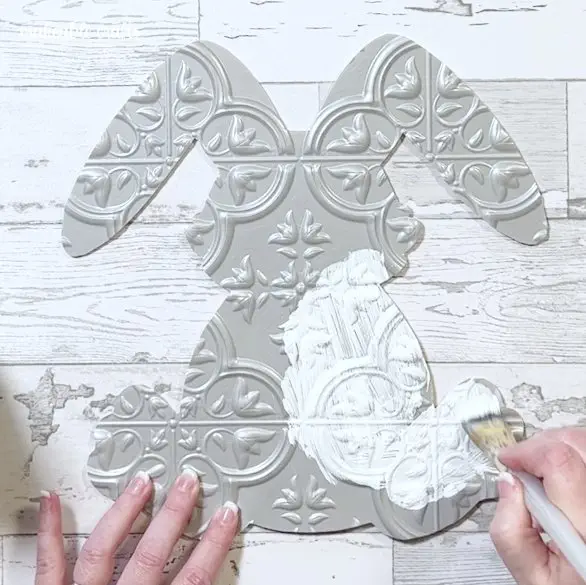 Once it was dry, you can start to distress it with other paints. I went with a pink and a sand stone chalk paint to lightly distress mine.
Once all of our paint was dry, I used my hot glue gun to add some greenery. Then added a cute little bow. I made my bow with different ribbons and twine, feel free to lay a piece of ribbon or two into your bow like I did with the lace.
Add Tags
If you want to add little stamped tags like I did, it's fast and easy to do. Simply stamp your letters onto some kraft card stock and trim down.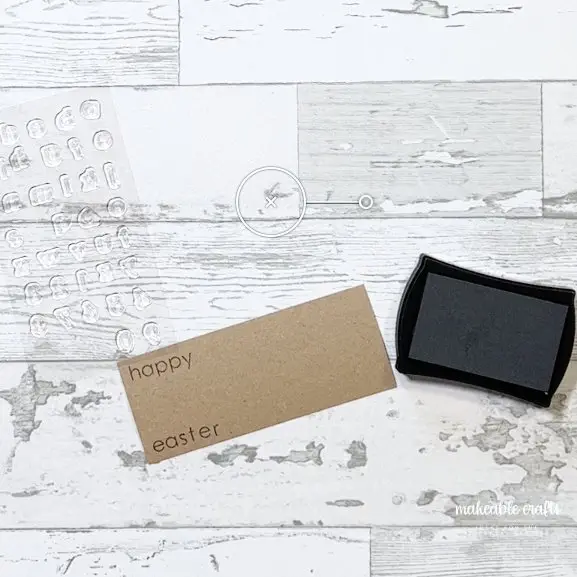 Now initially I had a plan in mind to hang the tags, so I made reinforcers for the tags – then later changed my mind, but didn't want to remake the tags. And THAT is the best part of crafting, isn't it? We can change parts or the entire thing on the fly!
Ideas on how to display this:
Place it on a side table,
Create an entire Easter table of decorations staged with Easter eggs
Rest it on your fireplace mantel
Add it to an Easter wreath with a wreath form
Hang it on ribbon for your front door
Give as cute gifts
I love how I decorated mine, but you could also get rid of the greenery and bow and add a bunny tail, dress up the bunny ears to stand out more, decorate with springtime pom poms, or you can even add it to an Easter banner since it is super light weight. Buffalo plaid ribbon would also looks great with easy Dollar Tree Easter crafts.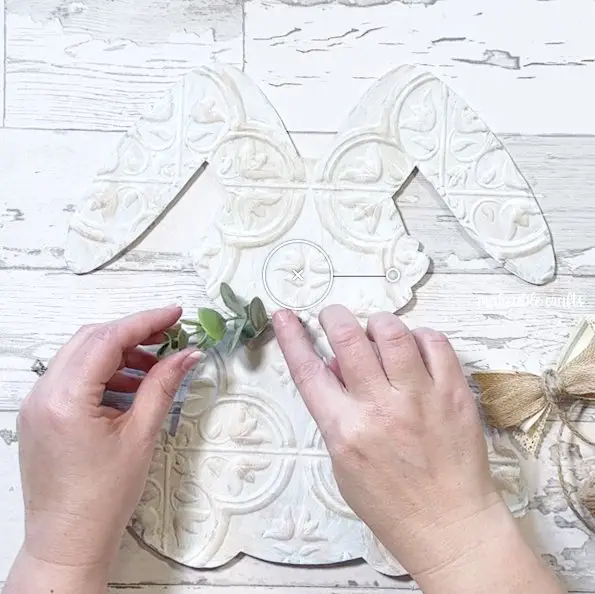 So if you are looking for an easy project, and easy dollar store idea, run to your local Dollar Tree store and grab the bunnies and the faux tin tiles. This easy craft can be completed in under an hour, including paint drying time.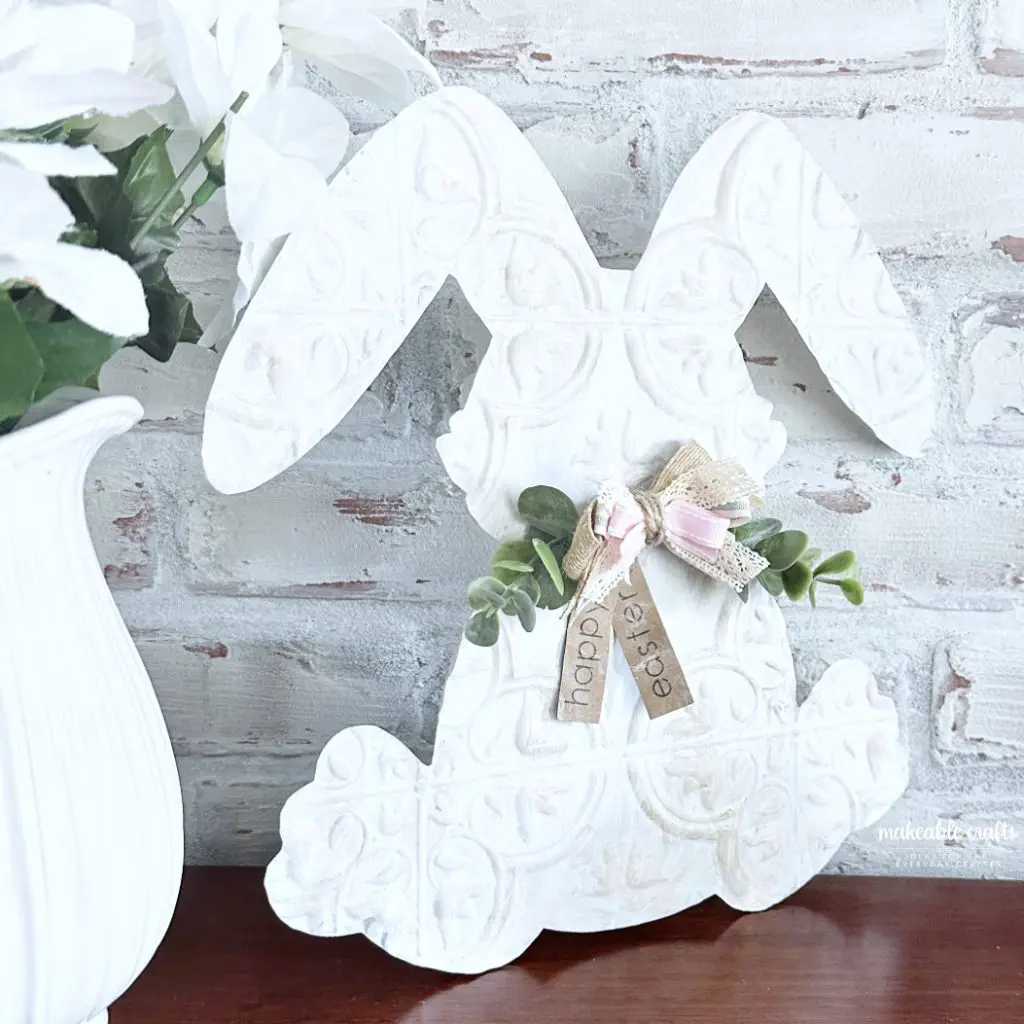 Video tutorial
I've made you a video tutorial walking you through how to make this adorable project. You can see that here:
This farmhouse style easy DIY Dollar Tree craft is so much fun to make, I can't wait for you to try it. It just may be my favorite project this Easter. Check out these other affordable Easter crafts here.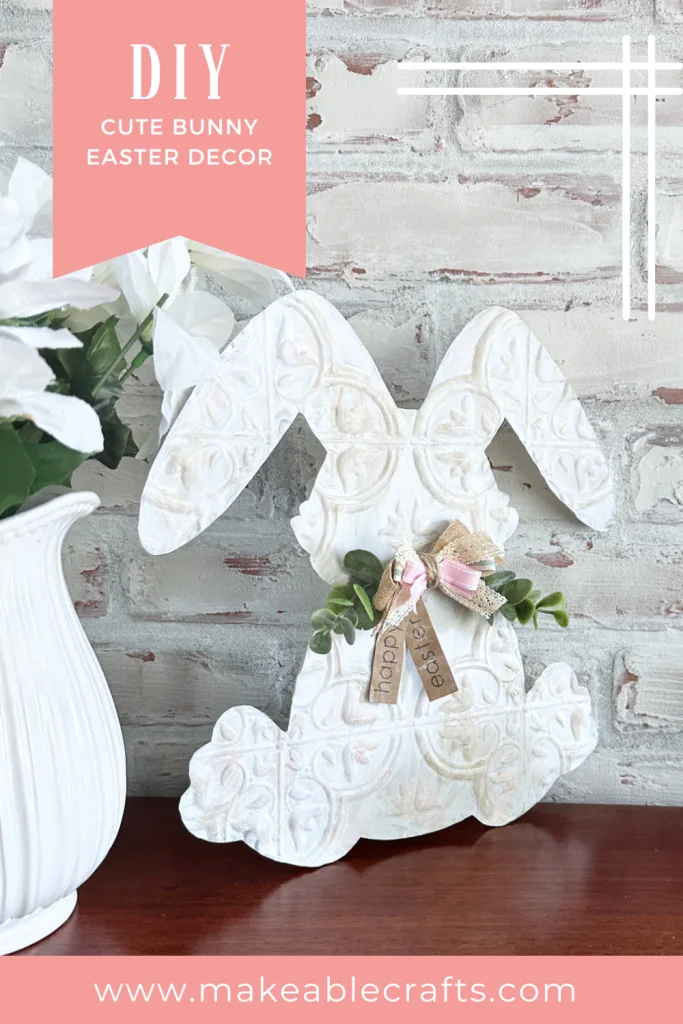 Thank You
Thank you so much for checking out this Dollar Tree bunny craft. I love making DIY projects, but I love sharing these ideas with you even more! See you next time with the next project! Happy crafting! XOXO, Meg