There's nothing like adding a little Irish cheer to your home like adding a St. Patrick's Day garland to your home!
With just a handful of supplies, you can create this fun piece to decorate any room in your home.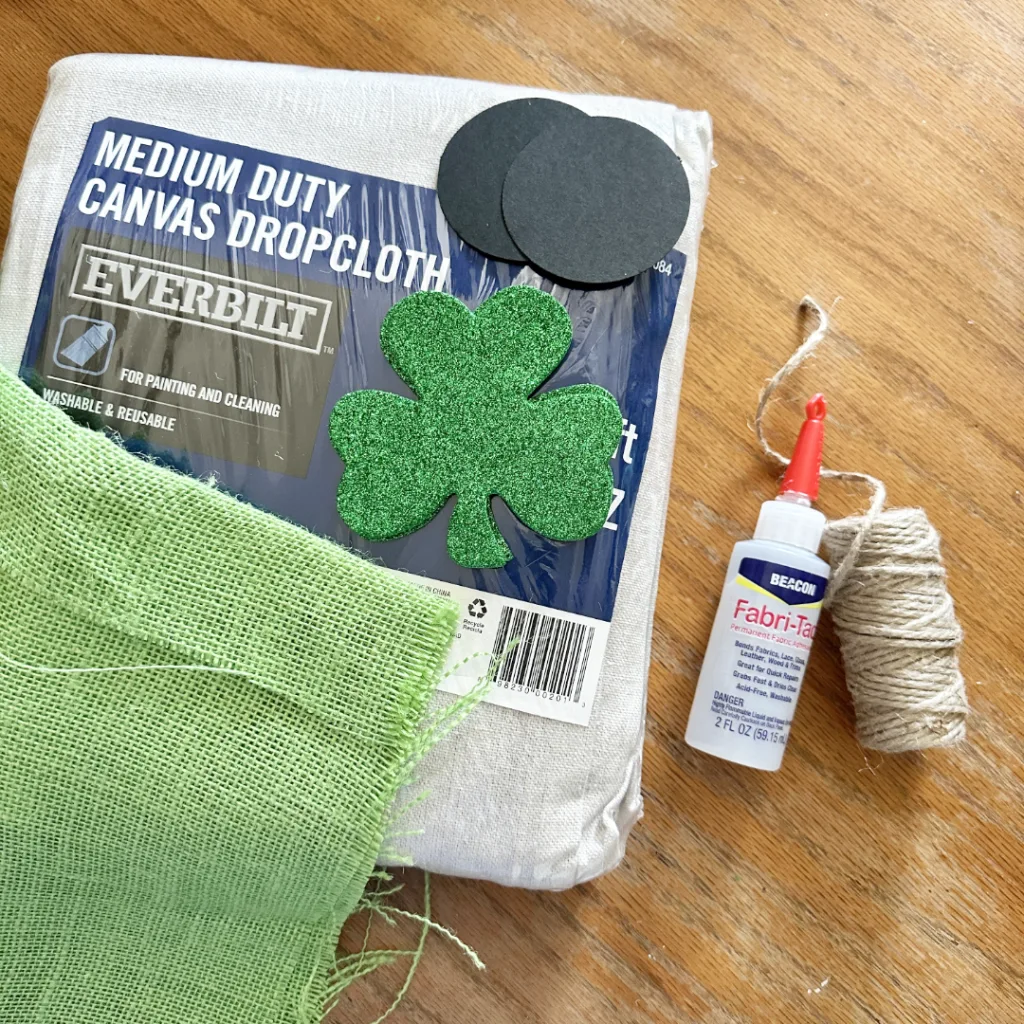 This cute DIY project makes a great addition to your fireplace mantel, an end table, or even a door archway.
Craft Supplies Needed
*contains affiliate links
Canvas Drop Cloth. They are super cheap (on Amazon or at Michaels) compared to buying them by the yard and they are a great heavy duty weight.
Green Burlap or Other Green Material
Black Card Stock
Twine
Letters
Hole Punch or Crop-a-Dile (my fave!)
White Paint/Brush
Thin Cardboard
Making Our St. Patrick's Day Craft
I love using canvas drop cloths in my crafts. They are super cheap compared to buying them by the yard and they are a great heavy duty weight. I started by cutting a section out and ironing it, then used my rotary cutter to cut my banners. Next use scissors to cut out the triangle part of your banner. You will want 5 of these banners.
You can also use the template in the printable down below to make this easier!
After you have your base banners, cut five 3″ squares from your green piece of burlap or other green material. Fray the edges just a bit and then layer it on with liquid glue.
Adding Lettering
Punch out 5 black circles with your circle punch and use foam adhesive to layer them onto your green fabric. These black circles will help make your lettering pop on your banners!
Trace out your letters from the printable onto your thin cardboard and cut out. Paint your letters with white paint.
After your paint is dry, add them to your banners in the middle of your black circles.
Use a hole punch in the top corners of your banners so we can make these into garland. If you have the Crop-a-Dile, you can punch through multiple layers at once. I love this punch so much!!
Now it's time to work on our shamrock garland. You can either buy these from your local dollar store or use the shamrock template provided. Mine came from my local store. If buying them, it doesn't matter if it is a 3 or 4 leaf clover. (If shamrocks aren't your thing, you can also use a leprechaun hat.)
To have a shamrock on each side of your letters and in between your letters, you will need six shamrocks. You will want to punch two holes in the top of your shamrocks so we can thread our twine through them as well. With my Crop-a-Dile, I punched through all 6 at once.
It's time to take our banners and shamrocks and turn them into a garland!
You can use twine like I did or you can use tinsel garland if you want it super sparkly! My favorite trick for this is to use a loop dental flosser as a giant, flexible needle. Add your twine to the eye of it and thread it through starting with shamrock, then alternating shamrock with banner to create your garland.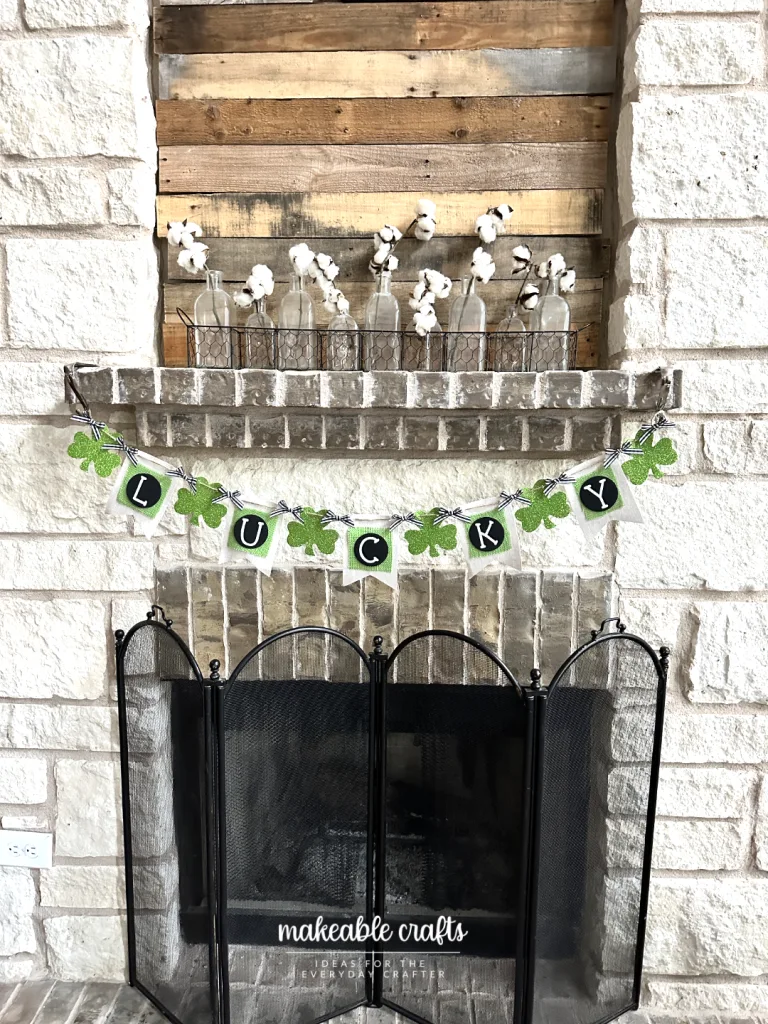 Hanging Your Garland
My favorite way to hang garland is with simple stocking holders. These are awesome because they are super affordable, easy to store, don't detract from your garland, and you can use them year round as they aren't holiday specific.
Decided how long you want your St. Patricks day garland to be and tie a loop on each end of your twine to hook onto your stocking hangers.
Finish with bows tied from your black and white gingham ribbon and add them to your St. Patrick's Day decoration with the same glue you've been using. You can now hang your holiday decor the entire month of March or specifically on March 17th, whichever you prefer.
Your Video Tutorial
Your Printable
Here's a printable to help you create this adorable garland.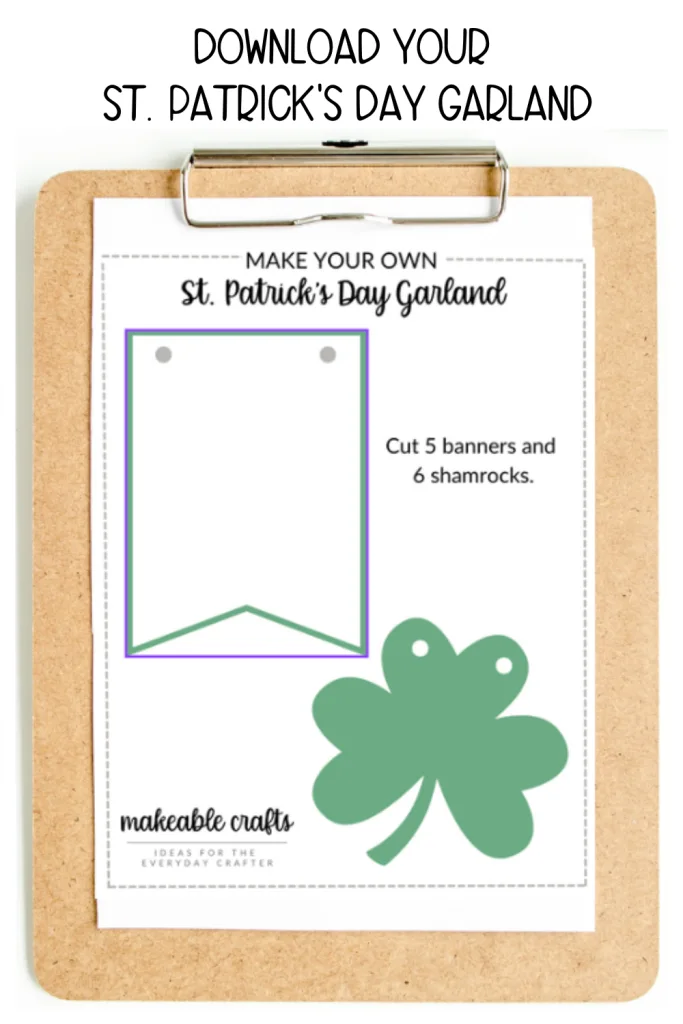 Pin it
Pin this to your favorite holiday Pinterest Board!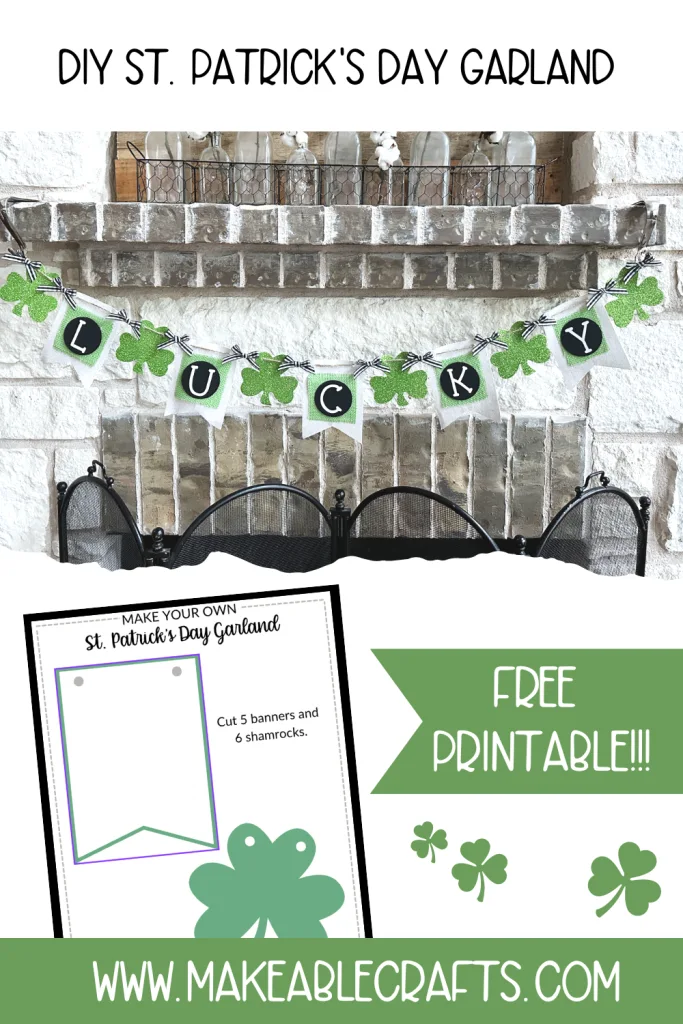 Want to see more St. Patrick's Day crafts? check these out!
Thank you
This project was selected by favecrafts.com to be a featured project for National Craft Month 2023! I am so excited to be included in this feature! You can see this project and all the others – plus enter a fun giveaway – here! Thank you favecrafts!!
Thank you so much for stopping by Makeable Crafts to check out this St. Patrick's Day garland project! I hope you give it a try, these are so much fun to make. And the printable makes it super easy to duplicate! Check back soon for more spring crafts. See you in the next project. XOXO, Meg