How To Reupholster a Chair
Ever wondered how to reupholster a chair? I have been dying to try this actually for years, but now is the perfect time to try new things, right? Let me show you the original chair: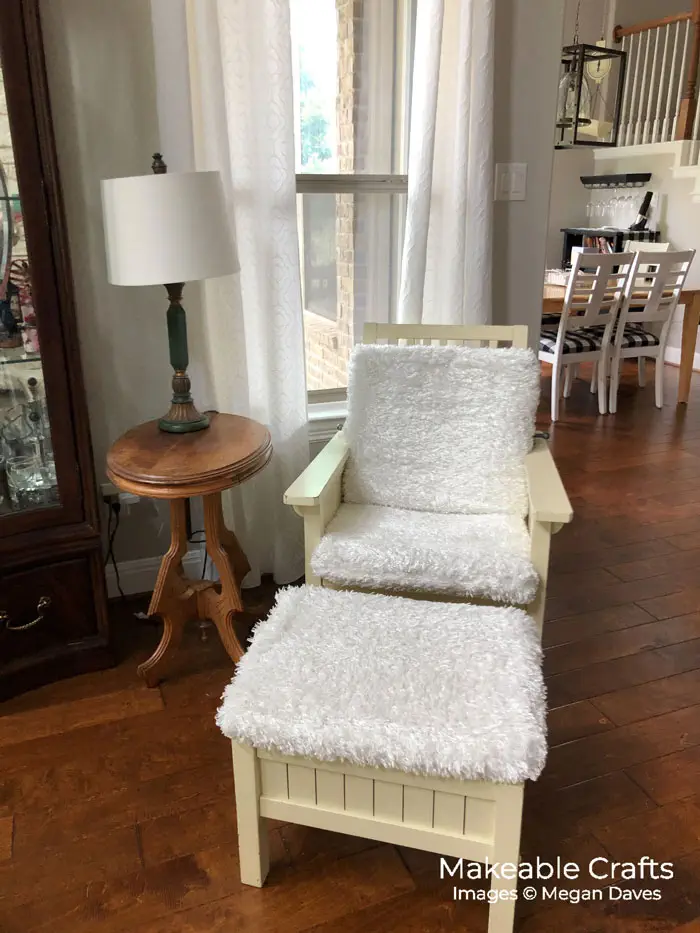 This chair was purchased for my daughter years ago. It was fuzzy, cute, and perfect for her and her room design at the time we bought it. And then she grew up a bit, and wanted a new look for her room – she was tired of it, it didn't go with her dream teen room. So it's been sitting in our game room for about a year. I liked the overall look of the chair – it has "good bones". But it was nothing like my style at all.
Like many of you, I am at home more, working from home a lot more – I have worked from home for over a decade, but that often meant working from a coffee shop, the library, my favorite BBQ joint – places for me to get out of the house and out of my office. But for the past two months I have sat in my computer chair at my desk, thinking there had to be a way to get out of my space, and yet stay in.
Whether you are looking for a new place to work or a new place to relax in your home, take a look at your furniture that could do with a refresh, a fun makeover, a way to excite you without buying a new piece. Taking something your kids outgrew, or an outdated piece, and making it work for your work-from-home-with-your-laptop space might be just what you need to brighten your world.
The Foam
The original foam for the chair and ottoman had to go. It was miserable to sit in – kids don't seem to mind sitting anywhere, but if you are going to spend any amount of time on your cushion, please go with a high density foam. I spend a lot of time on my computer and knew I would spend a lot of time in this chair if it was more comfortable. So going with a 4″ high density foam was a must. This is the one I chose from Fairfield World. In my opinion, they are hands down the best when it comes to foam, cushions, pillows, fill, anything you want inside your projects.
Measure out the size cushion you want and choose your foam based on that. I went with the 22″ x 36″ pieces of foam and cut my down to the size needed. To have my cushions fit snug into my chair frame, the space was 21″ x 22″, so that was the size I cut my foam. Go with the size you want for the final project. For this project, each of the three cushions was a different size. You can use a permanent marker to draw your lines, anything on the foam won't show, as we are going to cover it two ways. (Occasionally you may notice slight discolorations or even spots on your Cushion Foam. Discolorations are usually caused by air exposure during the packaging process. They will not affect the performance, durability or lifespan of the foam.)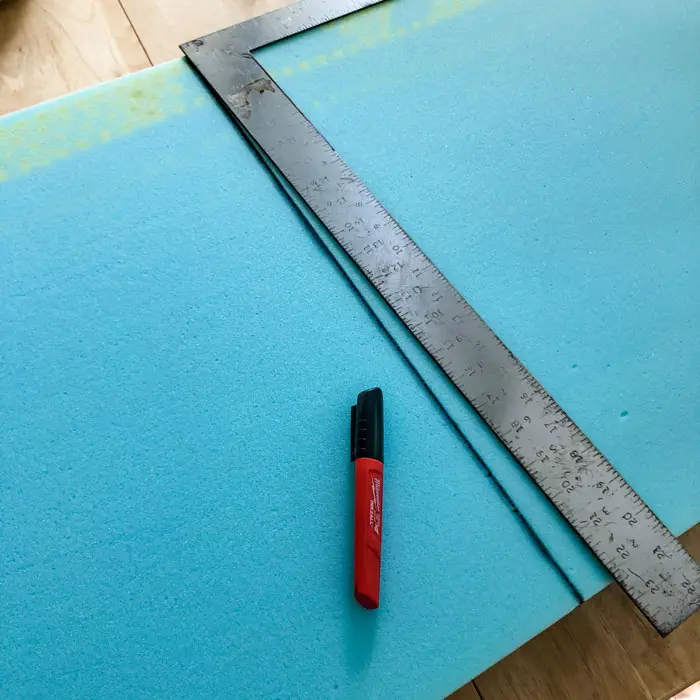 I used an electric knife to cut the foam, it cuts like butter – I do recommend having someone hold onto one end so that as you cut, so the weight of the foam doesn't steer your knife in any direction you don't want it to go as you cut.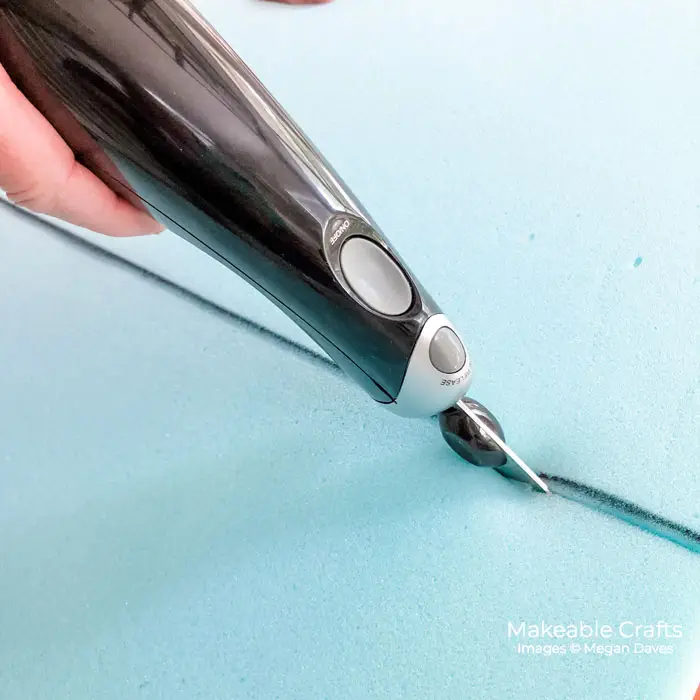 Once your foam is cut, be sure to use Cushion Wrap. This was a rookie mistake I made years ago when doing a simple bench. I didn't even know about Cushion Wrap, much less why I needed it. I used a foam, wrapped it in fabric, and it looked good, but not great. It was just a box. Then I looked at my couch, and other chairs, and they had this fullness to them that looked so much better, but I had no idea how they did it.
The other great advantage to Cushion Wrap is that when you sit on just covered foam, and then you stand up, the fabric bunches up for a while – with Cushion Wrap, you stand up and your chair looks just like it did before you sat down.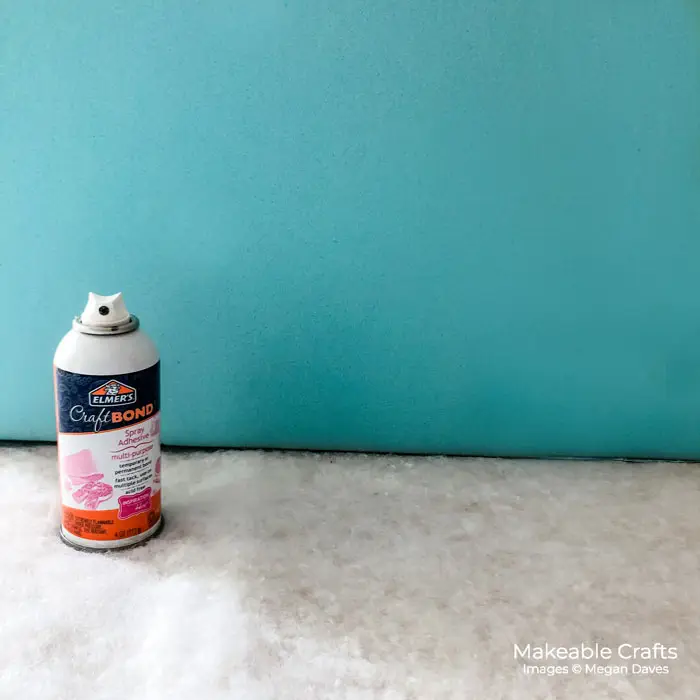 Cushion Wrap is easy to apply, my favorite way is with spray adhesive. I sprayed it onto the foam and literally just wrapped the cushion wrap around it. I did mine like a taco for my seat cushion and the backing cushion of the chair.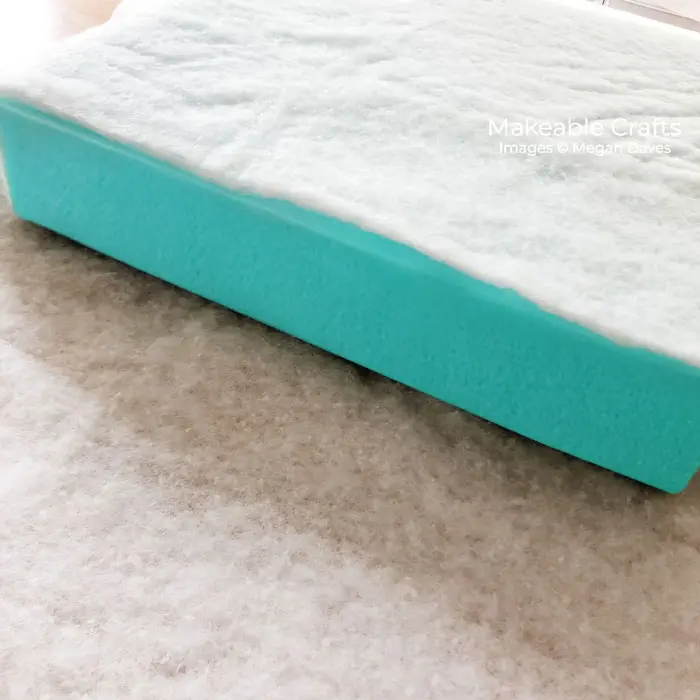 Since I was going to use a zipper closure, I didn't want the zipper getting caught in the the wrap material, and it was on an area that I didn't need the fullness for the chair to look great. For the ottoman, you would see all sides, so I did wrap it completely.
The other great thing about Cushion Wrap is that it helps hide any imperfections of your stitching, because it fills in any gaps. Once I learned about it, I have never done a single foam project without it! You might be wondering if you use Cushion Wrap do you need to cut your foam smaller – the answer is no. Don't change the size of your foam to accommodate your fabric and Cushion Wrap. That's how it looks so full and plump.
So our foam part is done, so now it's time to cover it.
The Making of The Fabric Coverings
This won't be a step by step of everything that goes into making your fabric perfect, but I will tell you, that I really have very basic sewing skills. I took on a lot making stand alone cushions with piping AND with a print, AND with buffalo check that has to run in straight lines. If you want to go more basic, there are easier ways to do this – just know that if I can do this, so can you!!!
The most important part of the fabric coverings is the measuring. Seriously. Measure twice, cut once.
Let's use my seat cushion as an example: The finished size I wanted was 21″ x 22″. That's the size to cut the foam and the foam is 4″ tall. I use a 1/2″ seam allowance. So I cut my top and bottom piece of fabric 22″ x 23″. My side pieces would be two pieces at 22″ x 5″, one piece at 23″ x 5″, and two pieces that are 3″ x 23″ – these last two pieces are for my zipper.
So cut your pieces of fabric 1″ bigger for your length and width of your foam – with the exception of your zipper section.
The Zipper
To be 100% honest, I haven't used my zipper foot a sewing machine in almost 17 years. I really forgot what it looked like. That's the great thing about using a zipper foot though, it's like riding a bike. I used it to create a box stitch around my zipper after I had stitched my two pieces together. There are many ways to sew in a zipper, choose whichever way is best for you.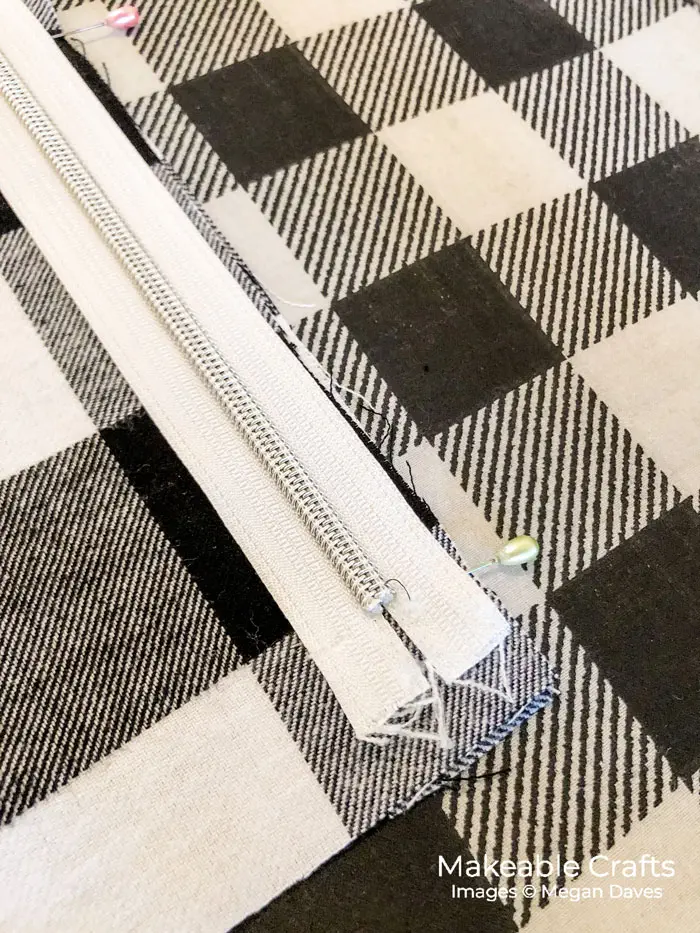 Covering Your Cording With Fabric
Also use your zipper foot to wrap your cording with fabric. I love to stay that patterns love plain and plain loves patterns. So if you are going with a patterned fabric, go with a plain color for your cording, and vice versa.
Since I am going with buffalo check fabric, I went with black for my cording.
Assembling Your Pieces
For me what worked best was to sew all my side pieces for my cushion together first, making my "box frame" if you will. Like making a flower bed – build your frame and then fill it. I had my four pieces sewn together with the wrong sides of the fabric facing out. Then pin your cording and your top piece to your frame and stitch. Make sure that you are stitching in your cording and connecting your fabric with wrong sides facing out – I did make that mistake on one of these cushions – I spent 20 minutes stitching it, then 90 minutes of doing the frog stitch "rip-itt, rip-itt". Then repeat for your bottom section. Yes – corners are a pain. Indeed they sure are! Take your time and slow down when you get to the corners.
For my ottoman, I knew I would see all sides of the cushion and didn't want the zipper showing, so I added my zipper to my bottom panel of fabric rather than to a side.
Filling
Make a taco with your foam – fold it in half, it does help to have someone help fold the foam, especially the thicker foams. It's not mandatory, I did one piece of foam myself and used a foot to hold it folded over. Then help ease the foam into the corners, line up your cording to your edges, and smooth out. This to me is the most gratifying part – you can see your hard work pay off, when that foam goes it, you run your hand over the top, it's nice and full – plump and smooth – that's the best part – and that all comes down to the foam you choose and whether you add Cushion Wrap to it.
Finishing
All that was left was the spray painting of my chair and ottoman frame – and the glass of wine I had in between paint coats. Add the cushions and sit.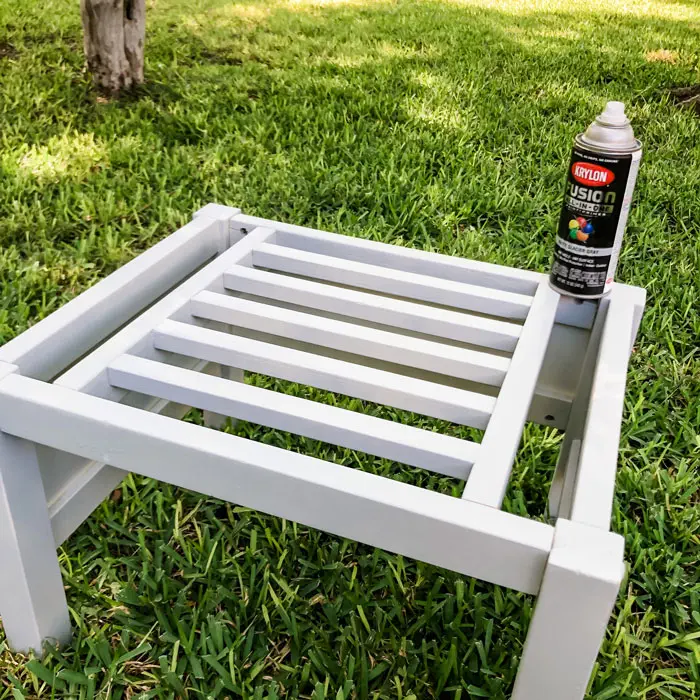 The Sitting
In my family, my husband and daughter love my projects – or they are just incredibly nice. But here's the thing – this project took me about 12 hours to do, foam cutting to painting – which isn't bad for three pieces and a project I hadn't made before and adding in fabric that had to line up as best as possible. So I do all the work and one of them sat on it first – didn't even let me sit on it first! If your family starts to do that to you, push them outta the way – your tushy deserves the first cushy! Sit and relax. Put your feet up, grab your book, grab your raspberry infused tea, sit back and relish your hard work. There is nothing like the first sit!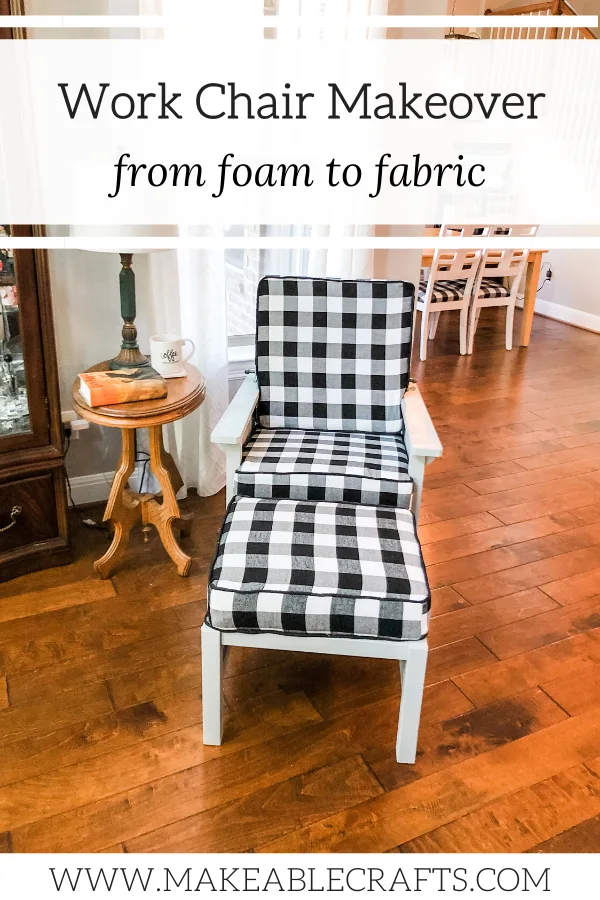 I made this over the weekend and starting using it immediately on Monday for work. It was such a nice change of scenery, sitting, like a field trip in my own home. There is nothing like changing things up a bit to make your work from home experience better.
Look around your home and see what you could bring a little love to to improve your daily life. There isn't a better time than now to do it! Like these kitchen chairs.
Thank You
I hope you enjoyed this tutorial on how to reupholster a chair and ottoman! It was a labor of love – and well worth it. It all comes down to having the right materials for the project. I recommend spending more on the inside than on the outside. When you go with the right foam and Cushion Wrap, you can keep that for years to come and replace your fabric as needed or as you want. Give it a try – you will be glad you did!