Painted Scissor Holder
I have a lot of scissors and a lot of handheld punches, but really needed a scissor holder.  Not just a plain scissor holder, but one that also looked great in my craft room.  I have put this off for wwwaaayyy too long.
When I went junking the other day, I wandered into Goodwill to see what I could find.  I wasn't there looking for anything to hold my scissors, was just looking for stuff.
And there were about 10 different variety of stands that were perfect for storage.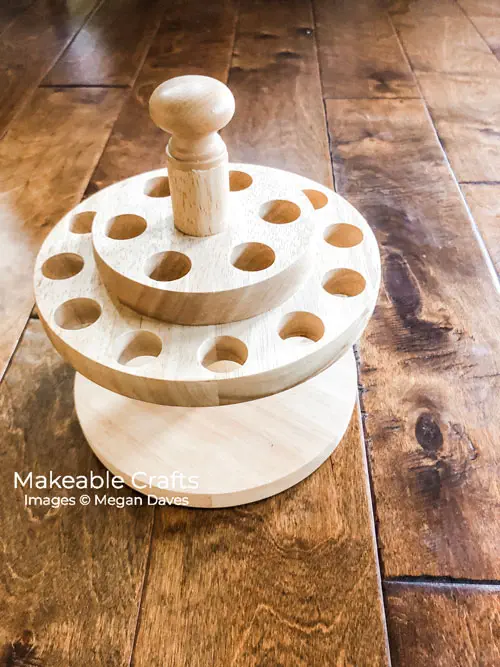 But it was plain.  I like simple, but I don't like plain!  And there were some products I wanted to try together, so this was the perfect project to do that with.
What Worked and What Didn't
I won't lie and say that this project was a total success – because it truly wasn't.  But I learned something along the way and want to share those insights with you.
I have wanted to try glaze with chalk paint for a while.  I have used colored waxes, but had no idea what happened when you used a glaze.  Spoiler alert – it didn't go well, I will show you that below.
Supplies
Scissor Holder
Linen White Rust-Oleum Chalked Paint  (Home Depot)
3M Sandblaster Pad (Home Depot)
Paint Brush (this is my referral link for the one I used except for detail work)
The Painting and Sanding
I started by painting the entire scissor stand with the Linen White Rust-Oleum Chalked Paint and got great coverage with just one coat.  I did put on a pretty thick coat, but it was just one.  For the hard to reach areas, I just used a little paint brush.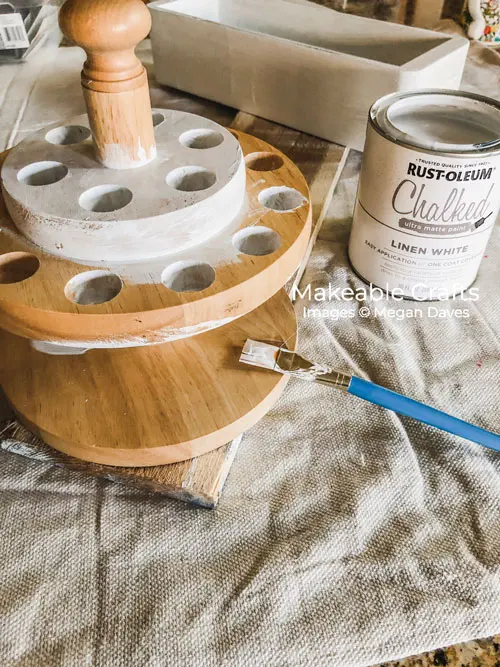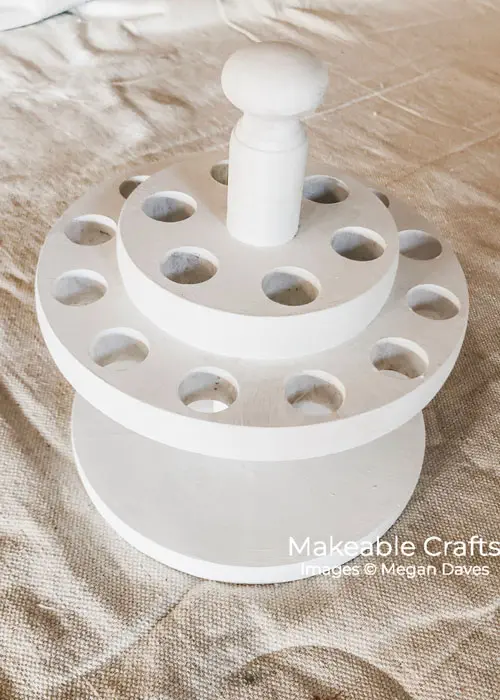 Next I took it outside to stand and distress it.  It made a huge mess, as expected.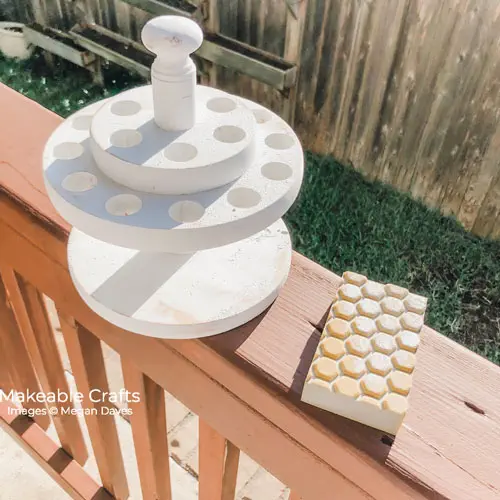 The Failed Use of Glaze
After I brushed off all the extra sanded off paint, I used a paper towel with a smidgen of glaze on it.  And wiped it on, and then *tried* to wipe off the excess as you do with glaze.
It didn't look so great at first…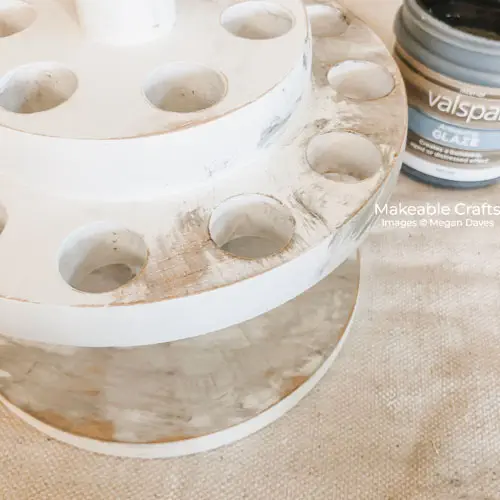 And that's ok, often times with this it looks way worse before it looks better, so I kept on going….
and I shouldn't have 🙂
This is what it looked like: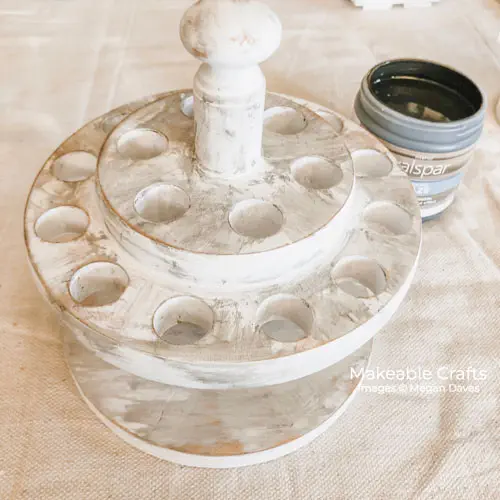 The Chalked Paint is so absorbent, that it just sucked that glaze in like a 2 year old with a juice box.  So you can't move it around or wipe off excess because it was already set.  I have always wondered, and now I know 🙂
The Solution
After showing it to Matt, and of course asking him to come inside and check out how awesome my scissor stand turned out with all kinds of excitement on my face, I proudly showed it to him, just to see the look on his face.
This was kinda a test, like a "does my butt look big in this" test.  He came through with complete honestly and said that I could not share this with you, it wasn't good at all.
Then I bust out laughing and he caught on.  He asked if I was going to throw it away and I said no, I was going to put this Rust-Oleum Chalked Paint to the test and see if it could cover glaze, as not all chalk type paints will do that.
Did the Rust-Oleum Chalked Paint Cover the Glaze?
Yes it did!!!  Like it wasn't even there!  And remember, I am using white paint, not a dark color, white really is the ultimate test!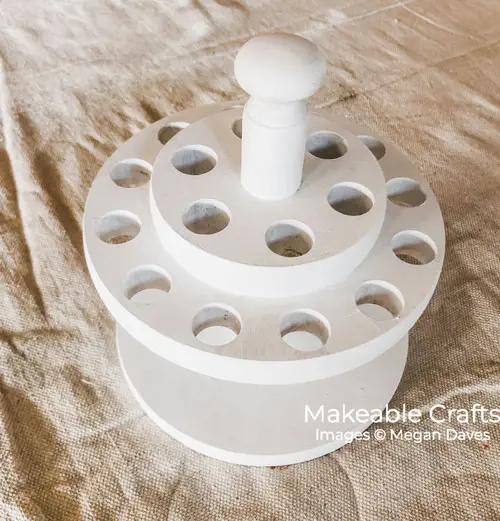 Then all I needed to do was add my scissors and my handheld punches…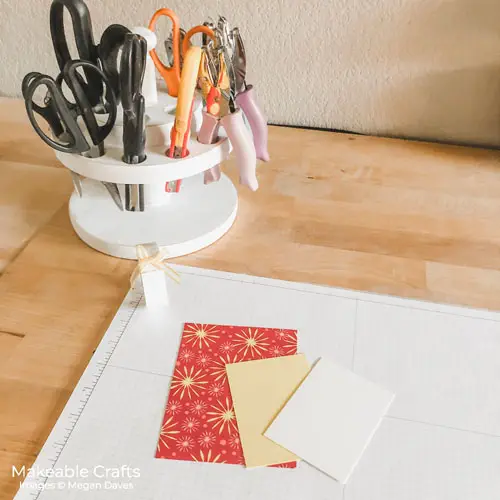 Your Turn
If you have scissors in drawers, bins, baskets, and spread out all over your home, go grab one of these!  If you don't see this exact type, look for a pipe holder stand.  I feel confident you can find one or both at your resale type places.
Then all you need is your paint color, a paint brush, and some sand paper or a sanding block.
Pin It
Here is a perfect graphic for your Makeable Crafts Pinterest board so you can easily find this project again.  Pin away, my friends, pin away!  And if you know someone that needs a bit of organization with their craft supplies, be sure to share this scissor holder with them.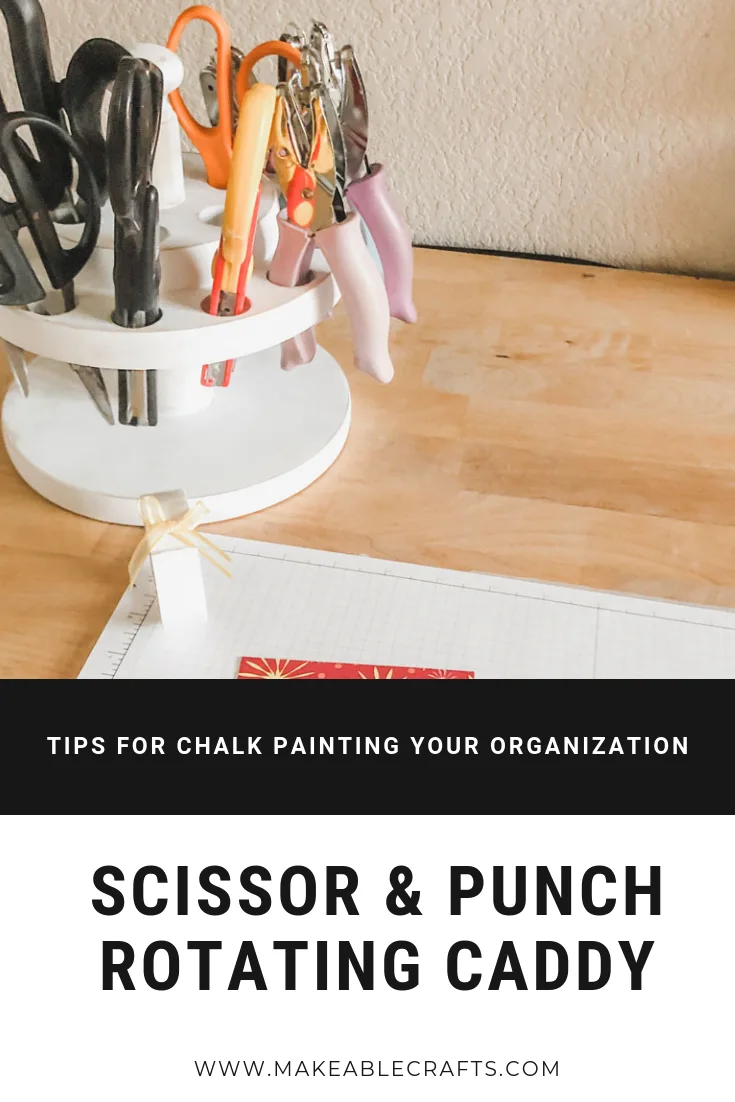 See You Soon
Keep checking back to this Makeable Crafts site for home decor ideas, upcycling projects, and much more – like scissor holders!  Lots more ideas headed your way!  XO, Meg