Craft Storage Solutions
Ever struggle to find the right craft storage solutions? I know I have. I buy all the containers that are matchy-matchy, it's all labeled and cute – and then the items don't really fit in the container and I am a frustrated crafter and things are still a mess.
My biggest tip is Go Vertical! The more you can get on the wall, the less mess you have everywhere. My second biggest tip is Think Outside The Box. Your best storage ideas often don't come from specialty organizational places.
Here is a picture of part of my craft room that shows both of these.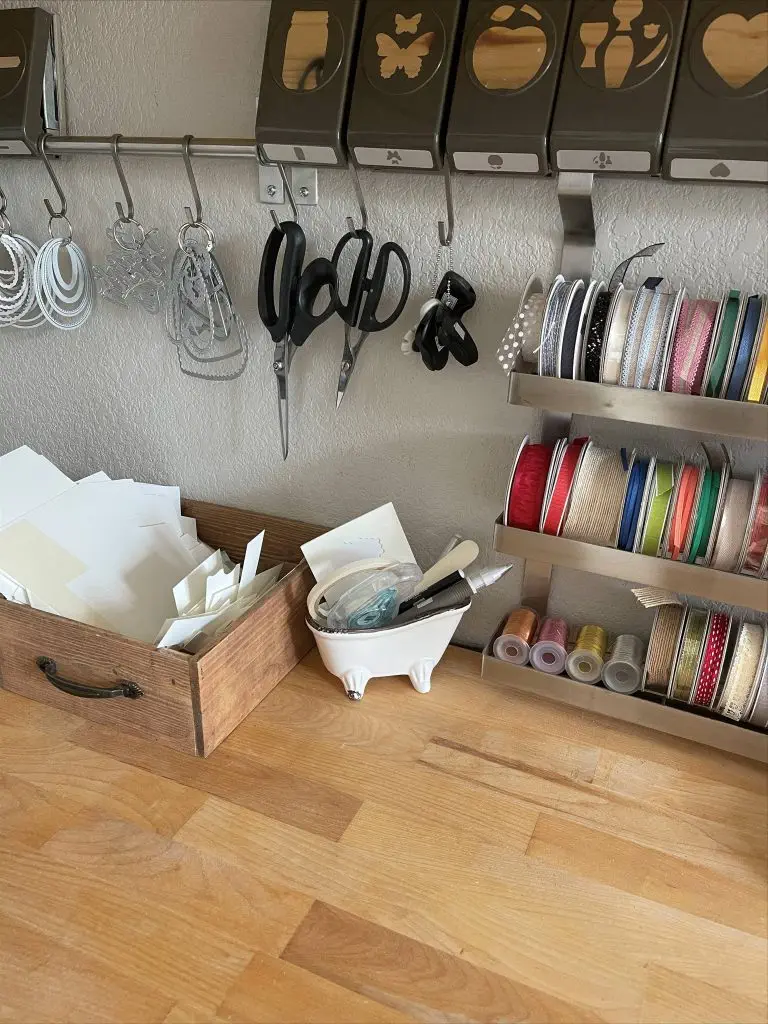 As you can see, there is some on the countertops, but there is much more on the wall.
By having my ribbons displayed, I can see them all without digging around and half of them coming un-spooled creating an even bigger mess. I love my punches – man do I love punches (sigh…) but more importantly, I want to be able easily grab a punch. I don't want to dig in a bin or bucket. I want to be able to look up, see the size of the image on the punch, and know right away if it's right for me. Having these displayed on a wall makes that possible.
The dies and scissors that I use the most are hanging with my punches, again, on a wall and easily to find.
So those are some examples of going vertical. Let's talk about out of the box thinking…
The rails that my punches hang from are towel rods from IKEA. They are in the kitchen section of the store. Using molly bolts to make sure they are well attached to my walls, I can simply hang my punches from the rod. The little hooks are also from the kitchen department of IKEA. And those hooks are such a space saver. Across my craft room, I have two 48″ sections of these rods and about 20 hooks. That's a lot of space saved from my countertop.
Moving on to the ribbon storage – again, IKEA. These are actually spice racks that are designed to hang down from the towel rods. Spice racks can be an ideal way to store ribbon, washi tape, accessories – all kinds of things.
The wall space is definitely more function that looks, and that's where the countertop space comes into play.
I like unique holders of sorts and pick these up from a variety of places.
This cute little bath tub is perfect for holding adhesives, tools, etc. It's cute for my space but also provides a function. Next to it is a decorative drawer that holds the papercrafting supply I use the most of – white card stock. This used to be in a bag in a drawer with my other colors of card stock, but I was constantly in the drawer, in the drawer, opening, closing – just all the time, by having the supply I use the most of right at my finger tips – I save a lot of time. And by having it in a decorative drawer, it's another way to give my craft space the look and feel that I want.
This is the section of my craft room that I spend the most time in. By having a great work space and my most used tools within reach, I am one happy crafter.