Decorating A Soap Dispenser with Vinyl
I don't know about you, but all my pretty soap dispensers get broken in our home. The ones I have found that are perfect for our style are all glass or porcelain, like my super cute mason jar dispensers – may they rest in peace.
We are clumsy in our home, but not prone to breaking things. It's just that normally when you are dealing with soap you are also dealing with water, and water makes things slippery – and just like that, another one bites the dust.
The Story
Picture it, 7:30 am walking up and down the aisles of Wal-Mart, looking my absolute best of course – and looking to replace washcloths for Emily's bathroom. I looked at all the pretty coordinating items. In the past, I would have purchased a shower curtain with a trash bin, plus the soap dispenser, and the toothbrush holder, not because her Sonic Care toothbrush will fit, but because I am the type of person that truly needs the whole set. In for a penny, in for a pound, right?
But then I get upset when the dispenser breaks, of course you can't get a replacement because that line went out 2 weeks prior to the breakage and I start all over again buying all the things.
A few years ago I said goodbye to that habit of buying all the things for the bathroom and just getting items that match the hardware in the room.
And then I saw it….
The Solution
PLASTIC soap dispensers that look like glass! I was in heaven! So I grabbed 2 of them.
They come with all different colors of finishes, I went with what matches our sinks.
After getting home, I filled them with liquid soap and put one in the guest bathroom and one in Emily's bathroom.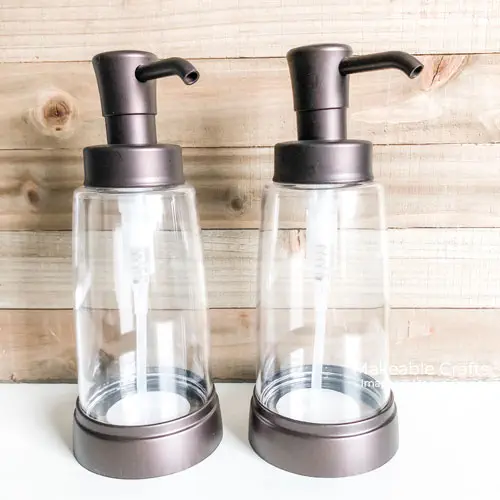 Taking It A Step Further
That night I was doing dishes and looking at my ugly Dawn dish soap bottle that I get out and put up every time I do dishes because I don't want to look at it on my counter.
LIGHTBULB!
Why not have a hand soap and a dish soap PLASTIC dispenser on the counter that look pretty and match the hardware?
Back to Wal-Mart I go and buy two more 🙂
Decorating Your Soap Dispensers with Vinyl
I knew I wanted to label these, because I love labeling everything. It's so easy to do, and also decorative, when you use craft vinyl.
The Supplies
You don't need a lot of supplies to do this, but you will need an e-cutter of some kind. Today I used the Silhouette Cameo 3.
Silhouette Cameo 3 – as I write this blog post – this is an AMAZING DEAL, over $100 off on Amazon!
(these are my referral links)
Creating
Use the software that comes with your e-cutter, choose two fonts that will match your home and style.
If you are using a script font that requires welding, don't forget to do that.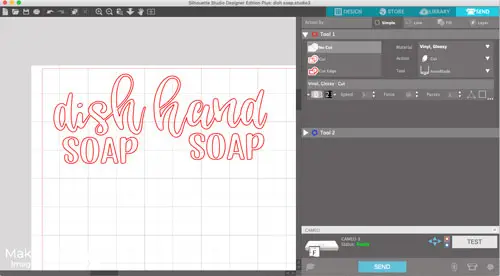 Cut Your Vinyl
I am not using a mat to cut the vinyl, always double check this setting before you start cutting.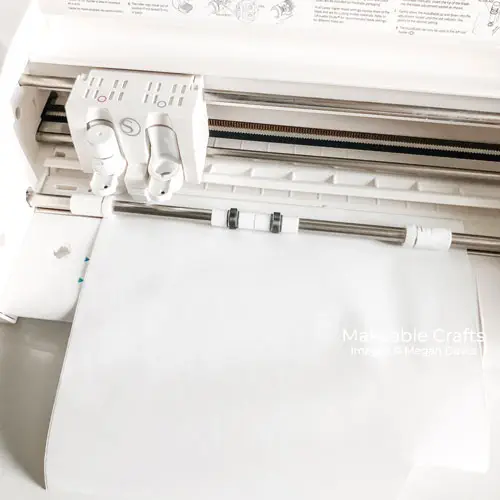 Ready to Transfer
Go through and weed the vinyl you don't want by removing the unwanted vinyl from the backing sheet.
Apply your Transfer Sheet on top and rub over the top to make sure your vinyl transfers from the backing sheet to your Transfer.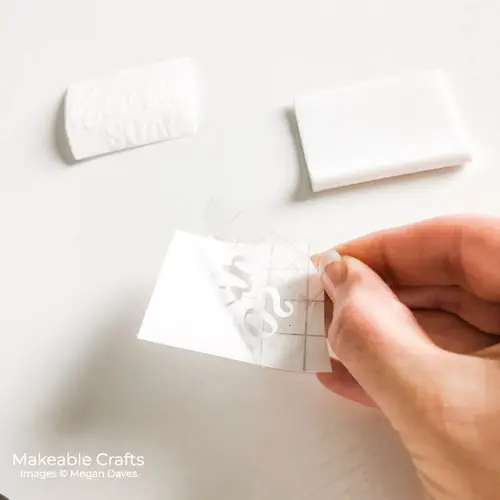 Line up your vinyl onto your soap dispenser. If you are making more than one like I am, I recommend using a ruler to get your spacing the same. I measured up 1-1/2″ from the bottom of the clear plastic for the word SOAP to be placed.
Rub really well to make sure that your vinyl now transfers from your Transfer to your project. Slowly peel off your Transfer.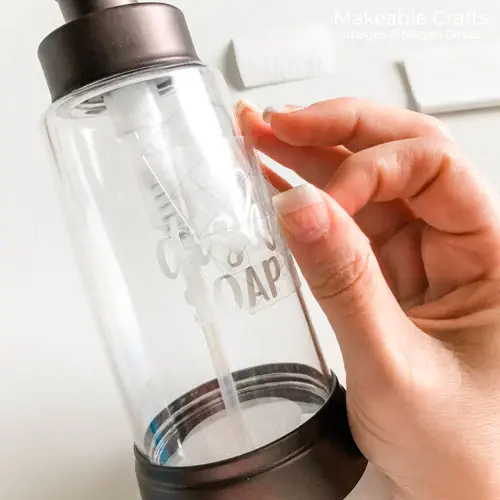 If you would like to see tutorials using your Silhouette Cameo 3, leave me a comment below.
Finished Project in Under 30 Minutes
The longest part of this project was choosing my fonts. After my fonts were done, then from cutting the vinyl to being done was about 5 minutes. But they look so perfect now, such an improvement!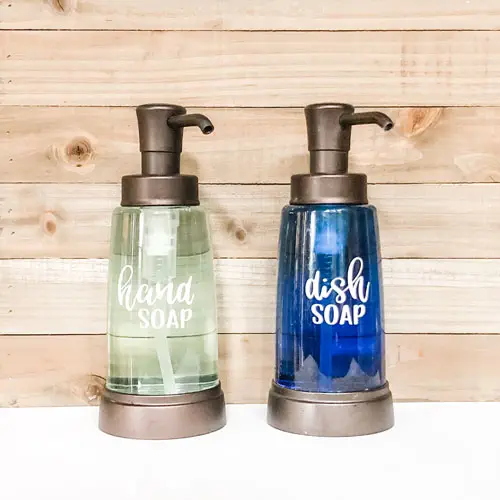 I have no problem with these soap dispensers sitting out on my counter now. I love them so much. We get a lot of comments on them from visitors.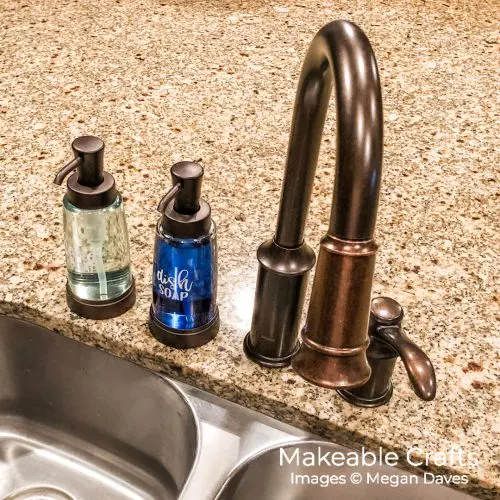 Also keep in mind that these make a great gift! I have made a set for my mother in law and also given them as a housewarming gift (yes, she thought it was funny when I asked her the finish of her kitchen hardware!) If you like this project, be sure to check out this home decor project, and don't miss this ugly jar makeover either!
If you don't want to buy and cut the vinyl yourself, try these that are pre-done for you.
Pin It
Like this idea and want to easily find it again? Simply pin this image below!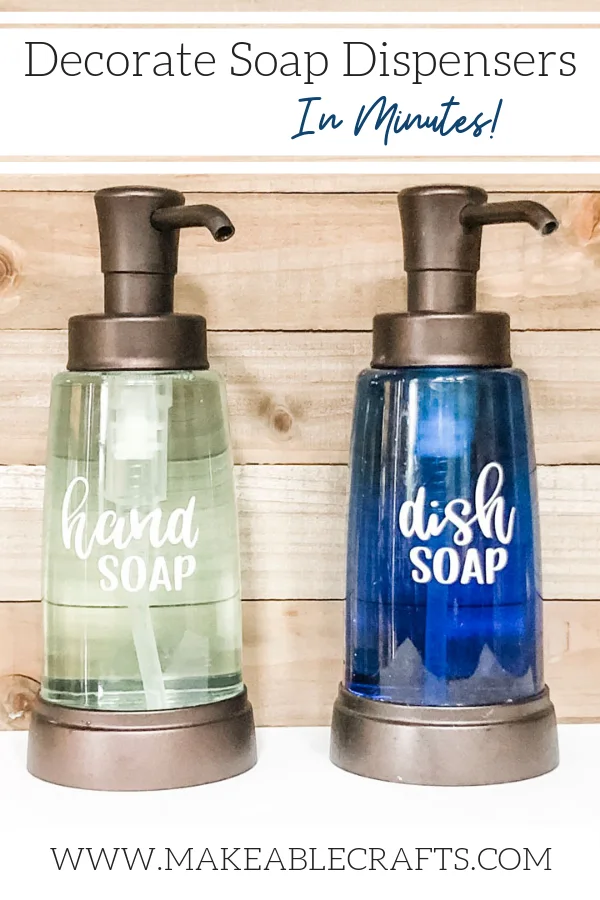 Thank You!
Thanks for checking out this decorating a soap dispenser with vinyl blog post. Be sure to share this post if you enjoyed it…I would SO appreciate it! Leave me a comment when you do so I can thank you! XOXO, Meg