Flipping Thrift Store Items
This past weekend, my friend Linda and I went shopping, my mission was finding ideal flipping thrift store items.  There are always these treasures out there that you can get for next to nothing, on the back end you just need some time, a few supplies, and a smidge of inspiration.
We found all kinds of items on our shopping trip, and you will see them all soon here on makeablecrafts.com.  We had a blast shopping together too 🙂
In Taylor, TX, we were at this place that was half antiques and half thrift store, all mixed together.  There was a booth there that was had my favorite sign hanging up… 50% off everything.  SCORE!
I looked through all the old tupperware cups, weird hats, and half broken vases, and there it was – my crafty find of the day….
The Ugly Monkey Jar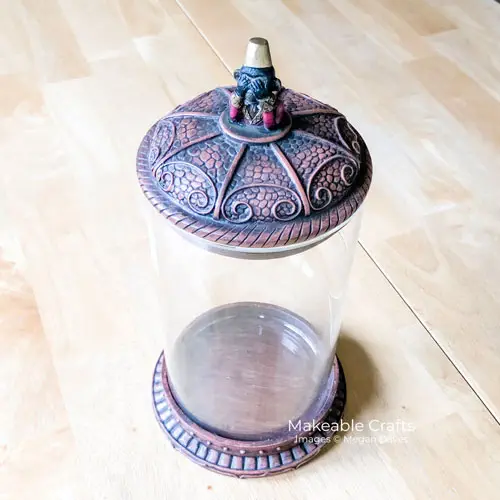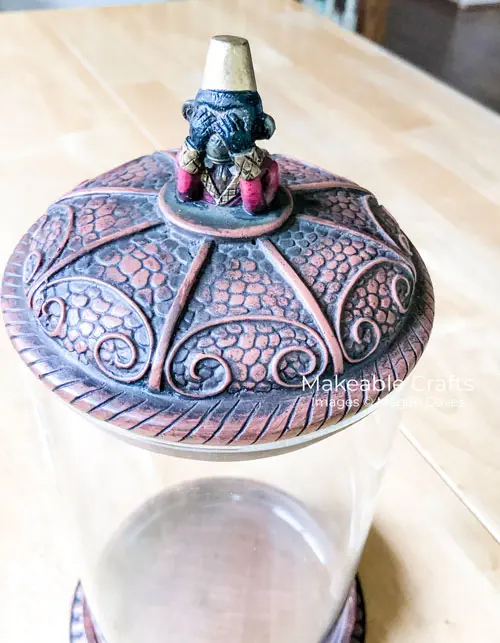 There really are no words, right?  It's just truly not pretty, it's not fun, it's bordering on creepy.  But I knew it had to go home with me.
When I went to pay for it, the sweet man at the cash register had no idea what to say to me about the canister.  I so wish I had captured it on video so you could see just how uncomfortable he was with trying to say something about my purchase.  He had no words, for quite a while.  He was trying to keep his thoughts to himself, but asked what he should call it to enter it into their system.  I said that I would call it the ugly monkey jar.
He let out this huge sigh of relief.  He said, "Ma'am, I really thought you thought this was beautiful."  Uh, nope!
The Supplies
Here is what I used to re-imagine the ugly monkey jar into a stunning transformation.
Paint and paint brush
Glaze
Dremel tool
Pretty drawer pull
E6000 glue
Paper towel
Removal of The Monkey
I took it outside, because I had idea what would come off of it when I went to do my monkey removal.  I didn't know if it would break off, if the heat from the Dremel would just help pop it off when I started, or if it would hang on until I had finally cut through it all – which is exactly what happened.
Be sure to wear protective eye wear.  I would have told the monkey to cover his eyes, but he already had.  He obviously didn't want to see what was happening 🙂
Clean, Paint & Glaze
Next it was time to clean it and dry it really well, making sure to get all the water out of all the creases and crevices.  Then paint.  Depending on the paint you might need more than one coat.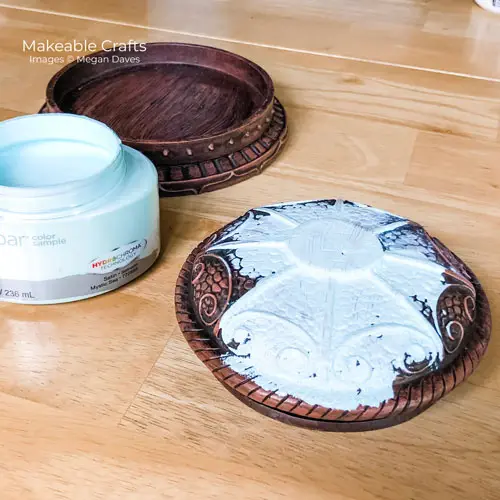 Once your paint is thoroughly dry, pick up just a bit of glaze on a paper towel and smear it into your lid. A little goes a LONG way.  Apply and remove excess quickly, you only have a short amount of time to remove excess glaze before it's too late.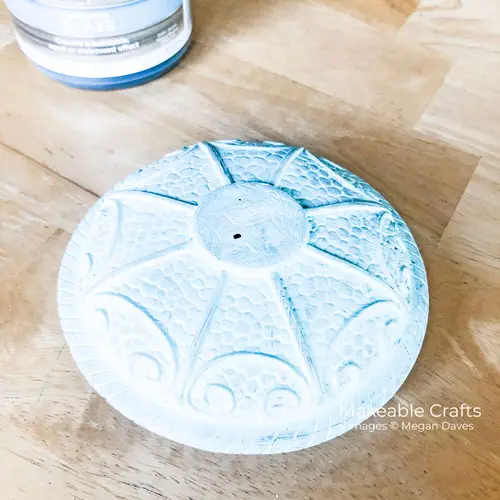 Add Your Pretty Drawer Pull
I used the Dremel again to remove the excess thread on the screw part of the drawer pull.  Then a bit of E6000 to attach it the lid and this project is complete.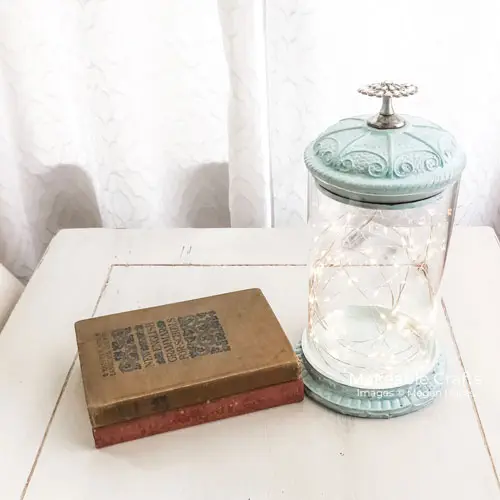 Your Turn
Go junking!  Go look for your ugly monkey jar.  There are so many items out there waiting to be upcycled and made pretty.  Look for jars or canisters that have amazing detail on the lid and the base, and one item on it that just ruins the whole thing.  Those are treasures my friends, absolute treasures!
Pin It
Be sure to pin this to your Makeable Crafts Upcycling Pinterest board.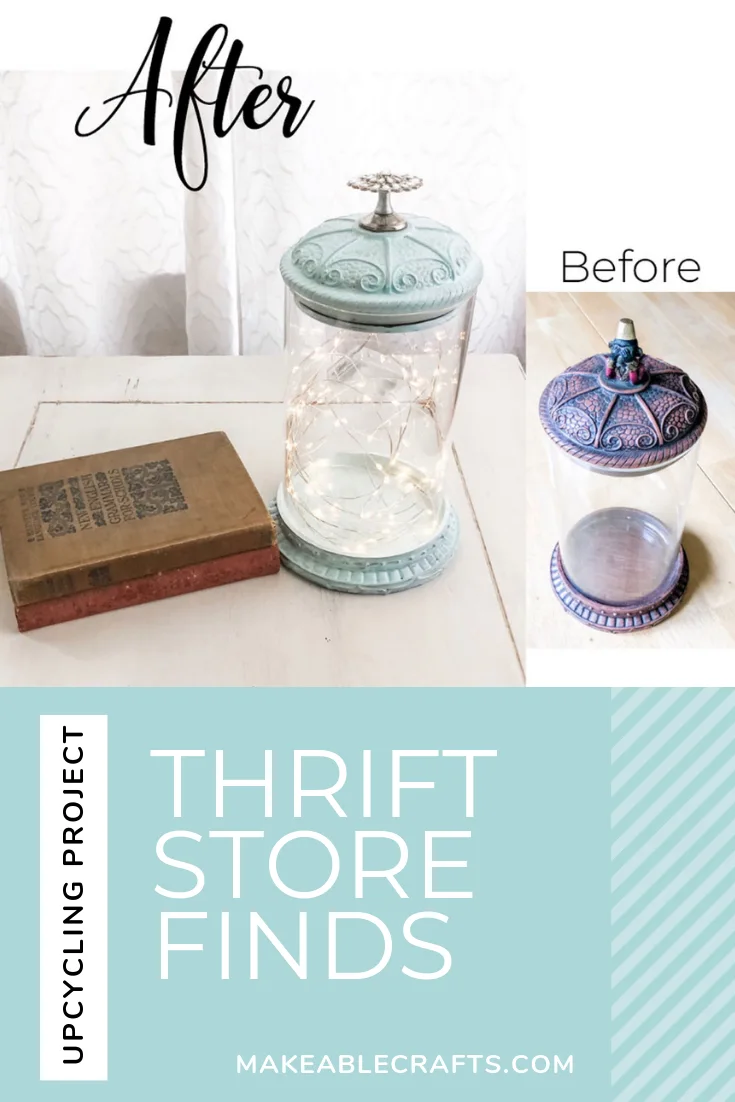 Keep Coming Back
I hope you are inspired to try flipping thrift store items into fabulous pieces for your home or to give as gifts.  These are so great on your budget, and taking something not great and making it beautiful feels so good in your soul!   Hugs, Meg