Wall Canvas For Fall
Today we are making a wall canvas for fall BUT we are also making this for year round decoration. Keep reading to see just how we are doing this. And even better, our fall focal point came from the Dollar Tree, so this is a very affordable craft too!
I am always looking for affordable home decor pieces, but we don't have a lot of storage space in our house. Creating pieces that are interchangeable for different holidays really helps with this problem. So when you can combine affordable with versatile and with cute, it's a winning combination.
I can't wait to share this craft with you! Let's dive in with our supplies…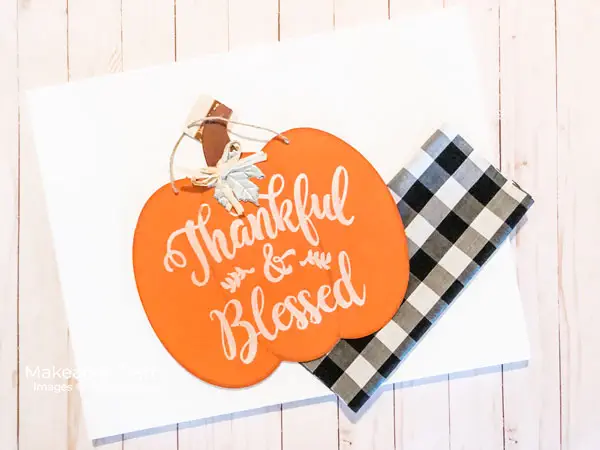 The Supplies
Here is a list of supplies you will need to make this adorable wall piece:
Dollar Tree Pumpkin wood piece
16″ x 24″ canvas
Buffalo Check fabric
Ribbon/Fabric Scraps
DecoArt Jack O' Lantern Orange Acrylic Paint
This post contains affiliate advertisements. If you click one of these advertisements and then make a purchase, I may be compensated. You get the same great prices, and you will be helping to support this site!
The Making
The first thing we want to do is to remove the odd metal leaf/raffia piece that is attached to the Dollar Tree pumpkin.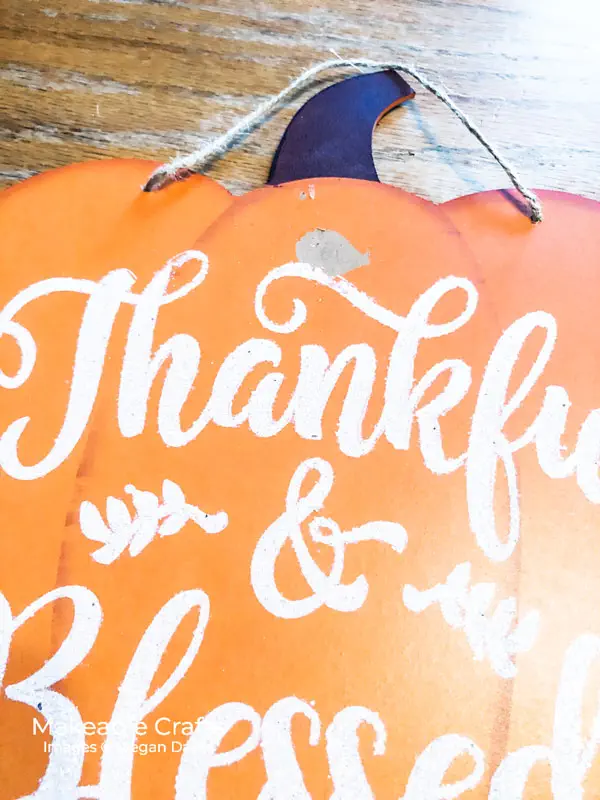 When you do this, it will remove the paint from your sign. That's more then okay as we can take a little bit of DecoArt Jack O' Lantern Orange acrylic paint over that space and then our bow will cover the rest.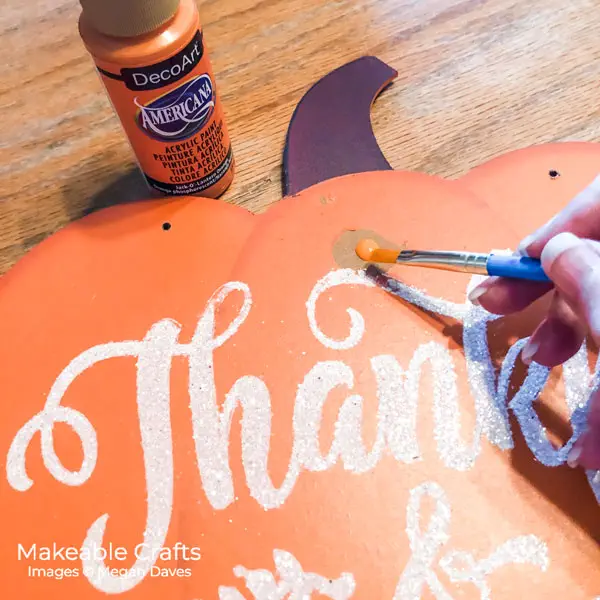 While that is drying, it's time to work on our fabric. You can use whatever fabric works best for your home. I am still greatly in love with buffalo check decor so it was a perfect fabric to choose. You will want to iron the snot out of it. While the paint on the sign won't be a big deal, any wrinkles in the fabric will show a lot. I am using my Oliso Pro Mini Project Iron. This blog post is in no way endorsed by them, please know that. This is just hands-down the best small iron ever. It fits perfectly in my hand and it is just awesome! I also folded over a bit of fabric and pressed that down to give me a nice finished edge when adding it to my canvas.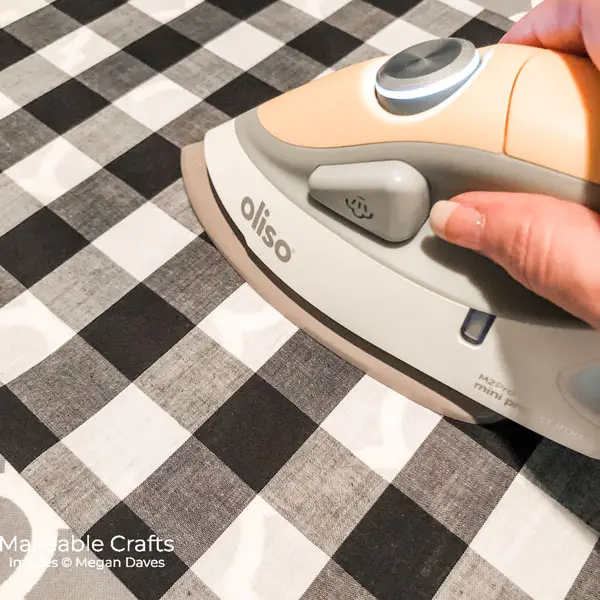 After your fabric is ironed, cut it down to the size, wrap it around the bottom section of your canvas and hot glue your edges on the back side of your canvas.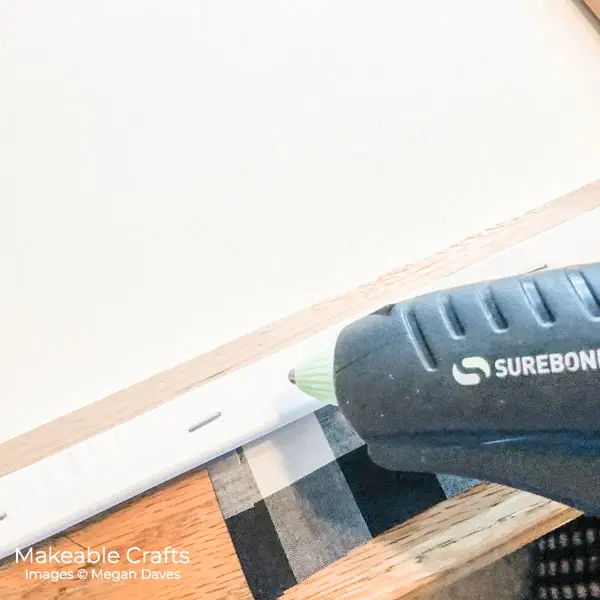 Grab some burlap scraps, or fabric scraps, or ribbon scraps or some of each and make a scrap bow.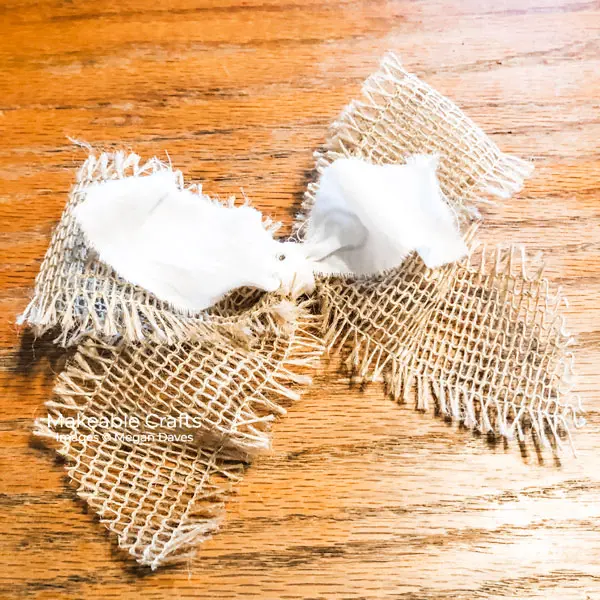 Hot glue your bow to your pumpkin.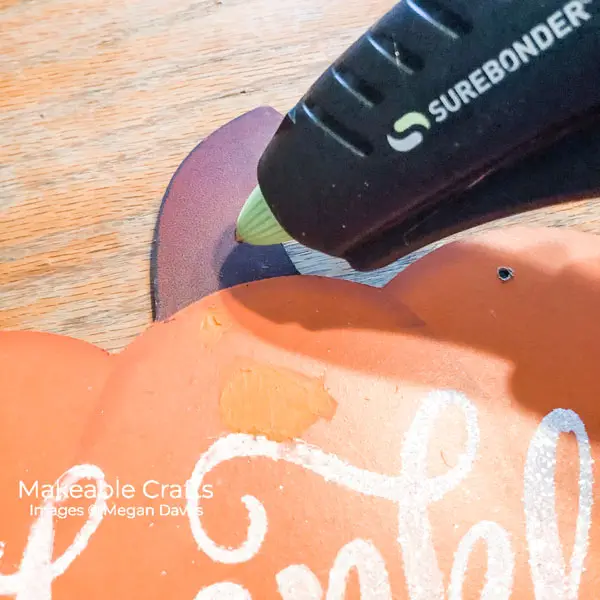 Now is when we are making our sign versatile. We could glue our pumpkin onto our canvas, but then we are committed to this sign just being for fall. But when we use some adhesive Velcro dots on the back of our pumpkin and to our canvas, now we can interchange it easily for other seasons or holidays!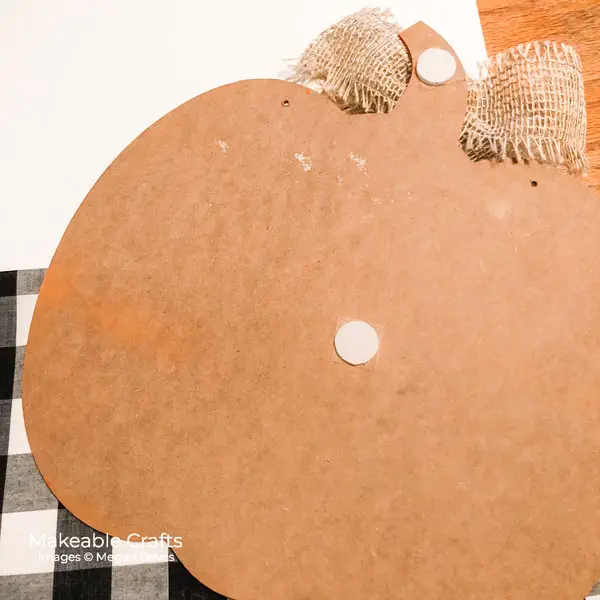 That's it! We are all done with this adorable wall canvas for fall!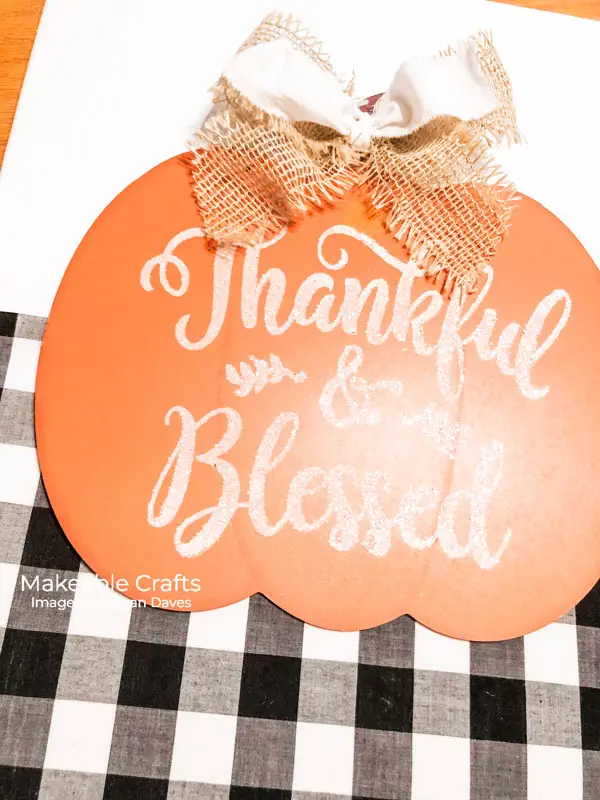 This project took about 30 minutes to complete and not a lot of supplies at all. And it looks fun, fresh, and fantastic! Why just add a pumpkin to your wall when you can display this instead?
Pin It!
Like this project? Be sure to pin it!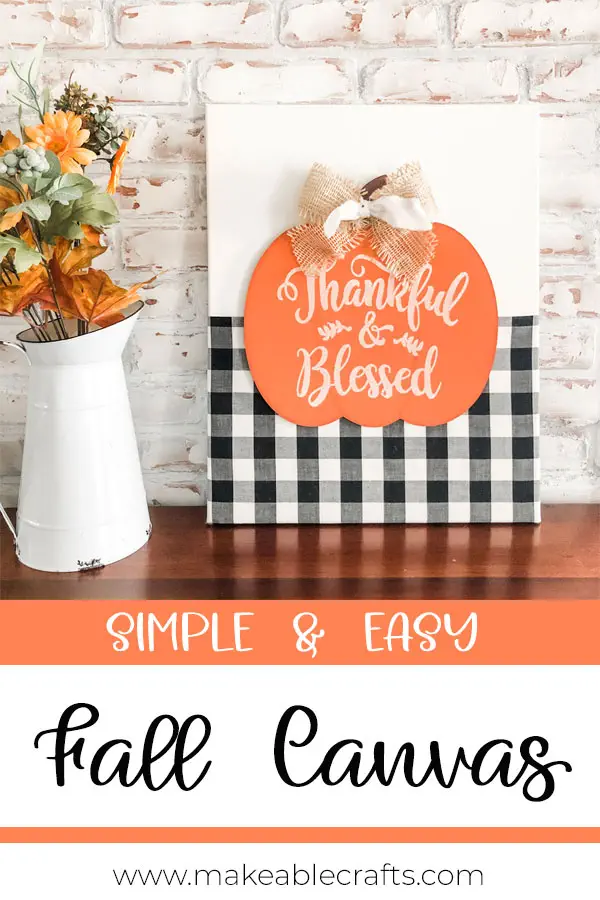 Thank You
Thank you so much for joining me for today's wall canvas for fall project. Make sure that you connect with me on Instagram to see how I change it out throughout the year 🙂 See you soon with another Makeable Craft! XOXO, Meg