Treat Table Ideas for Sleepover Snacks
Looking for treat table ideas for sleepover snacks? Whether you are doing a family sleepover during quarantine or planning an upcoming sleepover, you can make your sleepover snacks totally adorable with just a few supplies! Not only is decorating the area fun and pretty, it's also a great craft time activity for you and your kids.
When choosing your materials for a treat table, I highly recommend something that is durable and not affected by water – things will get spilled! So for all the decor pieces, I went with oly*fun. If you haven't ever used oly*fun, know that you can use it indoors and outdoors, it won't fray, tear, or fade – making it the perfect material for your sleepover snacks table.
For a perfect color coordinated treat table, I recommend sticking to five colors – and I prefer to keep one of those colors as a neutral – for this set of colors, I chose white as my neutral. Adding neutrals really brings more pop to your other colors. The colors of oly*fun I am using are:
Snow White
Bubble Gum
Cherry Pop
Kiwi
Lemon Drop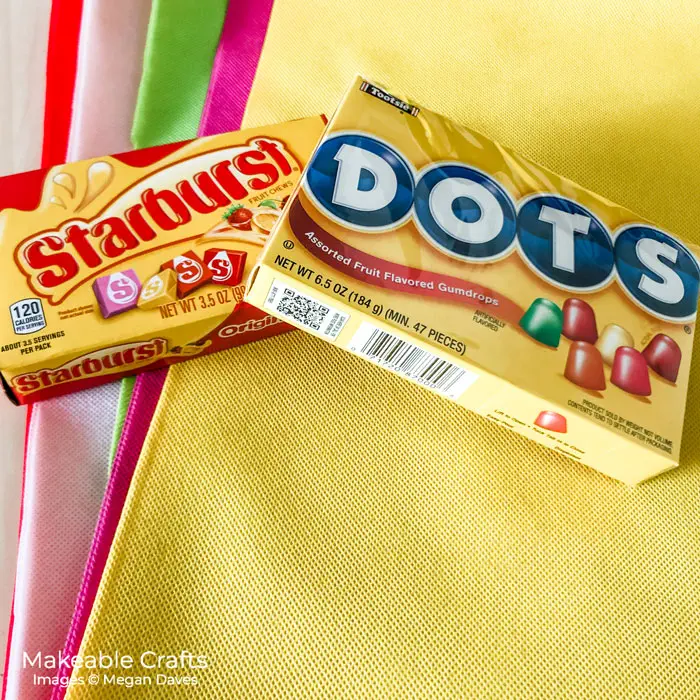 Claim The Space
Making a cute banner to hang from your treat table is a perfect way to not only claim the space, but also to reinforce that the treat holders need to stay in that area rather than being carted off to another area of the house. The banner pieces are made by cutting a pennant, a circle and a letter. You can also write on oly*fun, so if you don't have any letter die cuts or don't want to manually cut them out, grab a sharpie and go to town – the color won't run at all like it would on a typical fabrics.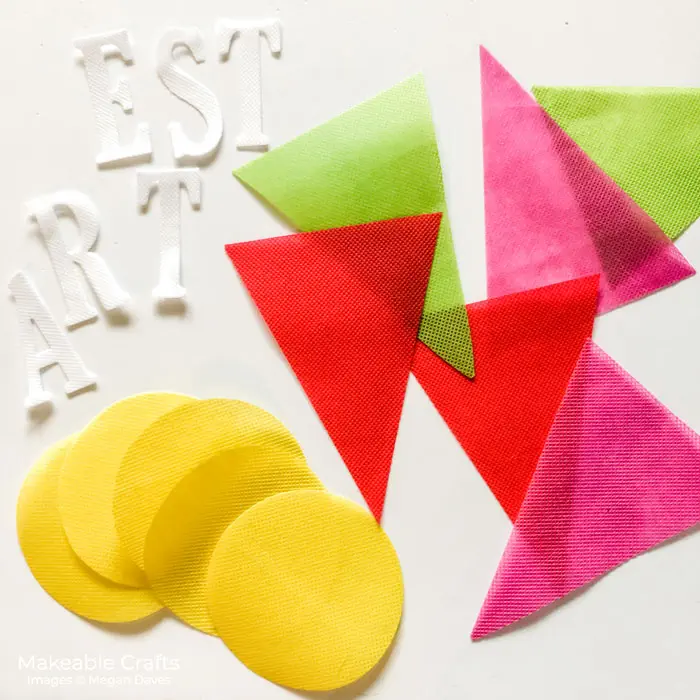 One thing I hadn't tried before with oly*fun was cutting it in a paper trimmer – it works like a dream!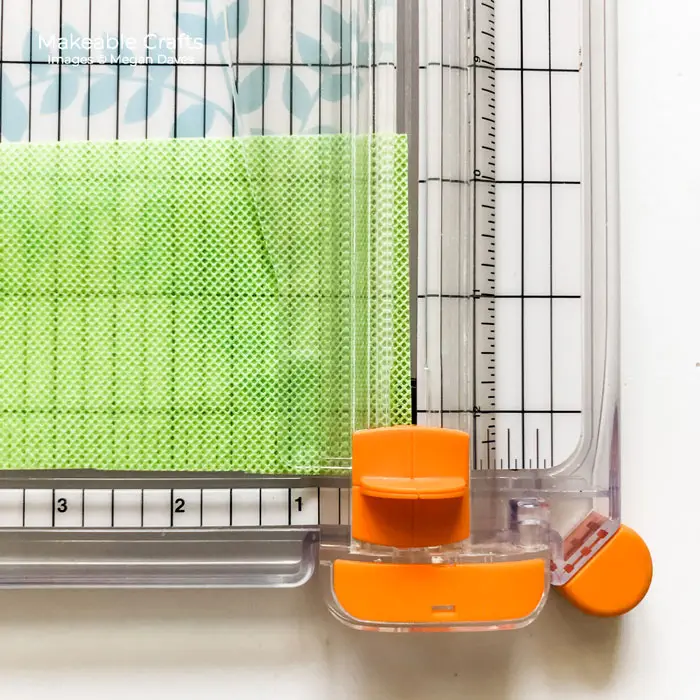 The pennants are 3-1/2″ x 4-1/2″, the circles are 3″ in diameter, any my letters are 2-1/2″ tall.
When you are done creating your pennants, add them to a piece of thick twine. For added decoration, you can make pompoms from your scraps of oly*fun, these are made with 10 pieces that are narrow strips about 3-1/2″ long. Why throw them away when you can use them to enhance your banner.

Label Treat Bags
Using simple brown lunch sacks for popcorn may seem boring, but that just until you spend a few minutes and add a few supplies – adding an initial to personalize the bags takes it one step further, but doesn't take much time at all. Measure your bag to get your banner width. Add a circle and a square of different colors and then die cut or write the initial on the bag and in minutes you have gone from a plain lunch sack to a personalized treat bag! With oly*fun, you can cut through several layers at the same time with your scissors, so you can whip up these labels for four bags or for 20 in no time at all.
Simple Bows For Candy Jars
Adding a bow to a jar of marshmallows for the Hot Chocolate section of the table is such a simple touch, but look at the pop of color! Do the same on uninteresting glass jars and instantly your jars of candy become even more appealing. These bows were also tied from strips of oly*fun – they don't tear when you are pulling them tight.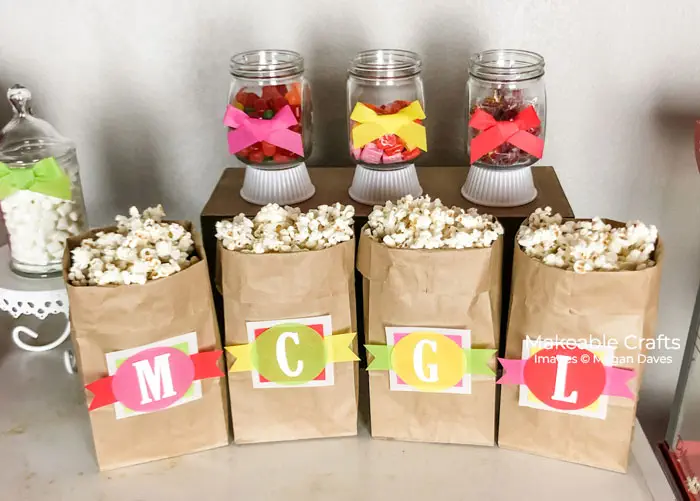 Sleepover Snacks
Choosing the snacks that also coordinate with your decor isn't mandatory, but it sure does add to your overall tablescape appeal. You might notice that I left chocolate out of the mix, that was intentional. I don't know what is is about girls, chocolate, and carpet – but in our home it normally doesn't end well… for the carpet! So any chocolate, such as cake, stays off the treat table and is sliced up downstairs where it can easily be cleaned up. (My husband doesn't fall into the teen girl age demographic but is equally hazardous with carpet and chocolate!)
Build Your Table Up
By adding treats on different levels, your sleepover snacks station instantly has more eye appeal. Add layers to your table with boxes, cake stands, and even simple ramekins will helps your table look just right.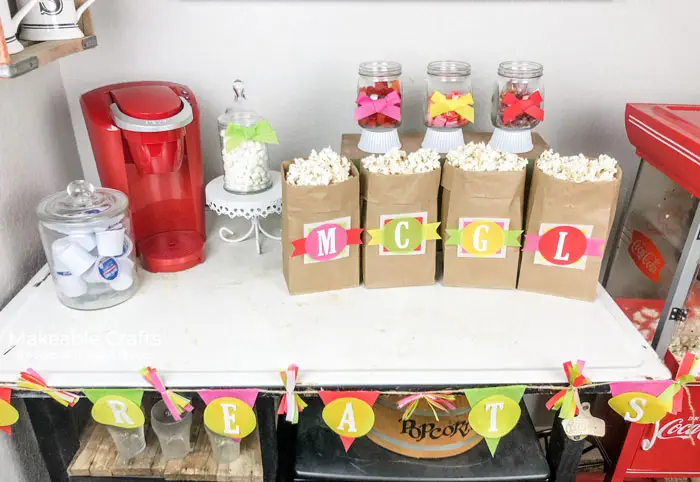 Other Supplies Used
Fabri-Tac
Glue Dots
3″ Circle Die
Die Cutting Machine
Paper Trimmer
Letter Dies
This post contains affiliate links.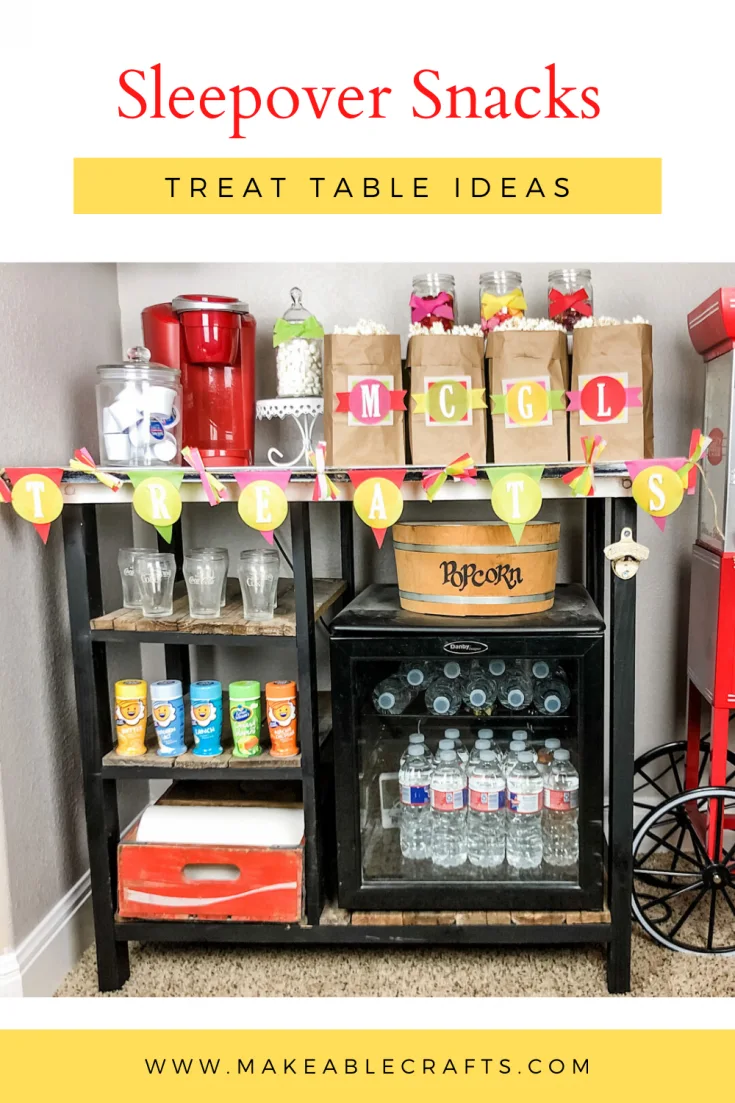 Thank You
Again, whether this is for a family fun night during quarantine or a houseful of kids, I hope you try these fun ways to uplevel your sleepover snacks by building your own treat table! Keep checking back for more ideas that are truly Makeable Crafts! XOXO, Meg