Making a Simple Rag Bow
A simple rag bow can dress up so many things and you can make these in minutes.  I can't wait to share how to make these with you using just strips of fabric.
I am also going to share how to make a quick Dollar Store candle holder with a stand, as it will really show off the simple rag bow.
Let's start with that…
Dollar Store Candle Holder with Stand
At the Dollar Tree, you can find these little candle stands that hold a taper candle.  And you can find these little glass jars there that will hold anything, candles, decorative rocks, chocolate, anything.
All you need in addition to that is some heavy duty glue.  My preference for this is E6000.
Here is a list of supplies used to create this craft, other than the fabric.  Some of these items contain my affiliate links.  That means when you buy from the links, it costs you no more and helps keep this site going as I make a small percentage of the sales.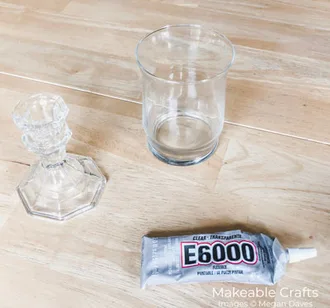 All you do is put a thin line of glue around the top of the taper candle holder and attach it to the bottom of your glass jar.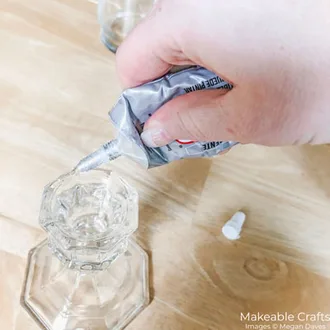 I like to flip my jar upside down, set the taper candle holder on top and let gravity help with the gluing process.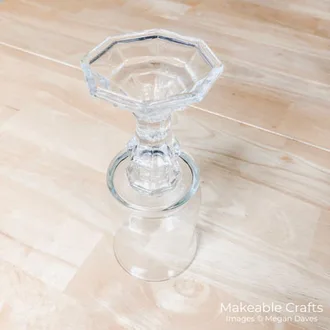 That's it with this part, super simple!
Simple Rag Bow
I like to use fabric that is 18″ long and cotton fabric works best.  You want to start by getting some "wear" into your fabric.  You don't want it all nice, new, & crisp.  My favorite way to do this is to put it in the washer with a lot of fabric softener, then be sure to use a dryer sheet when drying.  Your fabric will be all nice and soft.
You can use one fabric, two fabrics, as many as you want.  Don't feel limited!
Grab your fabric and your scissors and start the cut 1″ from the edge.  Then tear the fabric the entire length, the whole 18″.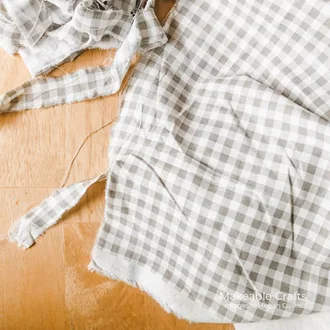 For the bow I am making, I have 16 strips, 8 of gray and white gingham and 8 of white fabric.
Laying Out Your Strips of Fabric
When you are laying your fabric strips out, start one at a time, lay it on the table and fold it back at the 2/3rds mark.  So your long section is about 12″ and then folded over is about 8″.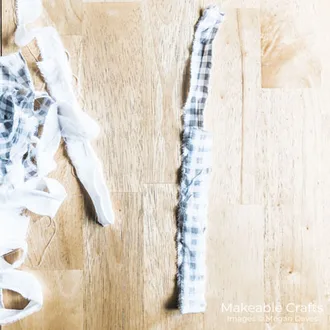 Then for the next strip, do it the opposite way.
Keep switching back and forth with the long tails on the right side and then the next layer they are on the left side.  If you are using multiple fabrics, be sure to alternate those as well.  I did two layers with one fabric and then switched the next two layers with the next fabric.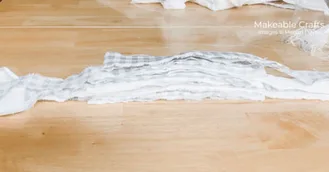 Once you are done with your layering, it's time to take a long piece of fabric, again go with an 18″ strip of fabric, either pattern is fine, and you will want to wrap it around the middle of your fabric stack and tie it off in a double knot at the back side.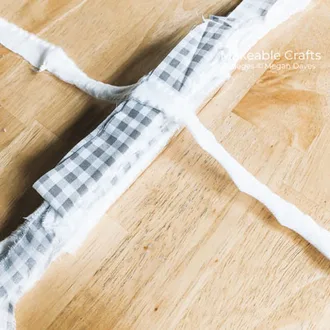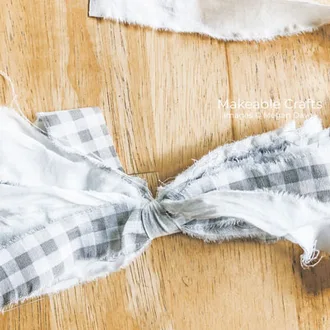 Fluff out your layers and you are done!  My friends, it is just that simple to make a simple rag bow!
Finishing the Project
Once your rag bow is complete, just tie it around your glass jar.  I tie mine in a bow around the jar so that I can change out the bows for different seasons and keep the same jar.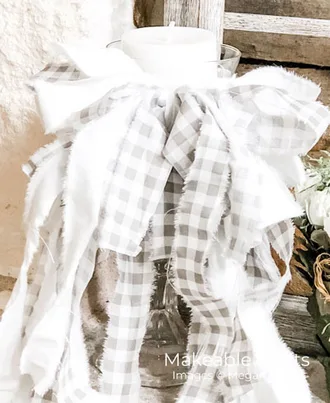 Pin It
Like it?  Then Pin It!  Use this graphic below and pin this image.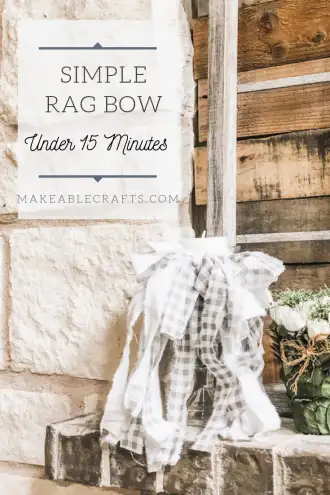 Your Turn
Give this a try!  Think of the next holiday or season you will decorate your home for, grab some fabric that reflects that.  Throw it in the washer on quick wash and make your candle holder while you wait.  If you make a simple rag bow, please show me! I love to see your projects!  XO, Meg