Repurpose Old Windows In Under 15 Minutes
I have an addiction to buying old windows and then the love of being able to repurpose old windows.  When I find them for a great deal, I just can't leave them, they must go home with me.
The hubby is tired of having old windows stashed in different places waiting to be repurposed, but he deals with it the best he can 🙂
In my craft room I had this blank wall.  It's faux shiplapped and was plain and boring.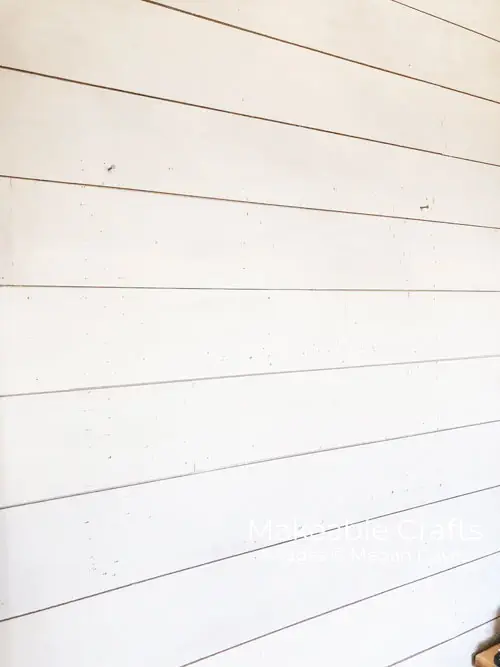 Then I found this amazing window. It was so pretty with chippy paint and the window glass was already gone.  I did use a lead tester and shockingly enough, no lead was found – YAY!  So no lead and no broken glass – that's an awesome find!  Since the glass was gone, it was a $5 find.
To find old windows, I like to go to places like rehab stores (in our area we have Habitat for Humanity Re-Stores) and also antique stores.  My favorite types of antique stores are the ones that allow for lots of vendors.  And don't forget about flea markets, you can get great deals at those.
Other Supplies
Galvenized Chicken Wire  (Lowe's has the best deal I have found for this – it's less than $10 for 2′ x 50′)
Staple gun
Wire cutters
Work gloves (not mandatory, but I am not a fan of my blood leaving my body)
Seriously friends, that's all you need.
To Make This
I think it works best when you start in a corner and work your way down both sides of your frame, cutting and stapling as you go.  If you measure and cut and then try to lay it out, you will spend so much time trying to get it to lay down flat and stay in the right place.  For sure it takes more time and definitely has more frustration.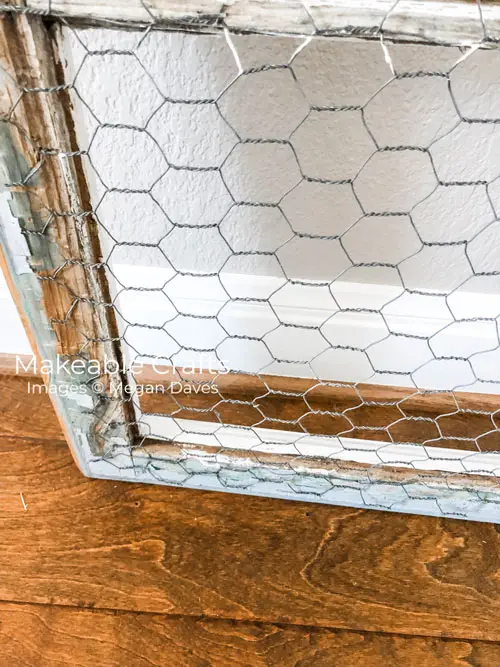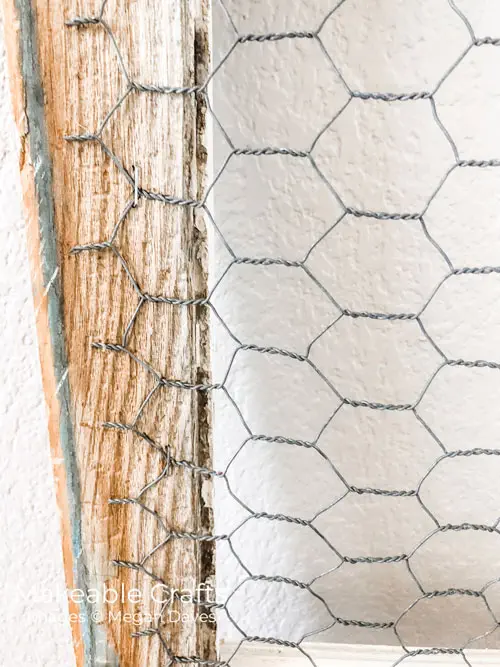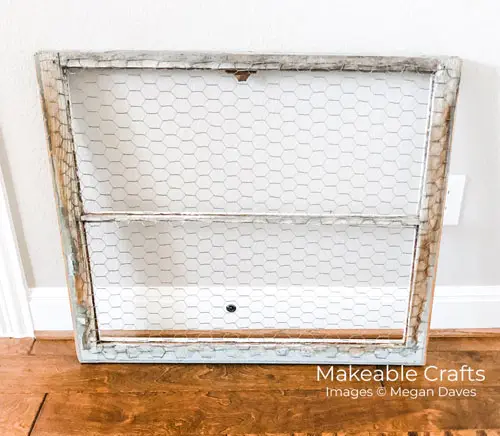 If you have wood floors like I do, please don't work with chicken wire and old windows on your beautiful floors.  Use a heavy duty drop cloth or go outside to do this.
You can easily do this in under 15 minutes, simple, simple craft.  This is such a simple way to repurpose old windows.
The Hanging and Decorating
Since there isn't any glass in this window, it's super light weight as it is.  I took 2″ nails and found my studs and simply hung my window.
I went with 2″ nails because of what I am adding to the window, which is much heavier.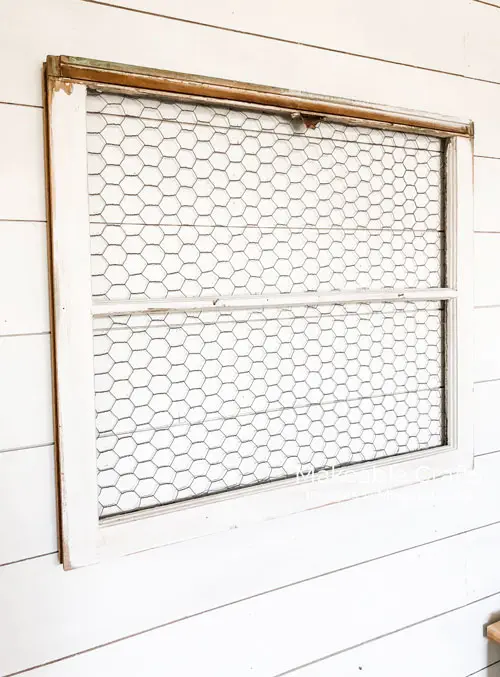 This is metal flower I found at Hobby Lobby and just like that, this project is complete.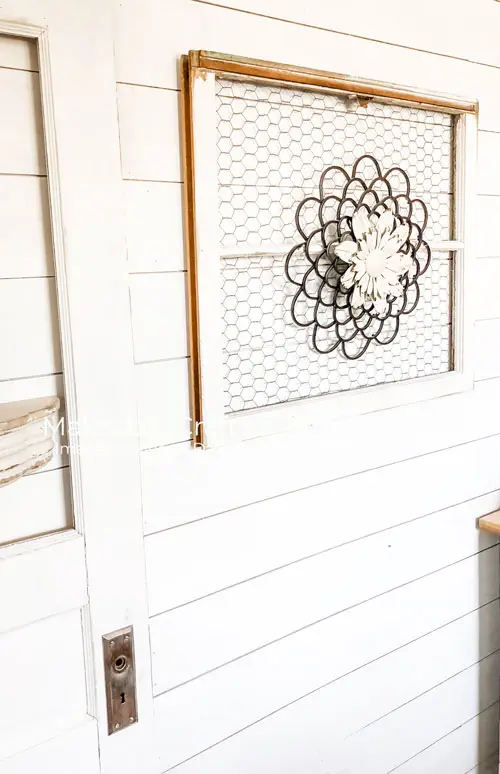 If you haven't ever try to repurpose old windows, I hope that you are inspired to try it.  To make this project, I was out $15 plus staples.  And then I found the flower on clearance for $10, but you can put whatever you want in the middle of your window.
Pin It
Want to easily find this project idea again?  Pin this image below to a new board on Pinterest and call it Makeable Crafts.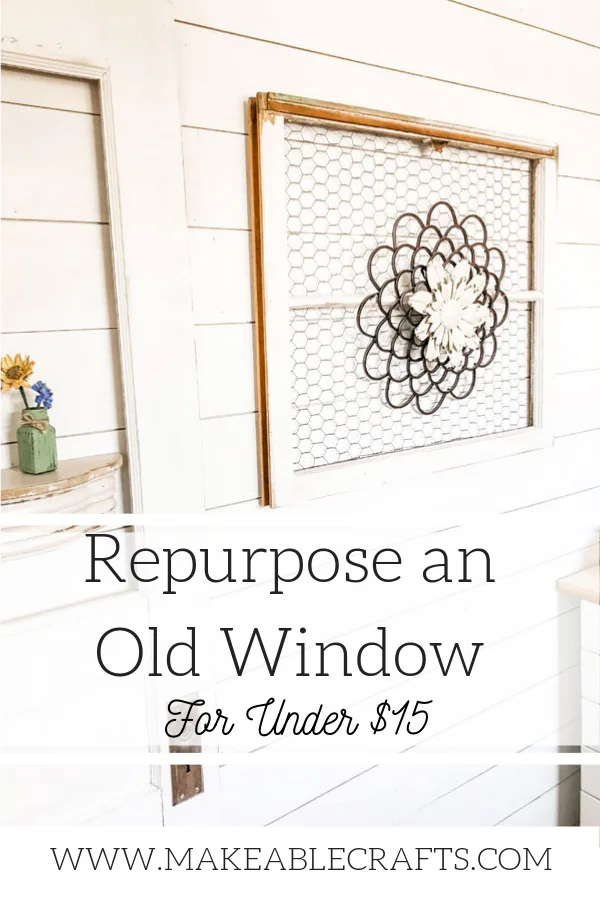 Give It A Try
Give this project a try this weekend.  It's a time friendly project and easy on the budget.  When you keep it simple, you can easily repurpose old windows in under 15 minutes!