Repurpose a Crib – Farmhouse Style
Today we are going to repurpose a crib.  This is in my living room and I can't wait to share it with you!
I have no idea how old this crib is, all the pieces are there, and it is in great condition.  I sit and think about all the stories that go along with this crib, ahhh… if only the crib could talk.
This crib was at an antique store in Rockdale, TX (LOVE Antique Queens!!!)  I saw this crib on three different trips and on the 3rd one, I knew it had to come home with me.
My husband thought I was completely nuts, or pregnant, or both.  I am thrilled that it's neither!  (OK, I am a little nuts, but I think we all are.)
Let me share this stunning antique crib with you.
The Before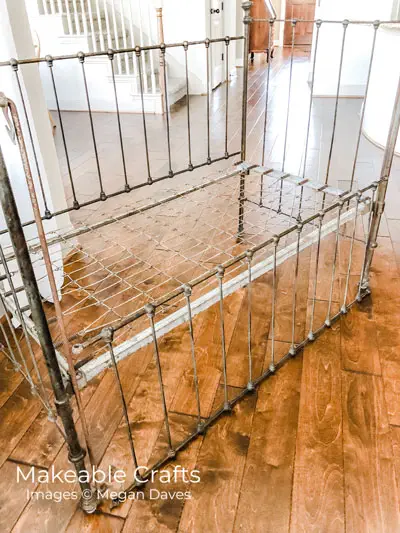 Getting It Living Room Ready
Luckily, no work needed to be done with this crib.  And even better was that the front panel was already removed for me.  (I have several projects in mind for that panel – I am leaning towards making a coffee table with it.)
I went out and tested crib mattresses for comfort and size.  Luckily, a standard crib mattress fit!
Even though the crib didn't need work, I was a bit concerned with some of the springs being rusted, so I cut down 3/4″ plywood to mattress size and placed it under the mattress.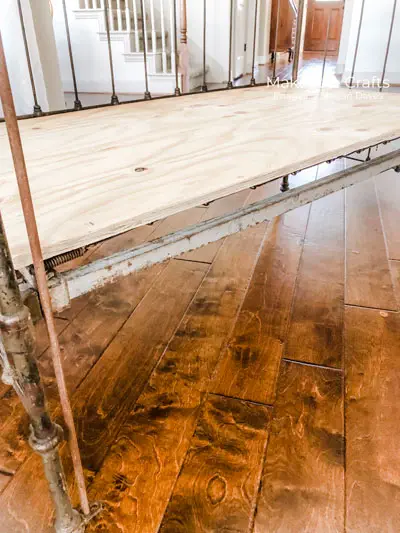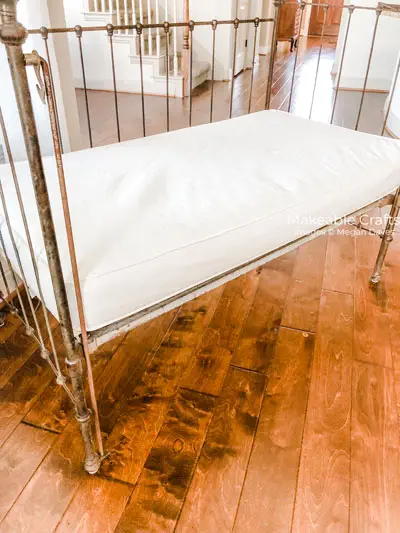 Decorating It
I love white decor with pops of color.  Finding a white ruffled coverlet was perfect.  It's the size for a full size bed, so I have it folded over in half for now.  I was going to cut it down and finish the new edge, but I couldn't stomach the idea of cutting it, even though I found this gem at Walmart.
Then you finishing it off with adorable pillows.  I found these at Kirklands and it was instant love.  LOVE buffalo check and it was such a find with them being gray and white.
And just like that, we went from crib to settee!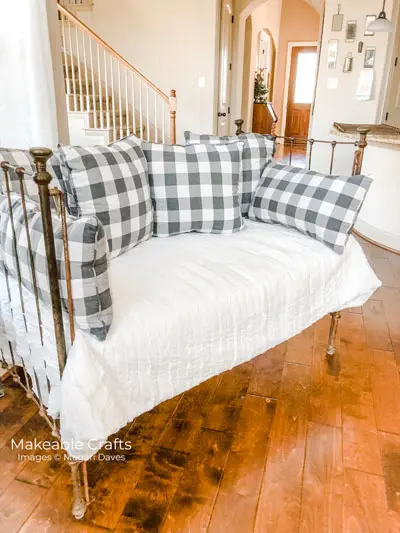 Now It's Your Turn to Repurpose a Crib
This stunning antique crib has become quite the conversation piece in our home.  Everyone that comes in loves it, and my friend that often makes the 45 minute drive to Antique Queens is massively bummed that she didn't notice it in the store.  She keeps wanting to buy it, I don't think I will ever part with it.
I will tell you that these gems aren't easy to find, but if you are excited about upcycling an antique crib, when you find one, grab it!
Pin It
Like this idea and want to easily find it again?  Add it to your Makeable Crafts board on Pinterest!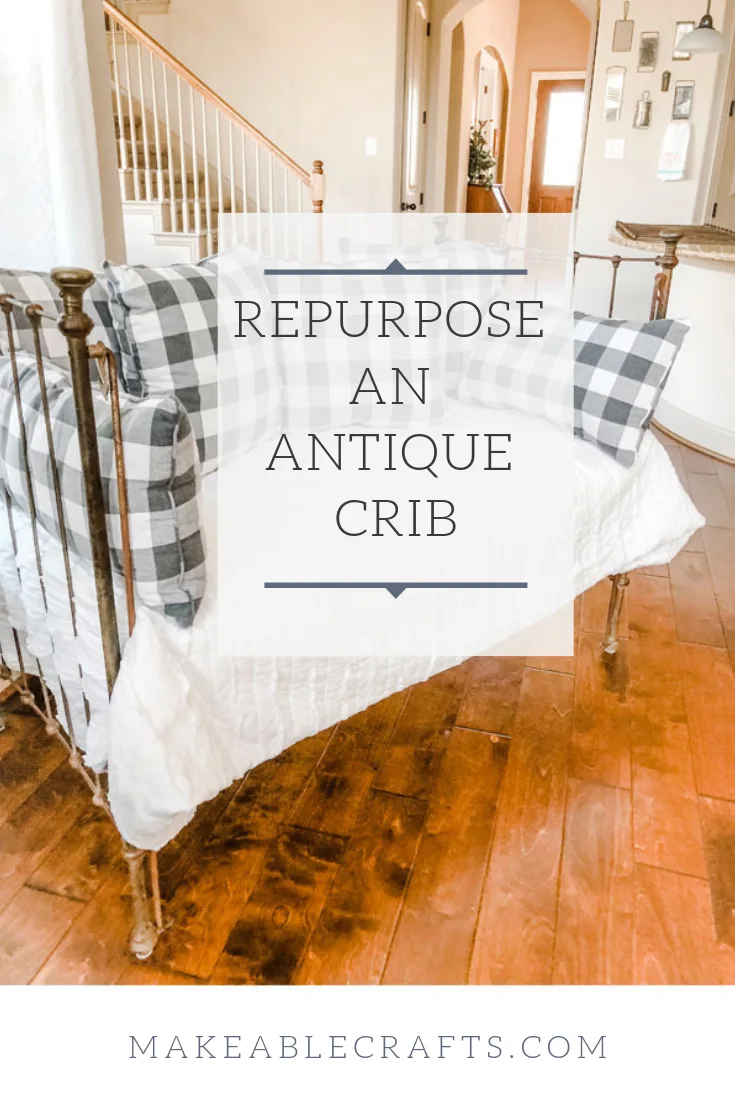 Like Upcycling/Repurposing Projects?
Like these types of projects and want to see more like it?  Leave me a comment and let know.  Bonus points if you comment with what types of upcycling projects you want to see. Today it's repurposing a crib, there is no telling what will be next here on the blog.  Hugs, Meg