Quilted Tablet Cover Tutorial
I can't wait to share with you this quilted tablet cover tutorial. With school starting back up and with every device under the sun going with them, now is the perfect time for me to share with you how to make these.
To me, the longest part of this project is choosing the fabric, lol!!! This is an easy Saturday morning kinda project, which are my favorites.
The main thing to know is that we are working with squares of everything. Today I am covering a Kindle. For this, everything is 14″ x 14″. For my iPad, I went with 17″ x 17. So it all just depends on your tablet size. But regardless, cut everything to a square.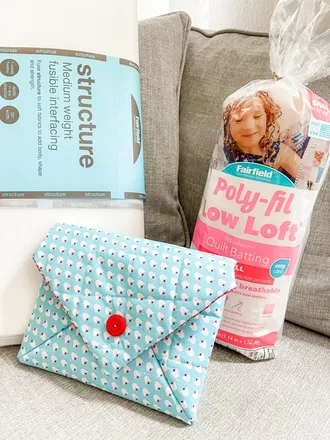 The Supplies
For your supplies, you will need quilt batting. My favorite and the one I recommend is Poly-fil Low Loft® Quilt Batting. Then I also recommend using interfacing to give your fabric more support. For this I chose Structure from Fairfield World™. Fairfield World™ makes all things to make your sewing and crafting projects come to life. They make both of these first two projects. Then you will want fabric, it can either be one or two patterns. A sew in Velcro™ square, a button, sewing machine, needle, and thread.
On to the making part of the Quilted Tablet Cover Tutorial…
The first thing you want to decide is if you want your corners and seams to have batting or not. For these envelope pockets that are going to hold any devices, I say the more padding the better. It will make your end project a bit more bulky, but to me this is well worth it, again, the more padding the better.
With that said, I cut my fabric, my Structure, and my quilt batting all to the same size. If you don't want batting in your corners and seams, cut them 1/2″ smaller (for the size we are making, go with 13-1/2″ x 13-1/2″) as we are going with a 1/4″ seam.
Start by ironing your Structure to the back side of the fabric you want to be the outside of cover. Then add pin your quilt batting to this.
Disclaimer: I am in no means a quilting expert. I love the quilted look on things and so to me, that means adding straight lines of stitching. I am not professing to be a quilt expert, you won't see me speaking at a quilt expo ever!!!
For me, I often start by drawing my start lines for quilting. I draw right onto the batting using a permanent marker. I drew from corner to corner, rotated and did it again.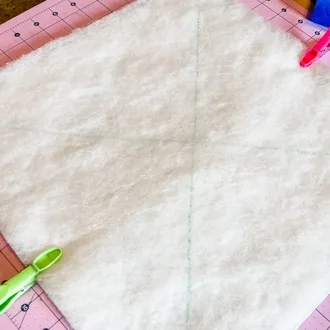 Then stitch along those lines.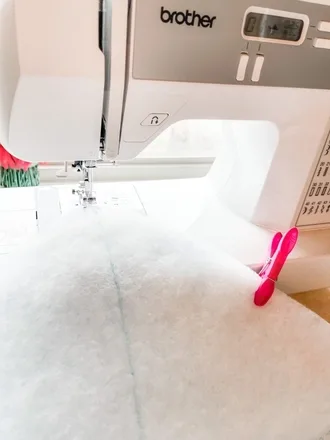 Next you will want to find something for your guide. I had a 2″ strip of leftover fabric sitting there, so that is what I chose to use. It's just a guide. Line it up on one side of your stitched line, and stitch along that guide. If using fabric be sure to not sew it in!!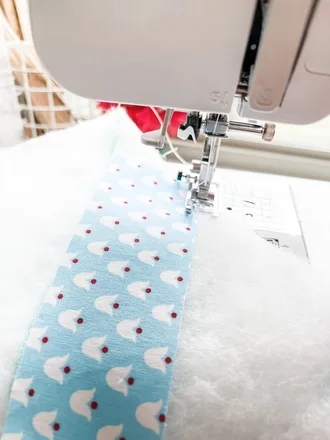 Keep moving your guide and stitch until you have finished your quilting.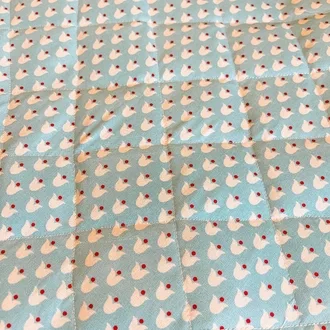 Now we will pin our liner fabric to our quilted piece, with wrong sides facing each other. Sew most of it all the way around, leaving enough space for your hand to flip it right side out and then close your seam.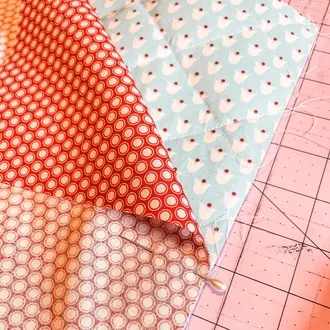 It's time to make our envelope!
With the liner facing out, fold your project in half, and pin one end. Use another 1/4″ seam and sew along the pinned side.
Open out that seam, pick another corner and pull it in and pin. Sew that seam as well.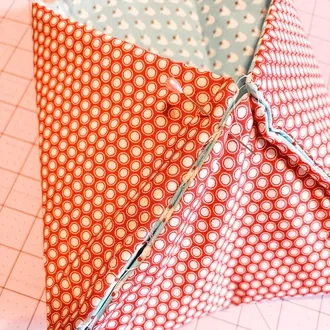 Flip your project right side out and all we need to do is add a closure.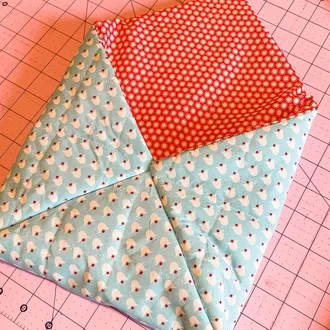 I used a sew in Velcro.
To make it super cute, I added a button to the front of my tablet cover for two reasons. First, it covered my stitching from adding the velcro, second it's just adorable!!!
And just like that, you have completed your quilted tablet cover.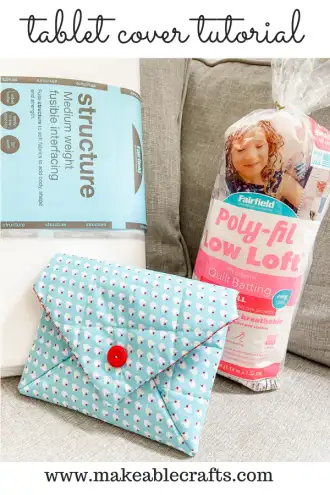 Thank You
Thank you so much for stopping by. I hope this quilted tablet cover tutorial inspires you to create! These are fun to make, and since you can make them in a variety of sizes, think about making a set of these to give as a gift. I made mine to hold a tablet but you can hold all kinds of goodies in them. XOXO, Meg