Pour Painting – Now Easier Than Ever!
Have you jumped in on the pour painting trend yet? If you are one that has never tried it, there has never been an easier time than now to try it!
When it first became a thing, it was kinda a pain in the booty – but not anymore!
What Is Pour Painting?
Pour painting is a painting technique where acrylic paint is mixed with a pouring medium and then poured onto a surface in all kinds of ways. You can pour colors one at a time or you can mix several colors into one container and pour them together. If you are going to combine several colors, you need to mix the pouring medium into each color before putting them into one container to pour. DecoArt has the best pouring medium which makes it simple!
What If You Want the Easy Button?
Starting NOW, you can have it! Introducing DecoArt Fluid Art Ready-to-Pour Acrylic Paint! You can now get it in 26 individual bright colors and 7 color combination value packs. And if you have paint pouring in action, you have most likely seen it done on a canvas. But today you will discover that you can use it on so much more! Today we are using the Tropical Colors Value Pack.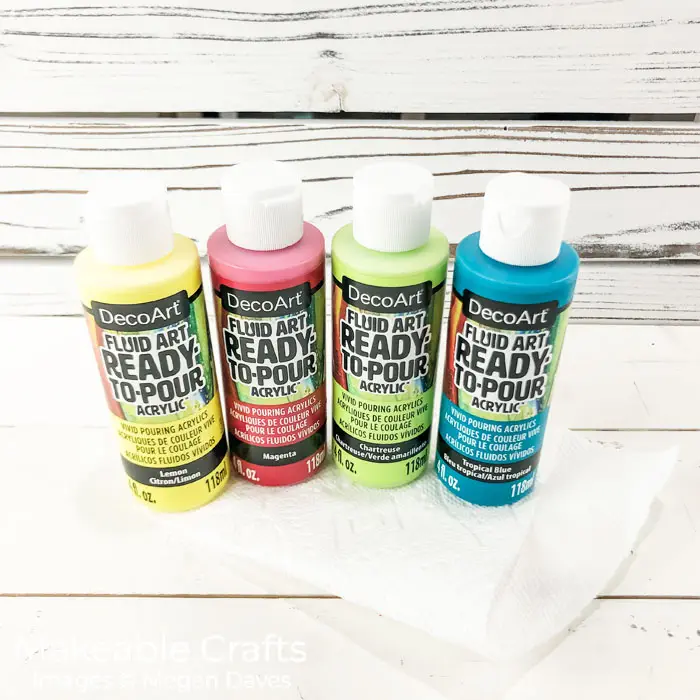 Let's Dive In
We are starting with a cute rain boot vase that I picked up at Michaels. This is a paintable surface and was begging to be used with the Tropical Colors Value Pack. It has four different colors, each bottle is a 4oz bottle. You will also want a tray. I opted for a set of gloves as I had just bought my nails 🙂 But it washes off super easy too.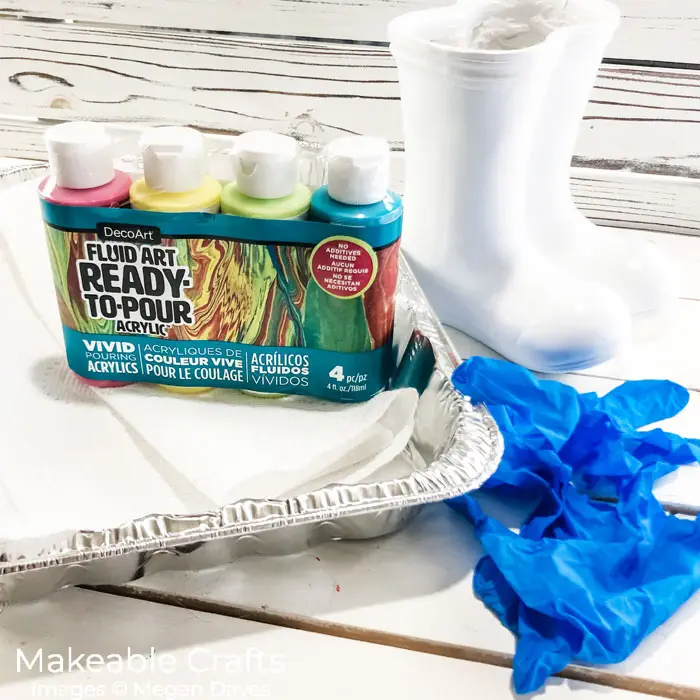 Prep
Gently shake your paint bottles. You don't want to aggressively shake and get air bubbles in your paint. Make sure your surface is clean of any dust or stickiness from a price label.
Decide if you want to use one color at a time or if you want several colors pouring at one time. I used all four colors in my cup.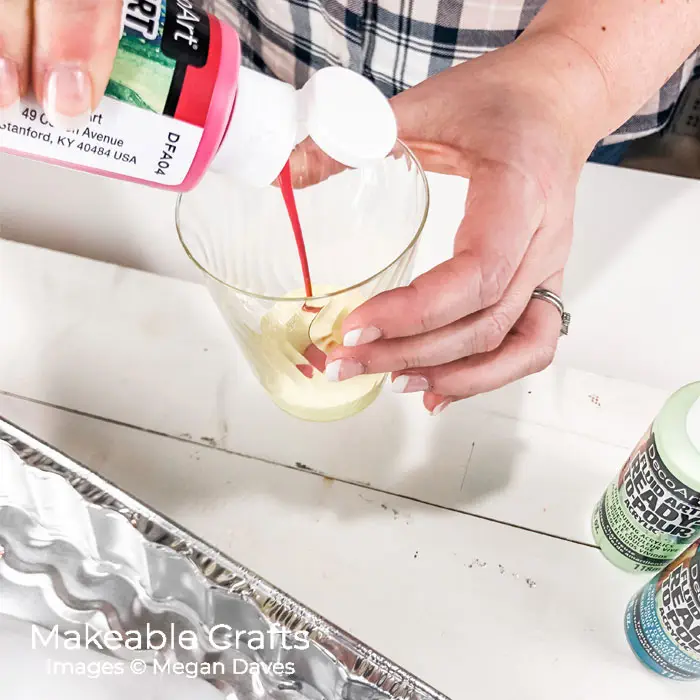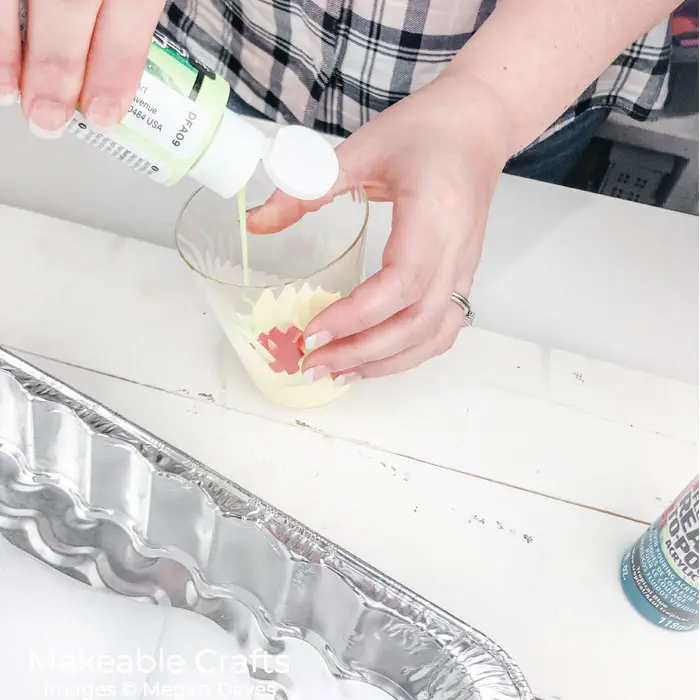 After all four colors were in the cup, all you have to do is pour. You don't want to stir your colors together.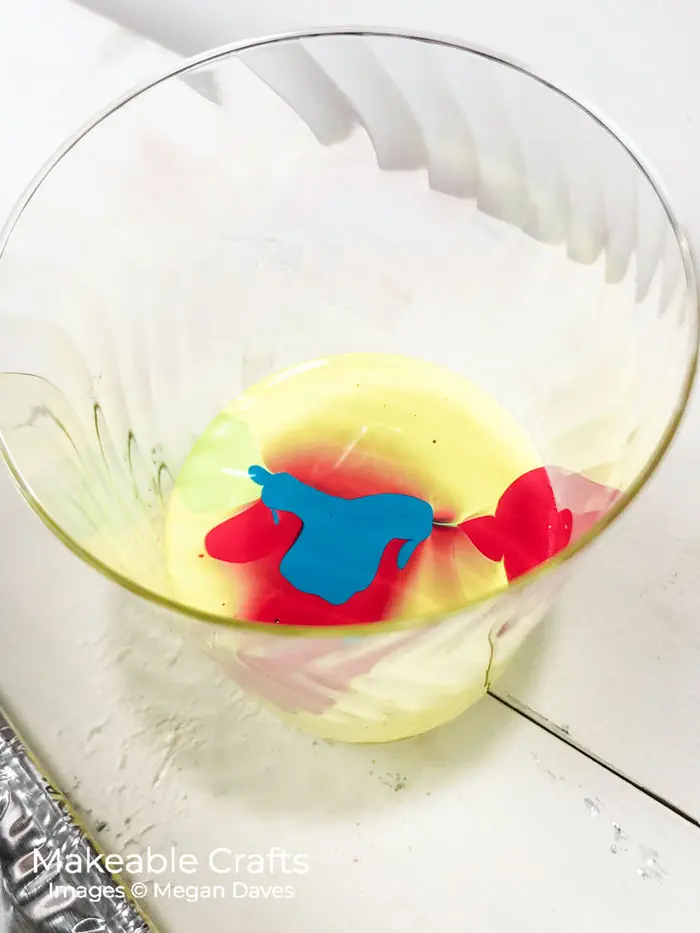 Since this is a 3D project, I picked up my vase and had it in my hand and tilted the vase to move the paint into all the areas. Just make sure your paint catching tray is under the project.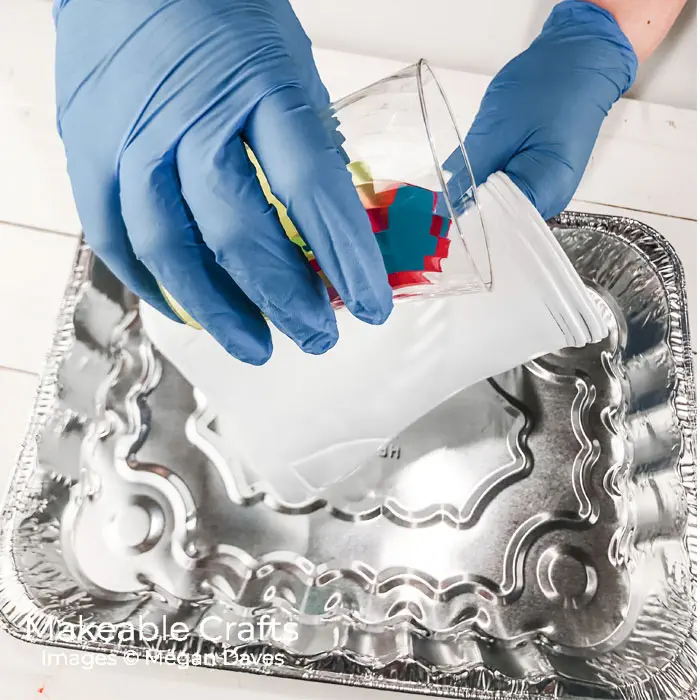 As I was pouring, some of the areas didn't get paint on them. If this happens, you can add more paint or you can leave some white space as I chose to do. That wasn't my plan, but as I saw it, I really liked it. You don't need to pour it on thick, thin coverage is ideal.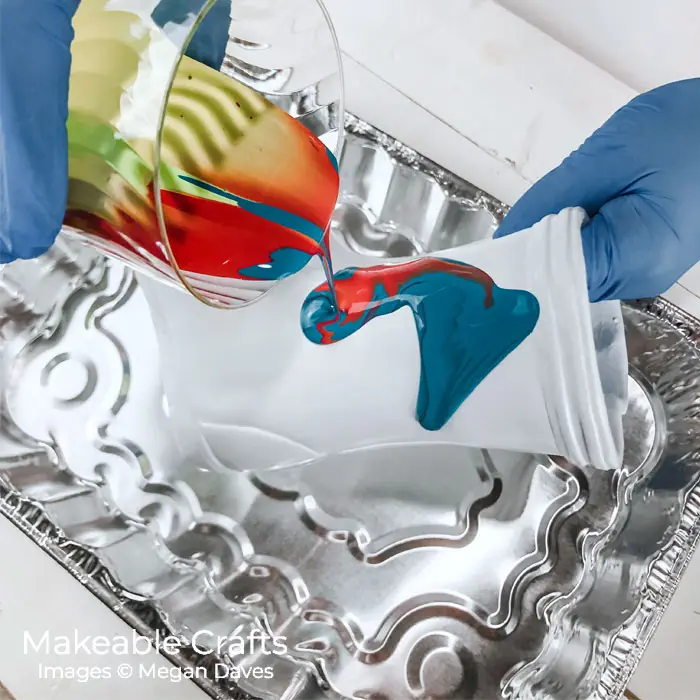 Then make sure you set it to dry on a riser of some sort. You don't want to set it down in your paint catching tray as it will dry along with all the paint as one piece.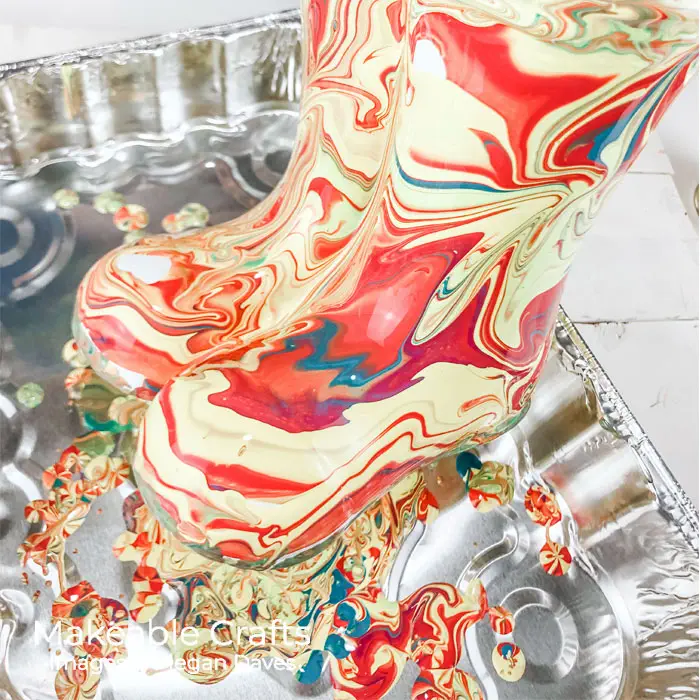 All you have to do now is wait 🙂 I left mine to dry overnight, it was 100% dry in the morning.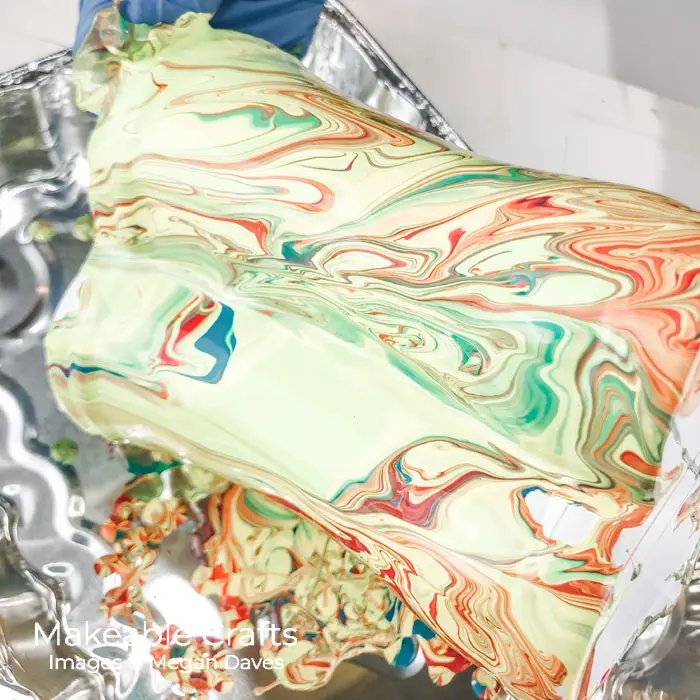 That's it!! Seriously, that's it!
You have no reason not to try pour painting now!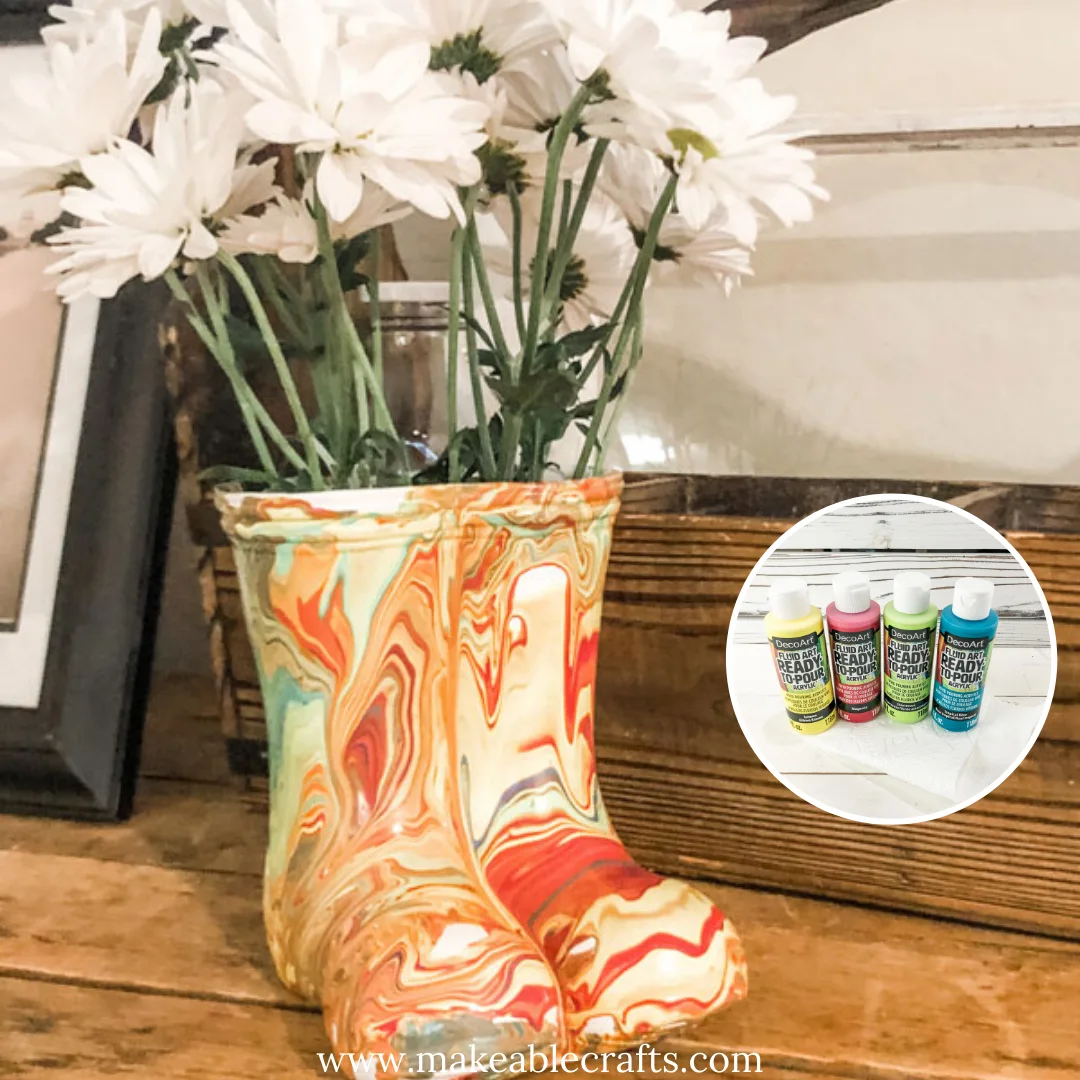 Things to keep in mind:
This is permanent paint. When it's dry, it will keep its vibrant color because it's highly pigmented. If you want a high-gloss finish, all you need to do is apply DecoArt Clear Pouring Topcoat once dry. Clean up is a breeze, just soap and water will clean it up while it's wet. And even if you buy a four pack and then some individual bottles, you can intermix all the colors, not just ones in the four packs. And for additional product information and projects, visit DecoArt.com.
This product is now available at Michaels!
Your Turn
Now it's your turn to try your hand a pour painting! And I get it, you're busy! My friends, from start to finish, I was done with my pour painting in under 10 minutes. That was from supply gathering to setting it to dry. So in just a handful of minutes, you can make amazing projects! Give it a try – you will be so glad you did! This is such a fun way to get in some creative time without having to clear your schedule.
Pin It
Want to pin this project to easily find it again? Here is a graphic just for you!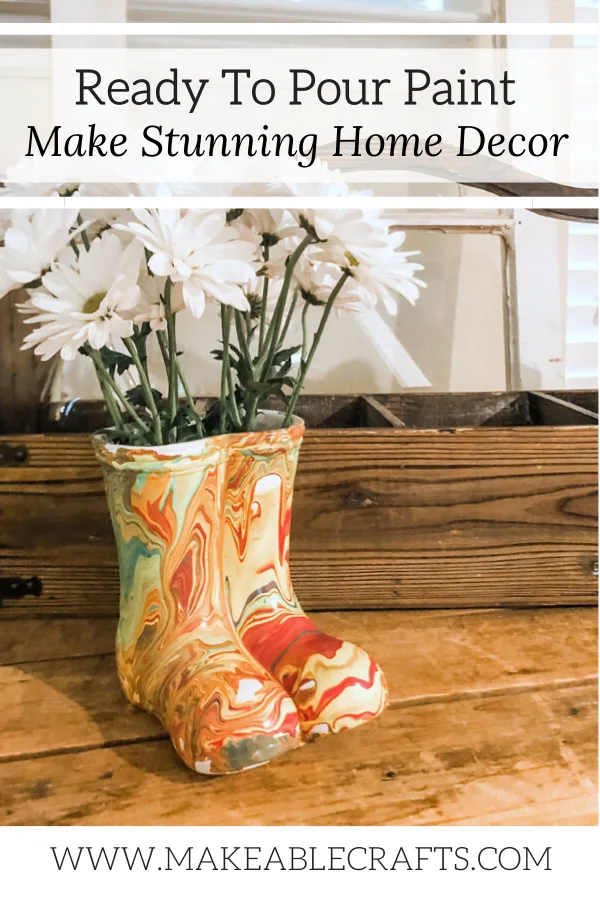 Thank You!
Thank you so much for stopping by! Take a quick trip to Michaels and grab these amazing new DecoArt Fluid Art Ready-to-Pour Acrylic Paint! You will love how easy it is and how amazing it looks. XOXO, Meg