30 Minute Craft: Paper Carrot Garland
It's time to make this adorable paper carrot garland! To me, there is nothing that says springtime like Easter. Easter is my favorite holiday of the year. With it, everything is fresh and new, beautiful and clean, I just love it.
I am starting my decorating for Easter and decided to make a new garland this year for our mantle. I have never done carrots before, so it was time to do just that.
While this was made just by me, I wanted to create and share a project that you can make with your kids or grandkids this spring. So all of it was made to be kid friendly, you just need to decide which elements are right for the kids you are crafting with based on ages.
The Supplies
To make this delightful banner, you will need the following supplies:
This post contains affiliate links.
The Making of Your Paper Carrot Garland
To make these, start by cutting your card stock into 1″ strips. For the orange, I used 1″ x 8-1/2″ strips, so you can make four carrots from 1 8-1/2″ x 11″ piece of card stock. I really recommend card stock and not patterned paper for this part, as when we get to the next step, paper will tear.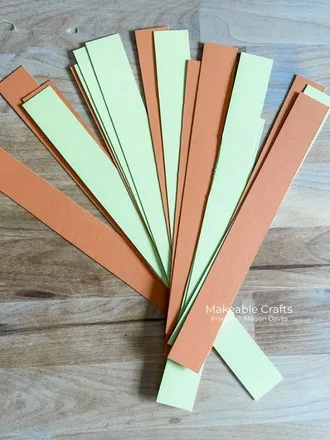 Time to bust out the crimper! Kids LOVE using the crimper! You want to run each piece of your orange card stock through it. If you are doing this with young kids, you might need to squeeze the handle and let them turn the knob – the turning of the knob is the part that does the crimping magic, so let them do that part.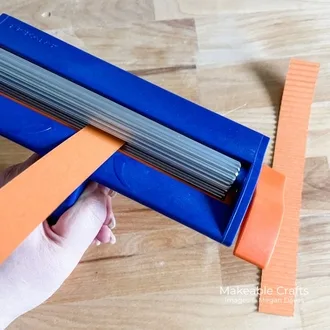 Cut your 8-1/2″ x 11″ green card stock into two sections so that you have one section that is 8-1/2″ x 6-1/2″ and the other 8-1/2″ x 4-1/2″. Cut these into 1″ strips to make your stems, so that you have (8) 6-1/2″ x 1″ and (8) 4-1/2″ x 1″. One piece will give you 8 carrot tops this way.
Did you know you can use herb scissors in your crafting!!! I have these and have never used them for cutting herbs, they stay in my craft room as they are the perfect way to cut "grass" or stems.
Fold your green strips in half. Hold the folded side in one hand, and cut through your end pieces.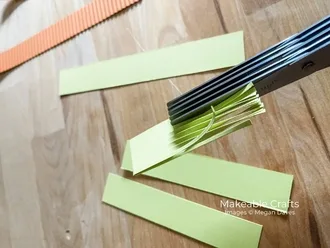 Layer your shorter piece of green outside your longer piece of green. Use glue or a strong tape runner to secure these closed. Use a hole punch as shown. Mush up your stems to spread out your stems.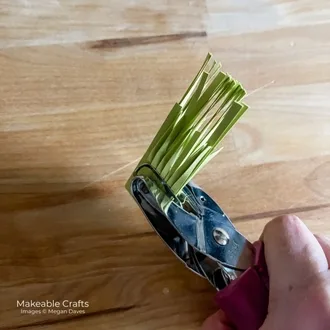 Glue or tape one end of your orange pieces together. On the other end, fold them in like a heart and secure them to your green stems – be sure that your hole punch is still exposed.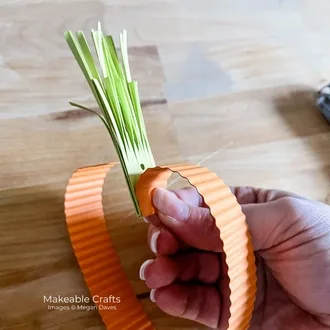 Run a ribbon or twine piece through your holes and you are done! If you are using a narrow piece of twine or ribbon, you may need to use a drop of glue on your ribbon to hold your carrot in place on your ribbon where you want it.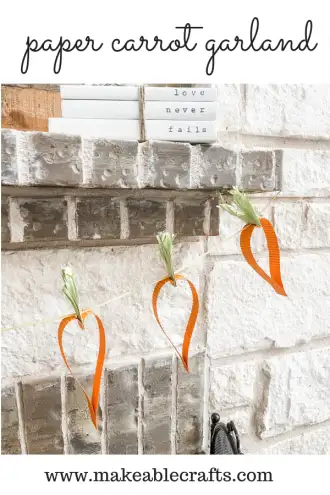 That's all there is to this craft. I made 7 in 15 minutes, I added extra time to work with kids, but this is such an easy afternoon craft, I hope you try it for sure!
Thank You
Thank you so much for stopping by today to discover this easy paper carrot garland. I love crafting with you and can't wait to share even more ideas with you! XOXO, Meg