Kitchen Organization DIY
I am a big fan of kitchen organization DIY – there are so many cool things that you can upcycle into kitchen storage, it's crazy.
My friend, Linda, shared with me how she uses an old sewing machine drawer to organize her cutting boards.  I love this idea and off I went to find 1 or 2 (you can use the for so many things!)
In 5 minutes, and with $8, I found this one…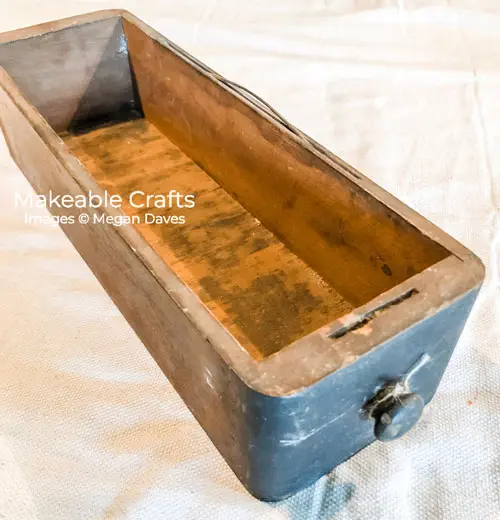 There are many out there that are plain and some that are fancy, go with your style.  I liked the more ornate one I found the best (you will see that in another project) but I like this plain one much more for my kitchen.
The Painting and Distressing
I didn't like the dark brown finish for my kitchen.  There is already way to much brown in my kitchen, so I wanted to add some brighter white and also a pop of color.   I did clean up the drawer first with just soapy water, my drawer was really grungy.
Make sure to get it all good and dry before you paint it.
Here are the supplies I pulled in to use:
Linen White Rust-Oleum Chalked Paint  (Home Depot)
3M Sandblaster Pad (Home Depot)
Paint Brush (this is my referral link for the one I used except for detail work on the knob)
Old Sewing Machine Drawer
Knob
DecoArts Americana Acrylic Paint – any color that works for you
I painted a base coat of the Linen White Rust-Oleum Chalked Paint.  If the brown on this drawer hadn't have been so dark, I would have been fine with one coat.  But I wanted really great coverage, after 20 minutes I applied a second coat.  I am always surprised at how quickly this paint dries.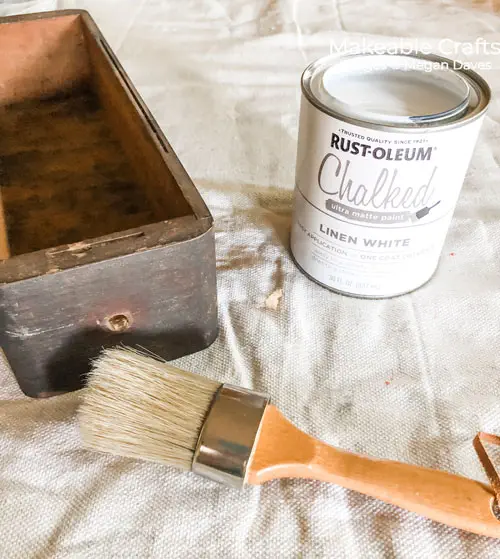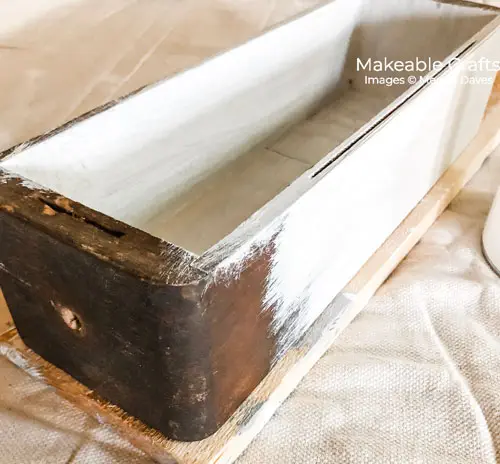 After the paint was dry, it was time to distress.  Just using my 3M Sandblaster Pad, I distressed lightly in some areas and more in others.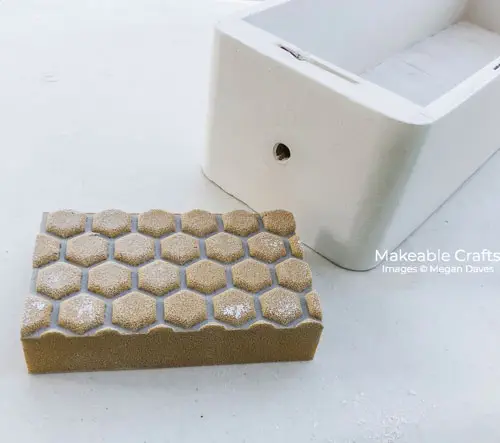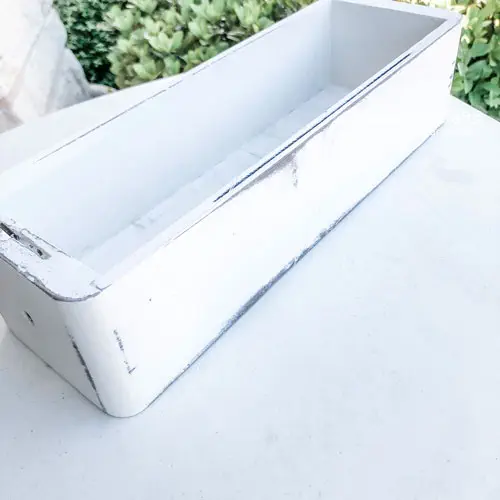 The Handle
The original knob was a basic, small wooden knob.  Very plain.  Even painting it wasn't going to do much for this project.  This is a handle that I had in my stash from Hobby Lobby.  You can usually find various knobs in their clearance bin for about $1, so anytime I go in there I look for knobs and handles and keep them in a bin.
I painted it all over with my Sea Breeze paint, let it dry and then repeated it.  It needed two coats to really get great coverage.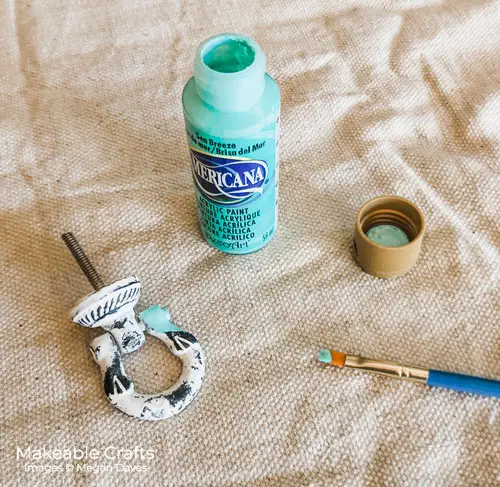 After it was dry, I did some dry brushing on of some of the Snow Titanium White and let it dry.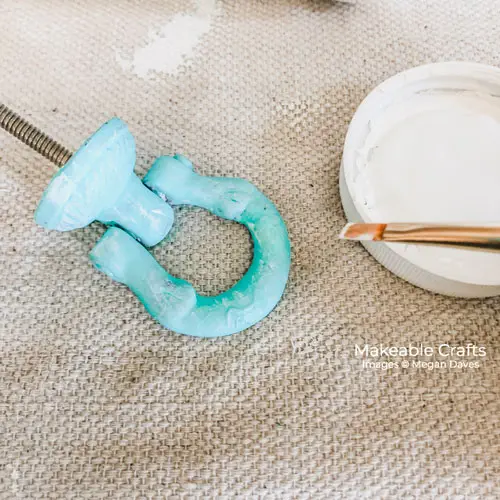 Then all I needed to do was to attach it to my drawer.
The Finished Project
This kitchen organization DIY project is complete!  This is the perfect way to store all of my cutting boards.  Of course you can store whatever you would like in yours.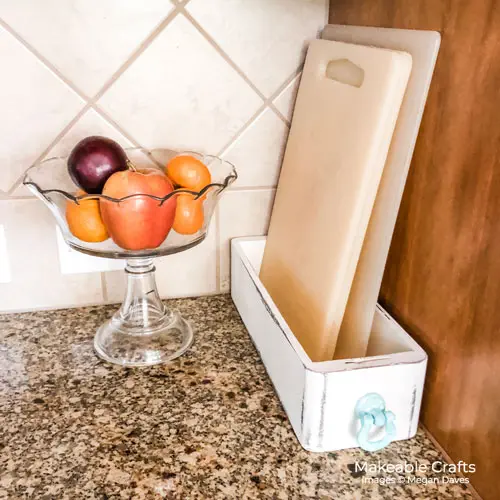 Pin It For Later
Be sure to pin this project so you can easily find it when you are ready to make it.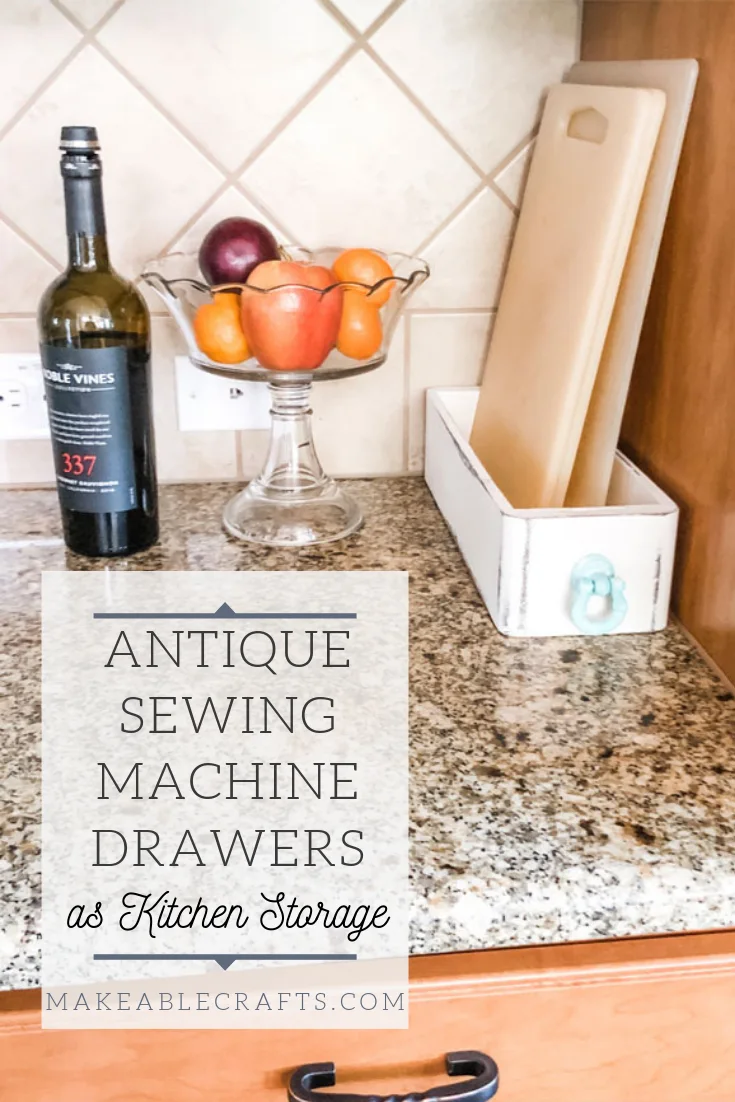 Hurry on Back!
Be sure to keep checking back to Makeable Crafts for new projects, upcycles, home decor, general crafts and more.  Today it is kitchen organization DIY, there is no telling what you will see next!  XO, Meg