If you told me a couple of years ago I would know how to reupholster a kitchen chair I might have laughed. If you'd told me I would know how to reupholster a kitchen chair AND make it look so good I would make it part of my permanent decor, I would have fallen on the ground in hysterics.
But here we are. Here's the story…….
After wanting new kitchen chairs for over a dozen years, it was finally time to get them done. I have a hard time spending money on things we already have that work just fine, so replacing these chairs wasn't high on my priority list. While visiting our Habitat ReStore this fall, I found the perfect chairs! Ideally I wanted 6 chairs, they had seven of these gems, so of course I bought 7, lol! Each chair was only $10!!! Emily was with me when we got them, and my little SUV could barely hold 4, so we made two trips while singing in the car at the top of our lungs.
Emily is a lot like me. She loves the hunt for the perfect project, but then it takes a while to actually get them done. She usually runs out of enthusiasm for these upcycling projects as soon as we walk in the door, asking to see it when it is all finished. (I wonder if she's the smart one – lol.)
But I am guessing that she's going to be bummed she wasn't part of THIS upcylce because it is EPIC!
The Before
Here is what they originally looked like. Each needed a bit of cleanup, but each was sturdy and ready for a makeover.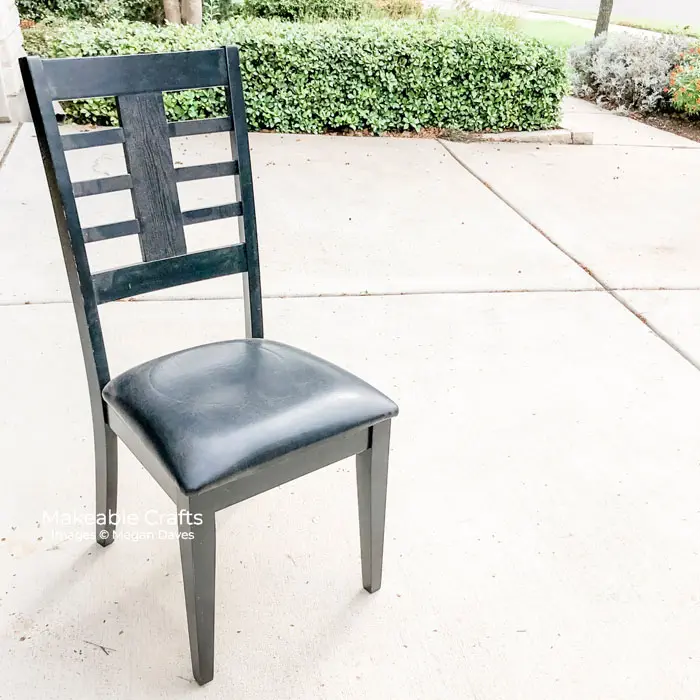 Disassemble and Paint
A quick disassembly was done by using an electric screwdriver so I could remove the hardware without any damage. I took each section apart and then cleaned each piece thoroughly. Then it was time to paint. I used Rust-oleum's White Linen Chalked Paint along with my Critter Sprayer to paint my chairs. I painted everything except for the seats.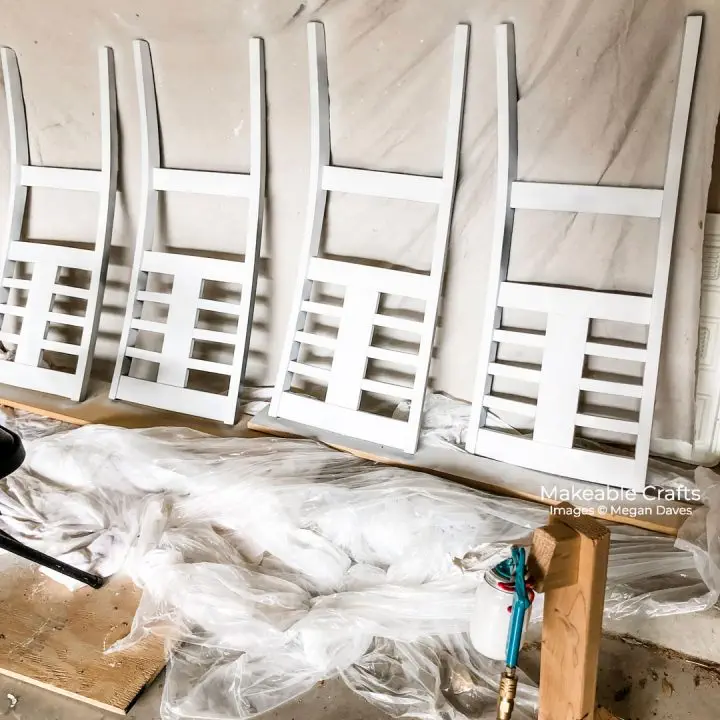 When using a paint sprayer you do need to thin it down a bit. When using Rust-oleum's Chalked Paint, water is the perfect way to thin it. The amount of thinning you need to do depends on your settings of your air compressor and the height of your nozzle on your Critter Sprayer. I always just add a bit and then add a bit more if needed, I have never measured it out and frankly I think that works better since temperature, materials being painted and other conditions can make tweaking essential anyway.
One of my favorite things about using a chalk based paint is that you don't have a lot of drying time. You don't have to sand or prep it, it gives great coverage, and then dries so quickly. By the time I had these four pieces of the chair painted, the first one was dry and I could start all over again.
To Distress or Not Distress
That is always the question! Here is my advice when it comes to this question. Always try distressing. If you don't like it, you are working with a chalk based paint, simply add another coat and it's like the distressing never happened. For these chairs, I did some distressing but made sure that each chair and chair leg was distressed differently. I wanted them to appear worn, not manufactured.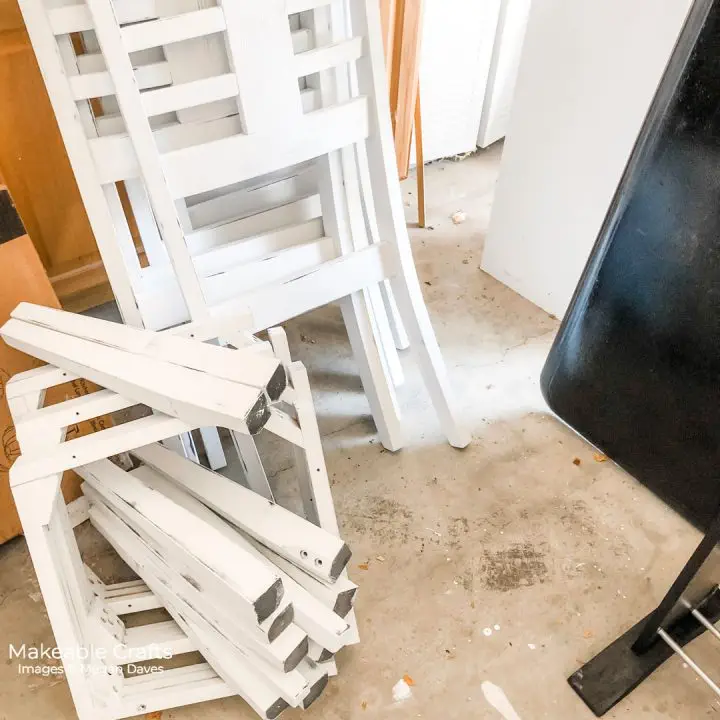 Once you are done, add a quick coat of Rust‑Oleum Ultra Clear Matte over the top to protect your handy work.
Covering the Seat Cushions
Here's where knowing how to reupholster a kitchen chair came in handy. Luckily these seat cushions were in really good condition. They were covered in a black vinyl and there was no reason to remove it. If your seat cushions are old however, especially if they are the vinyl/pleather kind of finish, you will want to remove them.
Always test your fabric and see how it will look over your seat cushions. For mine, with the dark cushions and fabric with woven white in it, you could see the black cushion through the fabric, which just made the fabric look dark. Adding a layer of white fabric between the cushion and my fabric was the perfect solution.
To get a really nice finished reupholstery on your kitchen chair, start by setting a few "anchor" staples across from each other to keep everything even. Now go around the seat and pull the fabric smooth and just slightly tight before you staple to finish your cushion.
I didn't go with really expensive fabric and I also didn't mess with any fabric protection. I bought this fabric for $4.49 a yard, and needed two yards for my seven chairs. Because this fabric was a deal I bought two extra yards for any replacing I need to do if there is any staining. Since I also shared that I have a tendency to keep chairs for over two decades, it's safe to say that I will keep these a long time. I LOVE buffalo check and love the trend of it, but I do feel that indeed it is a trend. When I am ready to make a change, all I need to do is change the fabric. For less than $20, I can completely change the look of these chairs with different fabric and now that I know how to reupholster a kitchen chair – which is VERY easy! – I know I can keep these going for as long as they last!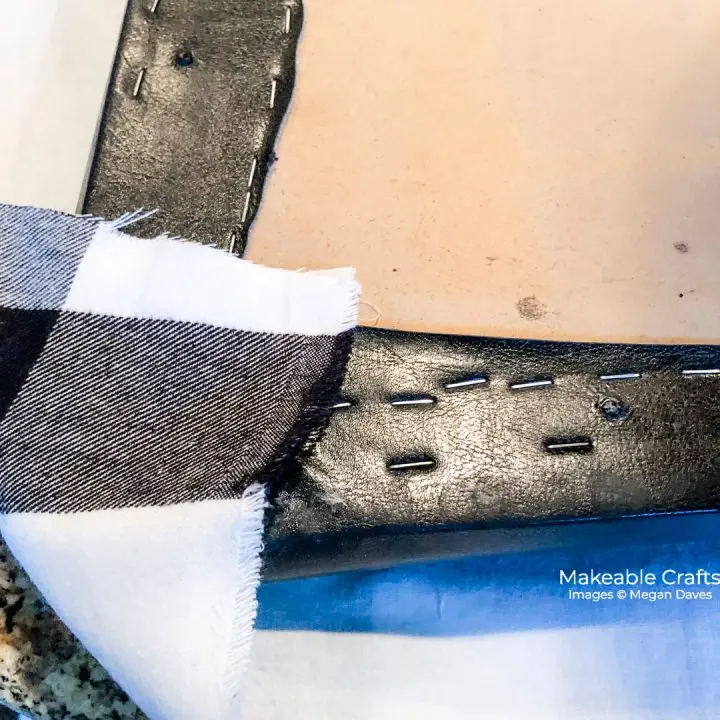 For seven chairs, I needed just one quart of paint, sand paper, I used way less than one quart of clear matte, 2 yards of fabric, 2 yards of white fabric and a staple gun (which I already had). For under $120, these chairs are done and SO COMFY!!! And I truly think they look amazing.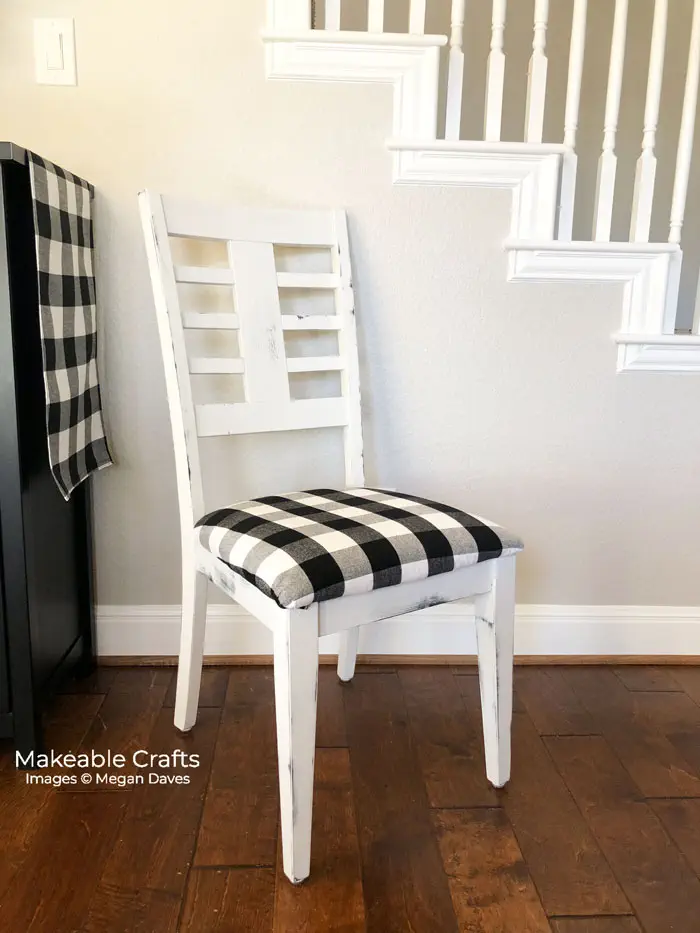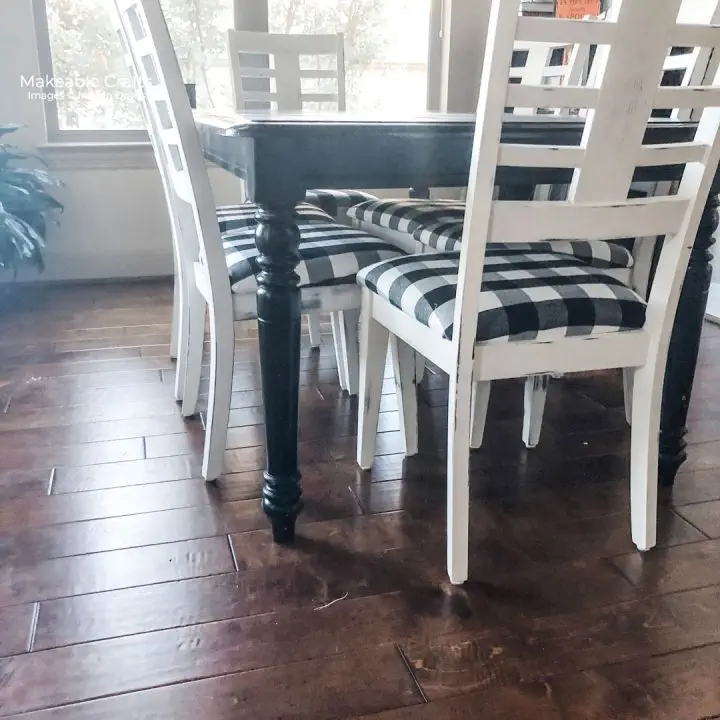 Thank You
Our kitchen makeover is coming along, this is just one part of it. Our total budget for this room is $500 including blinds/curtains. And these chairs easily fit in that budget. Keep checking back for more ideas and inspiration for projects you can make in your home. XOXO, Meg