How To Reupholster A Footstool
Ever wonder how to reupholster a footstool? Well, my friends, this is your lucky day! We are taking a real, real, ugly duckling and turning it into a swan.
These makeover decor projects are some of my favorite types of home decor projects. Everyone always sees the end results but only you here get to see how it came to be. Ready to see our downright scary before picture?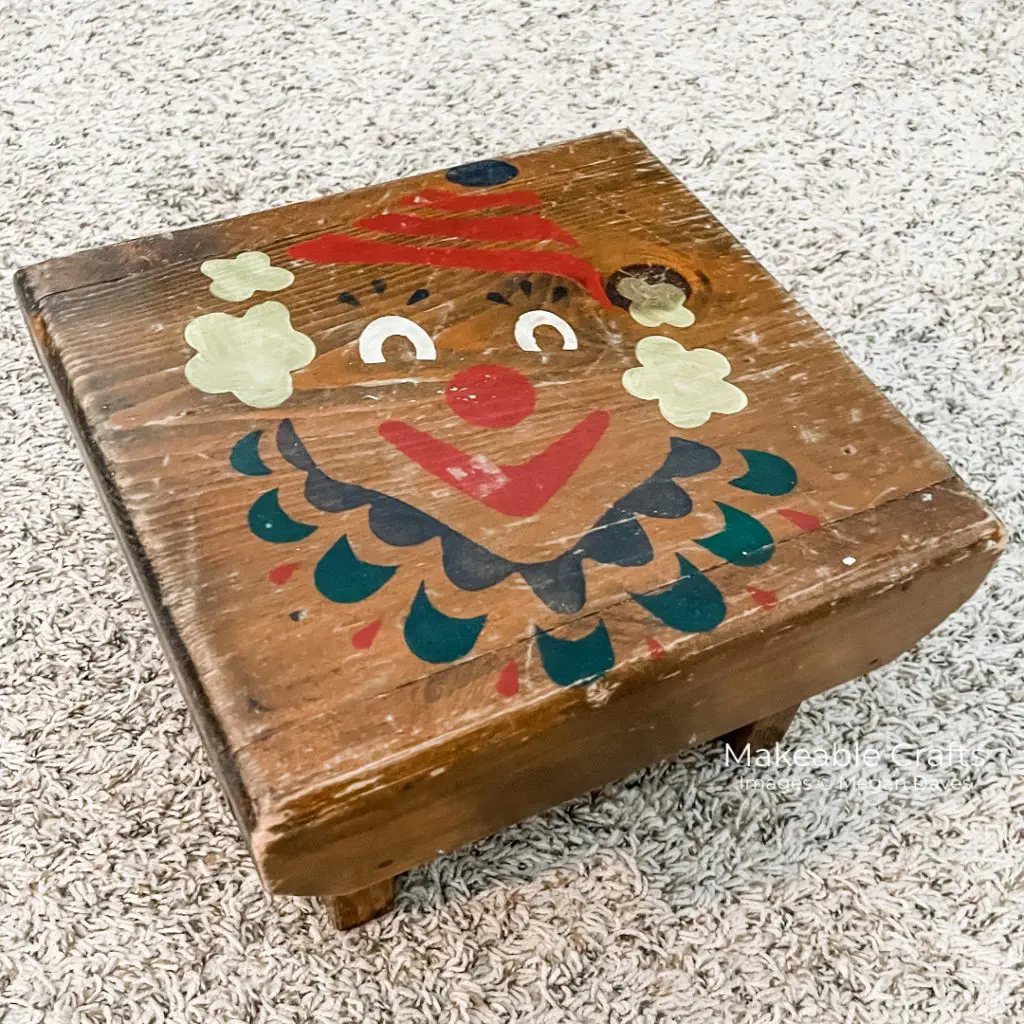 I picked this gem up at an antique store, it was marked down to $5 and had been there for 8 months. While you might see a scary painted clown, I saw great bones, solid wood, and nothing but possibilities!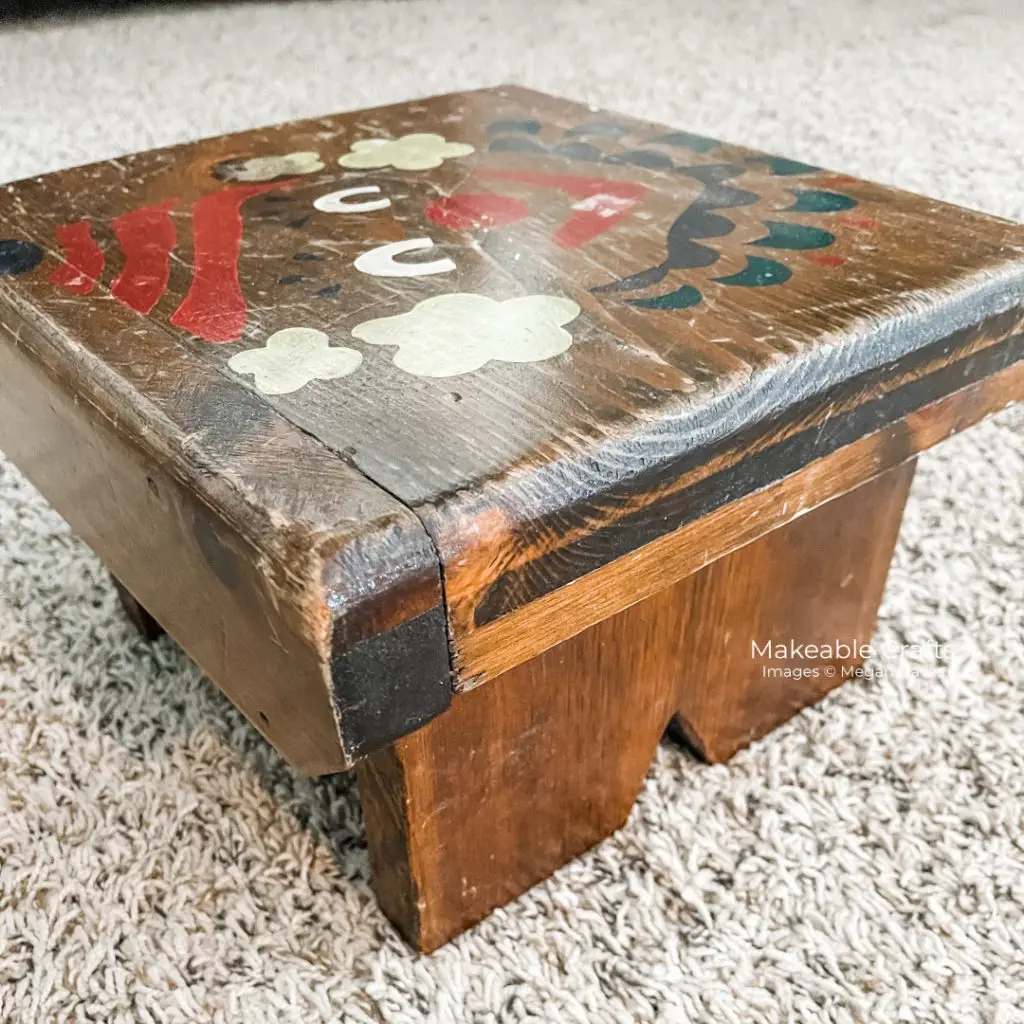 To makeover this diamond in the rough, I knew I would need a few key products. You can take any piece of wood and turn it into a great project using a foam cushion and cushion wrap. Who makes the best of both of these? Fairfield World! It's such a treat when you work with a company who has the best products that you use all the time.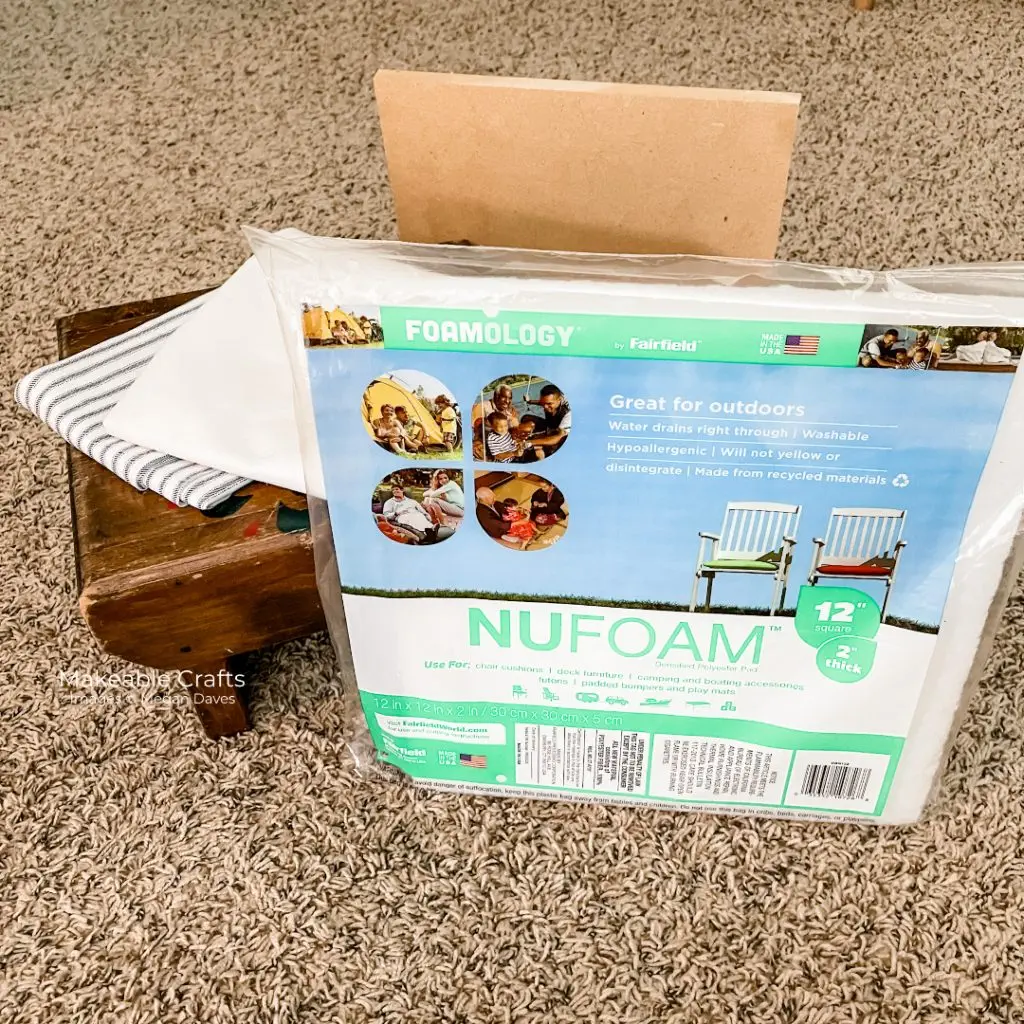 Choosing Your Foam Cushion
You can get foam cushions in several thicknesses, different densities, and then a variety of sizes. I went with a 2″ thick foam, because I didn't want it super dense like I used for this project here. I wanted something with more give, so the NuFoam® was perfect, as it is densified polyester batting. It's easy to work with, easy to cut with scissors, and a great price point. One option is the NuFoam® 12″ x 12″ x 2″ size, which was the perfect starting size for my footstool.
Anytime you are working with foam of any density, do yourself a favor and grab a package of Poly-fil® Cushion Wrap . I WISH I had known about this about 15 years ago. I was making window seats for my first house. I spent a lot on the foam cushions, a lot on fabric and had no idea about this amazing product. When I covered the foam it was all boxy, nothing like what I saw in the stores with the smooth edges. Later in life, I learned about Poly-fil® Cushion Wrap and never looked back. It's so easy to work with and well worth the money!
The Making
We are going to start with our cushion. I measured the sides of the footstool and cut a piece of plywood 1/2″ smaller on each side. Simply lay your foam on top, mark any excess and cut down to size.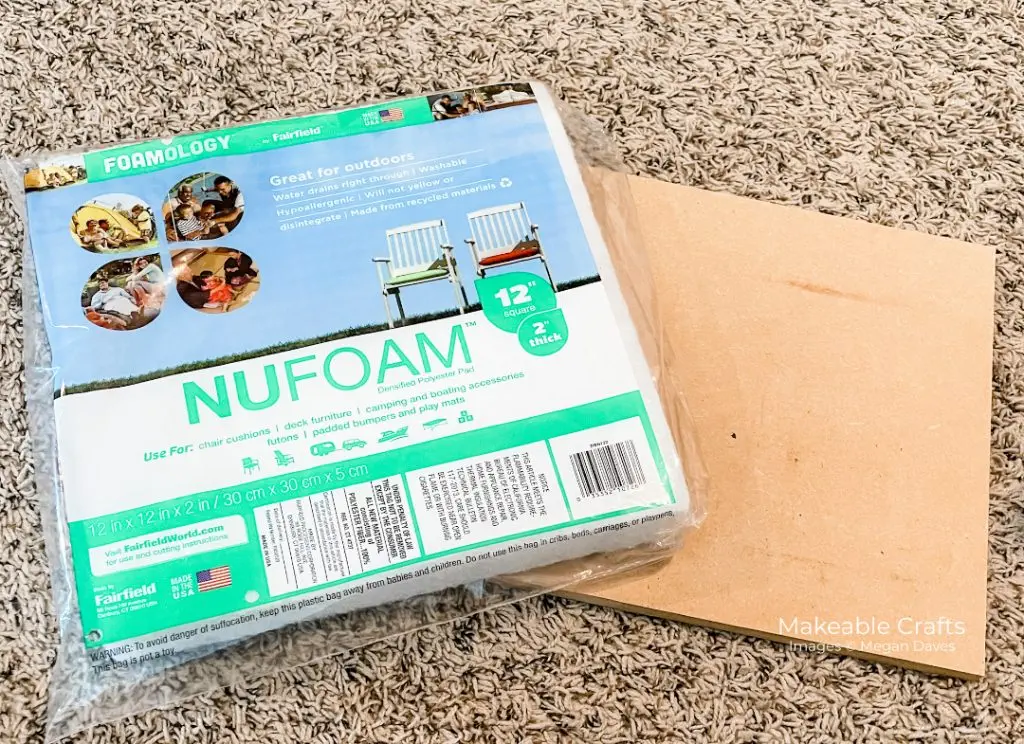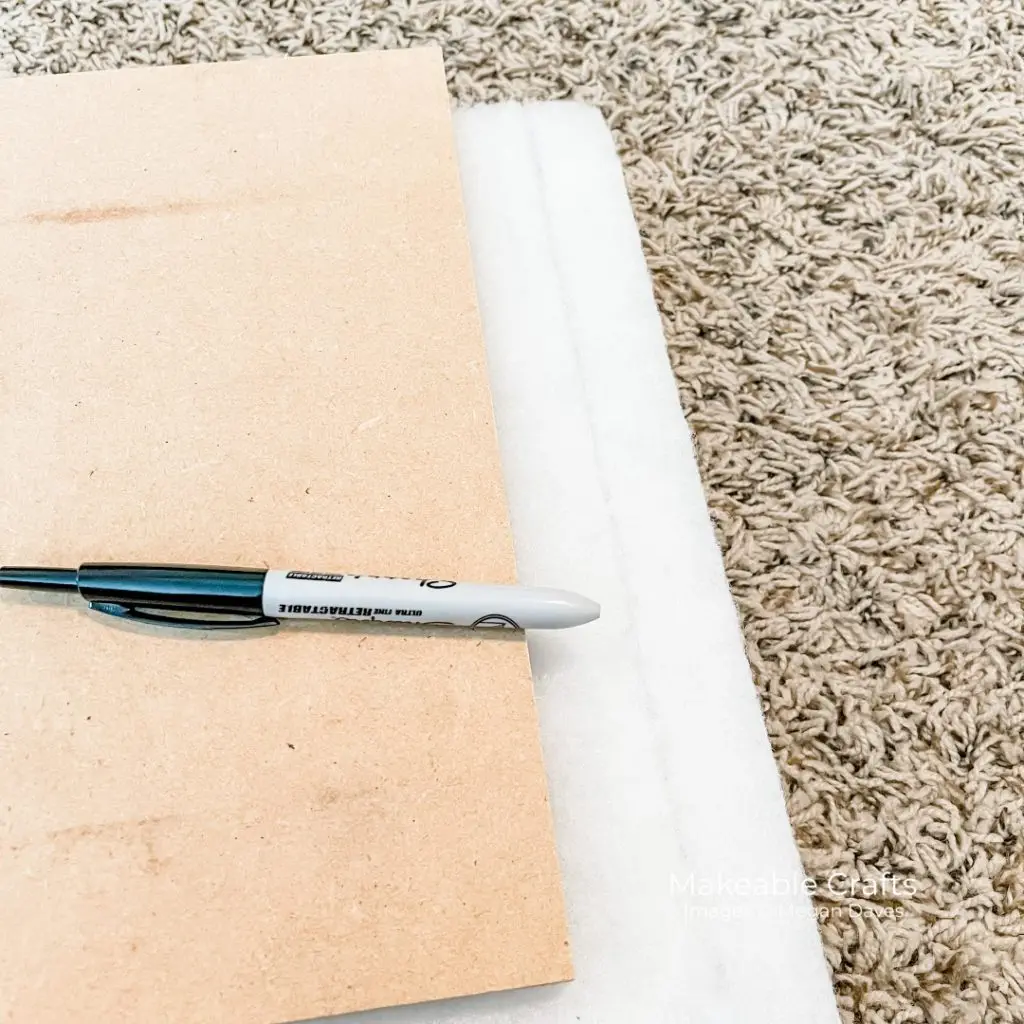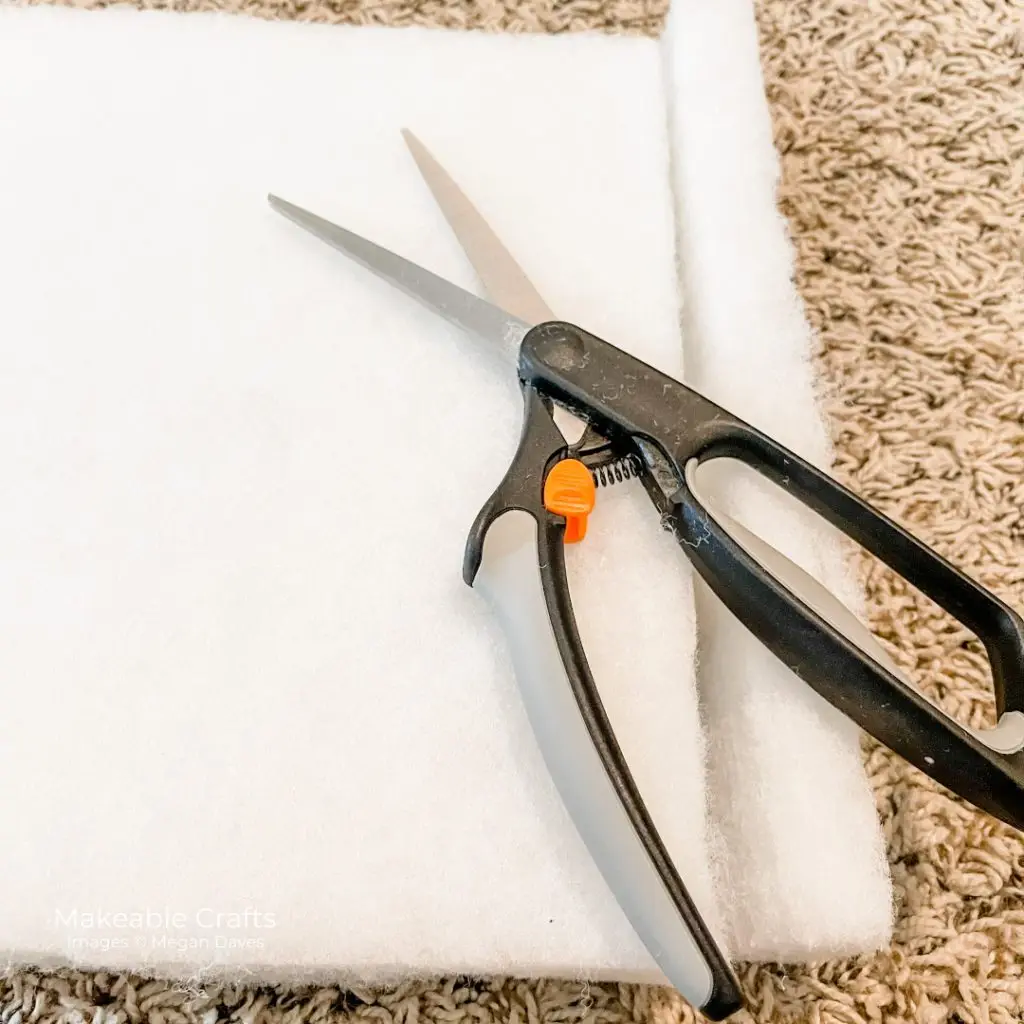 Lay your Cushion Wrap out under your foam and wood and cut off your corners. Then pull up your edges, not too tight but not to loose, and use a staple gun to secure it to your wood.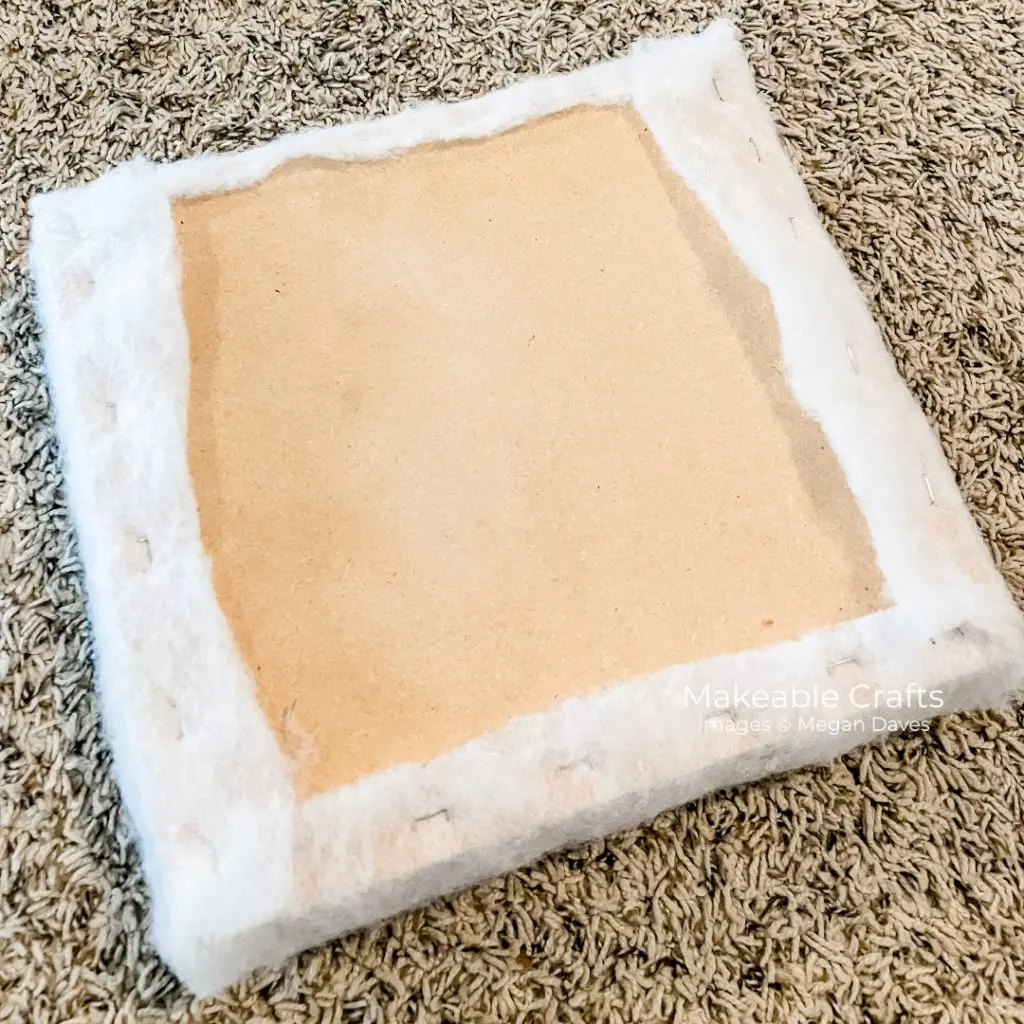 Add your fabric under around this piece, staple your corners, pull your fabric taunt, and staple into place.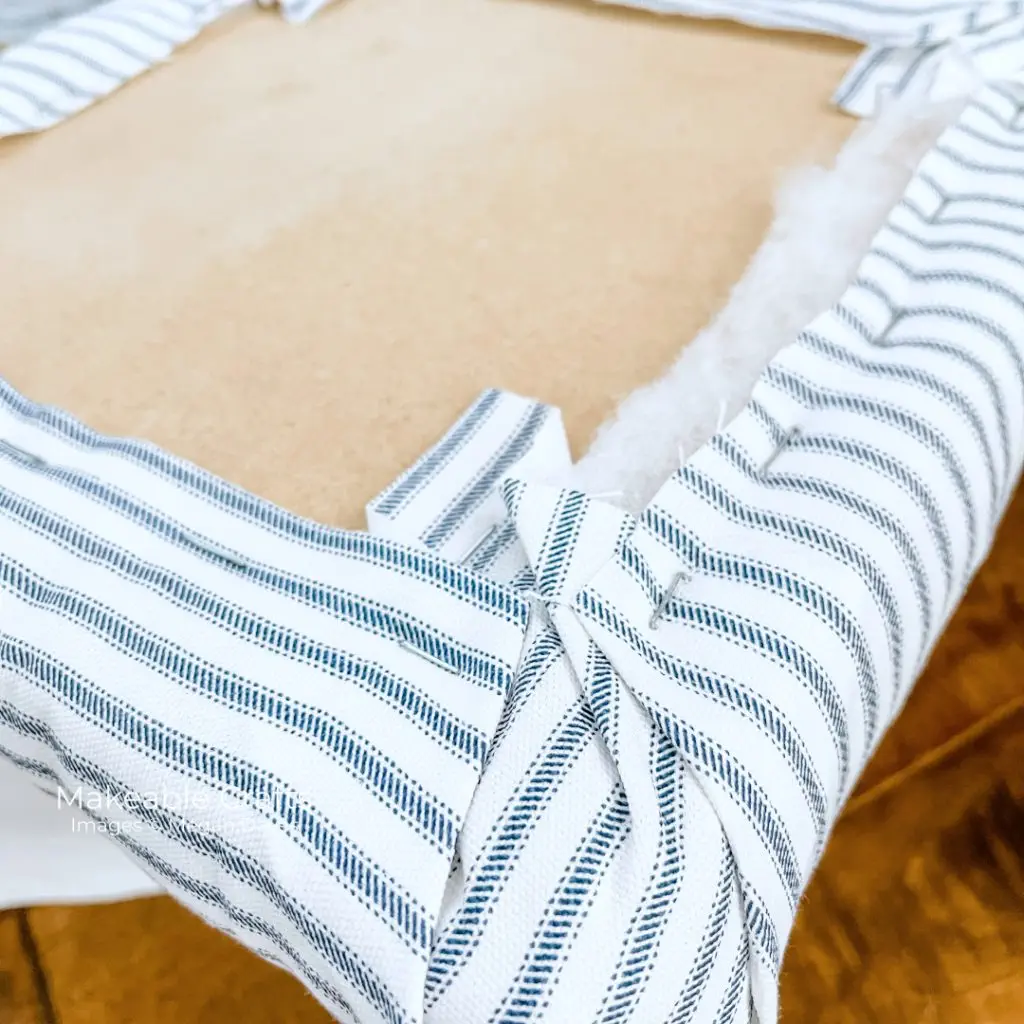 That's it for your top piece. It's so smooth and plump thanks to the foam and Cushion Wrap!!
Now it's time to cover the legs of the footstool. I went the very simple route with this. By starting with corner panels and then adding your side panels, it goes together and has the nice crisp look without a lot of sewing!
Start with fabric with a 1/2″ seam at the bottom for each corner. You want your fabric long enough to be flush to the base of the footstool and then come up and over the top. I made each corner panel 7″ wide. There are several ways you can add your corner and side panels to your footstool. You can stick with the staple gun, or you can a hot glue gun like I did. The reason the hot glue gun was chosen is because you have a bit of time to shift the fabric if needed.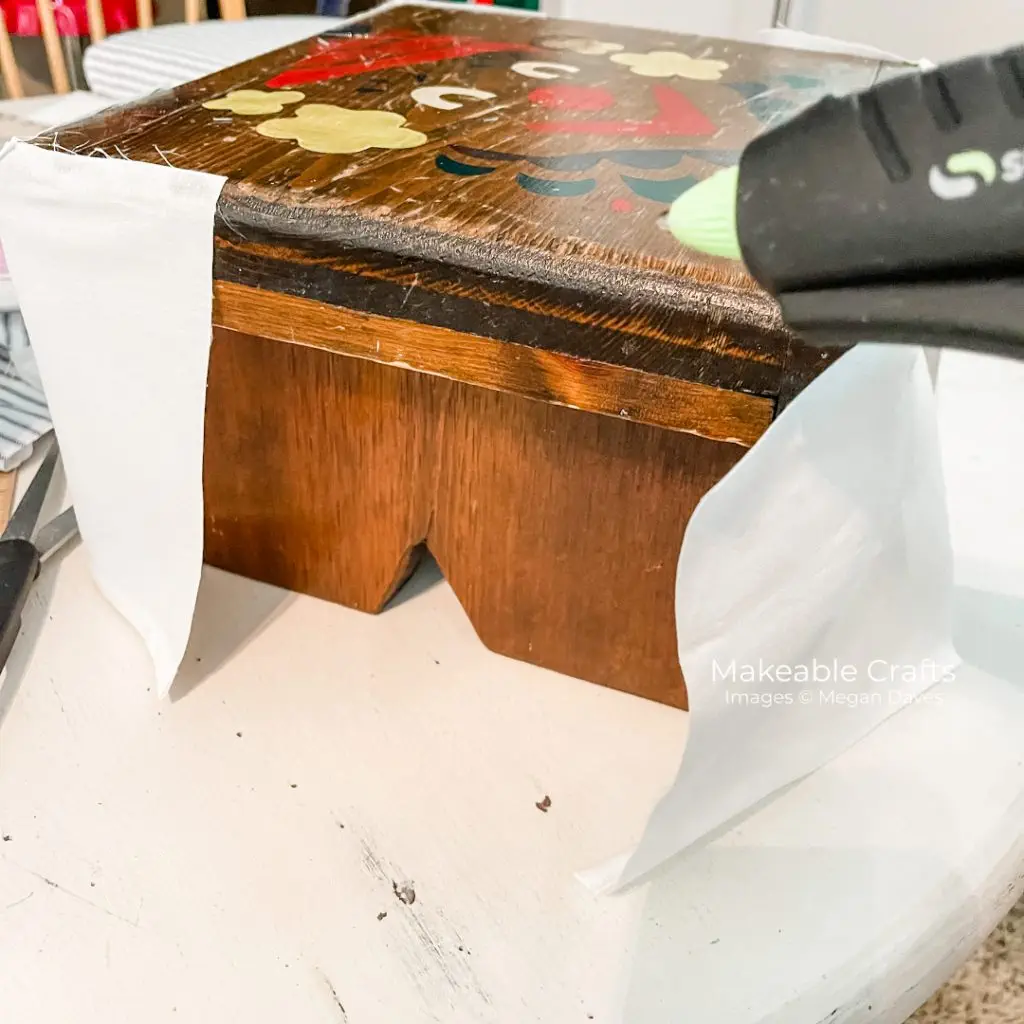 Next, measure out your side pieces. My footstool is not a square. The way I cut it was by starting with the width. The width of the footstool was 11-3/8″. so I cut my fabric 12-3/8″ wide, giving me a 1/2″ seam allowance. From the top to the bottom was 8″. So I cut my fabric to 9-1/2″ long, I only need a seam along the bottom piece.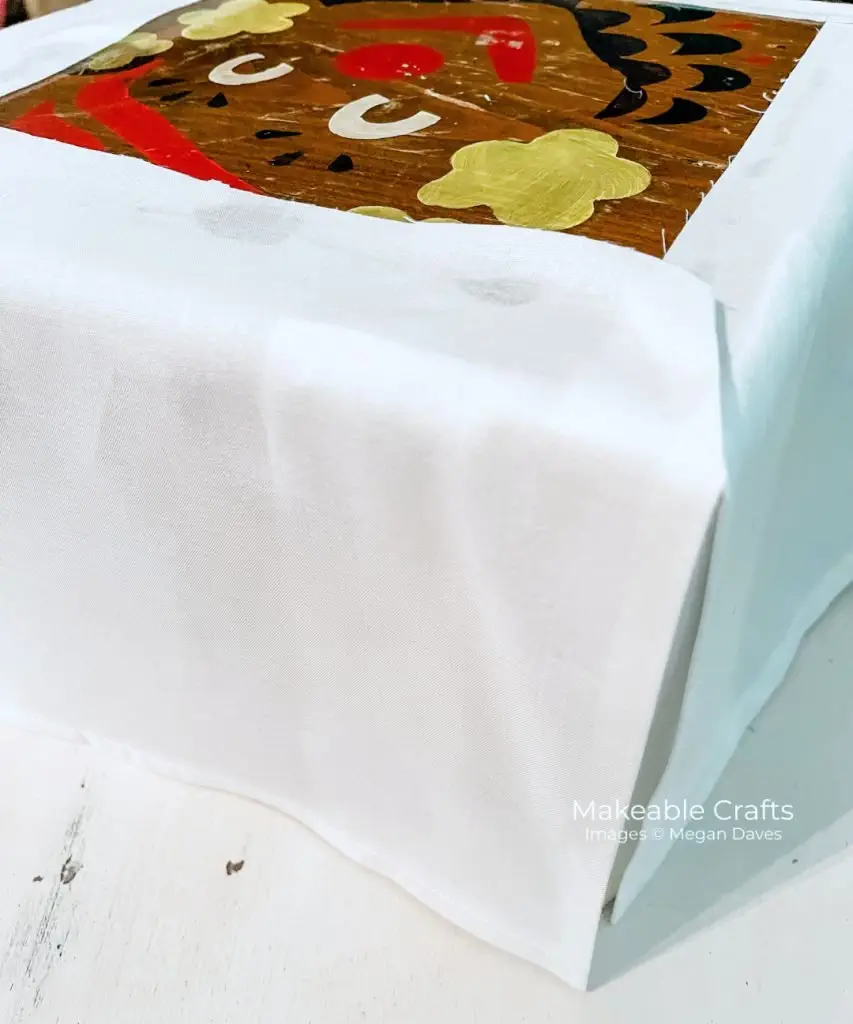 These side panels were also added with a hot glue gun because it gave me some wiggle room to make sure the bottom edge was flush to the bottom of the footstool. I didn't care what the top of the footstool looked like, as we have the cushion to cover it all when we are done.
Once your panels are secured to your footstool, it's time to add your your cushion to your footstool. Flip your footstool over and work from the bottom. I started by nailing it into place first, double checking my placement and then screwed them together to finish it off.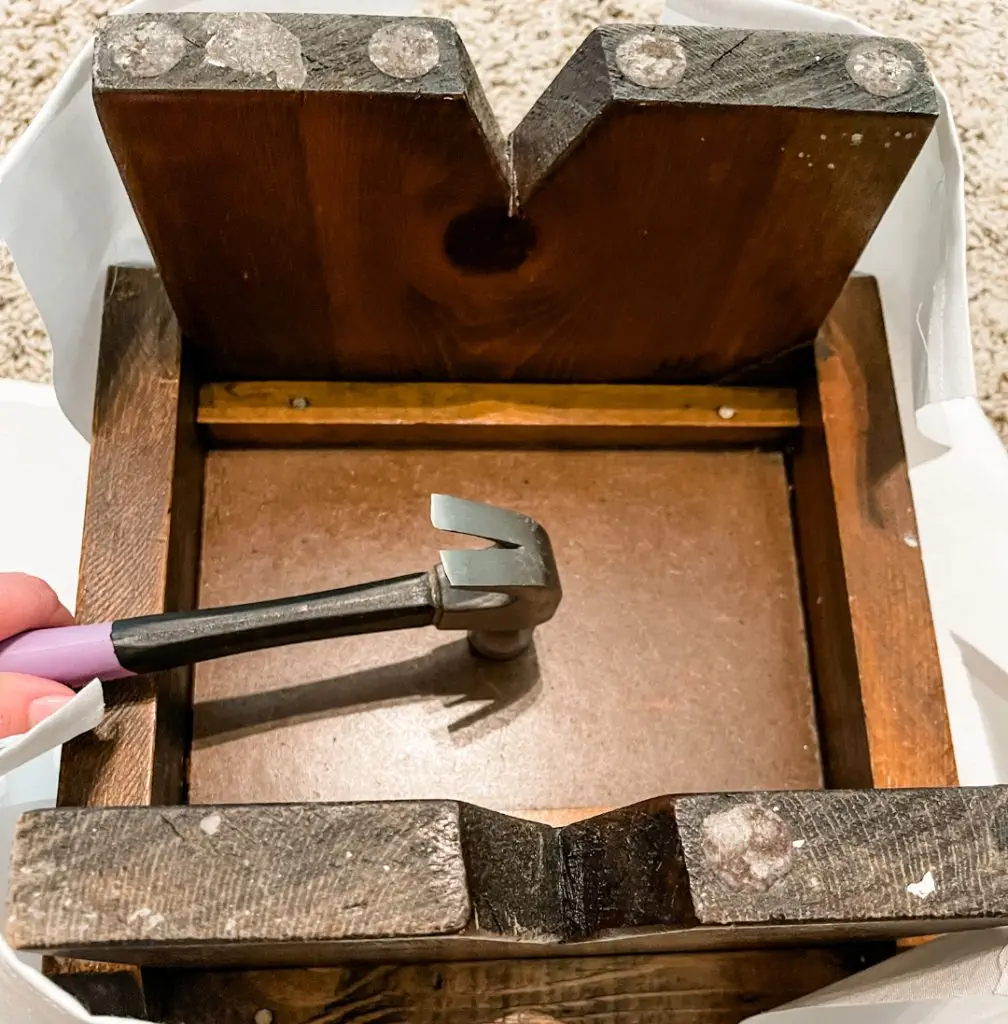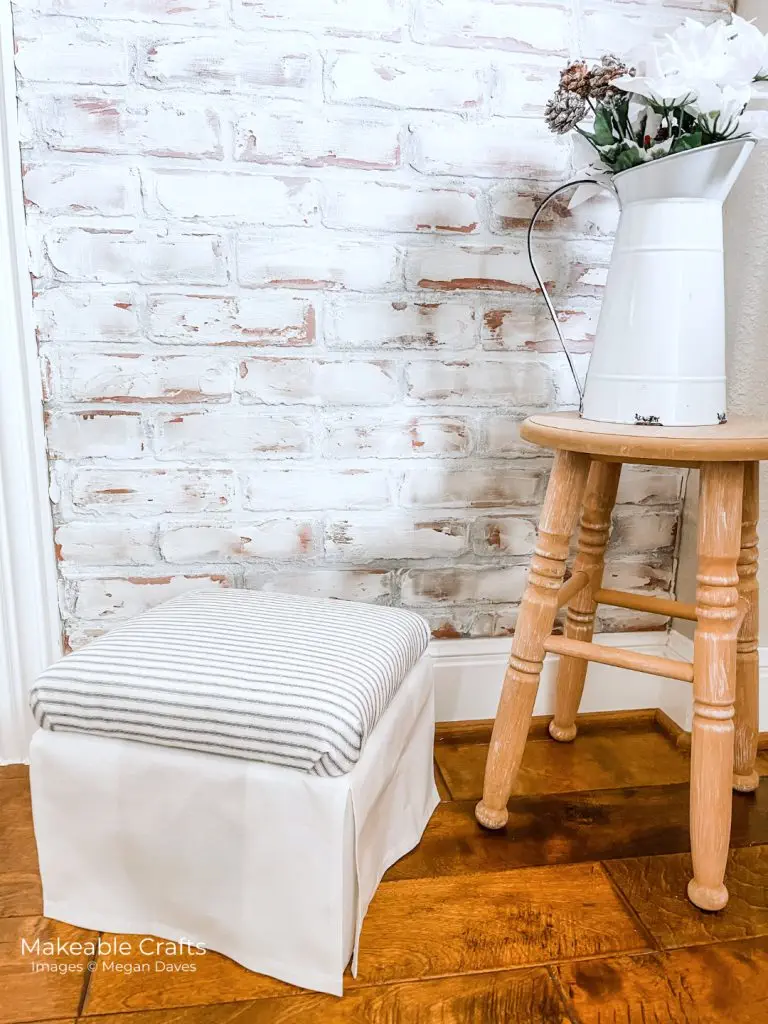 Finishing Options
Your footstool can be complete at this point or you can choose to cover the area where your cushion meets your footstool. I love natural fibers so rope came to mind. Using my trusty hot glue gun again, it was easy to add the nautical rope around the seam.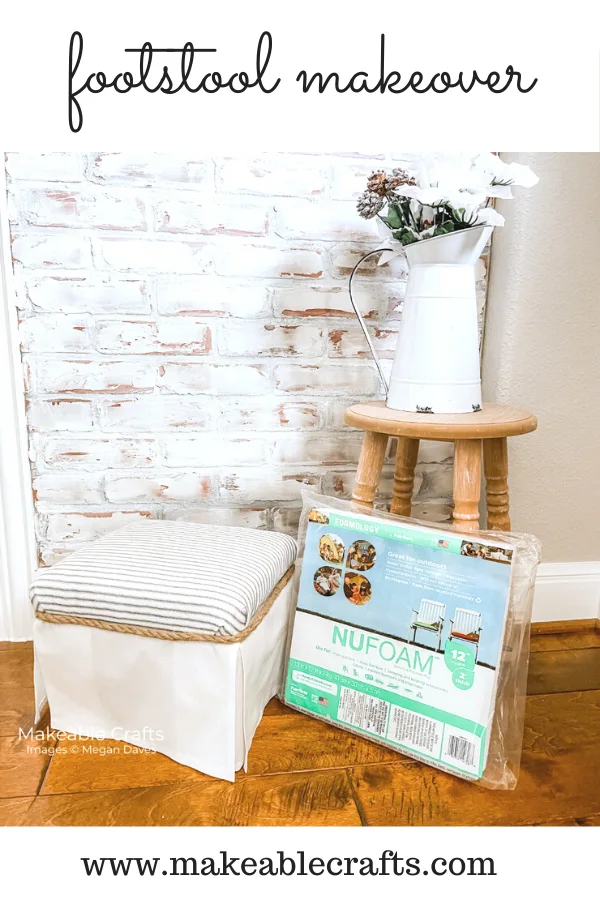 And just like that, this footstool makeover is complete!
Your Turn
When you are out and about and find these gems, grab them up. I see them all the time on clearance, at antique stores, junk shopping – you might not find one as creepy like my clown footstool, but I am sure you can find something equally deserving of a makeover! Now that you know how to reupholster a footstool, it's your turn to give it a try! Keep checking back for more Makeable Crafts ideas. XOXO, Meg