How to Make Clay Buttons the Easy Way
Ever wonder how to make clay buttons, but want to know the easiest way to do them? If so, you are in the right place! You won't believe how easy it really can be.

I love using buttons on projects, all kinds of projects – from paper crafts to home decor & everything in between. But sometimes I want buttons that aren't the norm, that are custom, fun, and exactly what I want for a project. And in under 10 minutes, I can have exactly that.
While I was making these, I was telling my friend Linda what I was doing. She said about wasn't clay only for making cute animals and jewelry? If you have ever thought that, let me tell you, you can make so many things with clay, much more than just that!
The first thing is to start with the right supplies. I am using Sculpey's Bake Shop – it's a set of 12 colors that are a perfect range of colors. Sculpey is such a great clay to use, it's so easy to work with, you don't need all kinds of fancy smancy tools, you just get to create and enjoy. AND it's crazy affordable. This is an oven bake clay. I like both air dry and oven bake, but with oven bake I don't feel rushed at all, so it's more relaxing.
I knew I wanted to make some buttons for Christmas cards and gift tags. I grabbed three colors from the Bake Shop set: white, red, and green.
Start by working the clay in your fingers, just moving it around in your fingers, like kneading a little pinch of dough. Then I flattened it out on a silicone mat. Next I took a pinch of red clay, worked it a bit then made a clay snake with it. Do the same thing with the green.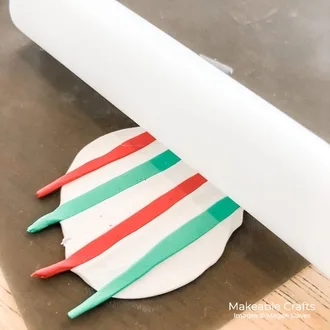 You set the red and green clay snakes onto the flattened white clay and then use either your fingers or a roller. It is as simple as that! Use a cookie cutter or a metal circle cutter to cut out your buttons. Next, poke your button holes through the top with a long needle or piercing tool.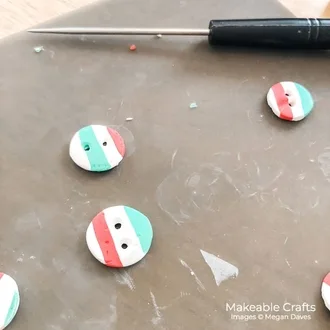 Then it's time to bake! 275 degrees and since my buttons are thin – I want to be able to mail my cards, I only baked for 5 minutes on a cookie sheet that I have just for oven bake clay.
All that has to be done is add them to your cards or tags.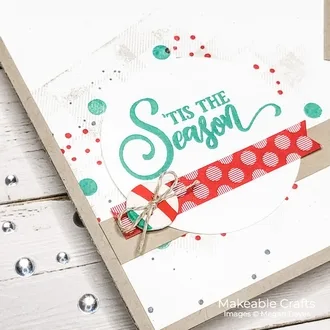 So easy!!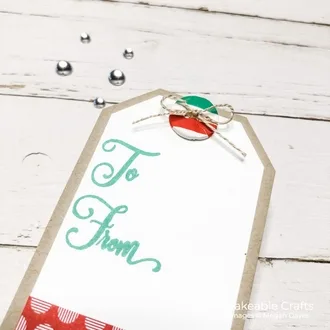 And really, since I used such little clay and since you can't beat the price point of Sculpey, these cost me pennies, where as buttons at the store cost real money. I bought a package of 4 the other day for $2.99, crazy! These were next to nothing!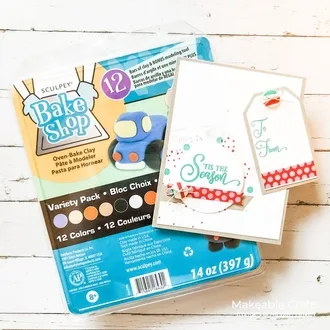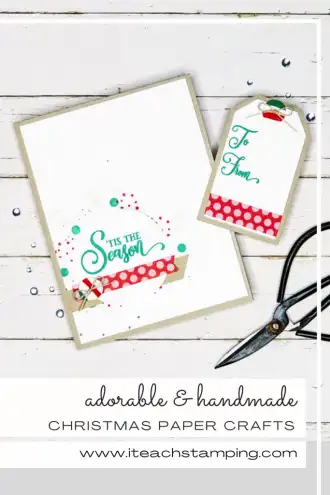 If you have never tried to make these before, now is the time. You now know how to make clay buttons, order your supplies and get to crafting! See you in the next project. XOXO, Meg