How to Make a Lumbar Support Pillow
If you have ever wondered how to make a lumbar support pillow, you are in the right place! As a sports mom, I spend a large amount of time in my car and also sitting in stadium seats. My lower back is always killing me from the lack of support that these seats provide.
After a tournament three weeks ago, I said enough was enough – I was making my own that was the exact size I need and filled to perfection. If you find yourself in similar situations, you have to try this, they are easy and just downright awesome.
I added an extra step to mine to make cleaning the cover easy – as I said, I will use this at volleyball tournaments, which means at some point something will spill on it, so making a cover was super important.
To create this adorable pillow that provides just the right amount of support, I used Poly-Fil® Micro Beads. These beads gave me support for my pillow but also allows for the material to easily shift around allowing me to still get great lower back support while changing positions or moving into different types of stadium seating.
These are a great filler, a great price point, and a must have for every DIY'er!
The Supplies
This post contains affiliate links.
Fat Quarters (2 or 3 depending on pattern choice)
Scrap Fabric for insert
Sewing Machine/Needle/Thread/Pins
How to Make a Lumbar Support Pillow
To make these lumbar support pillows, start by determining your size. I measured mine to be 7″ x 14″, and cut fabric based off of that.
I decided to make a "bladder" for mine to hold my Poly-Fil® Micro Beads. You can use any fabric for this, I had a scrap of white fabric that was perfect for this. I cut this piece to be 14.5″ x 14″, fold it in half so that you have a piece that's 7″ x 7.25″. Sew on two sides with a 1/2″ seam allowance. Then fill with your Poly-Fil® Micro Beads. You may feel like you want to really fill your bag, but resist that temptation. You really don't want to overfill as then the beads won't have room to move to give you the best support in the spaces you need.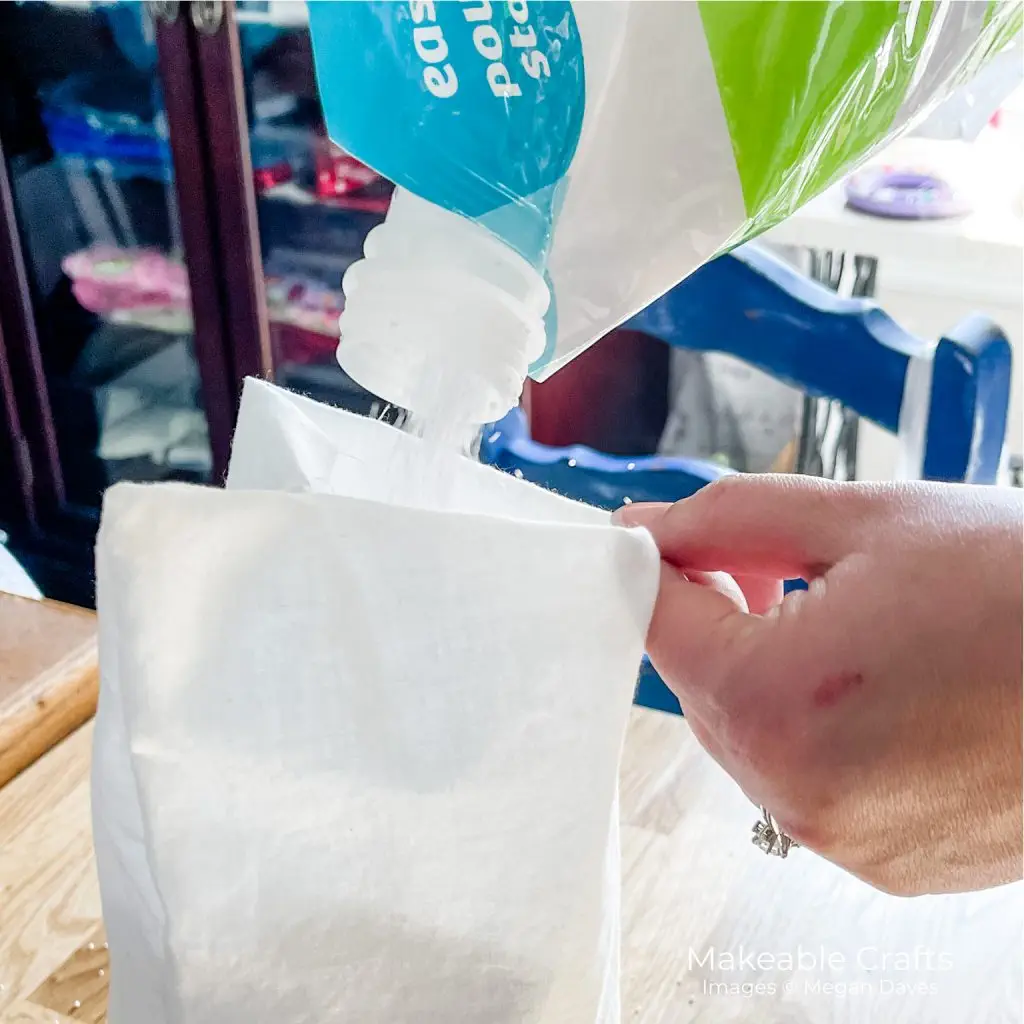 I filled mine just below 3/4″ of my white bag and then stitched my bag closed. Test your bag at this point and make sure it's filled to the desired comfort of your lower back.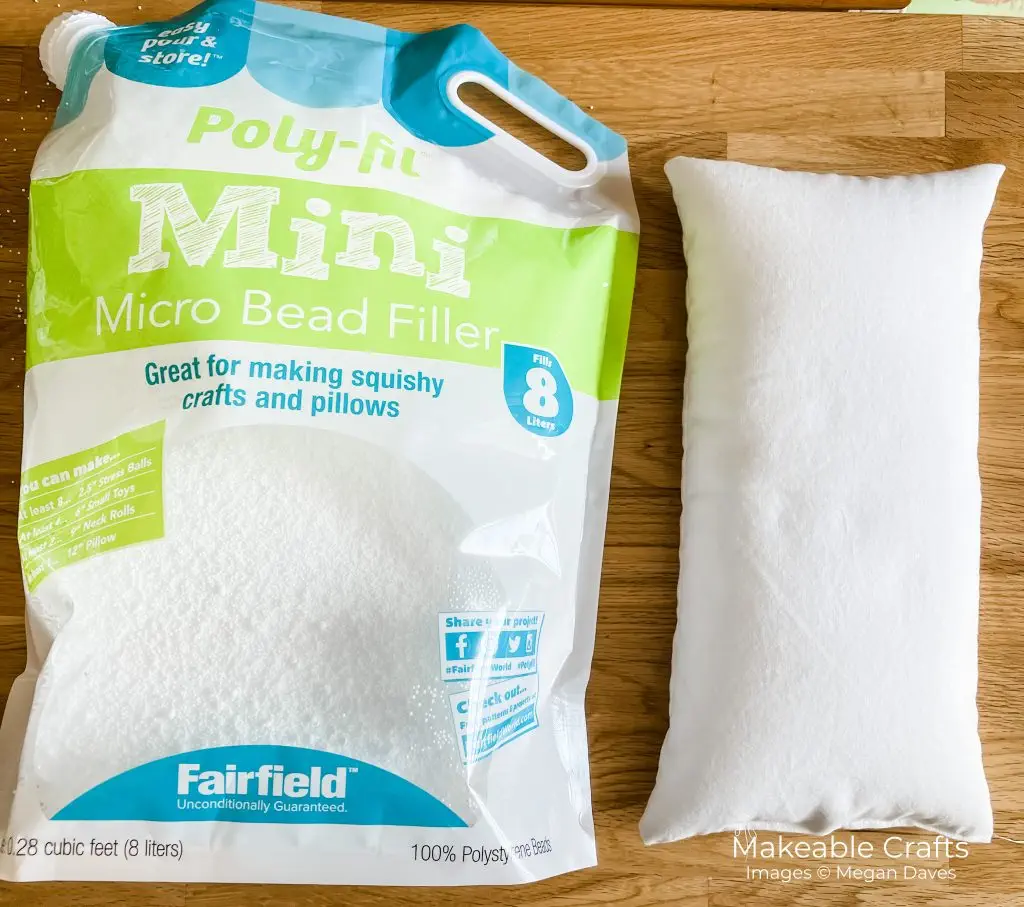 HINT: These are a very fine bead. Turn off your ceiling fan before you open your bag or it will feel like it's snowing in your craft space – ask me how I know, lol!
The Cover
Making the cover was fun! I started with fat quarters I had sitting around. I love buying fat quarters as I feel like I can have a wide variety of fabrics without needing a lot of storage space.
For my pillow cover, I opted to make an envelope cover. These are such an easy way to cover a pillow, especially if you know you will need to clean your cover as I know I will have to do.
Start with a piece of fabric thats 8″ x 15″.
Then cut two pieces of fabric (and don't feel like they have to be different patterns of fabric, you can use the same) that are 8″ x 10″. Press and stitched one end of your fabric on both pieces in at 1/2″ leaving you two pieces that are now 8″ x 9-1/2″.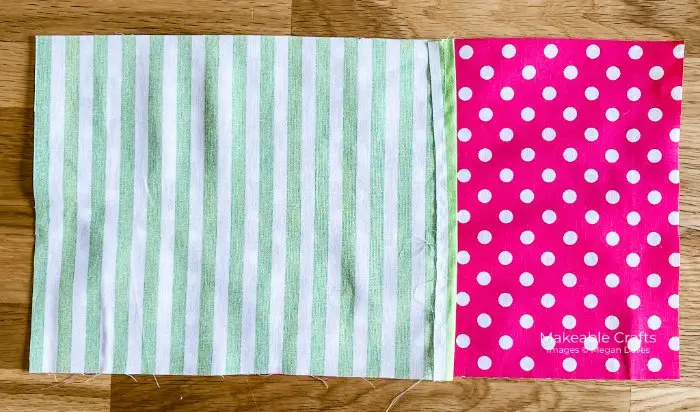 Lay your wrong sides together and pin, overlapping your back pieces.
Stitch all the way around. Flip and you are done! It's really that easy.
Adding an Optional Handle
Since mine is going to be used for travel, I added in a handle. Handles are a must for sporting events in my opinion. I started with 2 strips of fabric that were 1-3/4″ x 8″. Fold in on both sides having your edges meet in the middle and press. Then stitch right sides together along both edges.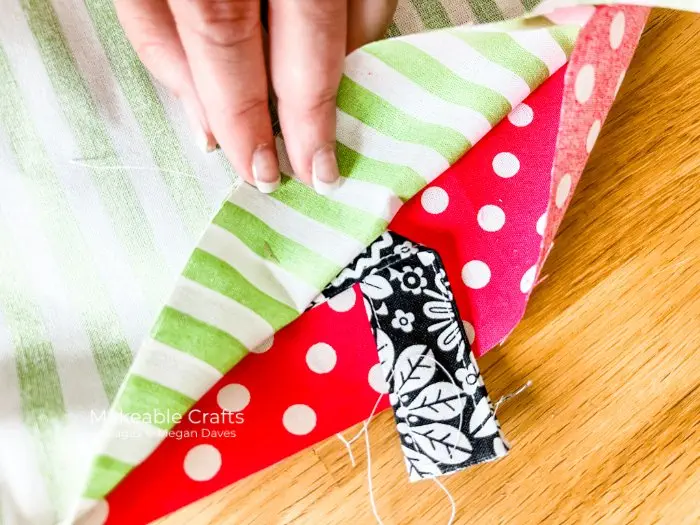 Add your handle to the inside of your pieces when you lay them out to pin.
Assembling Your Pillow
Since we made an envelope cover, this goes together quickly. And we made our "bladder" insert smaller than our cover, and since we didn't fully fill our bag, it will go in pretty easily. It's still really full, so be a bit patient, but it will fit 🙂
And just like that, you have your lumbar support pillow made!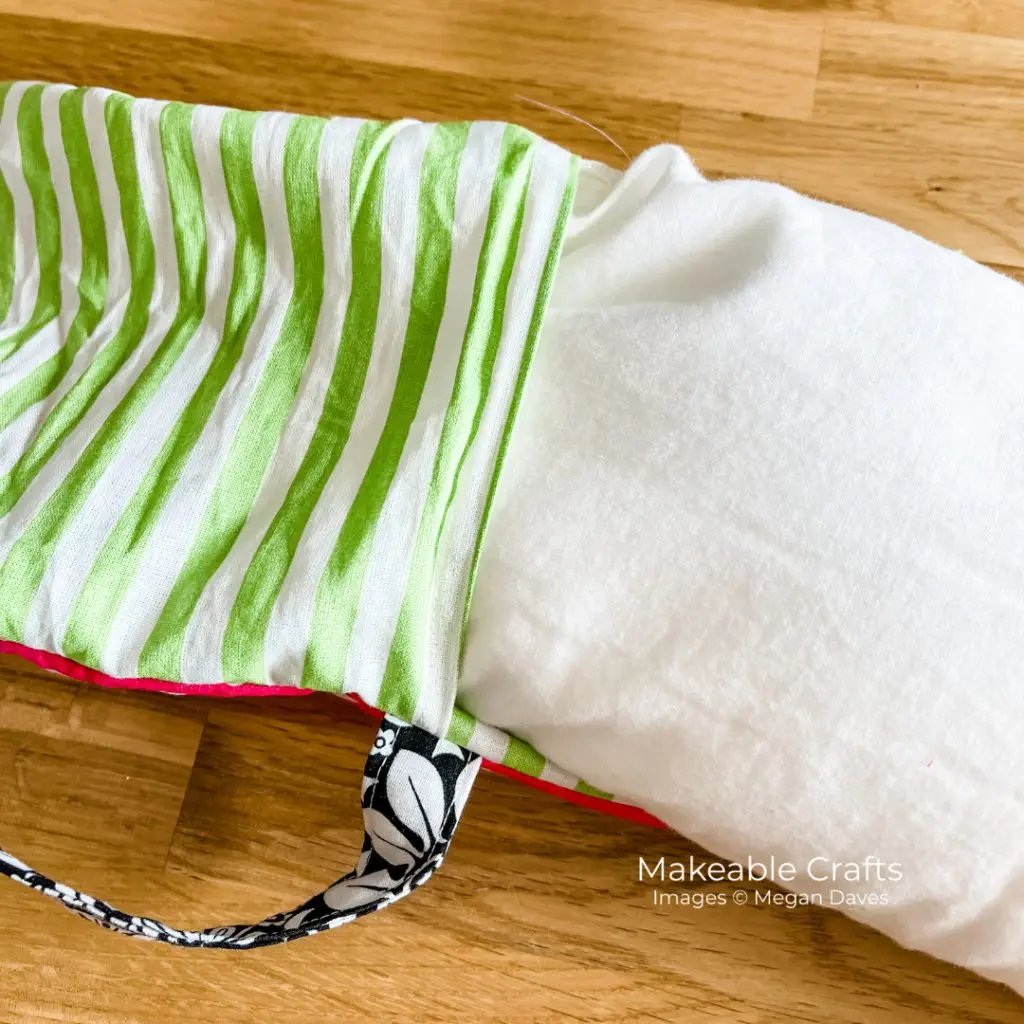 Your Turn
I hope you now see how to make a lumbar support pillow in an easy way. With just a little bit of time, the right supplies, and the right filler, you have a great afternoon project ready to support you wherever you need it!