Faux Brick Wall DIY Project
This Faux Brick Wall DIY Project just might be one of my most favorite things ever! It started with an idea and then it came together as I imagined it would – which is a rare and beautiful thing.
Our home, while very beautiful, was built in 2013, so when it comes to personality, it has to be created. Luckily there were some niches to help jumpstart the personality challenge.
I love the look of raw materials and couldn't wait to add these touches to our home. As I love the look of brick, but bringing in real bricks would have completely filled in that niche, defeating the purpose of it.
It was time to try making a faux brick wall! This was part of our dining room/entry hall project that included paint, curtains, new lighting, and more.
Diving In
We went all in on this idea without testing. I told Matt that I knew in my mind how I wanted it to look and felt confident that if we just dove in, I knew it would come out looking good. He trusted me and away we went. We were going to the walls surround these areas, so we did the paint cut in work first. (In the upcoming pictures, you will noticed the walls were magically painted. While I was adding texture, Matt was painting the walls.)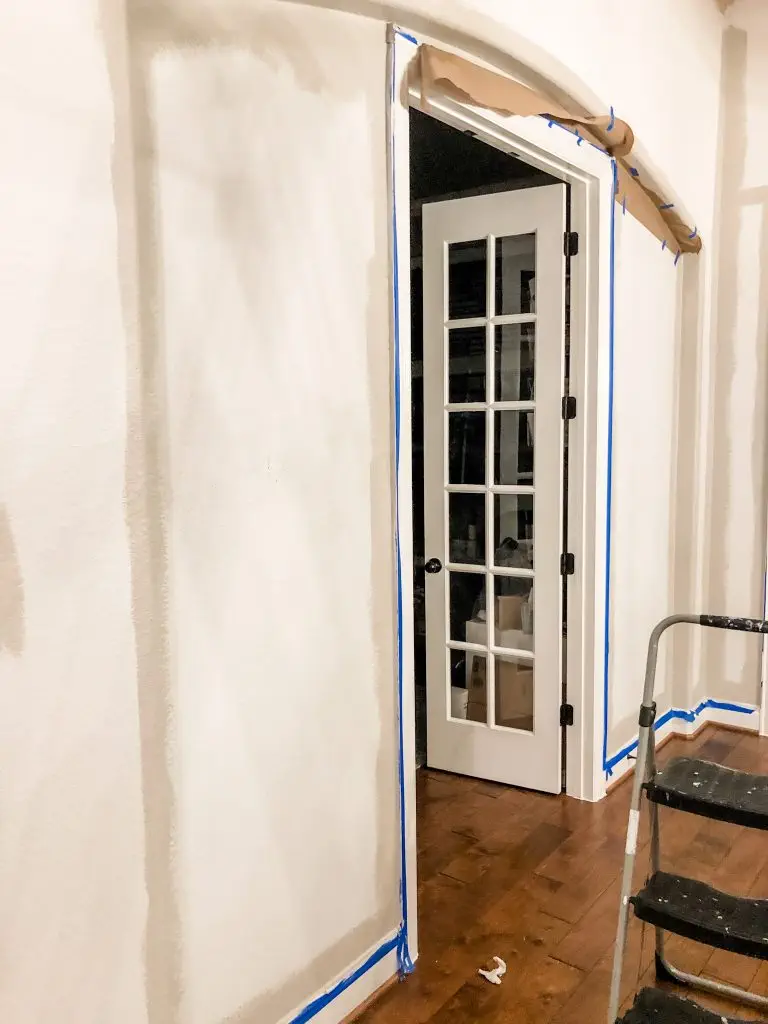 To begin, we started with paneling that looks like bricks. It was about $30 per panel. Measure out the size you need and we cut ours down with a table saw. Liquid nails and some holding in place is how you get it up there. We also used a nail gun to help support it. You don't have to, I think Matt really wanted to use his nail gun 🙂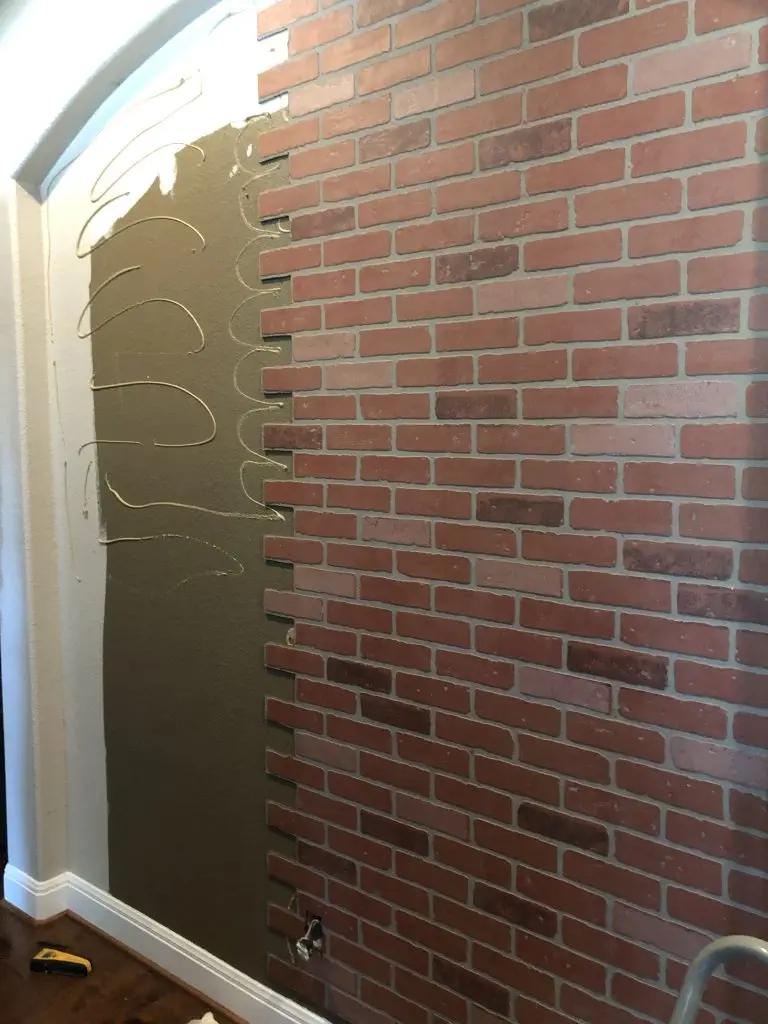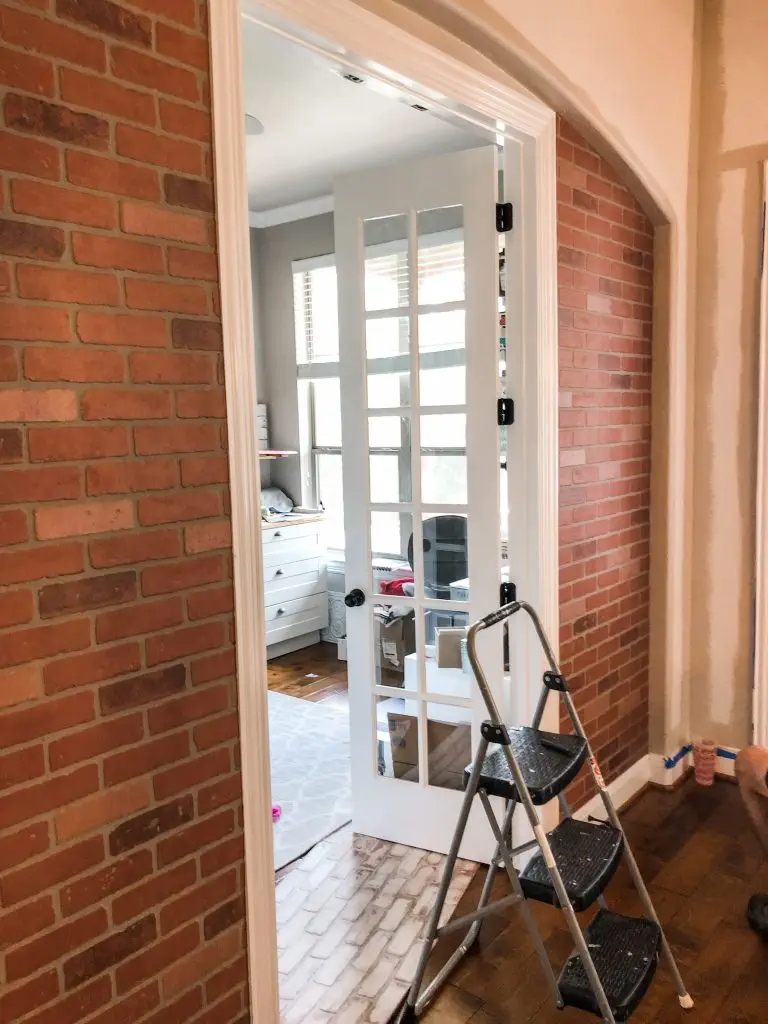 Once these panels were in place, we used Dap Patch N Paint Lightweight spackling to fill the gaps in between the edges and in any seams. I chose this because it's fast drying. I had one weekend to do two sections of walls, so drying time was very important.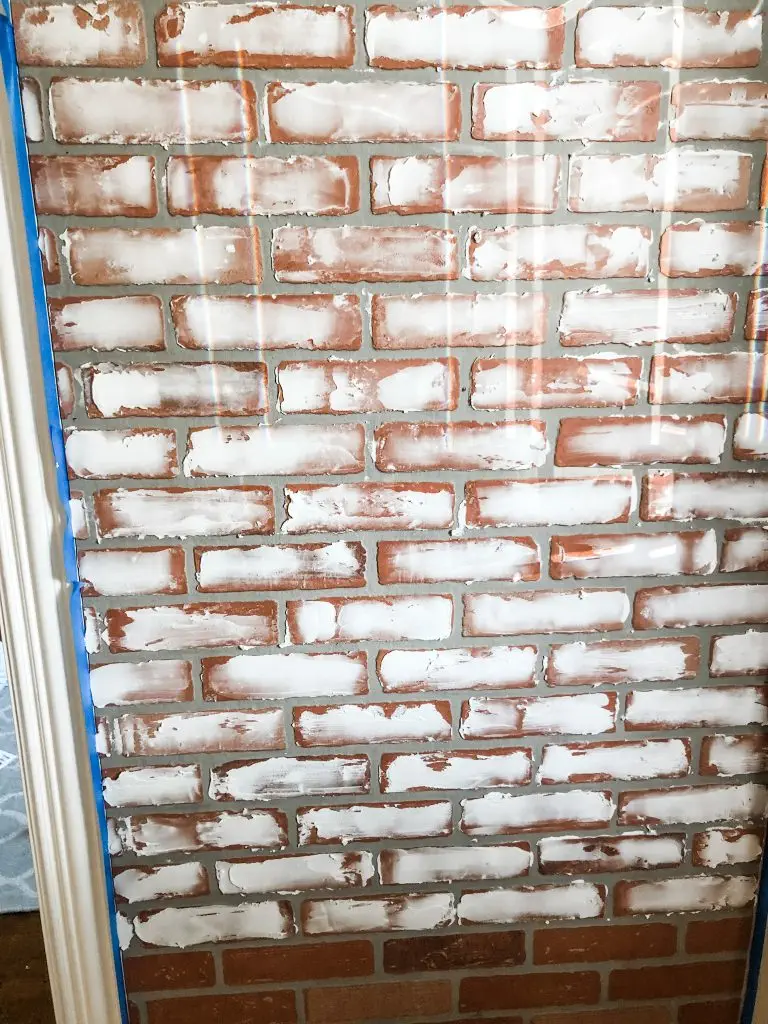 Then it was time to go nuts with the spackling. I wanted it to look like it had been spread and scraped, like when a trowel is used. I did this by using a putty knife. Spread it on, then scrape to the desired look. TIP: Matt tried to help me by starting on one end and me on the other and working our way towards the middle. Luckily I realized quickly on that we were using very different techniques and different pressures. I really recommend having the same person do the entire wall. Even though it's a lot of work, you want it to look even when you are done.
Once you have done all your spackling, and I recommend some great music and a lot of patience while you are doing this. As I said above, have one person on this part.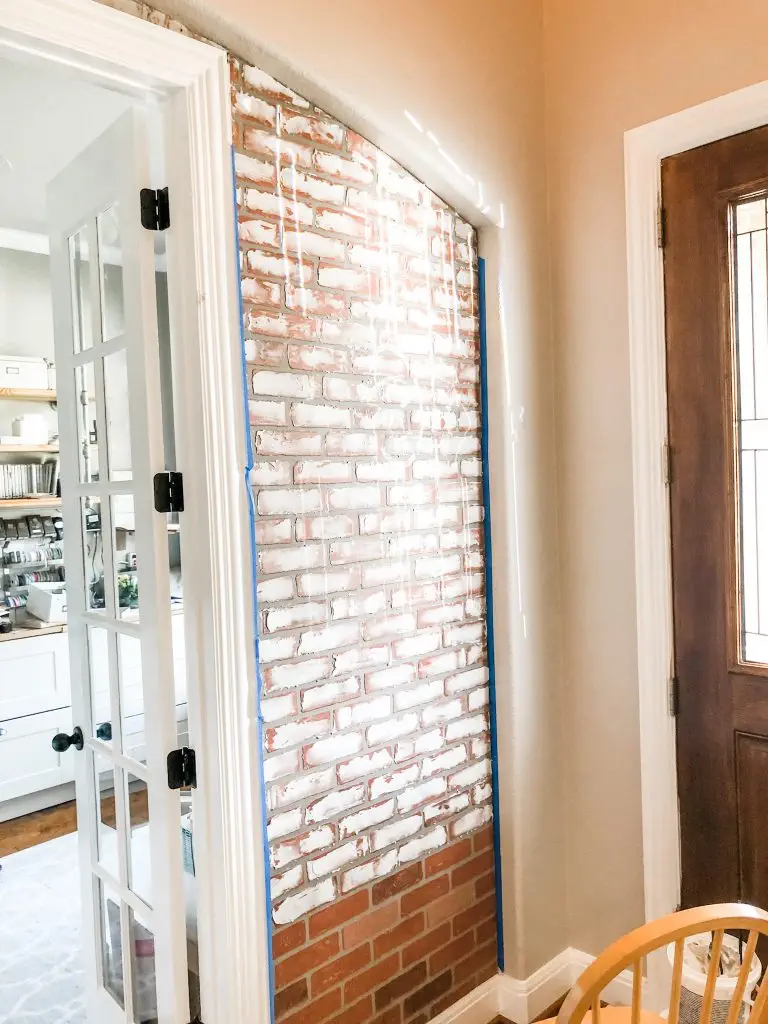 As you can see, the spackling looks great but it still looks like paneling in between the bricks. I hadn't thought that far in the beginning. I really thought the spackle would give enough authentic texture. I told Matt I needed to add concrete to the walls. He was 100% unsure of this, but went with it.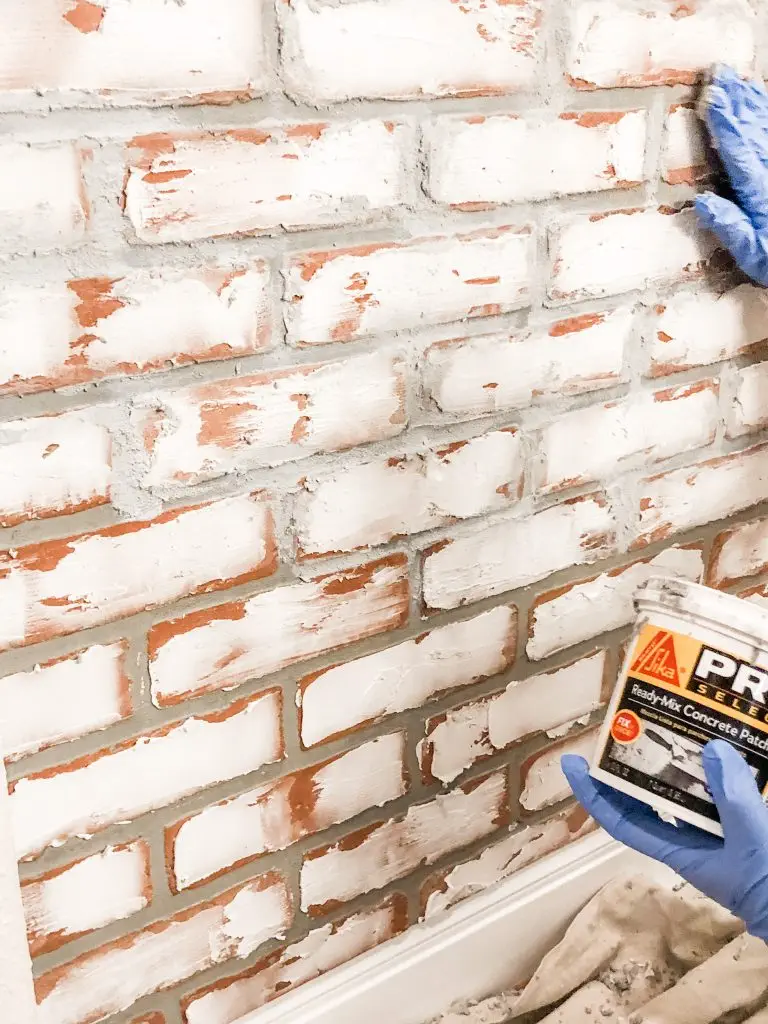 I went with a pre-mixed concrete and several tarps. After trying several tools to help get the concrete in the right place, I found that my glove covered finger was the best way to do this. Smear it in place and be prepared for a lot to fall to the ground. But when a small section was done, I knew it was just the right look! Go chunky and don't worry about how messy it looks. We will talk about taking some of it down, but remember that this is being added to help it look authentic and to give it a lot of texture.
This is a quick set concrete, so by the time it was dry, it was time for the next step. You want to take your gloved hand and run it down over your dried concrete. This will remove any pieces that are barely hanging on and a lot of dust. Keep your drop cloth in place as you do this. Now, I will share that with all the concrete on the drop cloths, they did go into the trash. There was dried concrete all over them and the mess it would have made cleaning them, well – I shudder to even think about it.
Working in sections, you want to apply just a basic latex paint of the color you want. And then have a rag to wipe off the excess. It's a whole lot of painting then wiping, adding and taking away. It's much easier to add more paint later than to try to take it off, so work in sections and compare it to the section next to it that's already completed.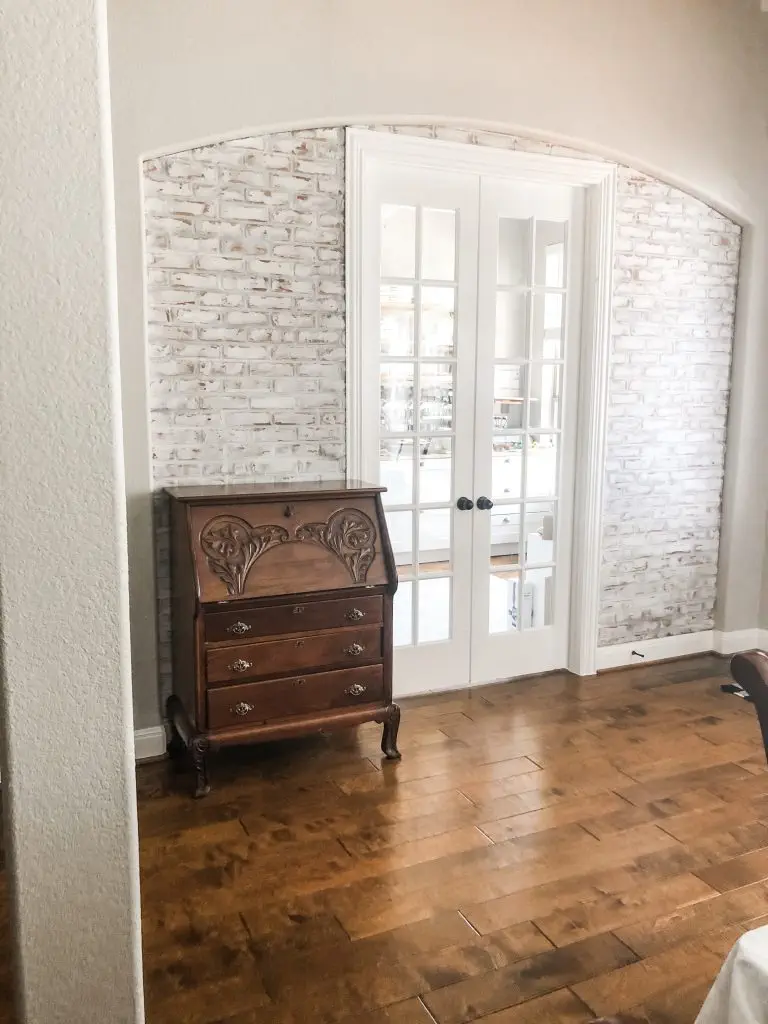 I was sore as all get out when this was all done. But in two days, with Matt only helping with the cutting and hanging, this transformation was complete. It changed the entire look of our entry hall.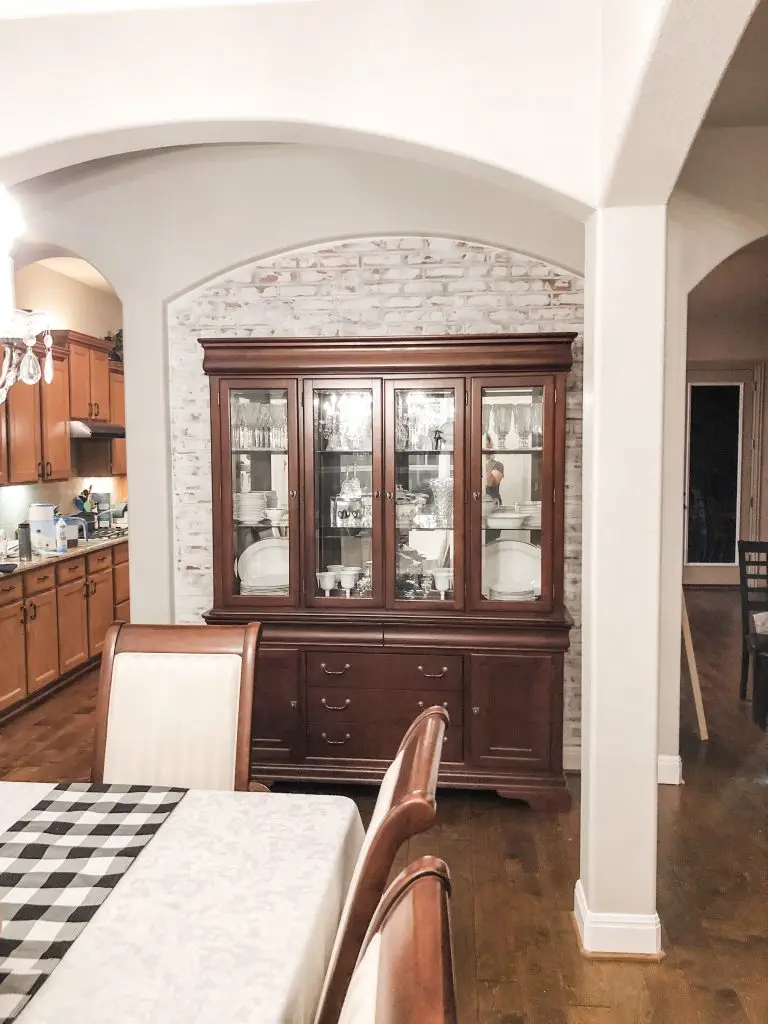 We love the way it turned out, and both faux brick wall DIY project was done in a weekend and for under $200. It's one of my favorite areas of our home!
If you want to see how the dining room turned out, with the before and after's, click here.
Your Turn
While many would think it's crazy to add brick paneling, spackling, concrete, and paint inside your home, you have to try it! These amazing faux brick wall DIY projects are something to be tried for sure! Give it a whirl, it's just so fun. See you in the next project!! XOXO, Meg