Envelope Pillow Cover
Today we are making a super easy envelope pillow cover! I love making these as they are so fast and fun 🙂 The great thing about pillow inserts is that you can make amazing pillows for way less than you can buy them for.
We are starting with Poly-fil Premier 12″ Ultra Plush Pillow Insert so that tells me that I need my fabric to be 13″ x 13″ with a 1/2″ seam allowance.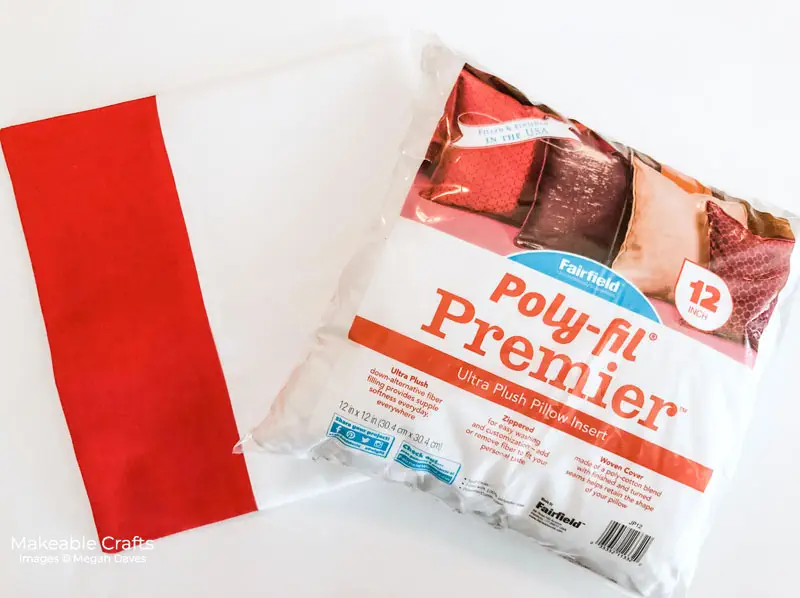 If you have no idea what that means, stick with me, we will be covering it all. I will start with the explanation of our fabrics and then will sum it all up with the exact measurements you will need for this pillow. But once you know the how, then you can make this with any pillow size!
Two Fabrics
I decided to use two fabrics though, it's a few extra steps, but so worth it. If you want to use one fabric, stick with that. One reason I love to use two fabrics when I make pillows is because I can use up fabric scraps and no one knows that the adorable pillow they are holding was really from leftovers!!!
To make your envelope pillow cover from two fabrics you want your two widths to add up to 13, plus a 1/2″ seam allowance on each piece.
So my red fabric is 5-1/2″ wide and my white fabric is 8-1/2″ wide, but they both need to be 13″ long.
The Backside
This is where you need to do a bit of math. Our pillow is 12″, so our finished fabric size needs to be 12″, but we are using two pieces on the back that will overlap. For a 12″ pillow, I went with a piece that was 8-1/2″ and my second piece 9-1/2″, each will be the 13″ wide.
All Measurements For Two Fabrics
So the fabric pieces I used started with red: 5-1/2″ x 31″ and white: 8-1/2″ x 31″.
At this point, you can cut your lengths the right size, or you can take a shortcut like I did 🙂
If you want your front and back of your pillow to each have red and white fabric, then I recommend sewing together really long strips of red and white together at once, and then cutting them into the lengths you need them to be.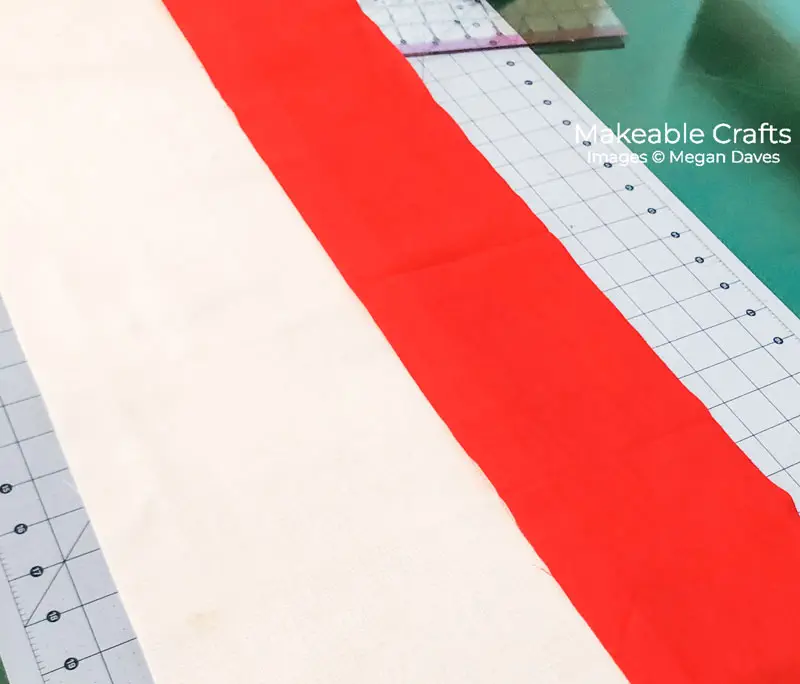 Then we cut them to the right lengths: 13″, 8-1/2″, 9-1/2″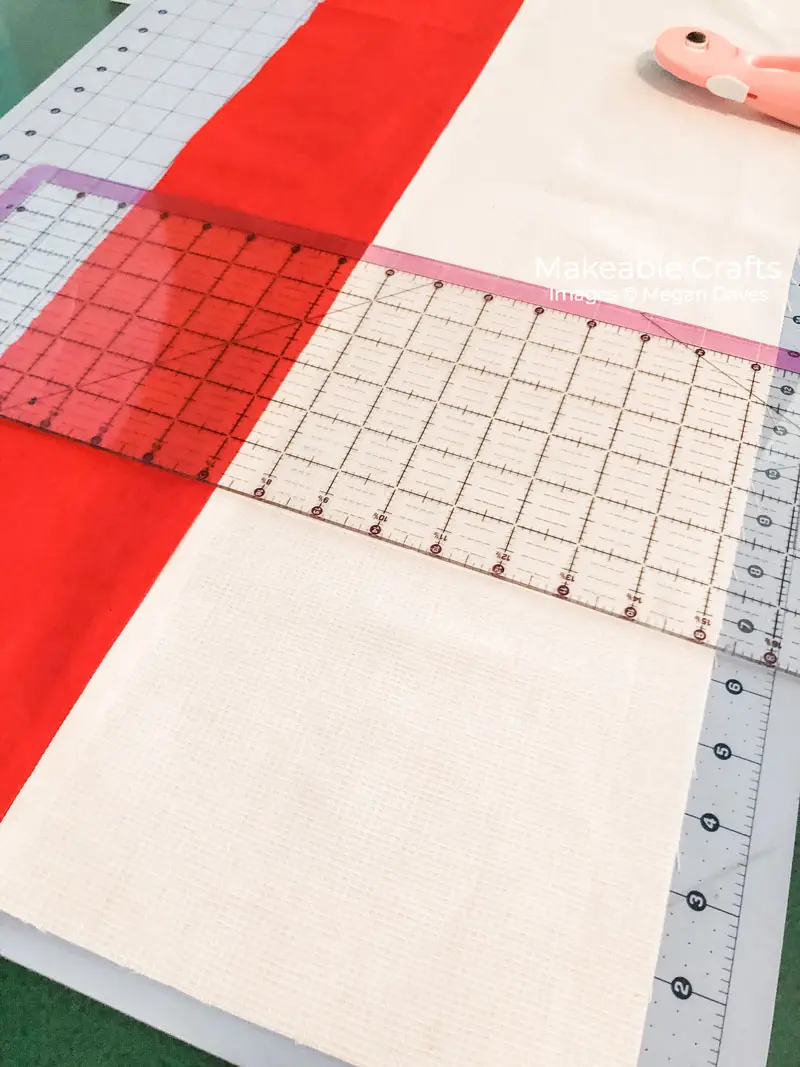 With our shorter pieces, these will be for the back of our pillows, and we want to make sure that we have nice finished edges. So on one end, turn your fabric at 1/2″ and press, then another 1/2″, press and stitch. Do this on one end of each of your shorter pieces. NOTE – make sure it's the right ends. Line up your pillow with your wrong sides out and make sure you are doing this on your two parts that overlap, not the part on the outside edge.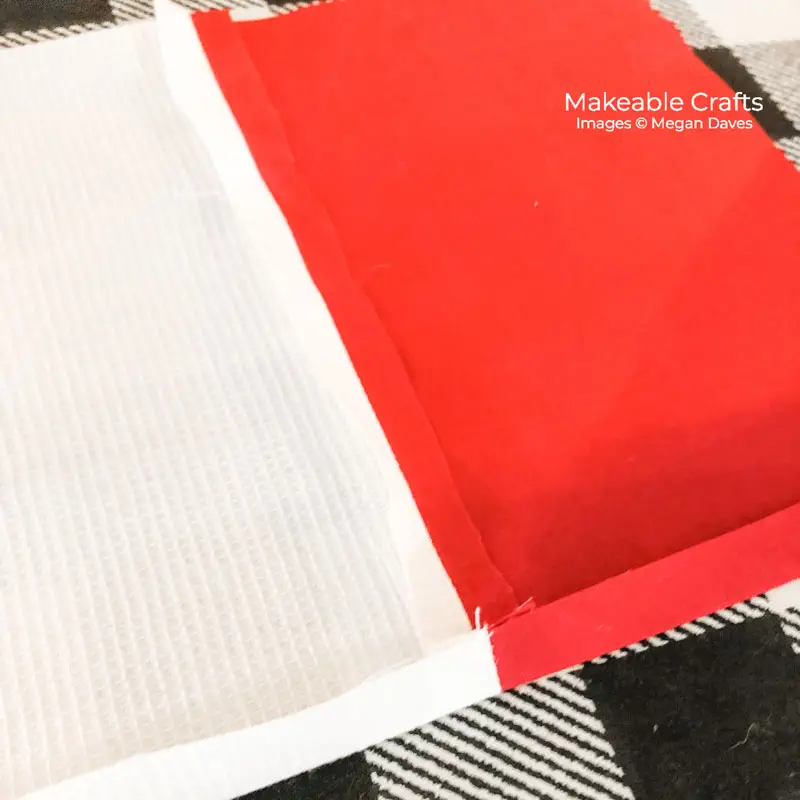 Right Sides Together
I always mess this part up, I don't know why. Even as I am pinning and checking, I repeat to myself, right sides together, wrong sides facing out – and then mess it up. And then I get to do my least favorite stitch – The Frog Stitch – where you rriippiitt, rriippiitt 🙂
With your right sides together, pin and stitch all the way around.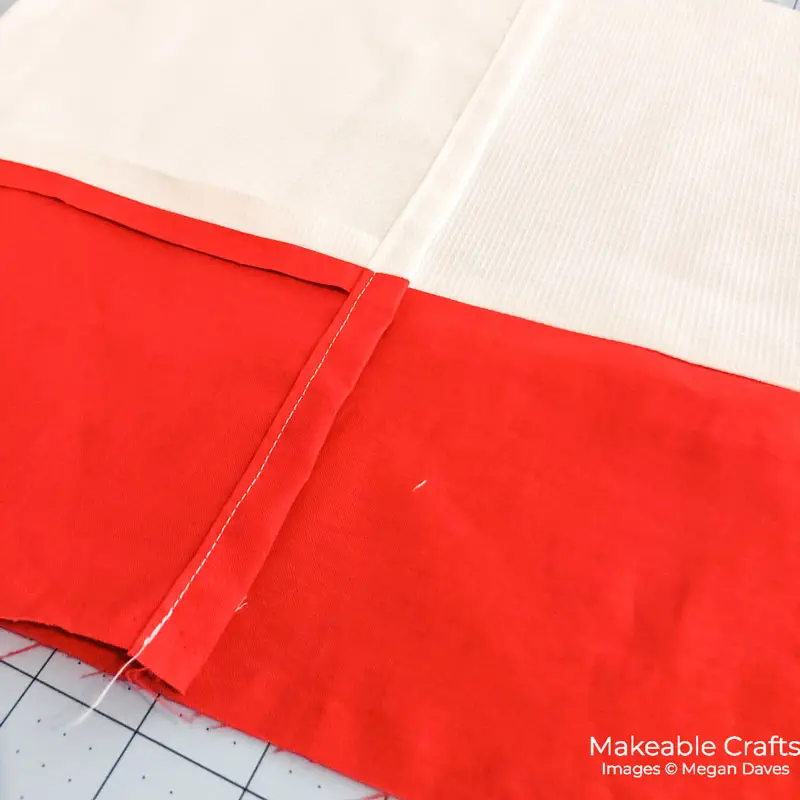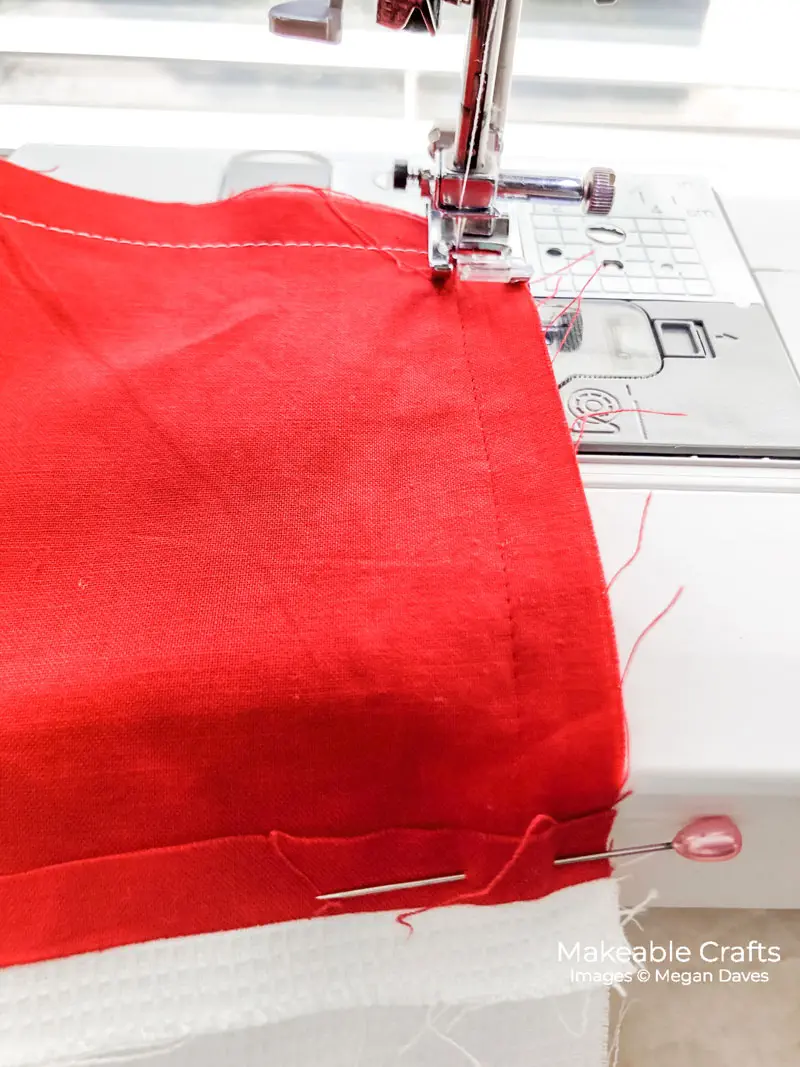 Trim off your corners.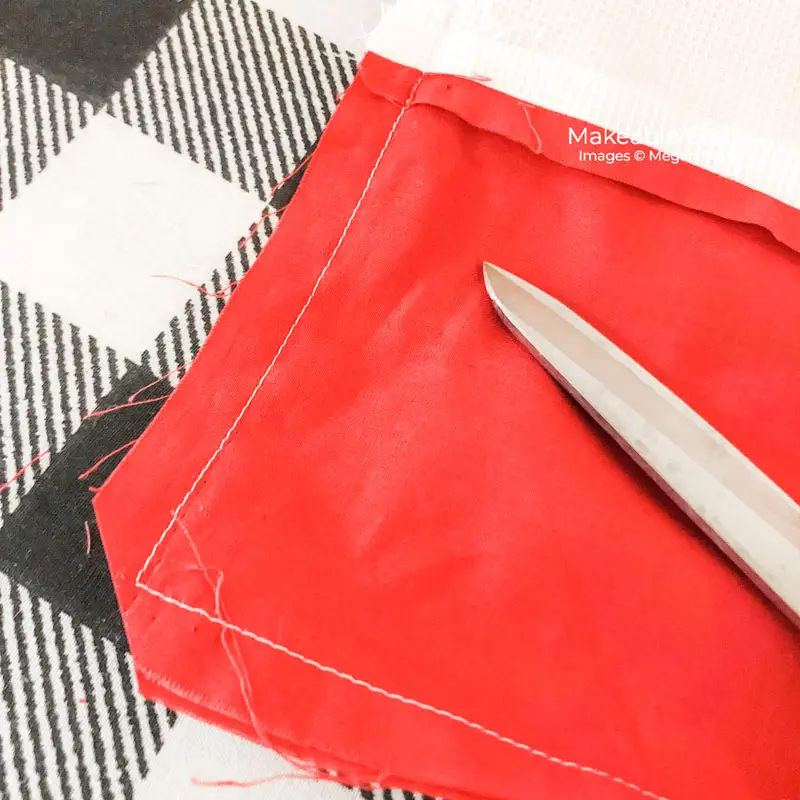 Turn it right side out, press your edges, and grab your pillow insert to fill your fabulous cover.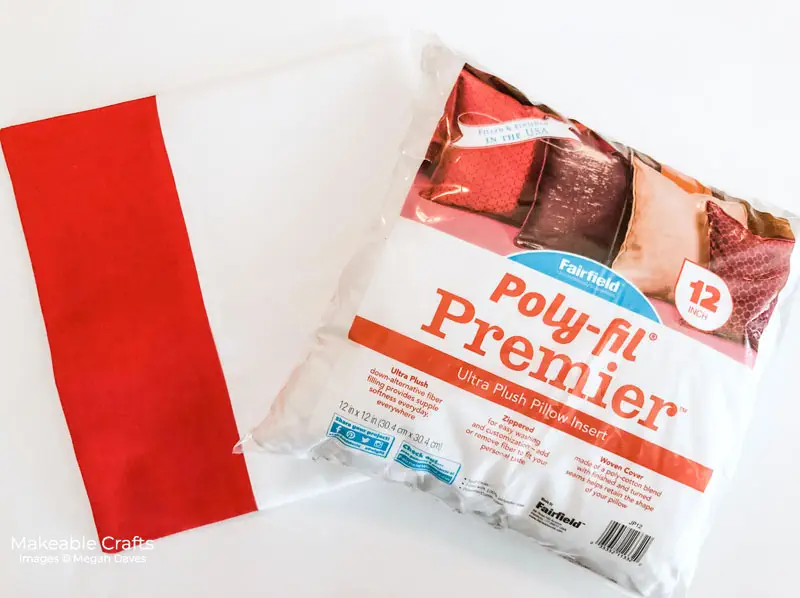 Ta-Da!
Your basic envelope pillow cover is complete – AND you can do this now with two fabrics!!!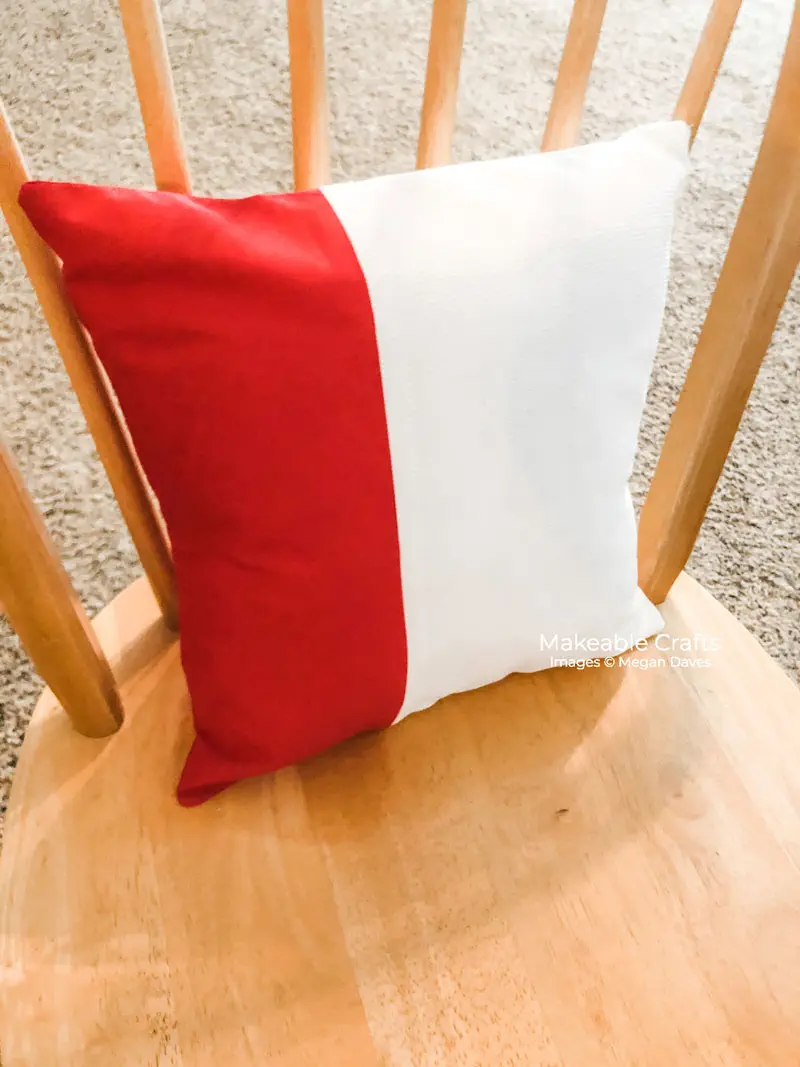 Dress It Up Or Keep The Same
For my pillows, once you have the basic envelope pillow cover complete, you can leave it as is or your "holiday-ify" it. Meaning you can make it work for different holidays. This is a red and white pillow, so I can use it for Christmas, Valentine's Day and any patriotic holiday I am decorating for. With a strip of fabric and a cute embellishment pinned on, I can "holiday-ify" in minutes.
Making It a Valentine's Day Pillow
With just a strip of gray and white buffalo check fabric wrapped around and pinned to the back and a simple heart pillow with a blanket stitch around two felt hearts filled with Poly-Fil, you have an adorable little throw pillow for Valentine's Day!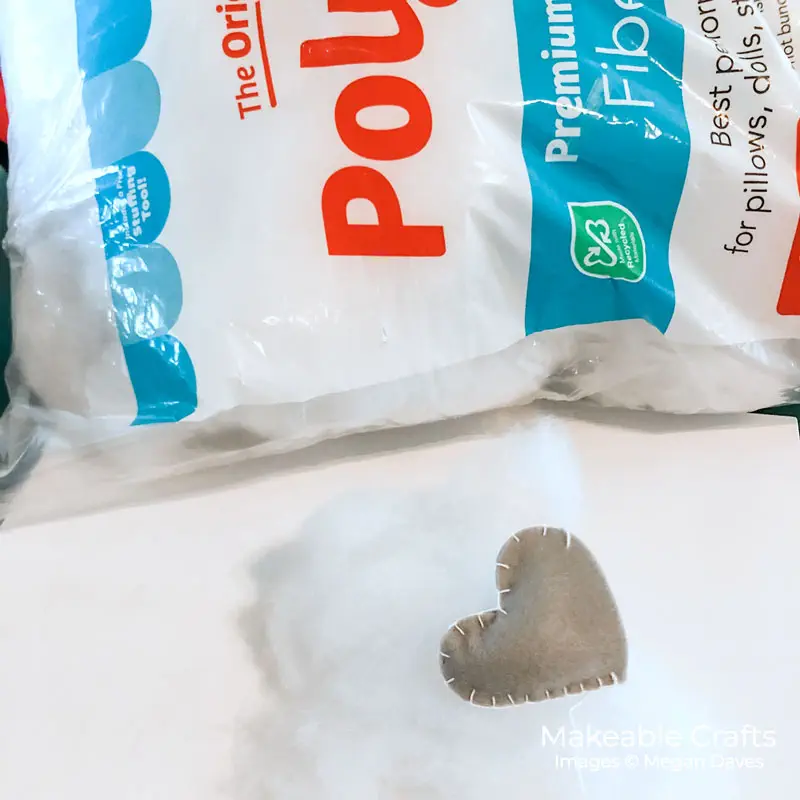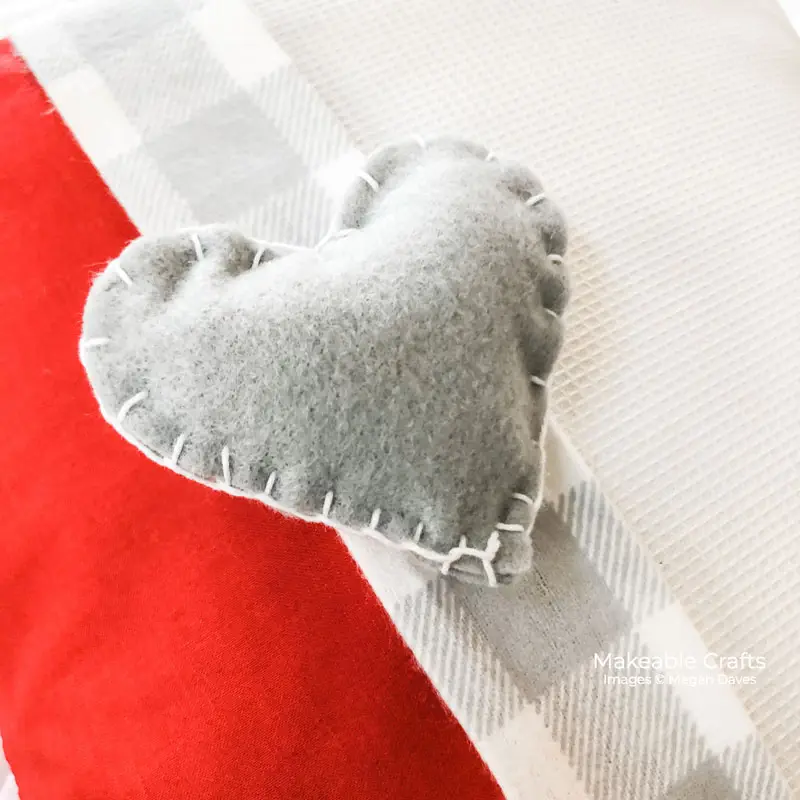 Here it is all finished: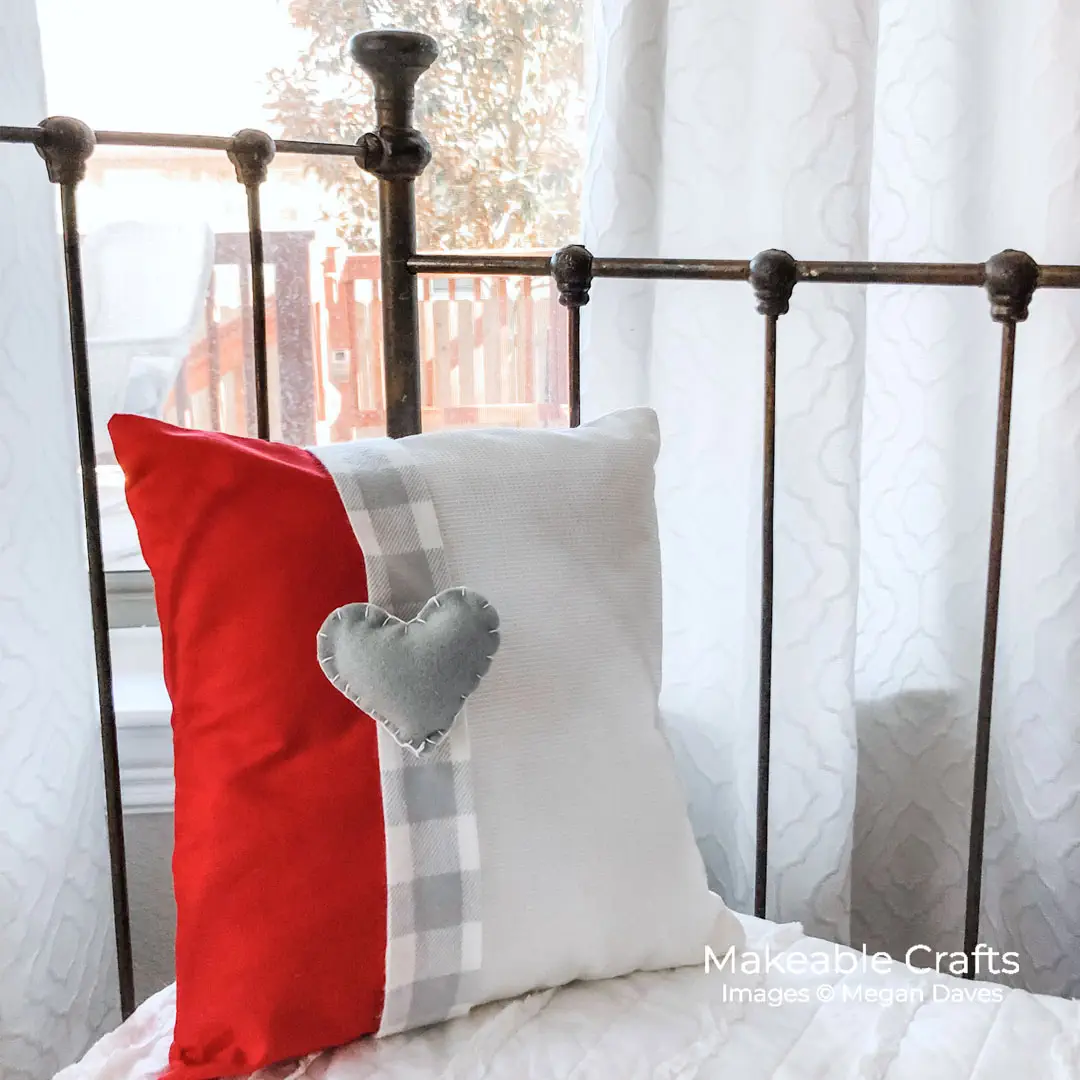 Your Turn
Since you can make pillows for way less than you can buy them, and since you know how to make them – and even how to use up fabric scraps to make fancy schmancy pillows with two fabrics, imagine where in your home you can tuck these little gems. And don't forget that they also make stunning gifts! I hope you do give these a try, I just can't even put into words how fun they are and how fast they are to make.
Pin It
Want to easily find this project? Pin it to your favorite DIY home decor Pinterest boards!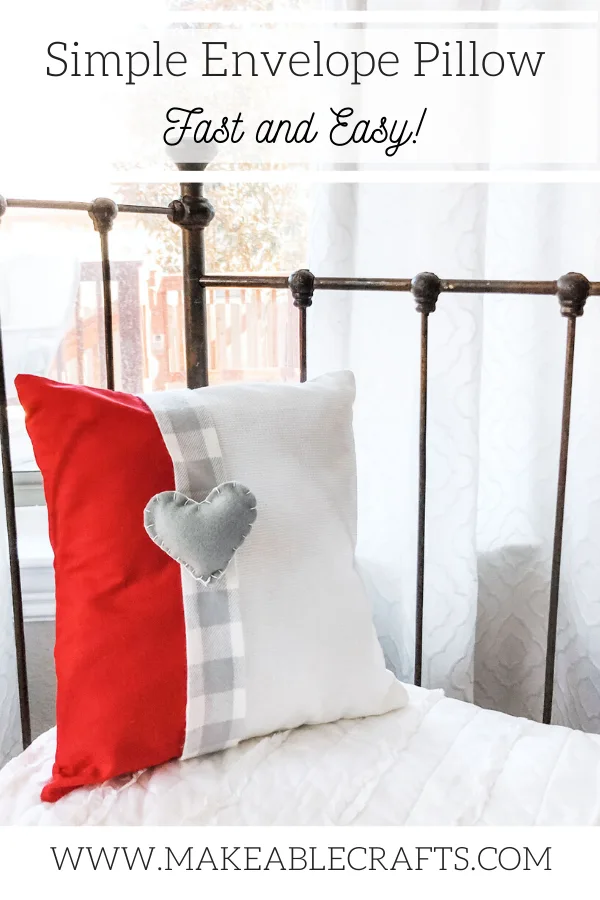 Thank You
Thank you so much for stopping by today for this easy envelope pillow covers tutorial. If you want to learn more about that amazing settee that the adorable pillow is sitting on, click here.
At Makeable Crafts, we are all about sharing ideas to spruce up your home and make meaningful decor pieces, so keep on coming by for more project ideas. XOXO, Meg