Easy DIY Accent Pillow For the Holidays
I can't wait to share this easy DIY accent pillow with you – and just in time for the holidays!
When it comes to making your own throw pillows, making them with an envelope covering is hands down the fastest way to make these. Because let's face it, as makers, we prefer to spend our time on the cute stuff, which is the decorating!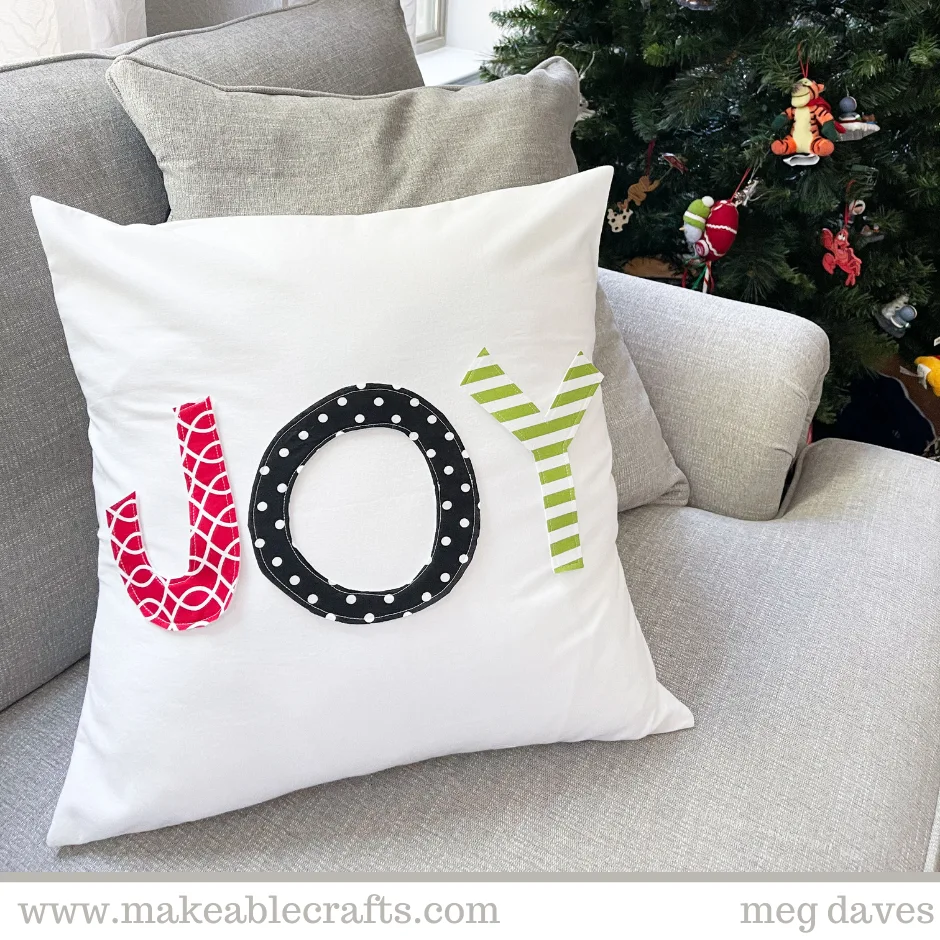 A friend told me a long time ago, if you don't like to iron, don't even think about sewing. I remembered this as I was ironing, cutting, sewing, then ironing, then ironing some more today – it's so true!
Even with the ironing, cutting, and sewing, I was able to make my pillow covering in about 15 minutes.
For that, you need fabric, a machine, and a great pillow inserts. I am using my favorite pillow inserts from Fairfield World, these are the Poly-fil® Premier pillow inserts. They are just firm enough and soft enough for my liking. They come in a variety of sizes and the 20″ insert is perfect for my sofa. Without an insert, you can still make pillows and stuff them with Poly-fil®, which is a great option, yet very time consuming for a pillow of this size.
Making an Envelope Pillow Covering
We are using a 20″ pillow insert, so all the measurements are based on that insert size.
I cut three pieces of white fabric. One at 20″ x 20″ and two pieces that are 14″ x 20″. I cut my fabric to the same size of the pillow to give it a plump and full look.
On the pieces that are 14″ x 20″, fold and press one side 1/2″ in leaving you a piece that's 13-1/2″ x 20″. Stitch that pressed end down. Do this for each piece.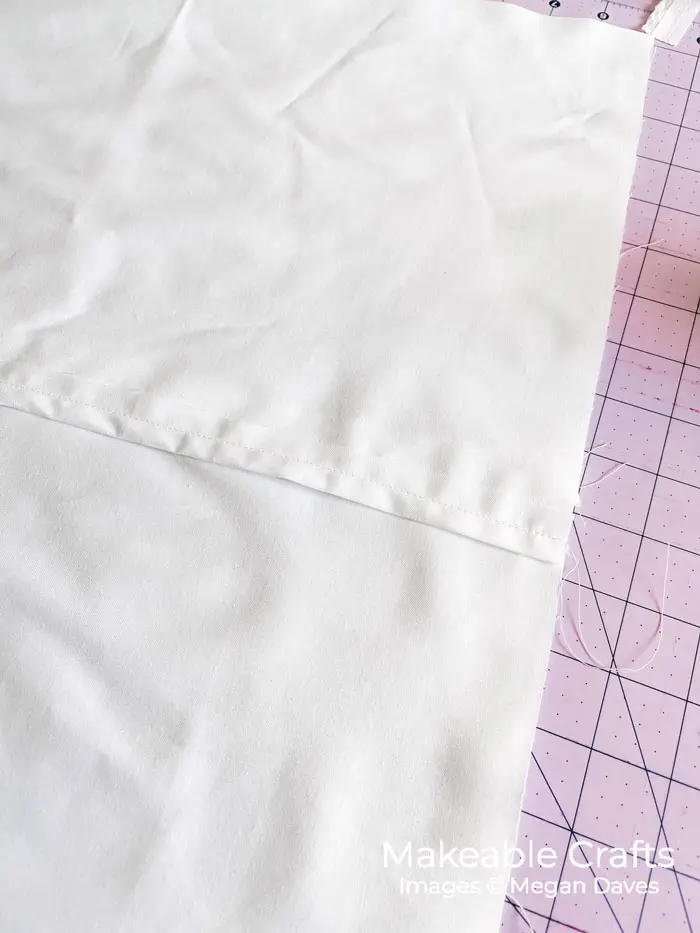 Then with all your right sides facing in, lay out your 20″ x 20″ piece, then on one end add on the 13-1/2″ x 20″ piece with the stitched seam in the middle, then do a mirror image with your other piece.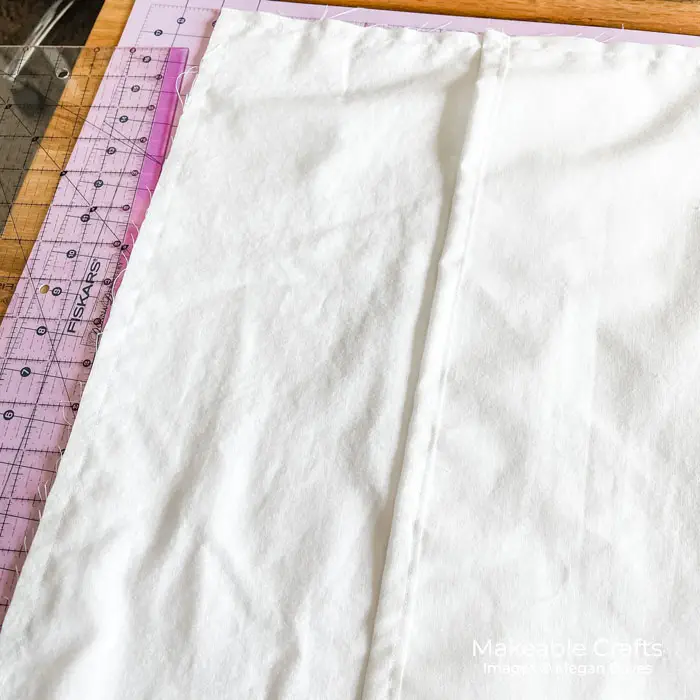 Stitch all the way around, flip inside out, and you are ready to decorate! My friends, it really is that easy… all thanks to having the right pillow insert! Serious time saver!
The Decorating
For this pillow, I wanted to use cute fabric and just make a word "JOY". I like simple accent pillow that have a fun pop to them. To make these, you have several options. You can cut your fabric and embroider around your letters. You can glue and/or stitch your letters right onto your pillow cover before you sew it all. Or you can add a 3D pop to them as I did with this simple little trick.
I started by drawing out my letters onto printer paper. By drawing them myself, it's uniquely mine. However, if you aren't a fan of making your own letters, bring up some on your computer, make them a big font, cut them out and use them as a stencil. Don't worry about making your letters perfectly uniform, that adds a lot of character to your pillows.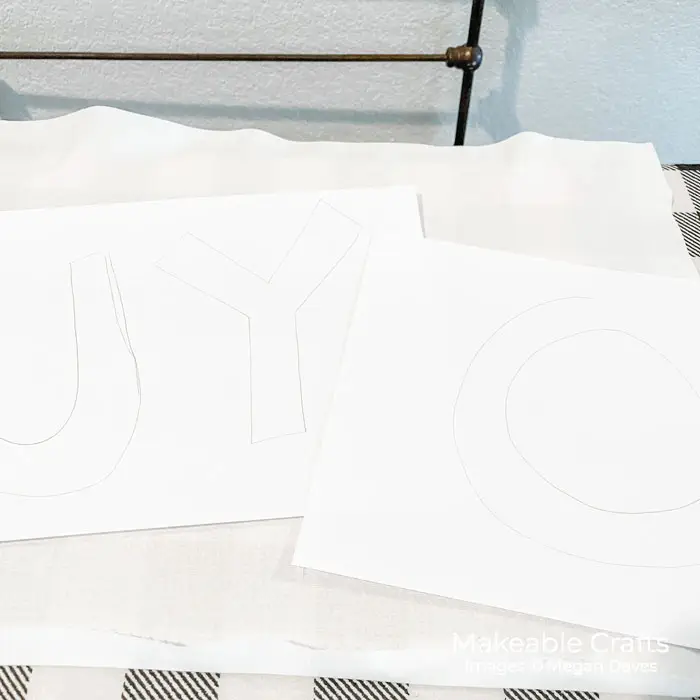 Once your letters are the size you want, mine are about 7″ tall, it's time to cut fabric blocks and use our little trick.
White felt. Yep, that's the trick. Add white felt behind your fabric before you cut your letters out of your fabric. By using a spray adhesive, like Beacon's that I used, it's easy to adhere them together which makes cutting so much easier. The spray adhesive dries fast. It's not a super hold, but it's just enough. Once you adhesive is dry, then use your letter templates to cut out your fabric and felt.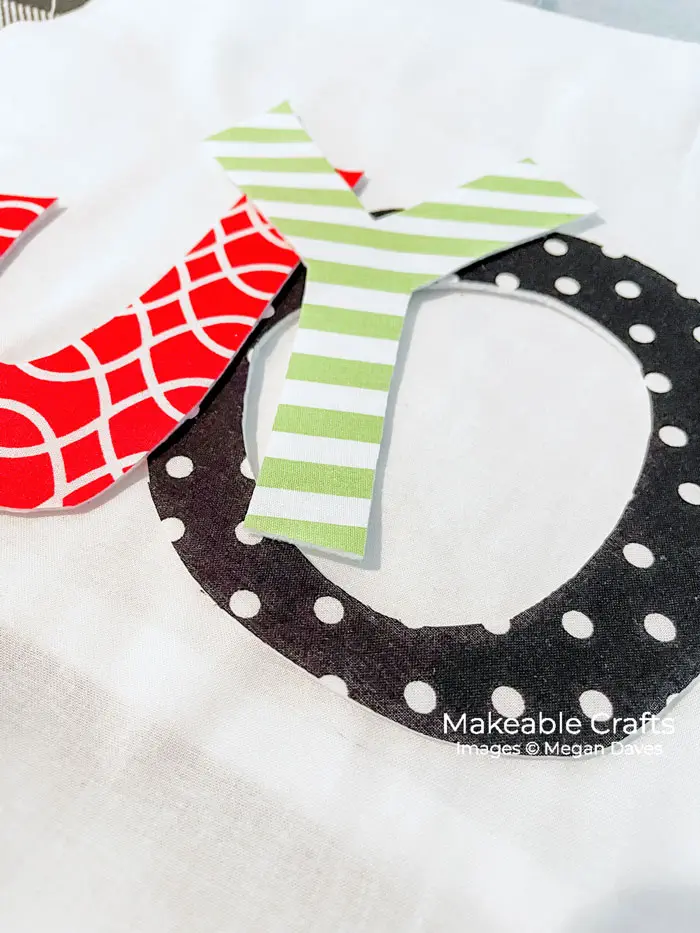 Then it's time to take it a step further and stitch your edges. This not only holds your fabric to your felt, it looks super cute too!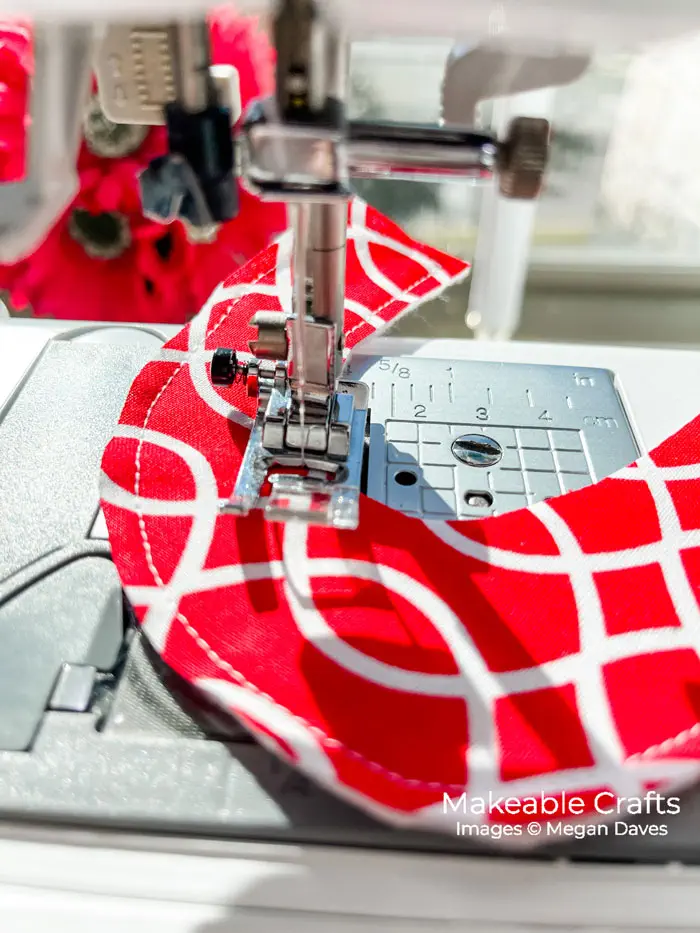 You can stitch your letters onto your 20″ x 20″ piece, but I find that every time I do that, my fabric puckers in some way. So doing it this way and then using Beacon's Fabri-Tac to adhere your letters to your pillow covering, you don't have fabric puckering or pesky issues like that. It's just simple and easy.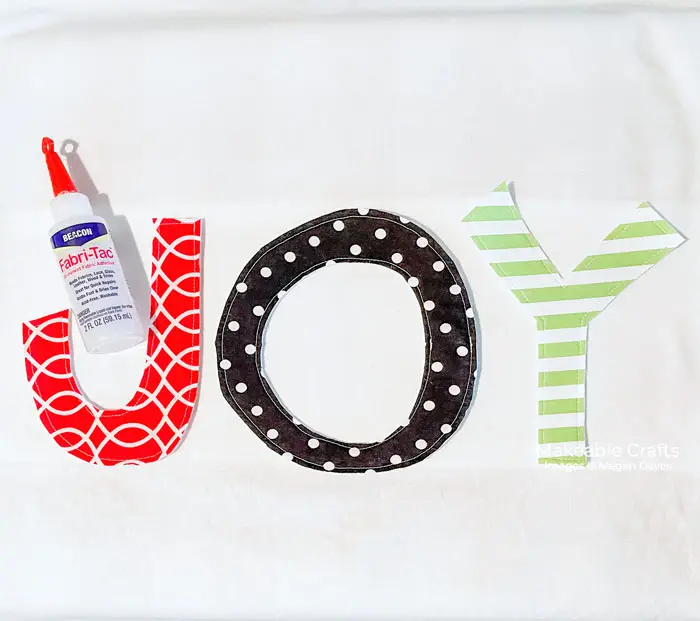 Just like that, your easy DIY accent pillow is complete! So easy and quick, all by starting with a pillow insert.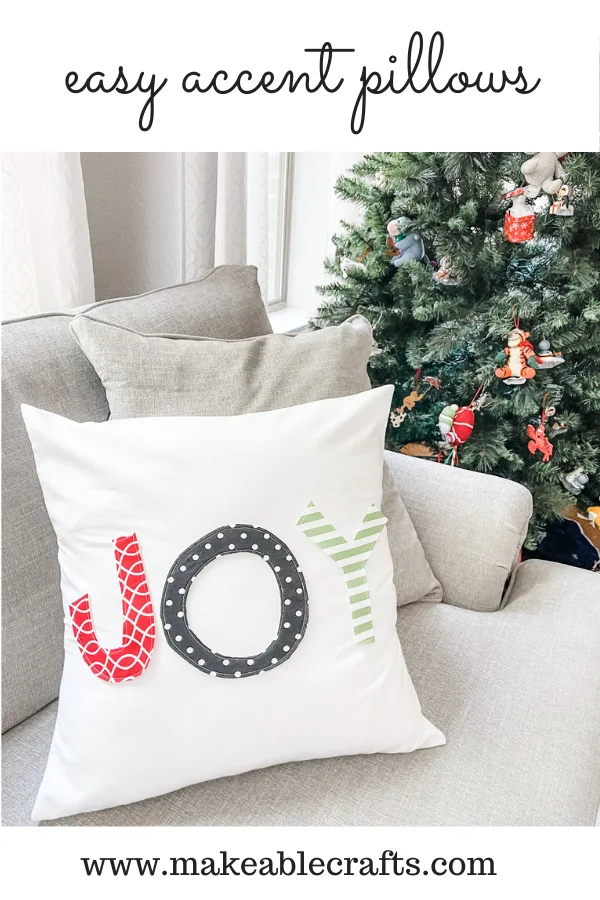 Give It A Try!
Now it's your turn to give it a try! You can use scraps of fabric, you can use any letters or words and make it perfect for your home. These pillows also make a great gift! You can make these easy DIY accent pillows in no time at all. From start to finish, this project took just about an hour. That included all the ironing, cutting, and gathering of supplies. Give it a try, you will love it! See you in the next project 🙂 XOXO, Meg