Easter Egg Craft for Decorating
Ever wanted to find an Easter egg craft for decorating?
We have a window at the midpoint in our stairs.  It's plain and boring, with a simple window shade covering it blocking out some of the obscene amount of light (and heat) that comes in.
Some may see it as a window, I see it as a holiday decorating opportunity. Each holiday I look for ways to dress it up.
Before we go much further, let me share a list of supplies you will need.
The Supplies
Decorative Eggs (plastic/paper mache/plain/painted – doesn't matter)
Crochet Thread
Doll Needles
Tea Cup Hooks/Push Pins
Attaching the Thread
Here are some of the eggs I found at a local craft store.  They are so pretty!  They each have a hole in the bottom, but not in the top.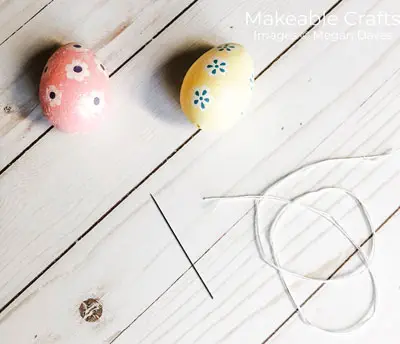 I needed thread heavy enough to support the weight eggs, so I went with crochet thread.  Decide how long you want them to hang down and add about two inches to it.  This way you can tie a loop knot at the top to hang them from.  Then it required a needle long enough to thread through the bottom of the egg and poke through the top.
For this I found Doll Needles.  While I have seen long needles before, I had never heard them called "doll needles" before.  Using a needle was perfect, as I needed the hole in the bottom of the egg to be big enough for the head of the needle and a knot of crochet thread to fit through, but I want the hole at the top to be smaller, so the knot won't pull through.
Then you just thread your needle, tie off one end, feed your needle through your bottom whole, pull the thread through until your knot is secured inside your egg.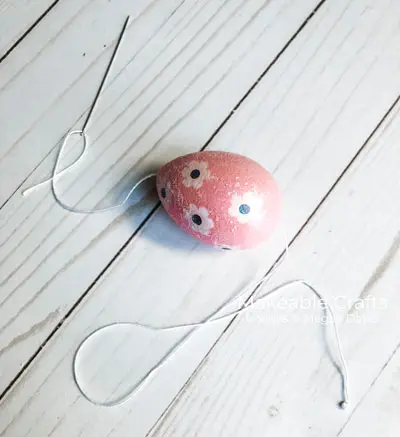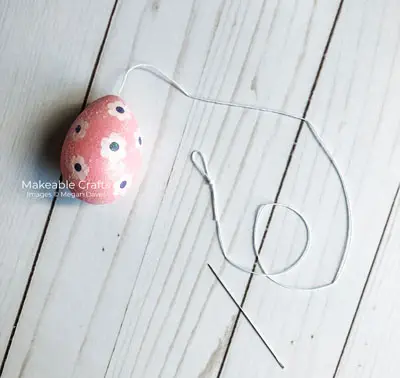 If you are going with plastic eggs that you open and fill with candy, you can also just close the egg over the thread.
Hang Your Eggs
There are several ways that you can hang these.  When we first started decorating our window, I used push pins through ribbon and really stuck them into the drywall.  This was for Christmastime, and I really loved the way the window looked with ornaments hanging down.
Knowing what a pain in the booty it is to replace drywall, my hubby and I decided to permanently mount a painted piece of wood into the top of the window and have tea cup hooks hanging down to hang our seasonal danglies as I like to call them 🙂
Display Your Easter Egg Craft
In minutes, you can turn a window into a display showcase in your home.  Think about all the fun things you can add for the different holidays.  With each season we decorate for, you will find pictures of it here added throughout the year, so be sure to keep checking back 🙂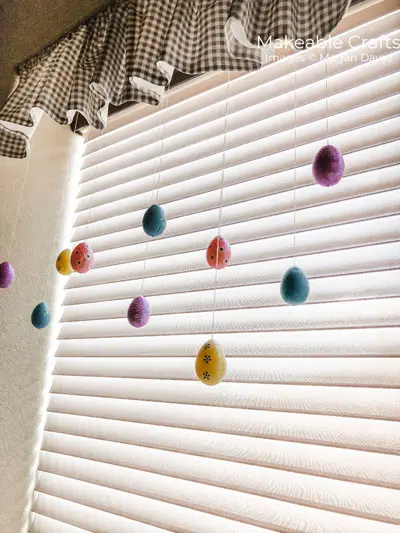 Pin It
Pin this idea to your Makeable Crafts Pinterest board so you can find it when you are ready for it.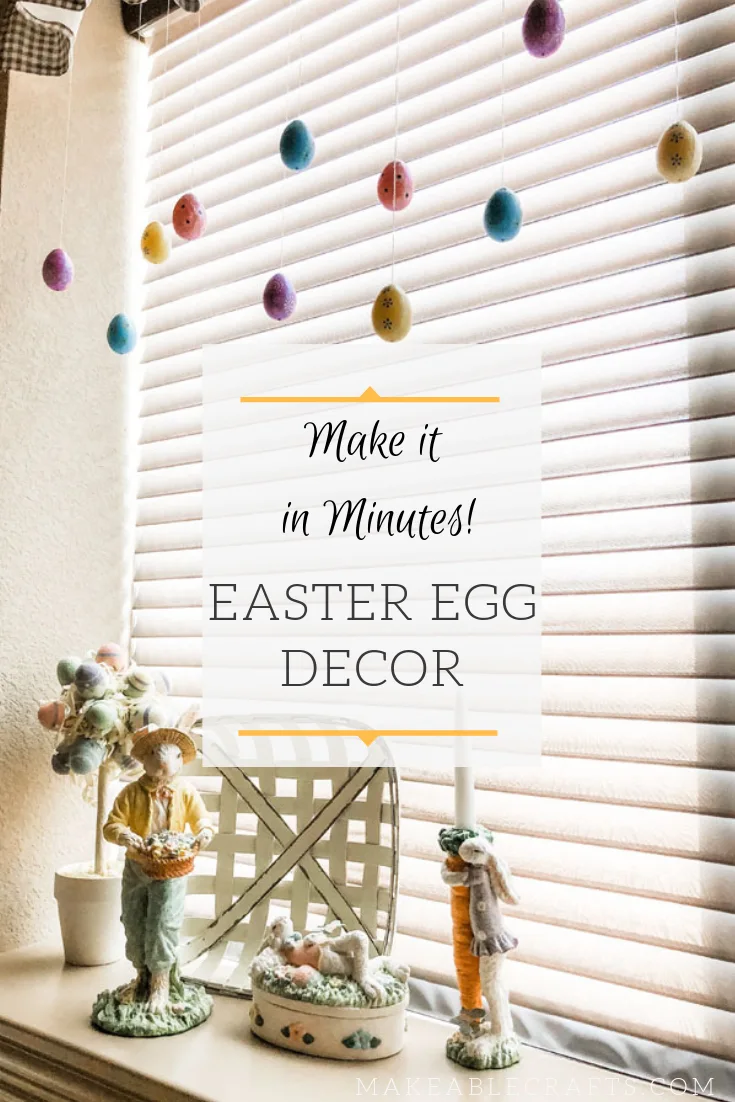 Y'all Come Back Now, Ya Hear?
Thank you so much for joining me today for this Easter egg craft.  Looking for more Easter ideas?  Check out this one here.  Keep checking back here for more ideas that are all Makeable Crafts!  Hugs, Meg