Dollar Store Candles
Dollar store candles – like these meant for windows – are EVERYwhere right now. And you know how much I love a thrifty craft! I picked up a couple at a buck each and used some of my stash to experiment. And guess what? I liked the results so much I am sharing them. This is why I totally encourage you all to experiment with your stuff – you never know what you will create!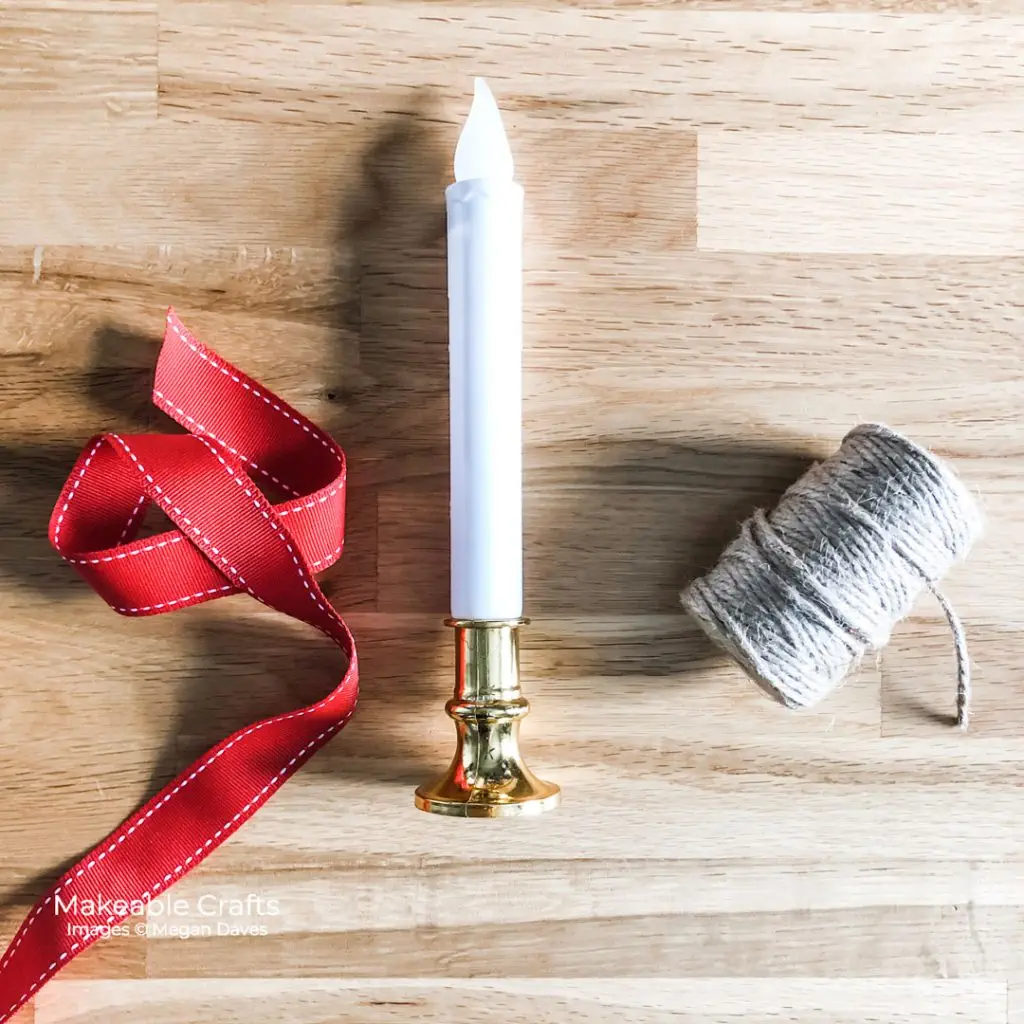 I wasn't a huge fan of the cheap looking gold on these babies, so I got out my trusty black chalk paint and swabbed on a couple of coats. I LOVE the modern-yet-rustic look on these dollar store candles! I was ALREADY seeing an upgrade!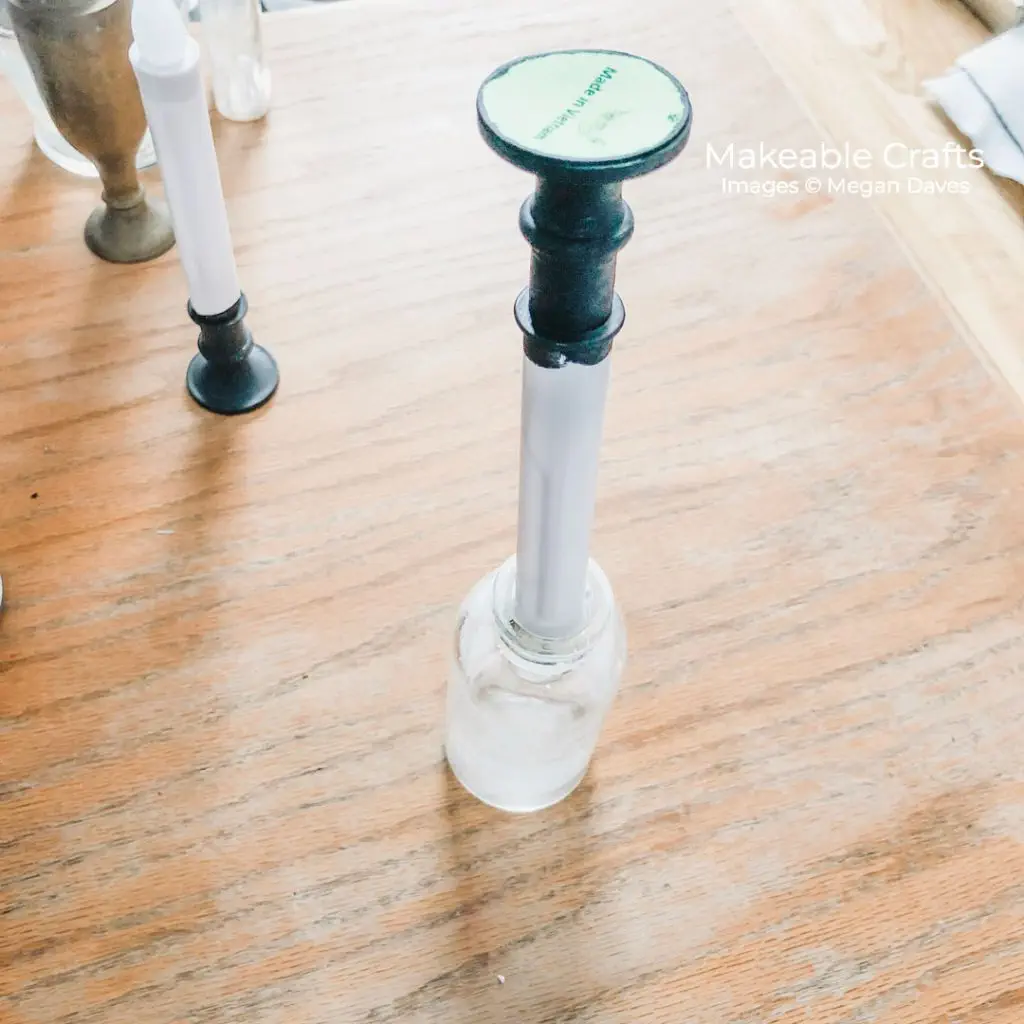 But then that fake white dripped wax at the top was bugging me. I kept picturing something rustic thanks to the matte finish of the chalk paint so I took some twine and started fiddling. I wrapped it around the bottom of the "candle" and I could see I was on to something. But first……
PRO TIP: If you are like me, you could prrrrobably get away with a lot because you've melted off some if not most of your fingerprints with hot glue burns. Not much worse, right? When I was wrapping the twine around the candle as a test all I could think of was "This is gonna hurt!". I started pondering what I could use that could press the skinny twine down nice and hard and not become part of the project by getting glued to it. After flipping through my brain, I pictured a metal "stick" and realized that a paint can opener makes a PERFECT "metal finger"! It's even curved a little so you can really wedge it in there when you need to. I am happy to report that I did not get ONE SINGLE burn! Go me!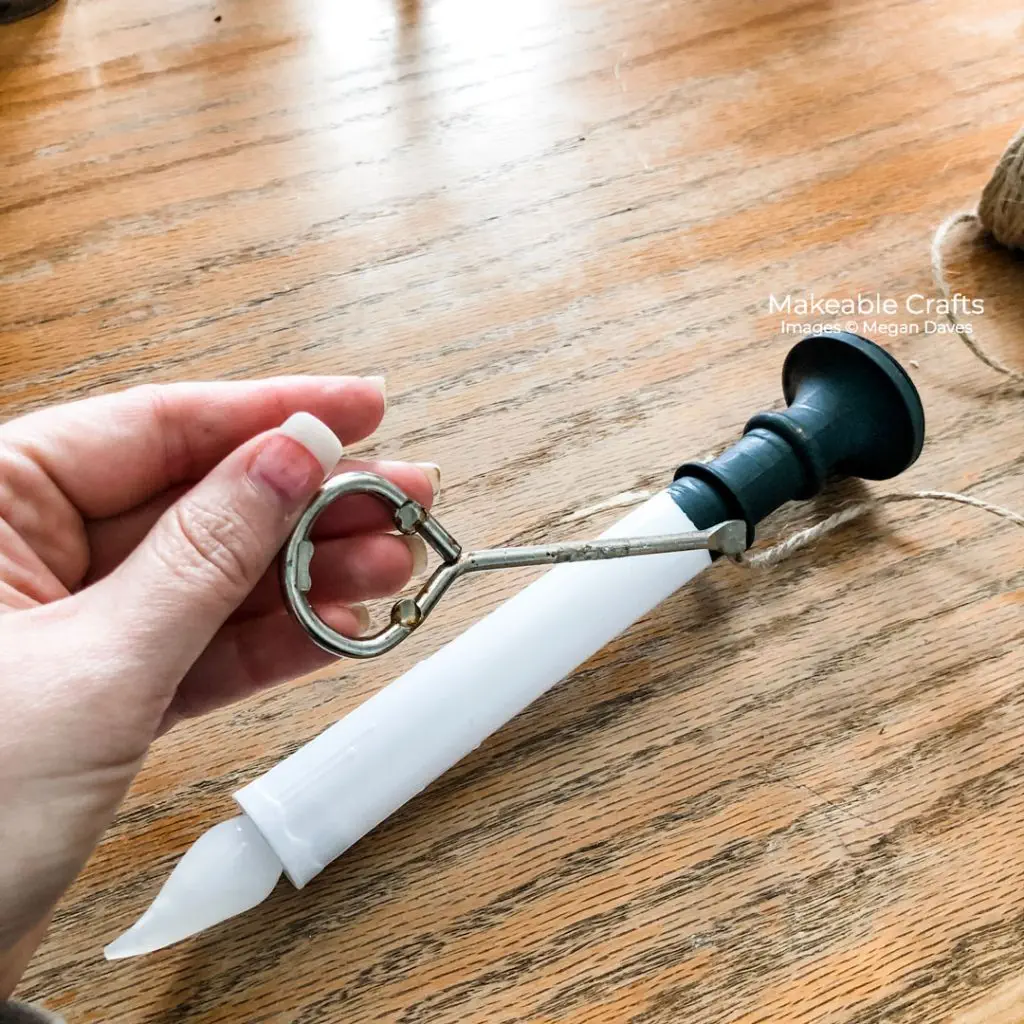 Back to the twine – I wrapped it around the candle, gluing as I went, holding nicely with my new metal finger and tucked it in at the top.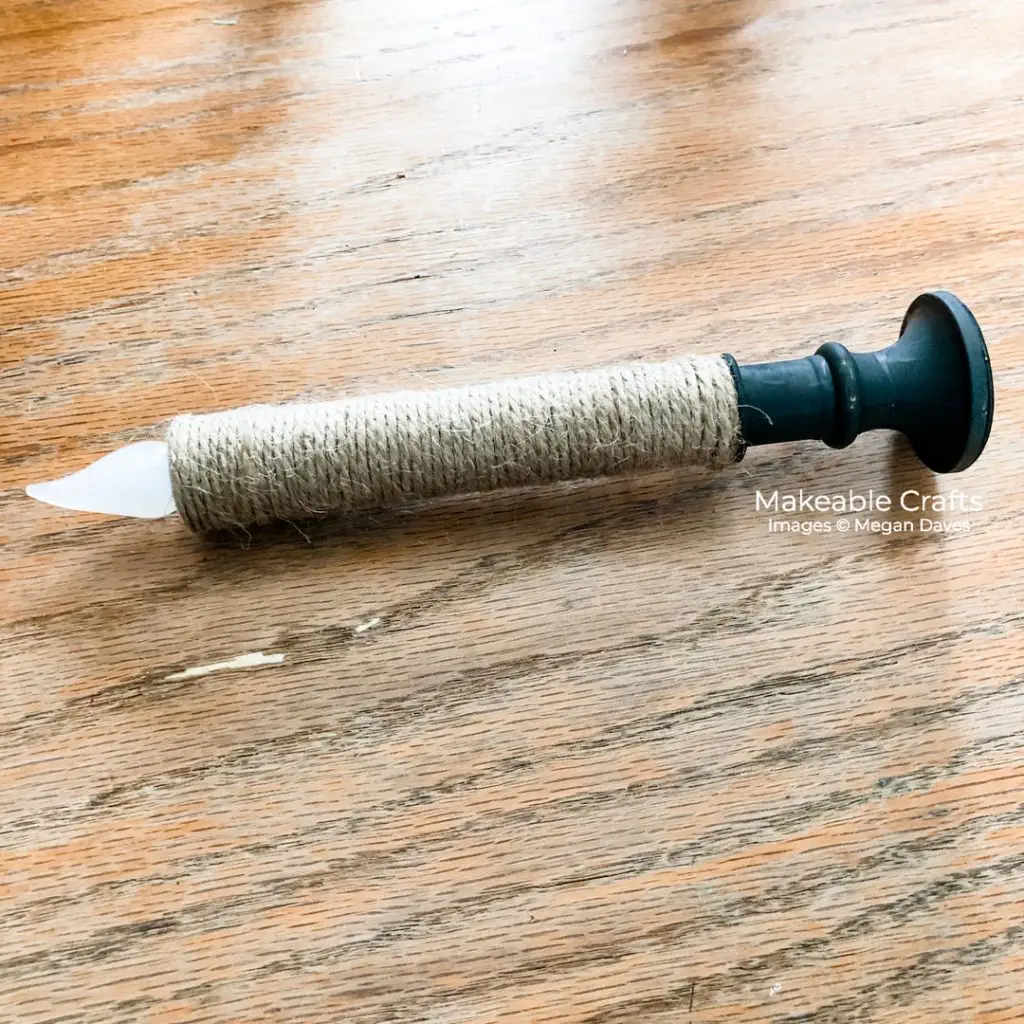 These were already looking so pretty but I love me a bow – heck, I invented the 10 Second Bow Maker because of it! – and so I added a couple of seasonally festive red stitched bows. These can be changed out as the seasons change and I know that I like these enough that they are going to be a permanent part of my decor.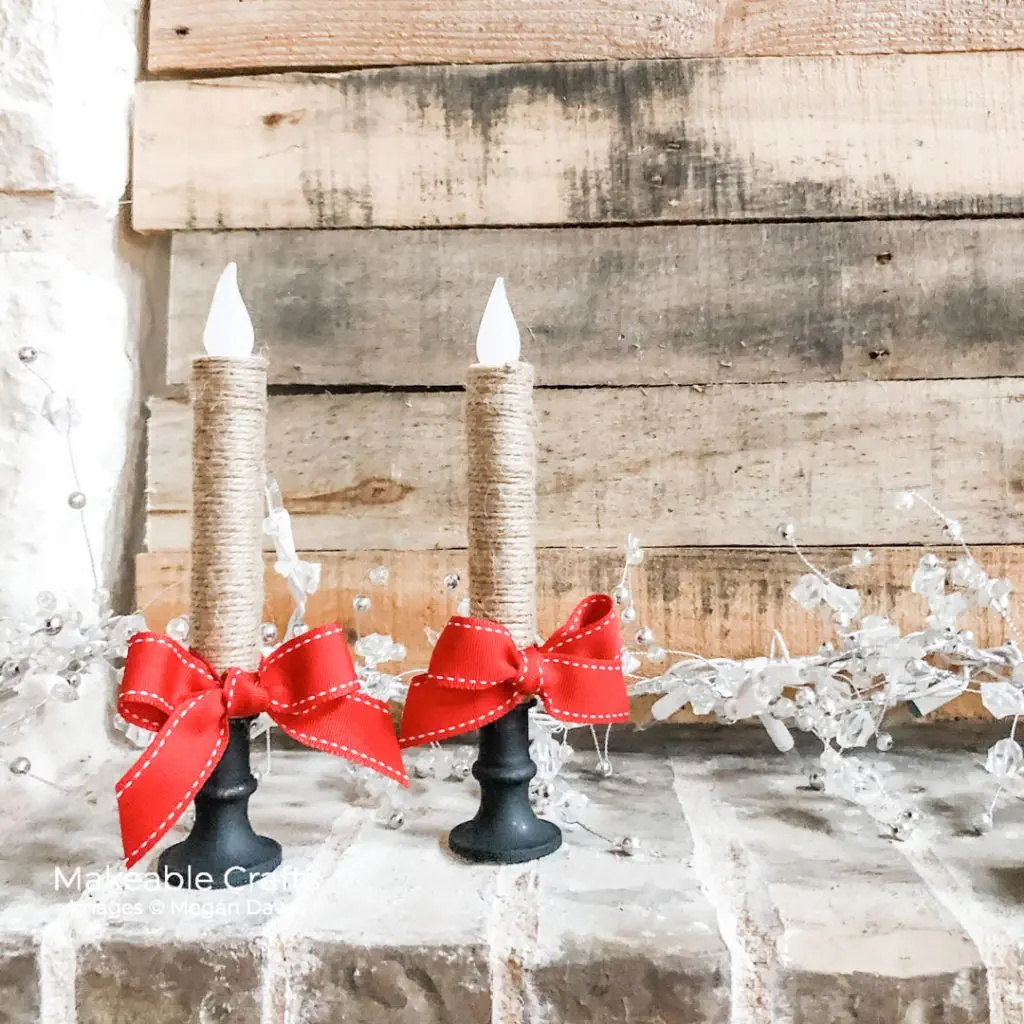 Supplies
Battery Operated Dollar Store Candles
Twine
Ribbon
Paint and brush (optional)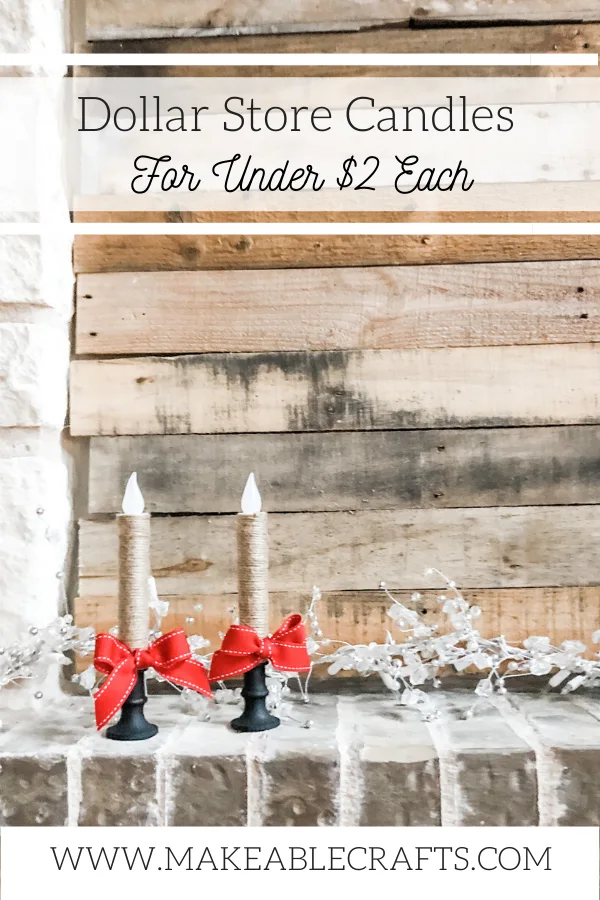 This post contains affiliate links.
So the next time you are out and about, grab a couple of dollar store candles, raid YOUR stash and see what you make. Share with us so we can cheer you on!