Do It Yourself Door Draft Stopper
Today we are making a do it yourself door draft stopper – and just in time for the approaching cold weather!  Cold temperatures in the winter time make for chilly drafts and cold feet, even with the slightest gaps in your door frame.
Over the years, I have seen all kinds of these with all kinds of instructions on making them. They either seemed overly hard or just downright confusing, so I set out to make an easy DIY draft stopper.  Not only can they be adorable, door draft blockers are a great way to save on energy bills. Older homes are known for drafts, but even newer houses, like ours, do too.
I wanted one for my front door, and also wanted one that would match my home decor – AND I wanted it to be an easy sewing project.
So I put my thinking cap on.
Here is what I knew I needed:
A fabric tube
Weighted somehow
Affordable
Because of those reasons, I started with my fabric stash. I knew I was taking a chance going with white, but my Roomba does a great job of keeping my floors dust and dirt free. Anything that would get on it would be on the bottom of my door draft stopper, so I was good with that.
Matching some red and black buffalo check fabric into it was going to make it more fun and cute for the winter season. And it was a piece of fabric from by scrap fabric bin. Any matching leftover piece of fabric will work if you want to have yours two-toned like mine.
However, you can also use an old pair of jeans, different colors of fabric, old sweaters, mix-matched pieces of fabric, even using a tube of fabric, like a pair of tights or long socks.
When I decided for sure that it needed to be weighted, my first thought was Poly-Pellets®. These are weighted stuffing beads that you would put in bean bags. If you are okay with going with food products, you can use uncooked rice, popcorn kernels, or walnut shells. A friend of mine used kitty litter for her bedroom door. For my front door, I kept thinking that cold air is often mixed with moisture, so I really didn't want any type of food product.
The tubing was going to be a decent size, and I could have filled my entire door draft stopper with Poly-Pellets®, but the only problem is that it wasn't going to be as affordable. So instead of filling it completely with Poly-Pellets®, I opted to do part pellet and part Poly-fil™ for my stuffing.
The Supplies
This post contains affiliate links.
Fabric
Thread
Buttons (optional)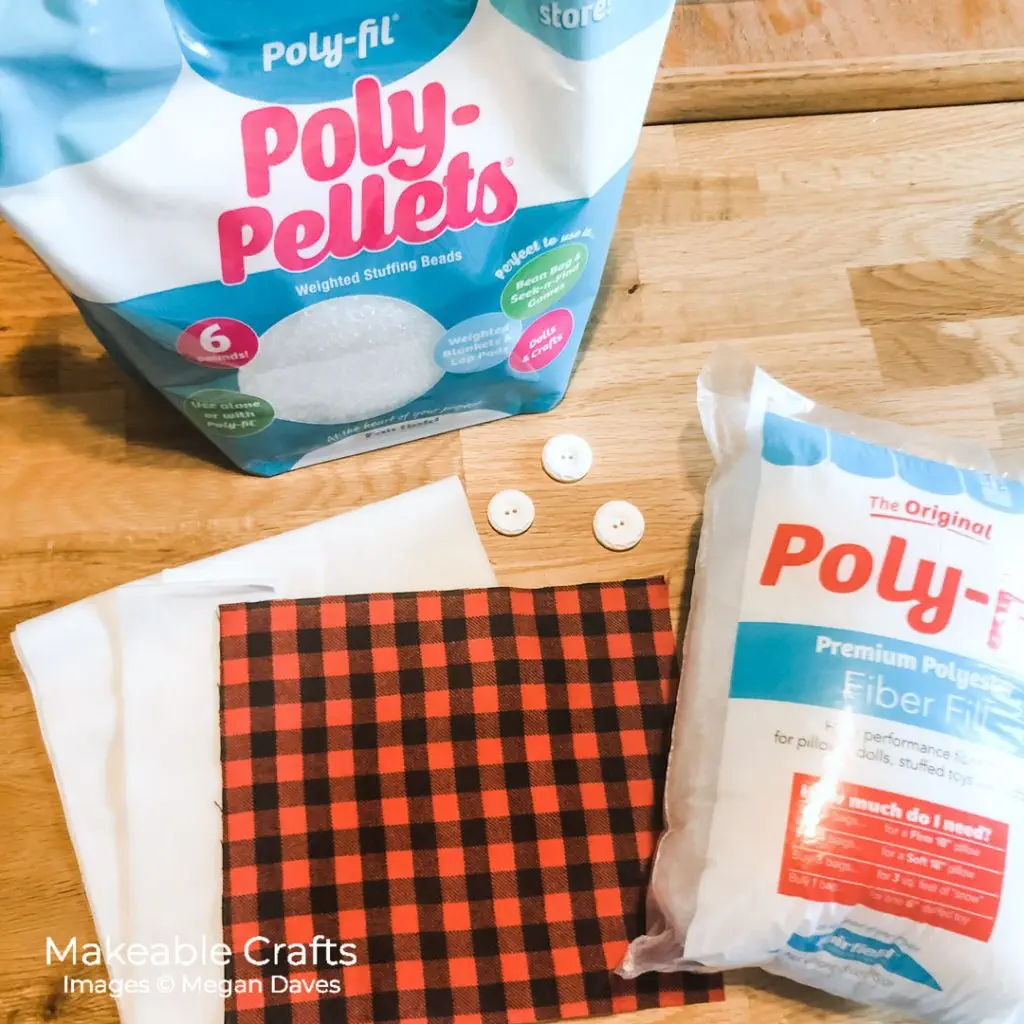 The Making
We are going to make a tube within a tube. The more narrow tube will hold our heavy material and is sewn to the inside of our outer tube. I have step-by-step instructions to help you make your own draft stopper.
The first step is measuring your width of your door. My door is 36″ wide, and I knew I would have about a 1″ seam allowance on each end, leaving me with 38″ of door draft stopper. I started by cutting my white fabric 9″ x 40″.
Then I cut another piece of white fabric 4″ x 40″. This is going to be my long tube for my Poly-Pellets®. This can be another piece of leftover fabric that you have, since it will be sewn to the inside. Since I used white fabric for my outer piece, I decided to stick with white so it wouldn't show through. So depending on the width of the door, you probably need less than a yard of fabric.
After that, I cut a piece of my red and black fabric at 8″ x 9″.
Then you will want to stitch your red and black fabric onto your 9″ x 40″ piece of material. I opted to fold my red and black fabric under and top straight stitch on my edges. You will want to do this before you make the tube part of this project. (Ask me how I know, lol!)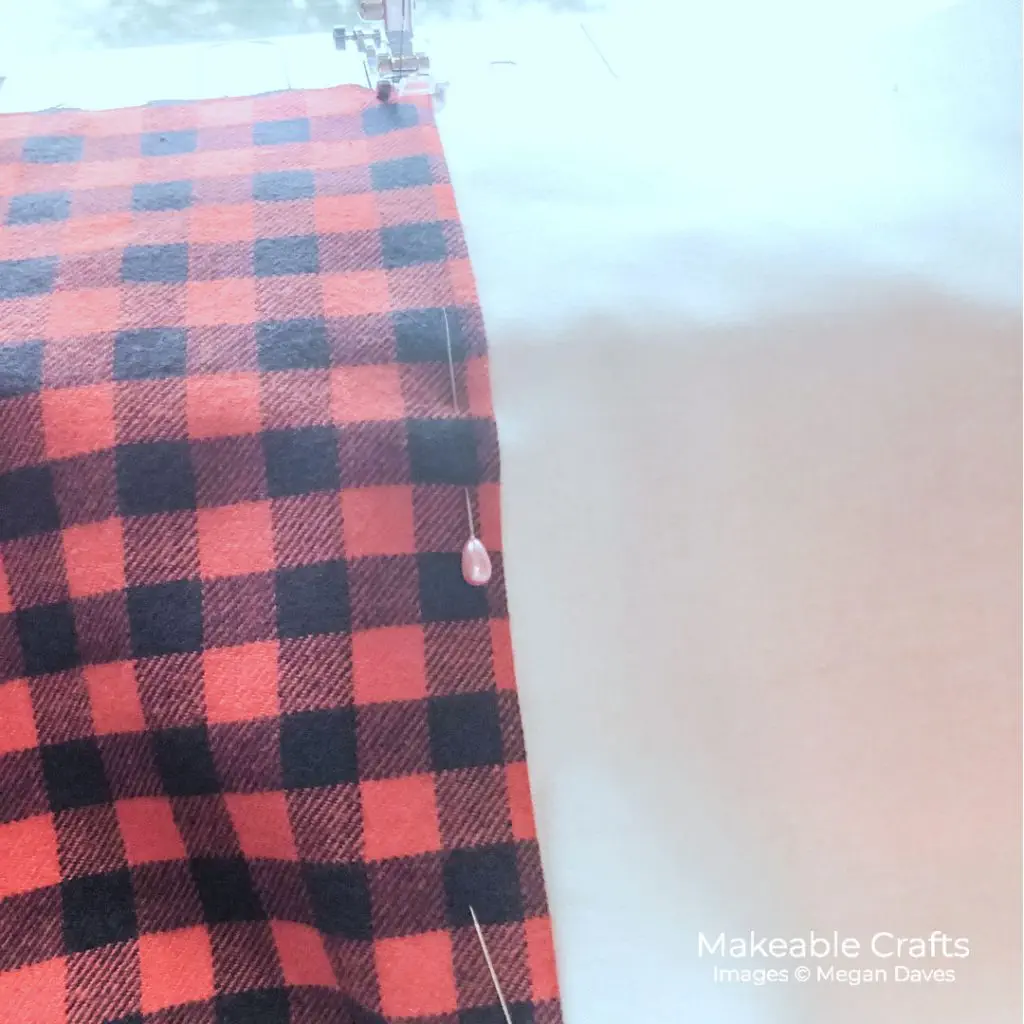 The next step is to fold your large piece of white fabric in half with wrong sides facing in. Fold your inner tube piece in half as well. Line up your seams and stitch the long side of the fabric.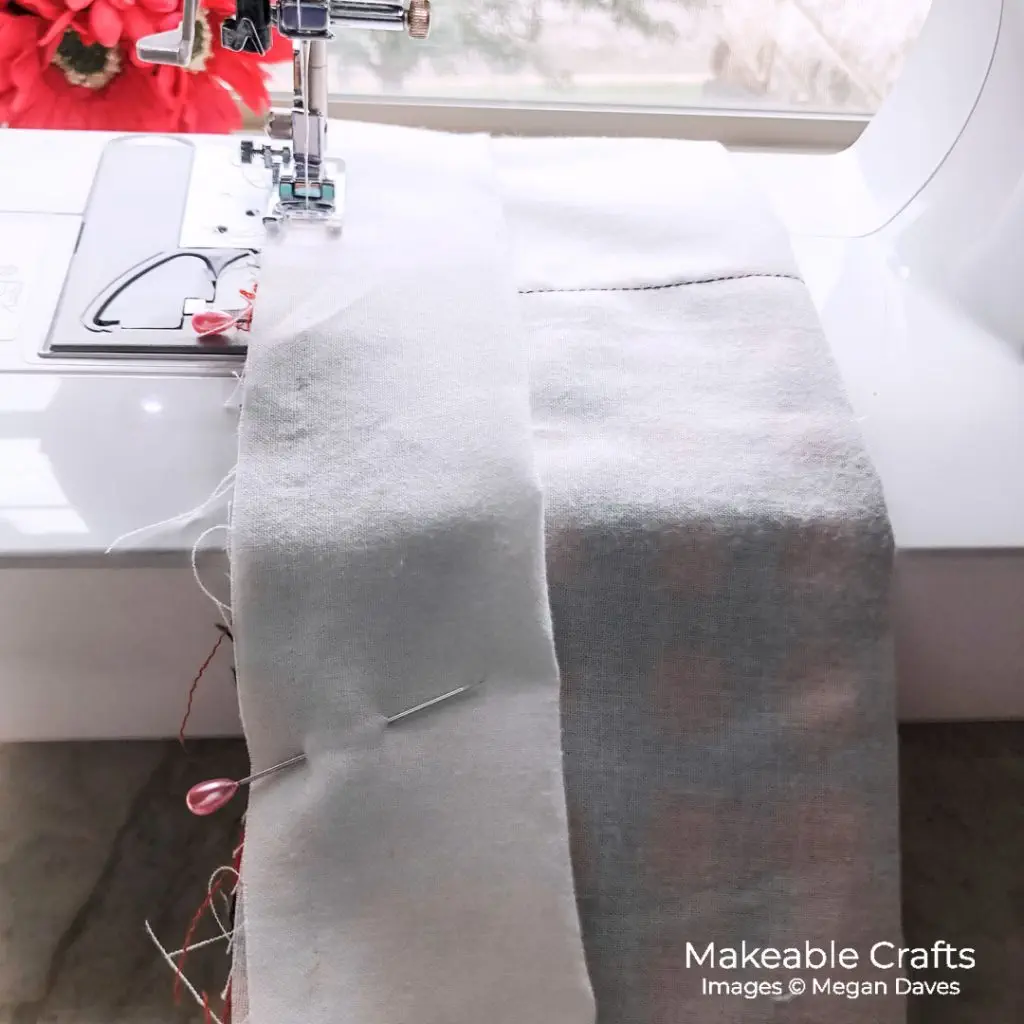 Turn your fabric right side out, giving us our tube shape. With the right sides facing out, it's time to use straight pins on one open end.
With one end double folded, top stitch the short side. You can also use a velcro strip if you prefer.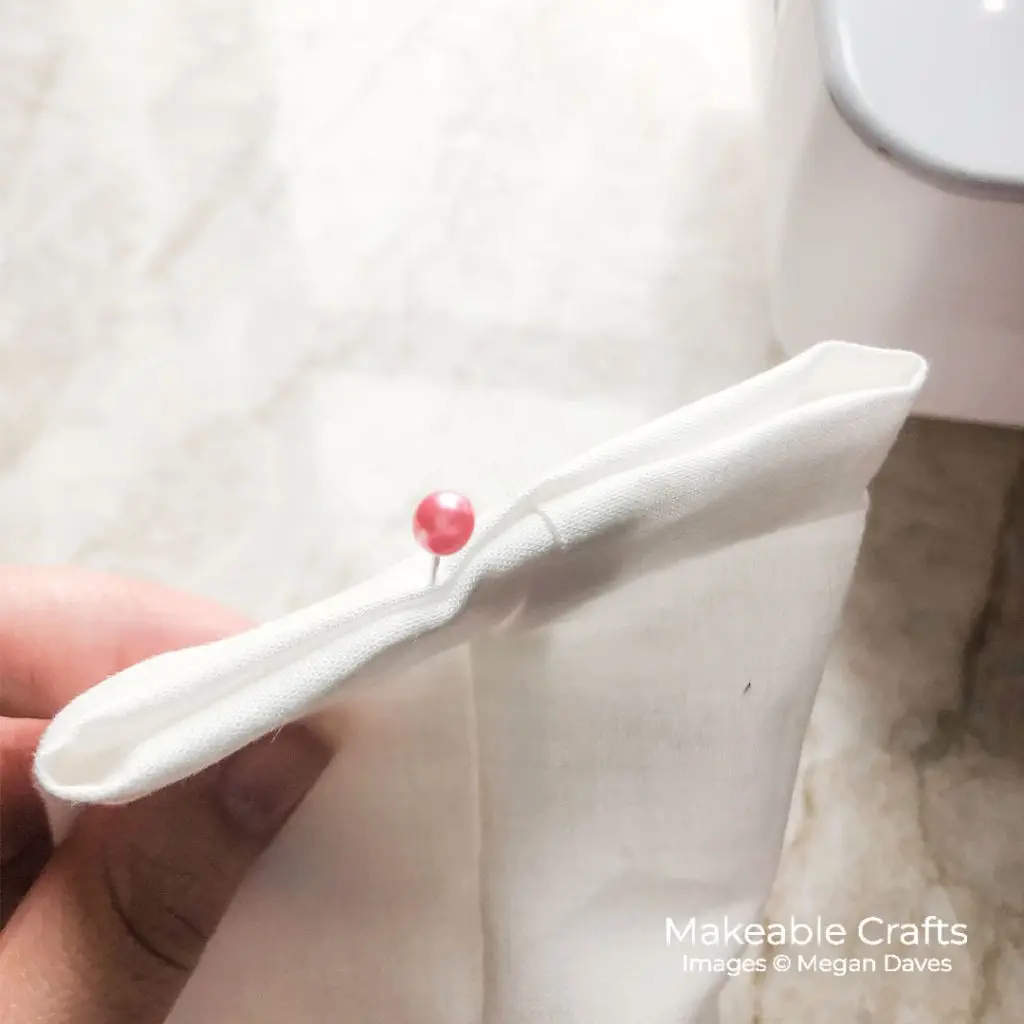 Time to fill 🙂
I used a funnel that I got from the dollar store with my Poly-Pellets® and worked in small sections at a time. I added about 8″ of Poly-Pellets® into my narrow tube and then filled around it with Poly-fil™.
If you have old pillows with stuffing laying around, this is the perfect time to reuse that filler. Use a chop stick to help push the fiber into the nooks and crannies and really stuff down the length of fabric. It takes a little time to do this, but you want it fully stuffed.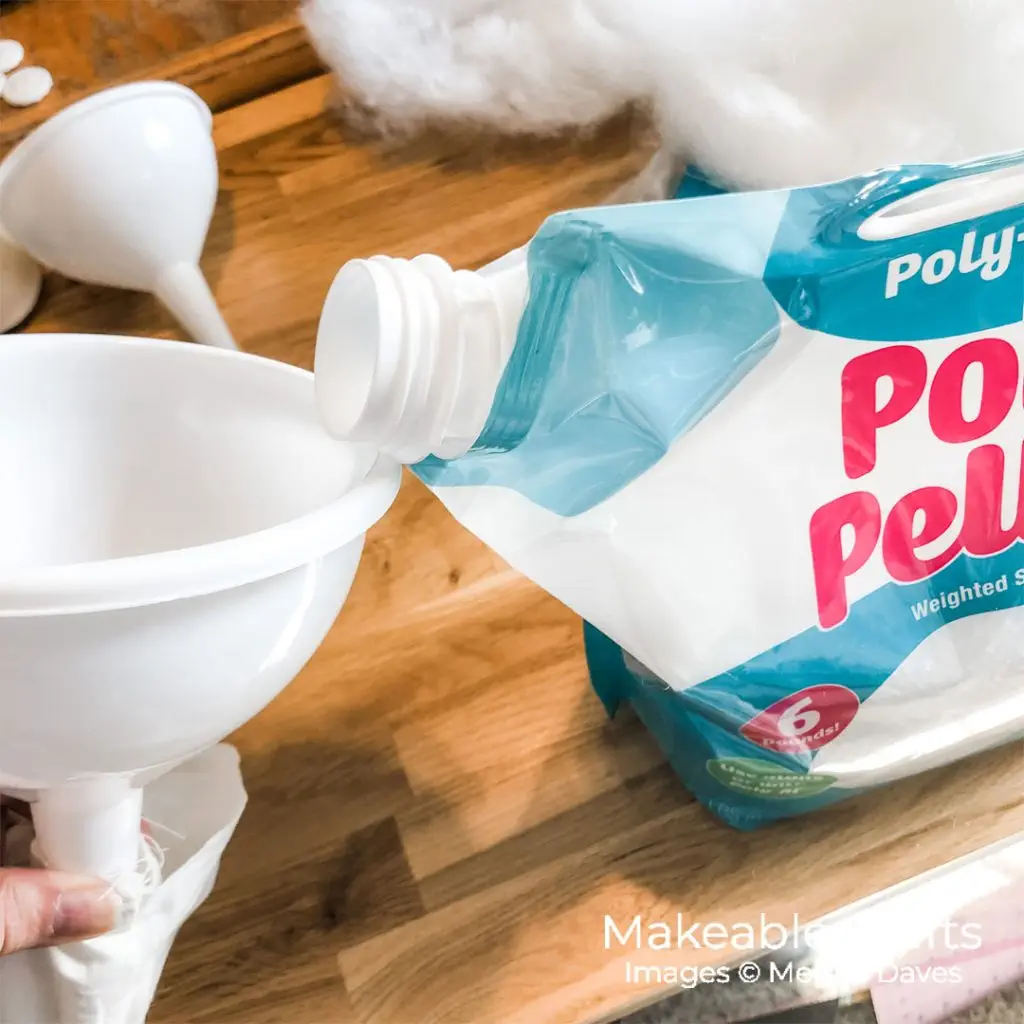 Work your way up the entire length of your tube alternating between filling your narrow tube and filling your wider tube.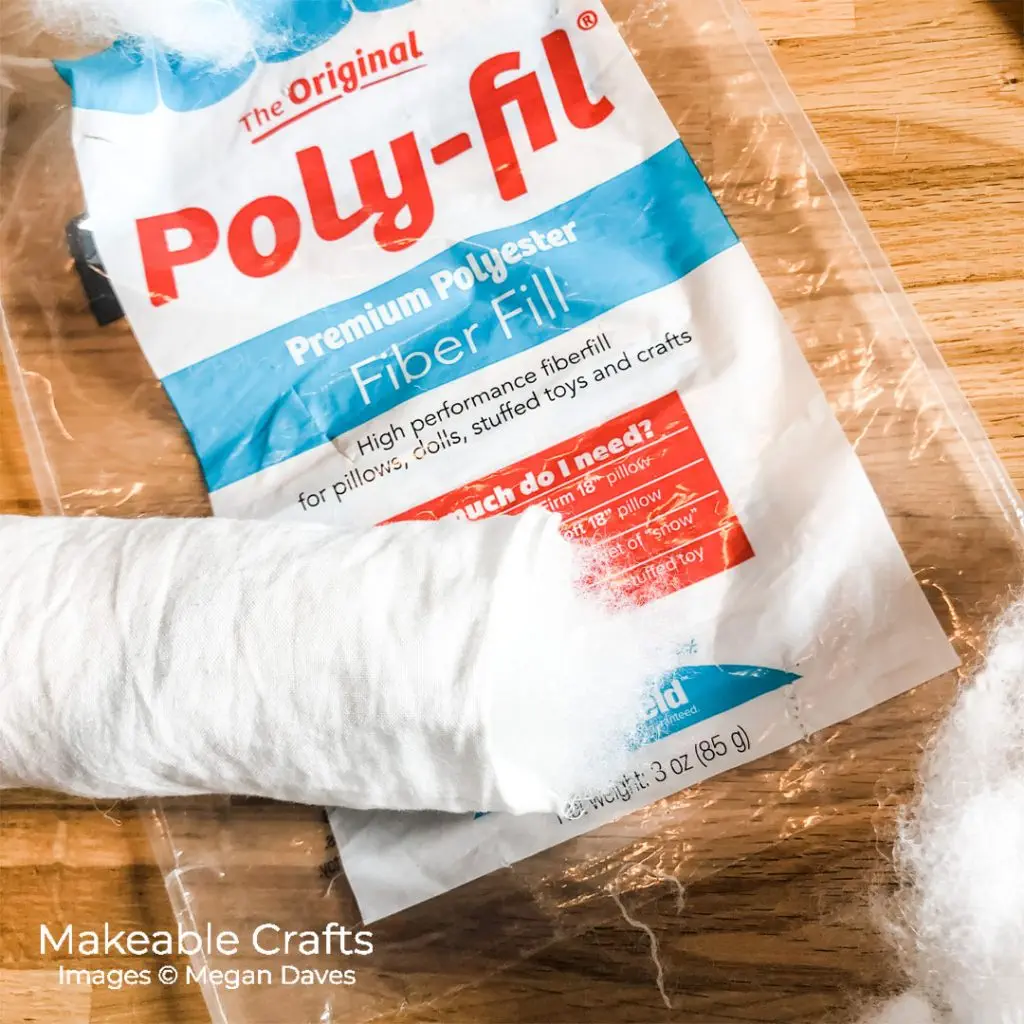 Double fold in your seam at the end and top stitch again.
The buttons aren't necessary but they certainly are adorable! I just grabbed a needle and thread and sewed them on top. You can also hot glue if you want.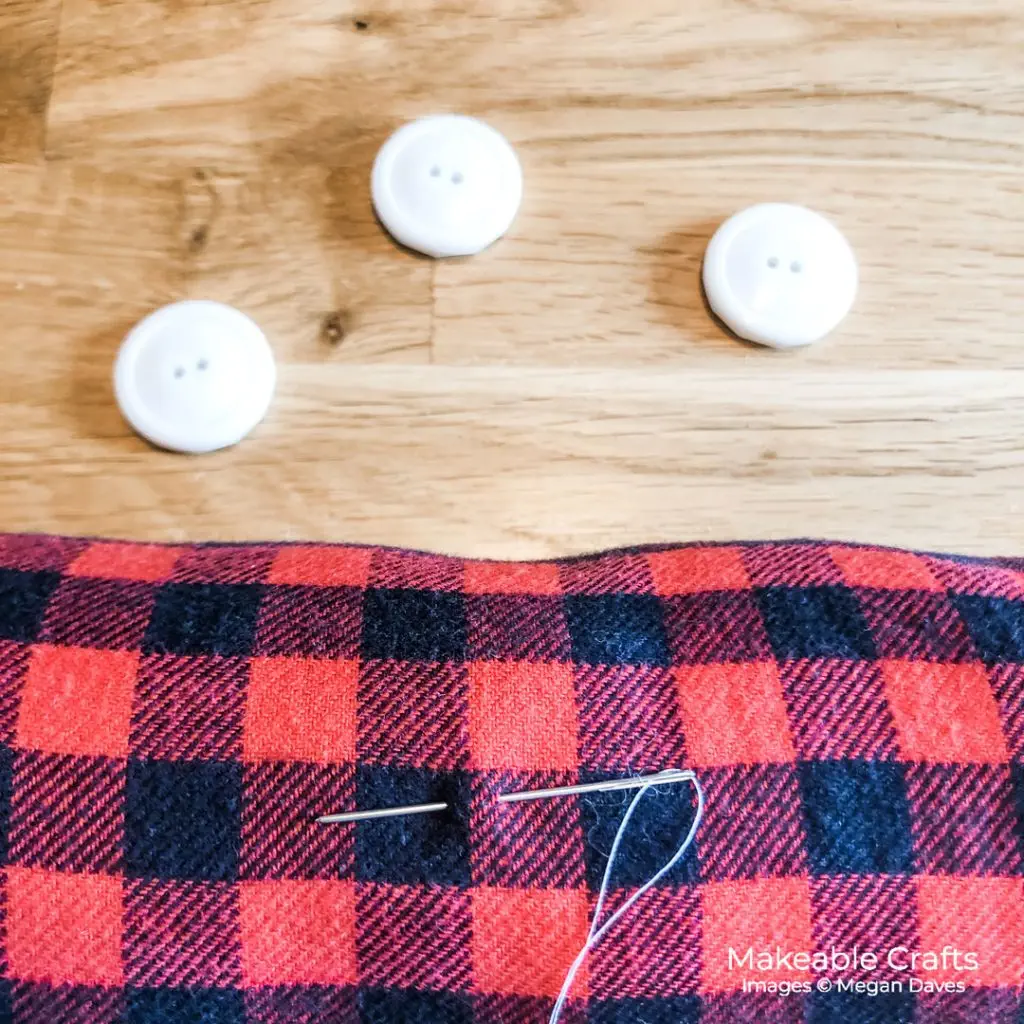 And just like that, your do it yourself door draft stopper project is complete!
Keep in mind, this doesn't have to be used just at the bottom of your door. You can make these for window sills as a window draft stopper to help save on heating bills. Measure the width of your window, add your seam allowance and follow the same steps. Anything you can do to keep the warm air in!
Pin It
Want to easily find this simple project again?  Pin it to your favorite boards.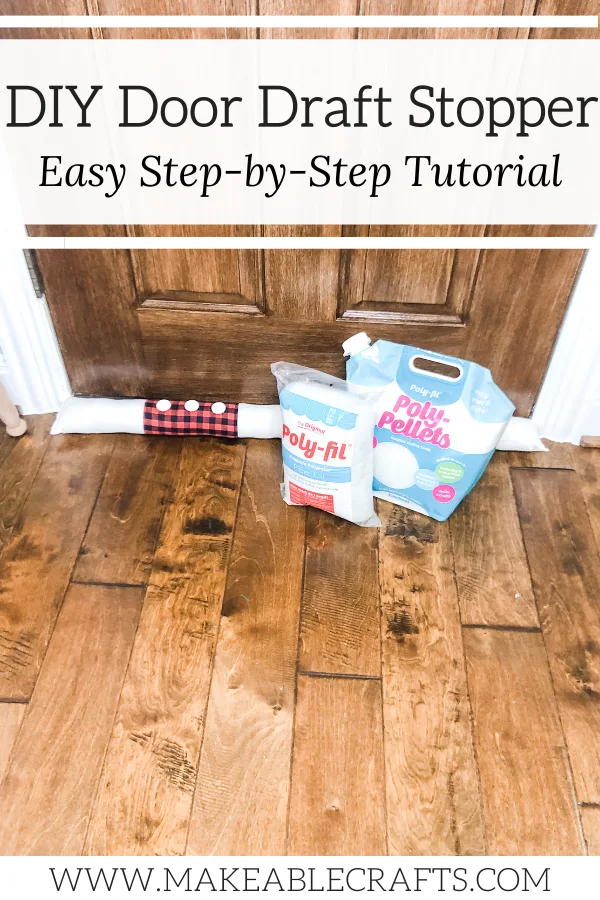 Thank You
Thank you so much for joining me for this fun do it yourself door draft stopper project. This simple way to make a door draft blocker for an older house or newer one. You can warm your home, and add a cute piece of decor, al the same time with this DIY project. The best part it, this can be done in under 2 hours. It's a great evening or weekend project to help keep those pesky drafts out of your home. You can make one for all your exterior doors to keep out that icy draft. I'm always looking for easy ways to make projects and share them with you, so keep checking back for more DIY inspiration! XOXO, Meg