Dining Room Makeover for Under $100
We have finally set aside time for our dining room makeover AND we did it for under $100!
I can't wait to show you what it looked like before, what we did, and where we found the items. I have slowly been collecting items for the last four years, even though I didn't know they would wind up in the dining room.
The Before
We loved the house when we got it, and even though it was only two years old when we got it, the sweet couple that built it had very different tastes than ours. In the years since we have owned it, we have been busy with the yard, with Emily's room, with my office, all kinds of other projects. Here is the before-ish – I had already taken down the very dark brown and green curtains that came with the house.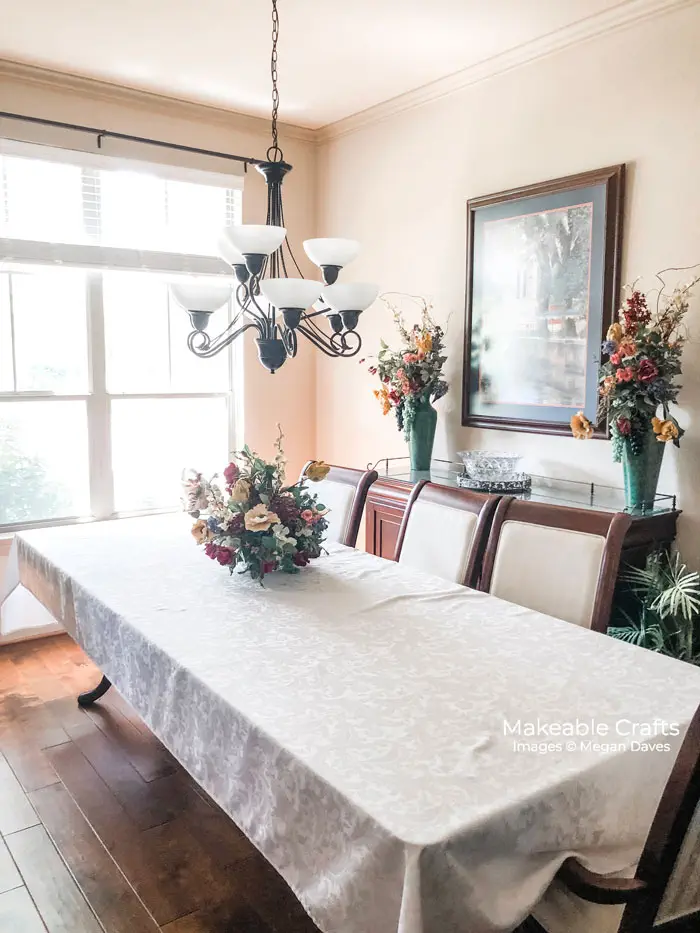 The Paint and Lighting
As I said above, this house was only two years old and the couple that bought it went with a beige trim package. That's what the model home had and they took that option. The walls were beige, the doors were beige, the window panes are beige. And we didn't realize how dark the house really was and how each room was until we started painting the guest room a couple of years ago. We were amazed how much a light beige darkened that room. This house is open concept, so other than the bedrooms, you really have to keep the main color throughout the entire house.
We went with a semi-gloss white paint for all the trim, including the crown molding in this room. Then two coats of Kilz primer and then two coats of Behr Cotton Gray to lighten it up. Many ask us why we use Kilz when you can get paint with primer in it. This is our third home of newer construction where the walls were done in builder's grade paint. Even with primer in the paint, that drywall sucks up the paint like a two year old with a juice box. It's just crazy. To get great coverage, we would have to do four coats of paint. Kilz is a fraction of the price – do a couple of coats in that and then the good stuff and the results are spectacular. We hardly ever have to do touch ups.
Matt and I found this amazing chandelier years ago on clearance at a lighting store. If you want stunning lighting at a cheap(er) price, my advice is to go to a lighting store. They often have discontinued models or displays, as this one is, that they will sell at a fraction of the retail price. We hung it in our first home where the dining room had 14 foot ceilings. Then when we listed that house we went and bought one to put up instead so we could take this one with us. The second house had 8 foot ceilings, so we cut off a bunch of the cording and hung it again. When we listed that house, we did the same thing. This dining room has 10 foot ceilings so we had to have it lengthened.
I kid you not, what I am about to share is just unreal but true. We didn't hang it right away when we moved in here because we don't mess with electrical stuff. So it was in a box in our garage. The plan was to have it immediately rewired before anything could happen to it. <– notice the foreshadowing there? Matt was up in the garage attic, his foot slipped and he fell through the attic opening backwards. Our garage has 12 foot tall ceilings and he was standing when he fell. He landed on the chandelier box BAM. We heard it on the other side of the house. That chandelier saved him. There is no telling what would have happened if he would have landed on that concrete floor. We will keep this chandelier forever!!!
If you are wondering if it was damaged, yes it was. It was damaged quite a bit. So it sat in it's box until we were ready to do the dining room as we expected the repairs to be expensive. We had tried JB Weld to get the pieces stuck back together, we tried Gorilla Glue, soldering, everything. Nothing would hold. We found a local welding company that does huge machinery welding and believe it or not, they offered to do it for $20 because of the story! Took them 20 minutes and it was hung that night.
Lighting can make all the difference. When you find the right piece for the right price, grab it and never let go, it just might save your life one day!
Here is the room after it's been painted and lighting hung. See how bright and open it feels? Paint is magical! And we are just getting started on this dining room makeover, read on my friends, read on.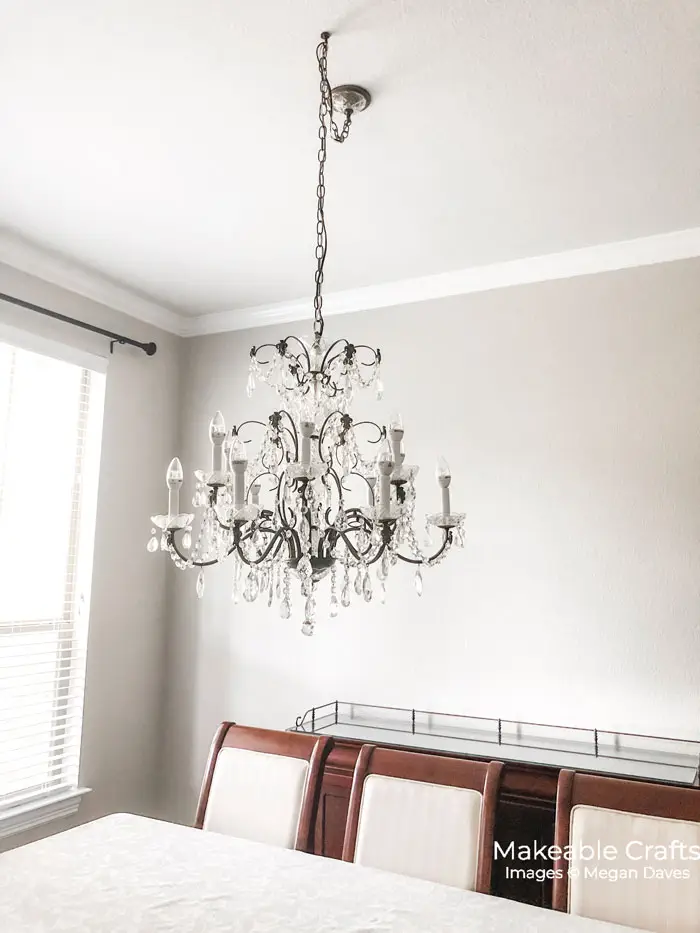 My Favorite Finds
Here is my first grouping of goodies: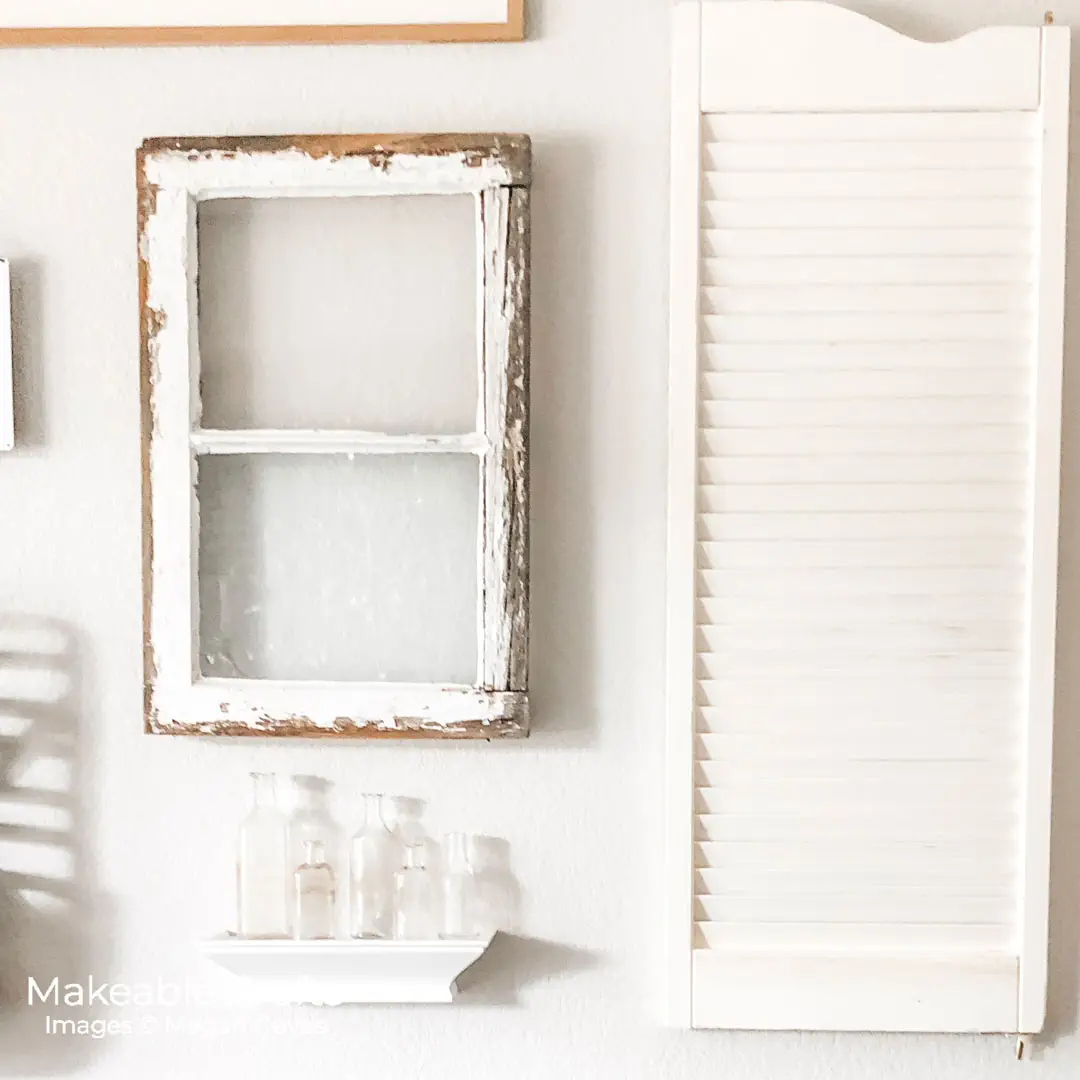 I found this set of saloon doors at the Habitat ReStore right after we moved in here. I had no idea why I needed them, but knew at some point they would be hanging up in our home. The set was $5. If you are wanting to decorate your home with "found items" as I call them, be sure to search and see if you have a Habitat ReStore. There are all kinds of treasures you can find there. We have one right next to our neighborhood, which is slightly dangerous – I pop in there frequently to see what treasures have to go home with me. These doors are extremely light weight and easy to hang. We hung them using French cleats (check out this post to learn about those.)
The next found item was this window. The shape of it was just right for this room and it was a $5 at an antique/junk store about 50 miles away. There are antique stores that are truly antiques, stunning items with matching price tags. But then you can also find "antunk" stores as I call them. Vendors have booths of just all kinds of stuff. From stuffed and mounted pheasants to actual outhouses (I wanted the door off the outhouse but couldn't bring myself to do it!). These are some of my favorite stores as you can spend hours in there and find all kinds of treasures both big and small.
The white shelf I bought at the same antunk store, scored that for $2.
The antique medicine bottles only recently came into the picture. You can find these everywhere, but they normally come with a hefty price tag like $10 a bottle – that's just nutter butter crazy in my opinion! Look in your area for any non-profit art supply stores. They aren't on every corner, but when you find them, you can get some amazing deals. These came from the Austin Creative Reuse for $.75 each. I bought 10, but just put out 5, I will use the others somewhere 🙂
Here is the second set of goodies: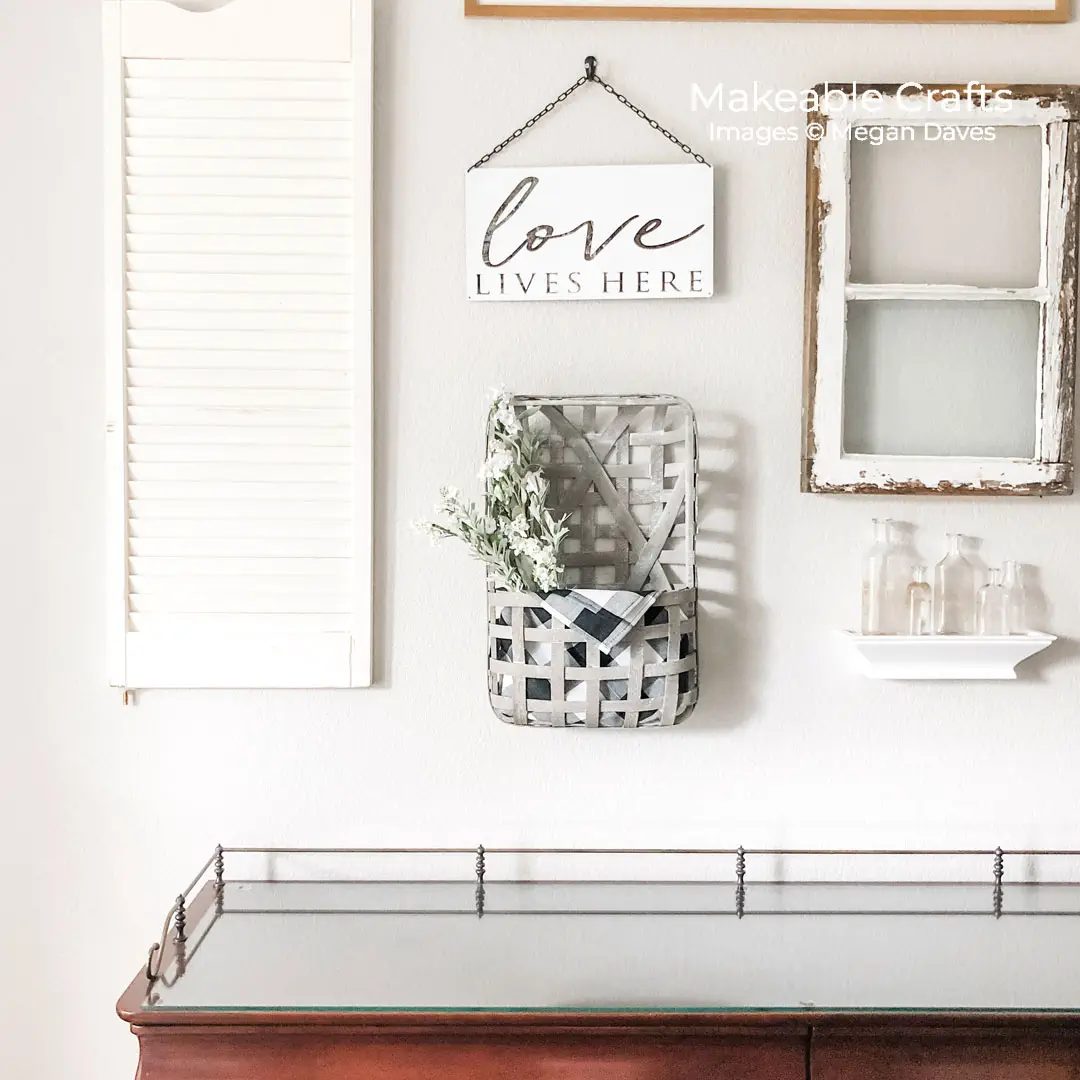 The adorable Love Lives Here sign was a $2.24 clearance sign from Hobby Lobby – gotta love their clearance section! I had to remove a few links in the chain and hang a hook, but that's it. It was scratched and a little beat up, but then again, aren't we all?
The basket is from a local gift store in a nearby town called Cherry Tree Creative. I scored this beauty the week before Easter, again not knowing where it would go just that it needed to go home with me. It was such a fun day shopping there that day as they handed out a plastic Easter egg to everyone when you came in and it had a coupon amount in it. 30% off made this $21 and the most expensive item in the whole room! I added a buffalo check napkin, again from Hobby Lobby, and some fake flowers from the clearance rack at Michaels and boom, this piece was done! Perfect for a dining room makeover!
Saved The Best For Last
You know those times you are out shopping and you find something like you have never seen before? And it's love at first sight? This was the only piece in the room (other than plain white curtains) that I deliberately went out looking for to complete the room. I knew I wanted a sign. A long sign. And a sign I could leave up year-round. That's it. That's all I knew.
I went to Kirklands, I went to Hobby Lobby, I went to At Home, and several boutiques. I was about to give up and make one myself – but remember I still had no idea what I wanted, so that makes it a bit hard to make. And then as I was bebopping out of Michaels after quickly dashing in to pick up a bottle of fabric glue, there it was. Exactly what I had no idea I was looking for….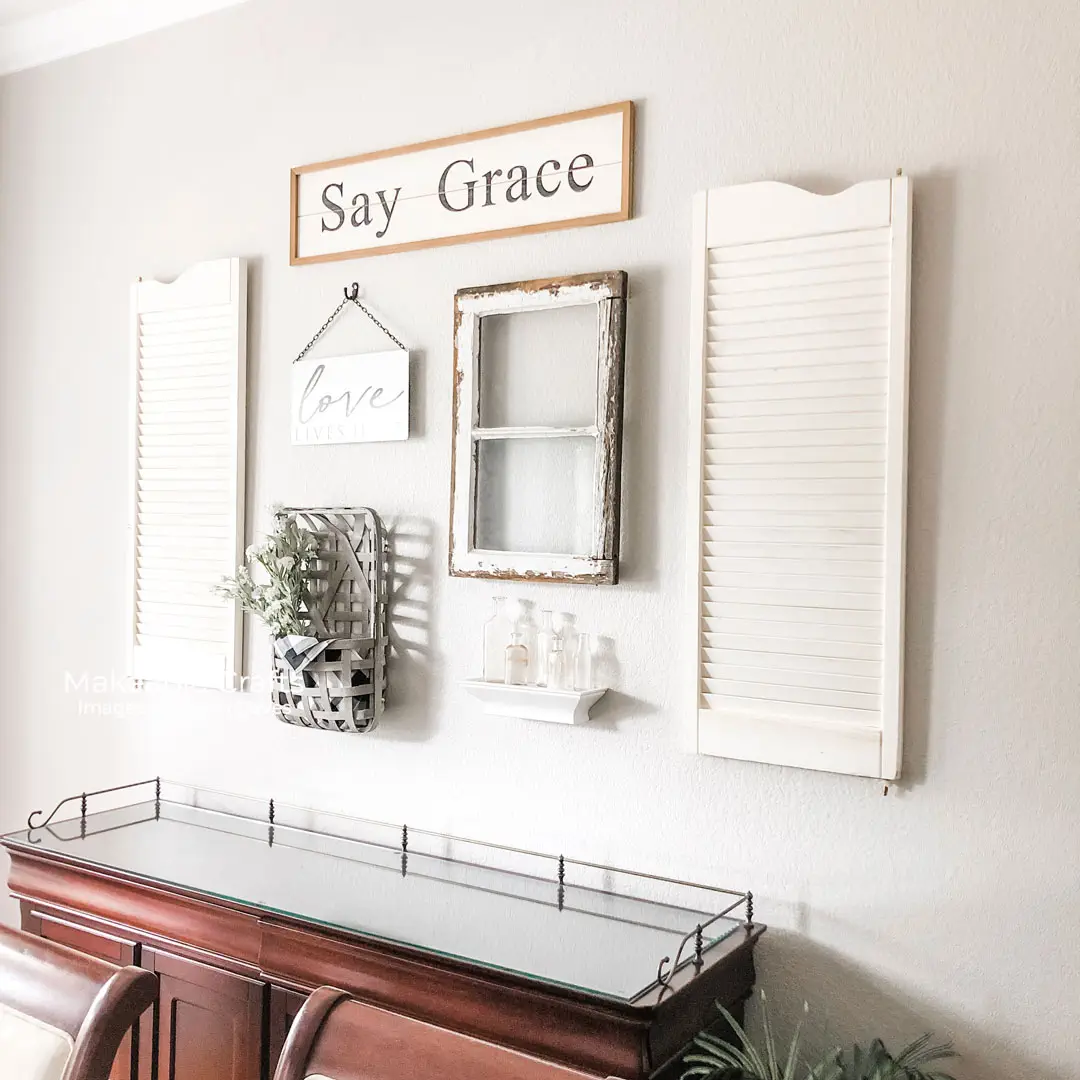 What other sign would be perfect for a dining room than "Say Grace"? It's perfect! And if you have been catching a theme to this post, yes – I got it on clearance!!!
With paint, curtains, and all the things, I came in under $100 for this room makeover. The moral of the story… don't be in a hurry to makeover a room, especially if you are on a budget! Find the pieces that scream your name, and all but jump into your cart, and grab ahold of them fast. If they are right for you, you will find a way to use them in your home. Matt thought I was nuts when I bought the saloon doors four years ago to put "somewhere". But they are the perfect addition to this room.
Here is the before: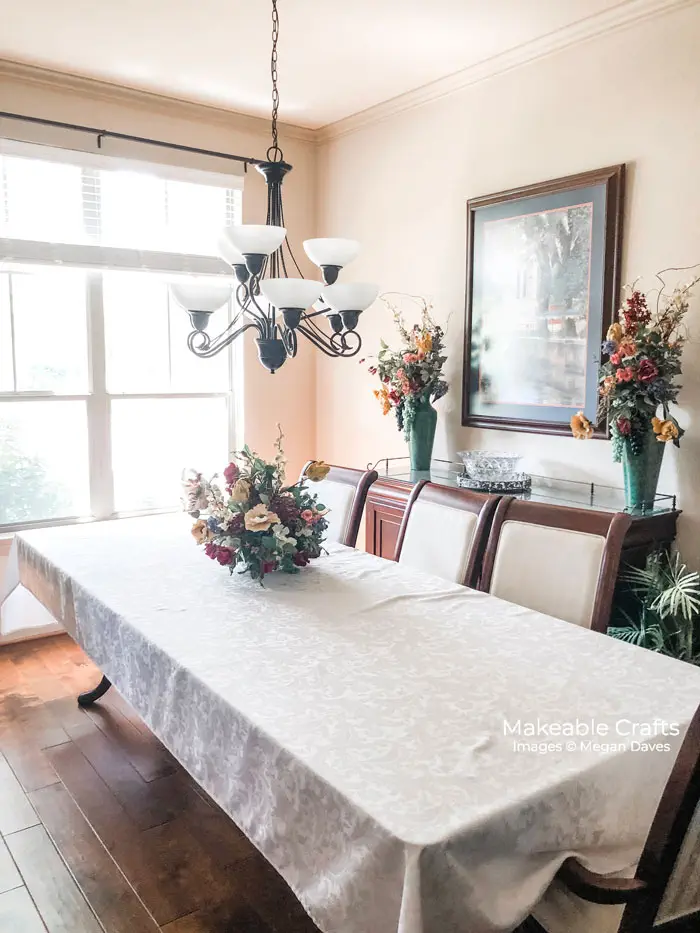 And here is the after: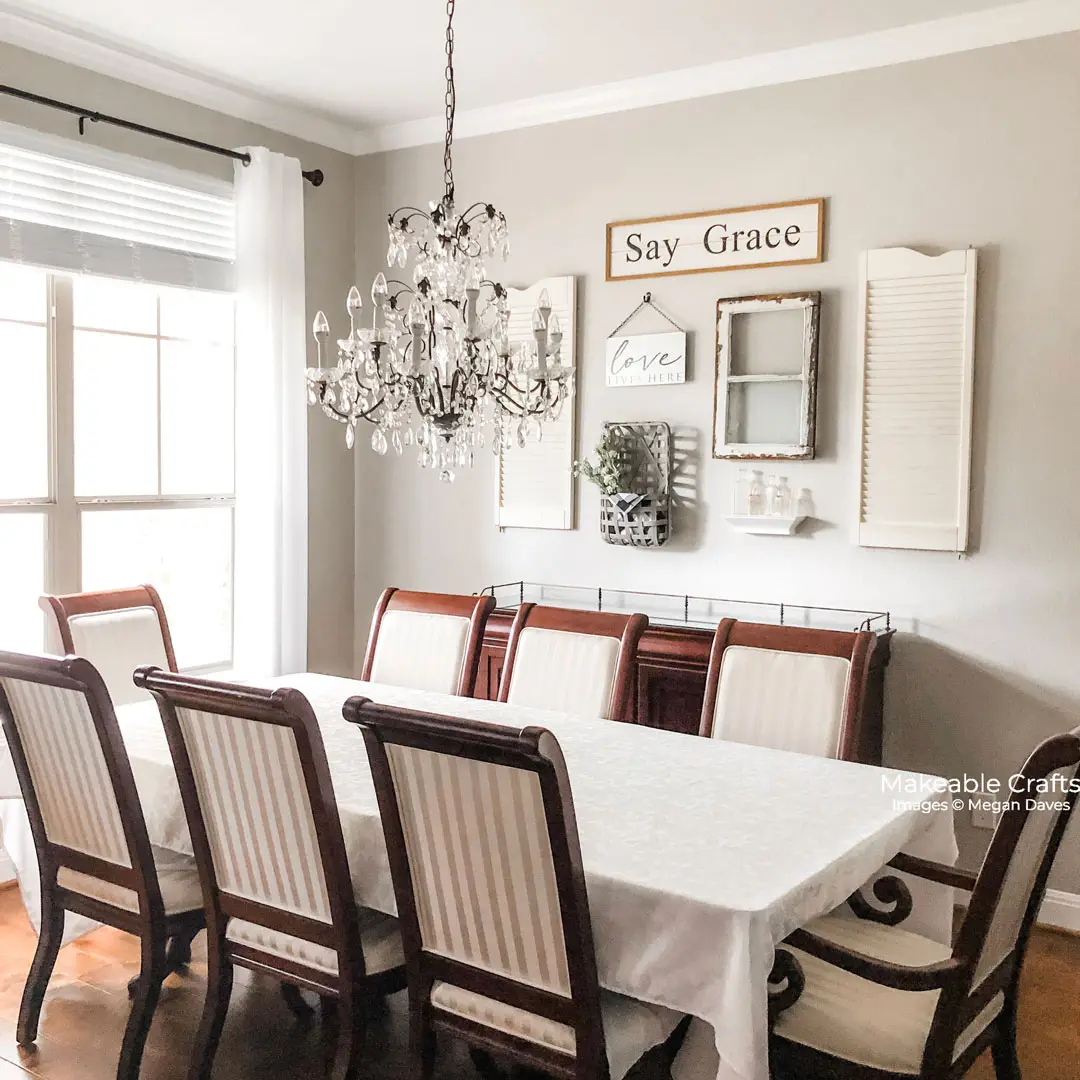 Quite a transformation, right? And since we didn't do any major work in the room, when it was time to do it, we were done in two days. The painting took the longest by far.
Pin It
Like this makeover and want to find it again? Pin this photo so you can easily find it again.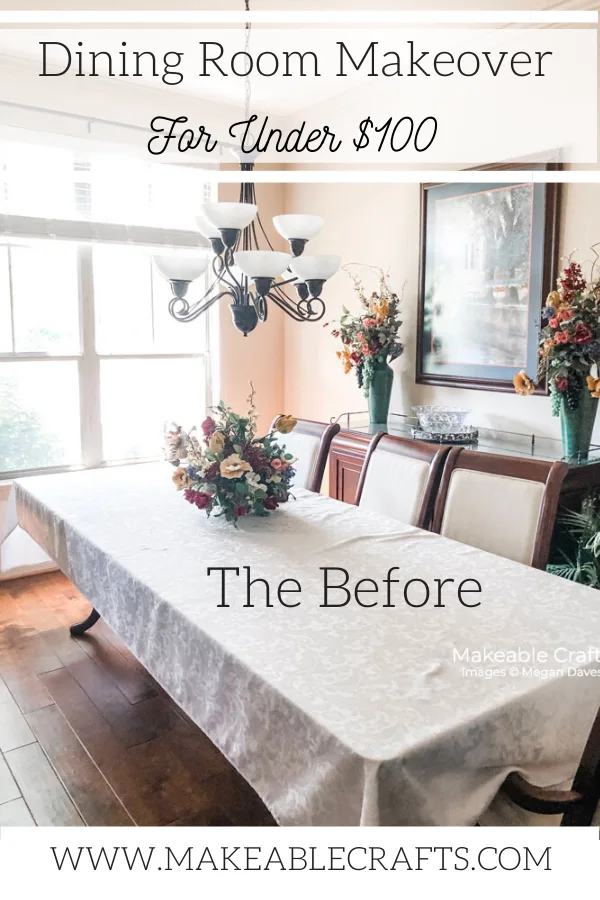 Thank You
What you aren't seeing in this share is the china cabinet wall, and that will come soon in another post that I can't wait to share with you. So keep checking back! Thanks for stopping by and reading all the way to the bottom of this dining room makeover, you are awesome! XOXO, Meg