Vacation Tip: Custom Water Bottles
Recently we went on an amazing family trip, and everywhere we went, someone asked me about our custom water bottles. From the Austin airport to the waterways in Venice, Italy, it was, "Where did you find your water bottles." It's one of those that I don't think about, we make these for each new trip.
As many people asked us about them, I thought you might want to see how to make these for yourself.
Why Make Custom Water Bottles
We buy inexpensive, reusable water bottles for our trips. There are several reasons we do this.
First, as you travel, a simple a bottle of water can cost you an arm and a leg, especially at the airport. But you easily get dehydrated while traveling, so H2O is so important. Several years ago we spent over $28 for the three of us at the two airports we hit in one day. That's just cray-cray. And now at most airports they have the nice hydration stations once you get through security. Many visitor attractions don't allow outside food or drinks, but will let you bring in an empty water bottle. The one place that wouldn't let us take them into the theme park did allow us to leave them at the visitors center for us to pick up on our way out. A quick trip to the water fountain and you are set.
Second, they are cheap in case they get lost. Always expect to lose items when traveling! If these got lost, we were out $5 each. So Emily wouldn't lose her favorite mermaid painted water bottle that she loves to take to school.
Third, they are just fun. Sometimes we get identical bottles if that is what I find on sale, which makes labeling them really important. This year it wasn't as important as I found three different water bottles, but I am a crafter – so crafting I will do. However, when you are labeling, we don't go with our names, especially for Emily. It's a safety thing. It's why we never put her name on her backpack or lunch box. We also don't put our first names on them either as it opens you up to more scams. For us, we stick with Mom, Dad, and Kid. When Emily was younger, we used Mommy, Daddy, and Kiddo 🙂
Now that we have covered the the why, let's cover what you need.
The Supplies
Water bottles
Vinyl
*my personal links to Amazon
The Making
I bought our water bottles at Walmart this year. They were $5 each, well insulated, and held a lot of water. Some insulated bottles don't hold much, so be sure to keep that in mind when you get yours. We washed the bottles before adding the vinyl.
Also be sure to check and make sure that your water bottles fit into your travel bag well. We each wear a backpack when traveling, so making sure they fit in the side drink holders before removing your tags and personalizing them is the way to go. (Made that mistake one year!)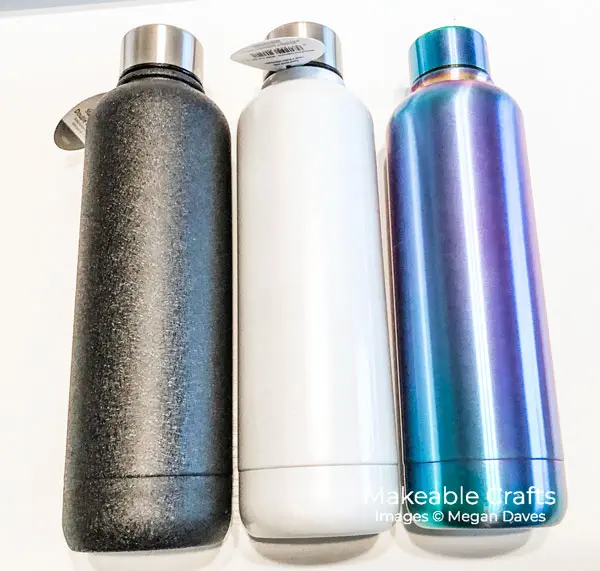 Then it's onto the vinyl lettering. Since my water bottle is white, I couldn't use white lettering on mine, so I used bright blue for mine and white for Matt's and Emily's. It was a perfect time to use up vinyl scraps 🙂
I let Emily choose the fonts we used and then quickly typed up 9 letters and cut them out using my Silhouette Cameo 3. With the Silhouette Cameo 3 it comes with the Silhouette Studio software to put on your computer. To create my design took all of three minutes, including turning on my computer.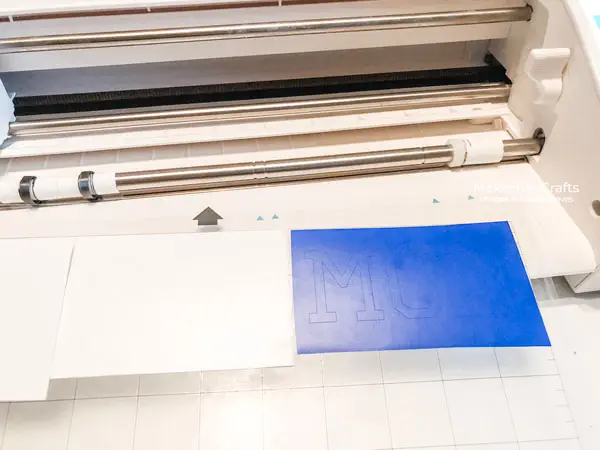 After your vinyl has been cut, then it's time to weed your vinyl. This means removing the excess vinyl you don't need.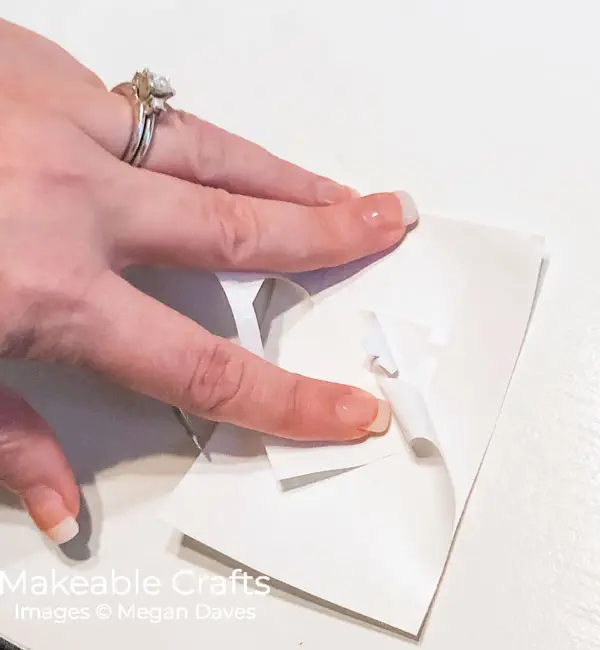 Then you want to use your transfer paper to stick the top of your vinyl letters to your transfer so you can remove the backing from your vinyl.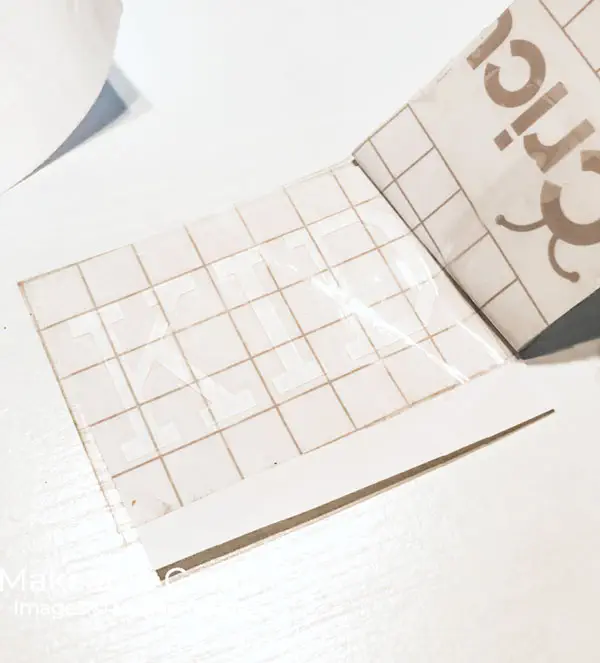 Once this is one it's time to add your vinyl letters to your water bottles and then remove your transfer paper.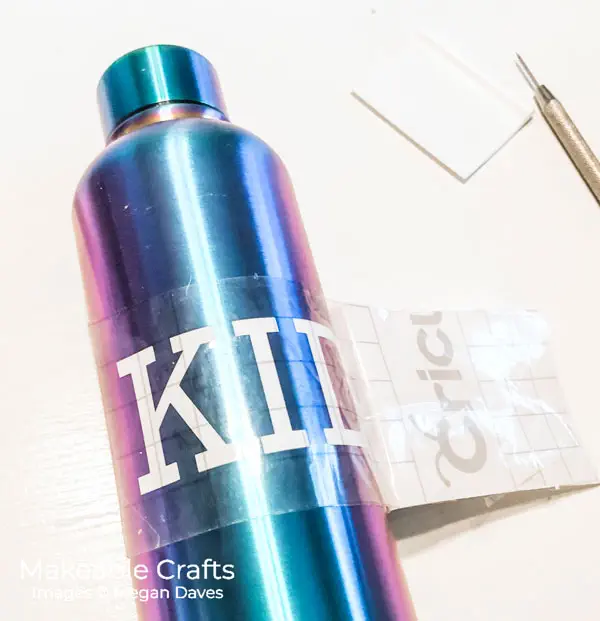 And in under 10 minutes, from start to finish, this project is complete!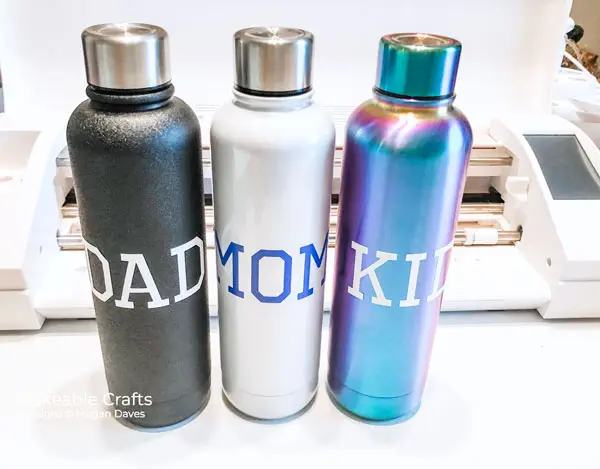 Seriously, we were asked in Venice, in Rome, in Greece, in Austin, everywhere – where we found these cute custom water bottles. They said when they look for them, they only find them with first names or "world's best mom", never Mom, Dad, & Kid. And this trip was no different from all the other trips we have done this on.
With as much as you can save on buying water on vacation, you can probably pay for your Silhouette Cameo 3 if you don't already have one 🙂
Pin It
Many of my Pinterest loving friends have a board just for travel tips. Pin this image below to help you remember this vacation tip.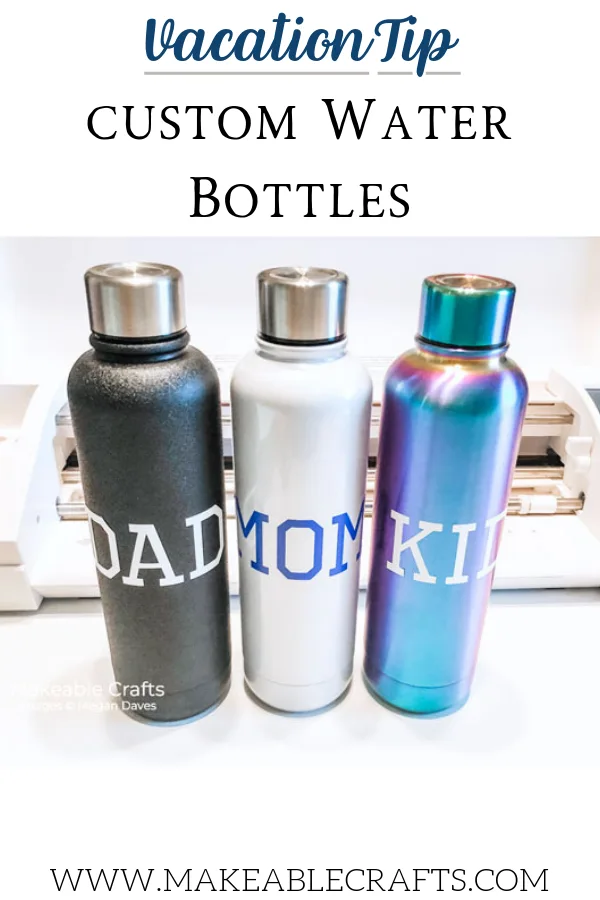 See You Soon
Be sure to keep checking back to the Makeable Crafts blog for all kinds of crafts and home decor projects. Thanks for stopping by! XOXO, Meg