Easy DIY Christmas Canvas Wall Art
Today I want to show you how I used a component of a previous project to make this super cute Christmas canvas wall art.
Not too long ago I share this project which a lot of you said you LOVED (thank you!) In the post, I shared how I attached the pumpkin with Velcro dots and with today's post you will learn why. (I have moments of mad genius!)
This project – the parts that I added to the base canvas – cost just $7. And you have plenty of paint leftover for future projects!
If you haven't checked out how I made the base canvas, go ahead and take a look….I'll wait.
Easy, right? So let's get on to today's super cute Christmas canvas wall art project that you can use anywhere in the house!
Supplies
Here is a list of supplies used to make this project.
Fabric
DecoArt Festive Green Acrylic Paint
DecoArt Yellow Light Acrylic Paint
Paintbrushes
Wood Tree Cut Out (I got mine at the Dollar Tree)
Wood Star (came from a craft store)
Red and White Buttons
White and Natural Baker's Twine
Ribbon/Fiber Scraps
This post contains affiliate links.
The Making
Start by painting your tree in DecoArt Festive Green paint and the star in DecoArt Yellow Light paint. I did three coats to get great coverage and no streaking.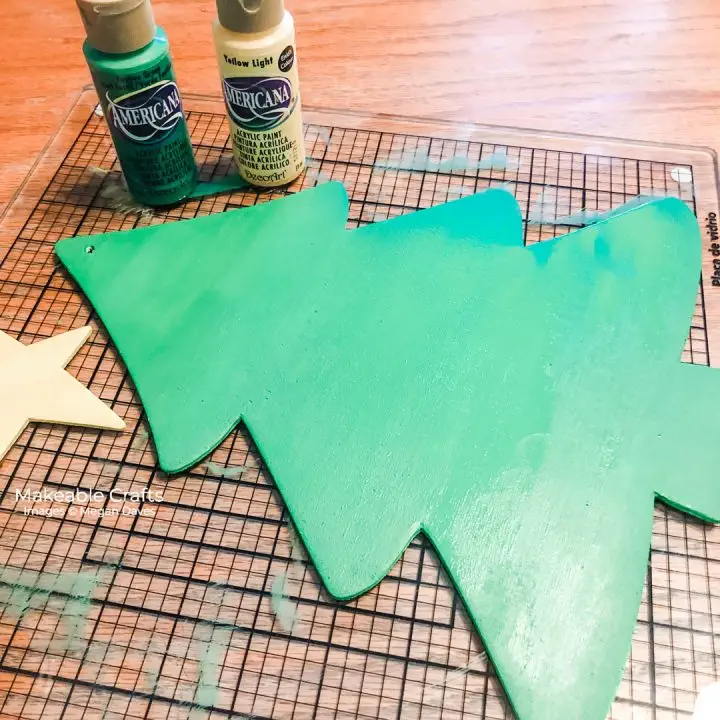 While that is drying, start threading your baker's twine through your red and white buttons. Rather than tie them off on the back, use your favorite adhesive to tack down the tails. This will help your buttons lie flat on your tree.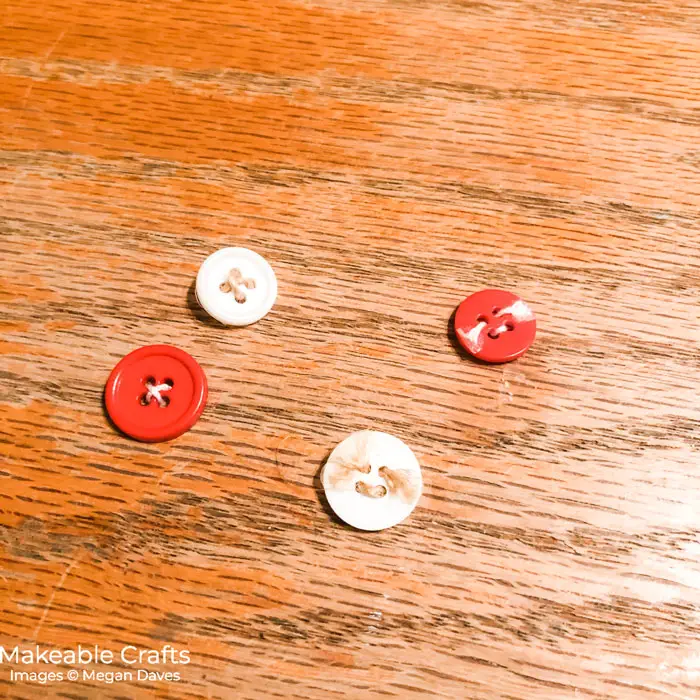 Hot glue your star and your buttons onto your tree.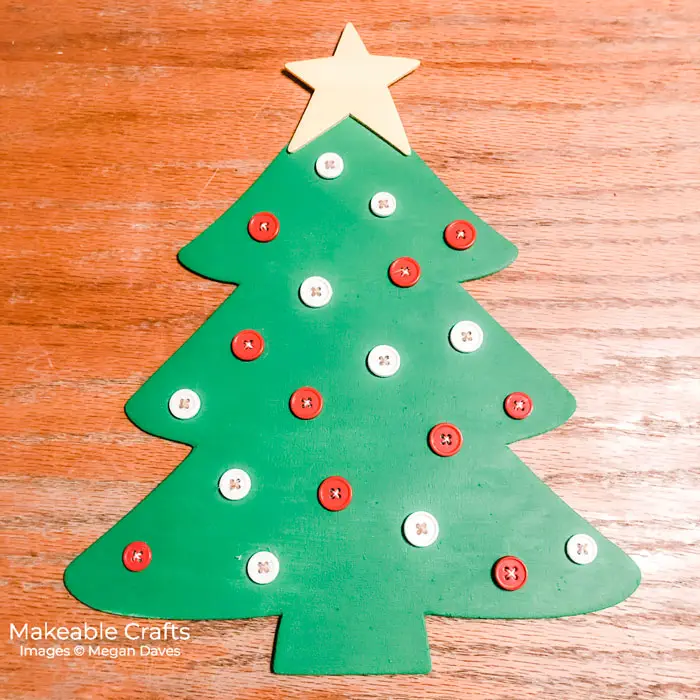 Grab your scraps of ribbon; all of my strips are about 5″ across. Throw in whatever scraps of ribbon you want. Try wide, narrow, different colors, different finishes, raffia, everything and anything. You will be surprised sometimes at how good stuff you thought was "trash" can look when grouped with other "stuff". Criss cross them on top of each other and use a clothespin to hold them together.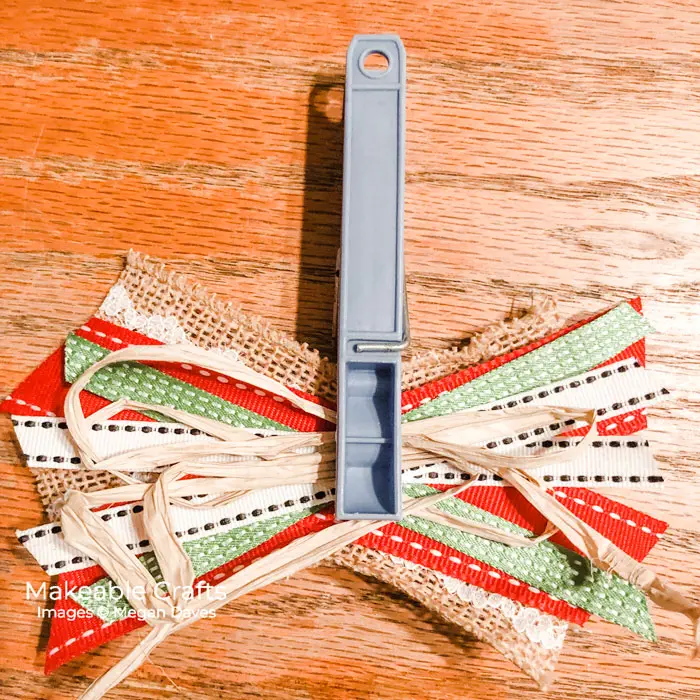 Take another ribbon scrap and tie around the middle of your scrap pile and tie in a double knot. Then hot glue your bow onto your tree.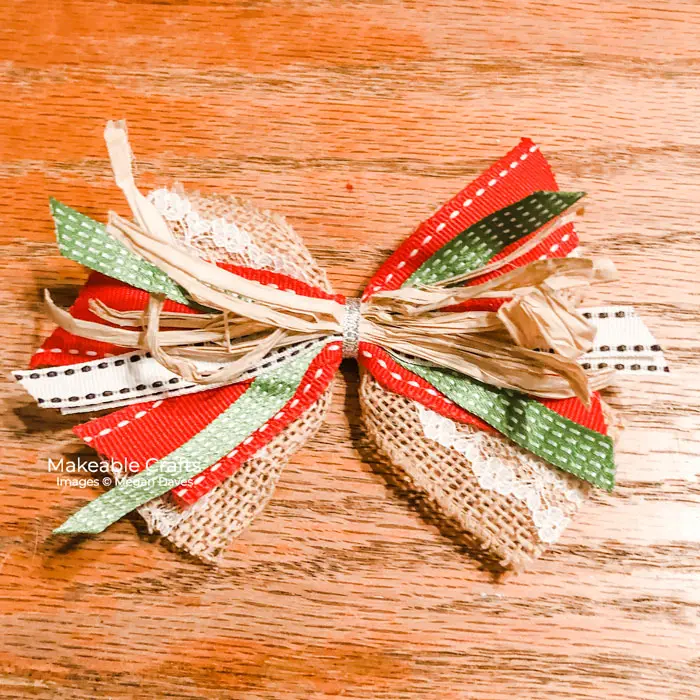 Your tree is now ready for your canvas!
Here's how to attach your elements to your canvas without having to use a zillion pairs of Velcro dots. This part is hard to photograph, so I will do my best to explain.
Each decor piece is held on with Velcro dots. One side of the Velcro will be on your decor piece, the other part on your canvas. The part on your canvas will stay on your canvas. To make sure that you line everything up just peachy-like, gently place the two Velcro dots* you want to attach to your element on top of their counterparts on the canvas and remove the backing. Now line up your element on your canvas and press down. The sticky counterparts will now be attached to your element and you will be able to remove and store this after the season and replace with what's next!
(*Just be sure to choose the OPPOSITE form of the Velcro – the "hooks" or the "fuzz" – from what is on the canvas!)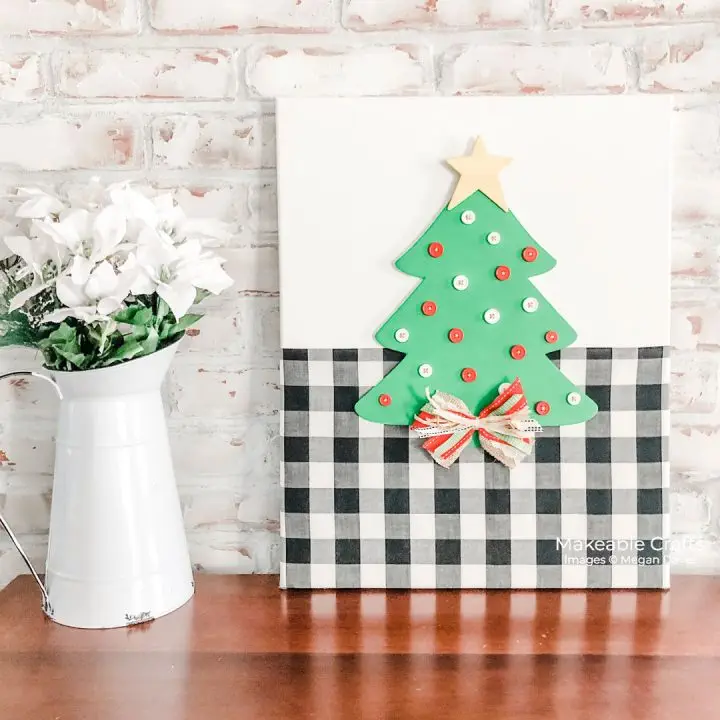 I love this Christmas canvas wall art! I love that it's interchangeable and costs next to nothing to make. Home decor that is versatile for different holidays is my favorite as I don't have a lot of space to store decorations. Pro tip: Make a second set of everything for a year and you have an AMAZING Makeable Crafts giftable for someone!
Pin It
Want to pin this to your favorite Pinterest boards? Here is a graphic just for you!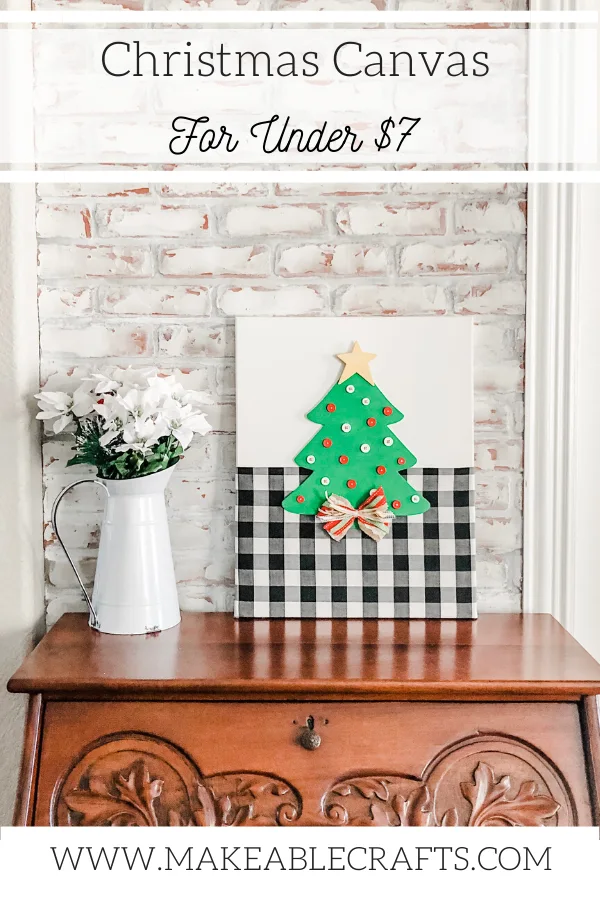 Thank You
Thank you so much for stopping by! Do me a favor while you are here, leave me a comment and let me know which other holidays/seasons you would like to see using this Christmas canvas wall art idea. Keep checking back for new projects! XOXO, Meg