Candy Cane Door Decorations Made Easy!
If you've been in any of the stores lately you know that candy cane door decorations are everywhere and while some of them are SUPER cute some of them are SUPER SPENDY! Personally I don't enjoy something that costs a fortune as much as I LOVE making something myself and having it be just as cute – if not cuter – than the expensive stuff.
This candy cane door hanger came together in five minutes; well, actually in just under five. It's a great project to do with the kids and it's so inexpensive to make you can do them for all your doors – even inside! One of my friends Moms decorates every interior door for the holidays and her kids and grandkids LOVE it!
Here's the very short list of what you will need to make this stinkin' cute candy cane door decor:
The Supplies
Floral Garden Metal Candy-Cane-Shaped Wreath Frames
Scraps of Fabric – raid your bin or check out the odds and ends table at your craft and fabric stores – you can get things for PENNIES~
Bow – either pre-made or make your own with your favorite ribbon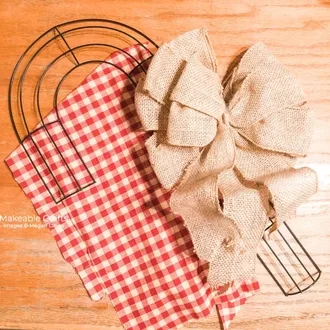 That's it! The candy cane frames are from Dollar Tree where they do require a minimum order of four pieces. But – at a buck a piece you almost can't afford NOT to make this project. Pro tip: These make awesome and one-of-a-kind neighbor, hostess, teacher, etc. gifts!
This post contains affiliate links.
The Making
Tear or cut your fabric into 3″ strips. You can iron the fabric or not, it depends on the finished look you want. I always iron fabric (never clothes, but always fabric, lol!!) as I often regret it when I don't because you just never know where those wrinkles and fold lines are going to show up.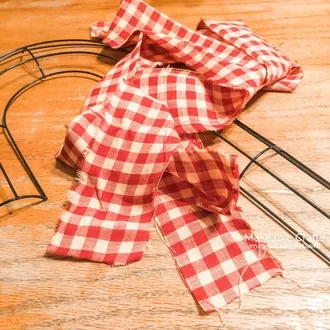 Then start your fabric at the bottom of your candy cane like this: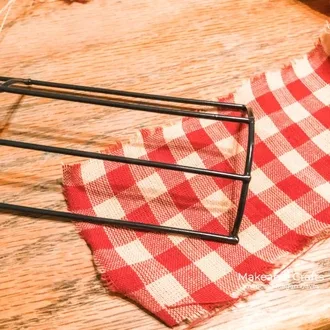 Wrap around once, fold up the bottom edge, and as you start to continue to wrap, tuck in any pieces of fabric sticking out.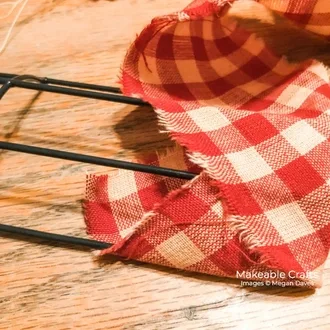 As you finish one strip of fabric, just pick up where you left off for the next piece.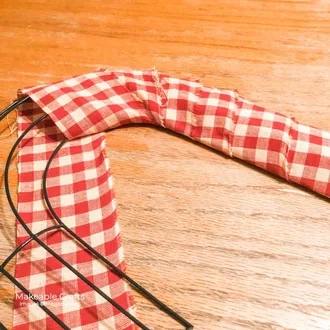 Once you have fully wrapped your candy cane, then fold and tuck in your edges at the other end.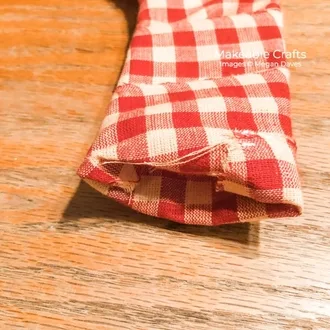 Use Tacky Glue to secure any parts of your fabric that need it and allow it to dry.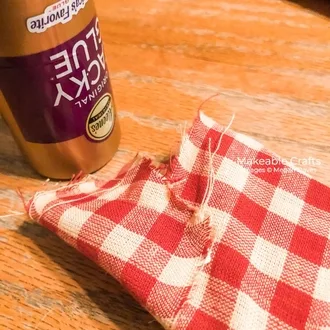 Add a bow and you are done! Yup, DONE!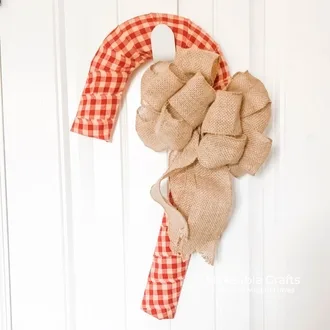 Can you STAND how adorable these candy cane door decorations are?
The Skinny
I almost didn't write this up because it is such a simple craft. But I do love these types of crafts and love finding ideas for them and making them and squeeing over them and sharing them and thought you would love this idea too! I love the simplicity of it, that it takes next to no time, that it's totally on trend, that it uses almost no supplies and that it's so stinkin' cute! AND they are a lot of fun to make. AND you can use up scraps of fabric like I did.
Someone stop me!
Pin It
Like this project and want to find it again and again? Pin it to your favorite Pinterest Board.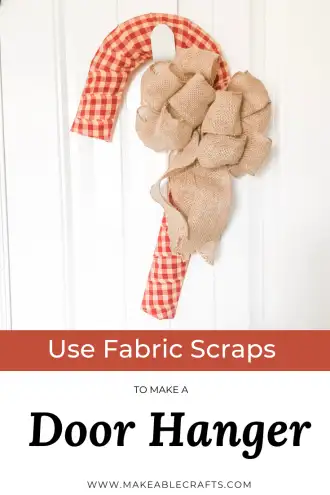 Thank You
Thank you so much for joining me for this fun idea for candy cane door decorations made so incredibly fast and easy. Be sure to keep checking back for more Makeable Crafts ideas! XOXO, Meg