4th of July Table Decorations
I can't wait to share these 4th of July table decorations with you! If you are like us, we can't wait to celebrate 4th of July with our neighbors having a traditional cookout. All the food, fun, and fireworks need a fabulous backdrop and I instantly raised my hands to take care of the table decor.
To do this, I knew that I would need material and oly*fun® is the only one to use. It's lightweight, versatile, and easy to wash – all three make it a winner in my book. It comes in a great variety of colors, but I needed three: Blueberry, Snow White, and Cherry Pop. These three colors of this product line are the main focus for the entire tablet set up.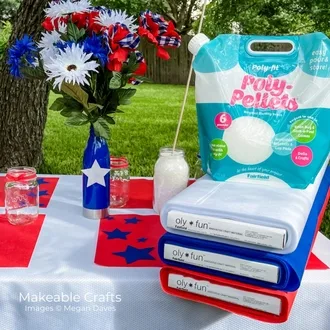 I first wanted placemats. To do this, cut down Cherry Pop oly*fun® to 13″ x 18″. Then die cut stars as I did from Blueberry oly*fun®. If you don't have a die cutter or e-cutter, you can easily just cut out stars. Die cutting these was just faster and easier for me. Then all you need to do is glue your stars onto your placemats. That part is now done!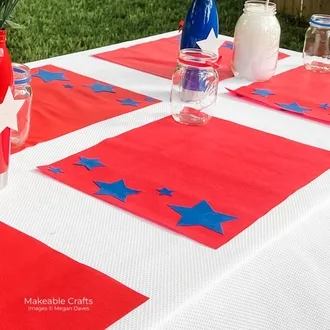 Then for our banner. Start with Blueberry oly*fun® and cut it into pennants that are large enough for your stars. Be sure to make your pennant length about 3/4″ longer than what you want the finished length to be.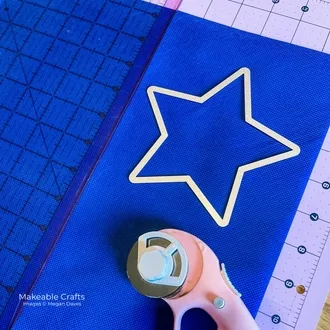 Across the top of your pennant, add a thin line of glue and fold over about 3/4″ – this will be your space to hang your pennants from your twine.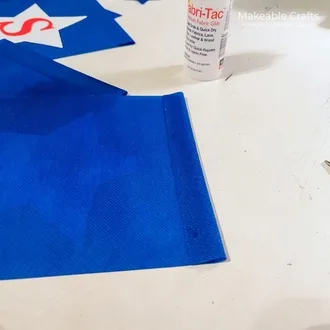 I wanted my Snow White oly*fun® stars to really stand out on my pennants, so I folded my white oly*fun® in half and glued it to make it double thickness. Then I die cut my stars.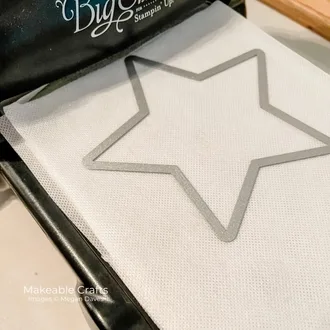 This makes the white even brighter. Either die cut out your letters or draw them out with pencil (pencil works great on oly*fun®) and then cut them out in your Cherry Pop oly*fun®.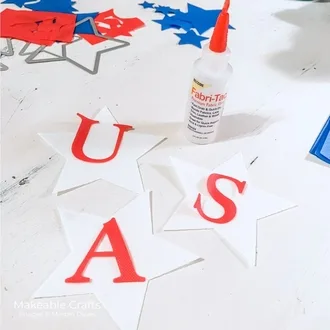 Thread your twine through the tops of your banners and tie to two dowels.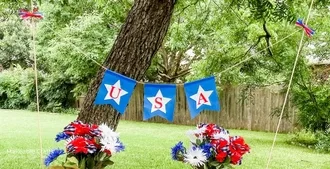 Stick your dowels into two jars and use another of my favorite products, Poly-fil® Poly-pellets®, to fill in your jar and add weight. These are the best filler for any kind of project.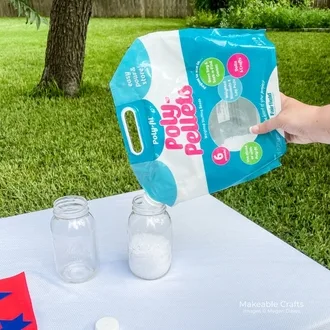 When you are done using them in your jar for your 4th of July table, simply pour them right back in the bag and they are ready for your next project.
For extra fun, take all your scraps of oly*fun® from these projects and cut them into 1/4″ strips. Make these into a fun pompom to put on over your twine knots on your dowels.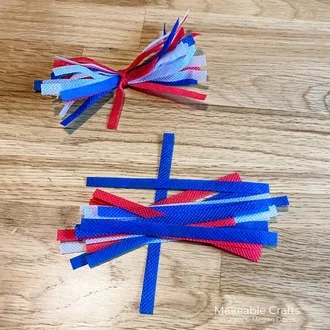 Now your banner is done!!
The jar cups are crazy easy to make. Start with 1/4″ strips of any of these colors in oly*fun®. Tie them around the mouth of the jar and finish with a bow. I alternated Blueberry and Cherry Pop oly*fun®. Just a fun little addition to the jars.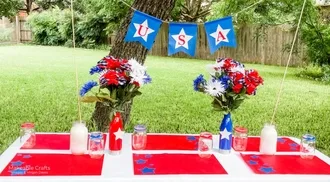 Some bright colored flowers fit perfectly into the perfect for the occasion water bottles. To hold the water bottles down, I used what you probably already guessed, more Poly-fil® Poly-pellets® and then added two starts from Snow White oly*fun®.
And with that, our 4th of July table is complete! Our table is set under a shaded spot under our pecan tree and we are ready for friends, food, pictures, and more!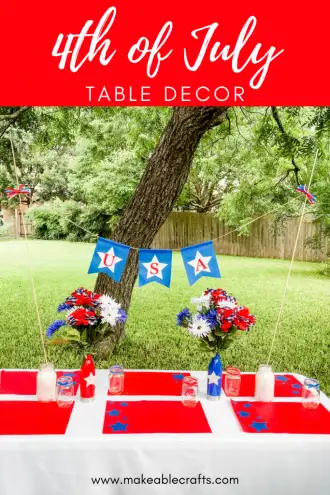 These projects are all easy as pie to make. You can see how bright and vibrant the colors of oly*fun® are, the material is a dream to work with, it cuts better than any fabric and it doesn't fray. I didn't have to fold and sew any seams, simply cut and decorate! If you haven't worked with it yet, you should, it's just perfect whether it's for 4th of July table decorations or projects like this one and this one.